Are you wondering how to make a YouTube video on your tablet? If so, then you'll be glad to know that you're in the perfect place! Making a proper YouTube video is a quite complex task if you think about it. It comprises of several parts including video recording, cropping, trimming, combining different clips and performing other edits to make it absolutely flawless.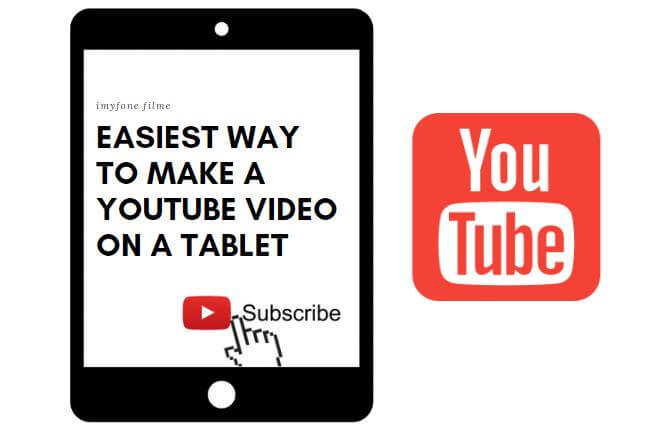 In this article, I'll guide you on the perfect tool to make the process of video making much more convenient for you. Moreover, this article will also give you a full tutorial of how to make YouTube videos on a tablet.
Part 1. How to Make a YouTube Video on Android Tablet for Android Users
If you're wondering how to make a YouTube video on a Samsung tablet, then I've got the perfect tool for you! FilmoraGo is a free video maker software for Android devices with multiple functions. With FilmoraGo, you can create YouTube video as well as edit videos to a great extent. You can convert short video clips and pictures into a complete slideshow by combining various parts to form a final YouTube video.
FilmoraGo is popularly known for its sleek user-interface that is sure to please anyone. Furthermore, it is easy-to-use and won't give you a reason to be disappointed. With that said, let's discuss make a YouTube video on Android by using FilmoraGo.
Firstly, download and install FilmoraGo on your Android device from the Google Play Store. FilmoraGo is free to download, however, some in-app purchasers are available for additional features.

Launch the app and select 'Create New Video'. Next, you can import all the pictures and video clips that you won't to include in the slideshow. You can browse media files from your media library as well as from social media such as Facebook and Instagram.

You'll be able to trim any selected videos as soon as you select them to add in your slideshow. You can select the part that you need to include. Hit 'Next' once all media is selected.

From this page, you can manage the pictures and video clips to get the correct arrangement.  You also have the option to add specific themes, music, and transitions to make the video more attractive. Hit 'Save' once the video is finalized.
Part 2. How to Make a YouTube Video for iOS Users
If you want to know how to make a YouTube video on iPad mini or any other iOS device, than iMyFone Filme Lite is the ideal video managing software for you! Filme lite is an absolutely free video editing software available for all iOS devices. Filme lite is a single app with multiple benefits that encourage you to get going with making more and more YouTube videos in much less time as compared to other YouTube video making tools.
The best part about Filme lite is that it is simple to use and anyone can understand the app within minutes. It's sleek interface and profession functionality are the two main factors that prove Filme lite to be the very best YouTube video making software for iOS users.
Let's now discuss how to make a YouTube gaming video on iPad. The steps below properly illustrate how you can make any YouTube video from your iOS device through Filme Lite.
How to Make a YouTube Video with Filme Lite
First and foremost, you must download and install iMyFone Filme Lite on your iOS device.

Open the App, you'll see a number of video templates with different number of clips and varying duration. Tap the template that seems most appealing to you. Press 'Use Now' to create your video in this template.

Select the video clips or pictures that you need to include in the desired video. Here, you can also see the duration for each video clip or picture that you've added. After you've added all necessary pictures or clips, press the next arrow in the bottom right of the page.

Wait for a few second and your video is eventually finalized. You'll be able to review the complete video now and edit any portions that need alteration. Press 'Export' to save this video on your iOS device.
Key Features Of Filme Lite
Now that you know how to make YouTube videos on a tablet using Filme Lite, you must also be aware of some other necessary features that this app provides. Following is a list of the key features of Filme lite.
With Filme Lite, you can divide one video into multiple clips to make the editing process easier for you.

Filme Lite allows you to trim your videos to the desired duration.

You can also reverse your video using Filme Lite to play the video backwards.

Adjusting the speed of your video is also possible with Filme Lite.
Part 3. Best Video Editing Software – iMyFone Filme
When you learn how to make a YouTube video on a tablet, you must also understand that every perfect YouTube video requires flawless editing. You want your video to look attractive to ensure that viewers take interest in watching it eventually leading to greater views and likes. You would need to find a great video editing software which provides all necessary editing features. Lucky for you, I've got just the perfect tool that would make your videos stand out.
iMyFone Filme is a professional Windows video editor that provides both simple and high-end editing features. Moreover, you can also make videos with ease by using iMyFone Filme. Filme provides a highly intuitive user-interface that's you'd definitely enjoy working around. Without further ado, let's understand how to make a YouTube video with Filme.
Key Features
Filme is believed to be a perfect video editing software for a number of reasons. Above all, Filme provides all the features needed in any other good editing software and many other as well. Below is a list of some of the key features of Filme.
Filme comes with a full pack of basic to high-level of editing tasks and allows to edit a perfect video with minimum editing skills.

You can add transition, special effects, audio and texts with filme to make your story creative.

You can make videos or slideshows within second with Filme's built-in feature Fast Mode.
How to Make a YouTube Video with Filme
Download and install iMyFone Filme on your computer.

After installation completes, launch the app. Select the 'Import media here and apply it to multiple projects' option and individually browse and select each video clip and picture that you want to include in your slideshow.

Drag and drop each video clip or picture from the media library to the timeline in the correct order of the slideshow.

You can perform basic editing tasks such as cut, trim, rotate, speed adjust and picture in picture effect from the tool bar to edit your videos.

You can also add special effects, texts, transitions to your videos from the top menu.

Once you're done, go to 'Export' in the top menu and select 'Export Video'. The export window will now open up. Here, you can select the format in which you want to export the video as well as the desired quality. Hit 'Export' once all information is entered.
Tablet Video Editing Tips
Learning how to make YouTube videos on a tablet isn't an easy task. Apart from compiling the video, you also need to worry about video editing to make the video ready to upload to YouTube.
Although the software mentioned above have made the task of video editing incredibly simple for you, you might still feel trouble trying to edit videos on your tablet. However, you don't have to worry as I've come to your aid with some beneficial tips that'll surely help you during the video editing process on your tablet.
Video editing softwares usually require a strong system to properly operate on. Make sure that your tablet has a system strong enough to run these softwares. Otherwise, you might have to experience serious lag during editing process.

Videos typically take up a lot of storage space. Hence, it's highly preferable to make use of an external storage to hold all your videos as you edit them. Doing this will help your software run smoother as well.

Last but not least, practice as much as possible with the video editor that you wish to use in the future. Spend time trying to discover new features of the software and you just might find something really helpful for yourself.
Conclusion
Just like that, you have learned how to make a YouTube video on your tablet. Even though this isn't a really easy task, apps like Filme lite have made the video making and editing process extremely easy for you to perform on your tablet.