Though VLC video editor is not an advanced editing software, it is the easiest and quickest tool to trim and cut videos. You can trim the video to make its size shorten from beginning or end, it is totally up to you. Just select the starting and ending part of the video from where you want to cut/trim it. However, it is more recommended to use a video editor to cut/trim video. And you can free download and try iMyFone Filme which not only can enable you to cut/trim videos easily, but also comes with a lot of other stunning and easy-to-use video editing features.
Part 1. Easy Editing with VLC Media Player
VLC Media player is one of the best and most popular media players. It is best for playing the music files, but you can also use it for editing purposes. The editing with this media player is effortless for everyone. VLC Media Player is an old video playing tool, but it still contains editing features. You can trim, crop, speed up, and rotate your videos in VLC easily with some basic knowledge. Notably, cutting or trimming the video is not tedious at VLC media player. Just grasp the steps of how to cut a video in VLC or how to trim video in VLC mac in Windows 10?
VLC is not the latest video editor; that is why its features are not complex at all. So there is no need to get worried regarding how to trim a video on the VLC media player. There are simply 4-6 steps that you can use to trim the video.
How to Trim Videos with VLC on Windows
Install or launch VLC Media Player on your PC.

After installing the VLC open your source file.

Find the menu bar and click at the 'View' option. Then hit Advanced Controls; "View > Advanced Controls.

There are 4 buttons on the slide bar of VLC, click on the recording button and play the video. In this way, you will choose the starting point from where you want to trim.

Keep noticing the video and press the red button again where you want to end the video. After reaching the desired point, then hit on the red recording button.

After selecting the beginning and ending points, VLC will start the trimming and finish in seconds. VLC will automatically save this trimmed video in the "My Videos" folder for Windows.
We have done with the guidelines of how to trim a video on the VLC media player. The trimming option of VLC makes it easy for you to reduce the length of your video. Apart from video trimming, you can also speed up your video in VLC.
Pros
VLC is a free media player that easily supports almost every audio and video format.

It is a compatible editor that can be played with Mac OS X, UNIX, iOS, Android, and Linux.

VLC Multimedia player does not interrupt you by showing useless ads.
Cons
The interface of VLC is quite old that offers just limited features of editing.

VLC Media player doesn't offer the option of video editing.
How to Trim/Cut Videos in VLC for Mac
VLC is a versatile media player available for most OS platforms. The Mac and Windows versions are slightly different from each other but the basic functionality is pretty much the same. Some differences:
More advanced formats supported in Windows

Mac version has a very different and simple UI

Mac version is a heavier app
The process is described here:
Play your video in VLC Mac using the Open Media option, pause the video where you want your clip to start.

Under the Playback menu item, select A-B Loop. Your paused section will be A, so you can drag the play head to the end of the section you want, which will be B.

The chosen video segment can now be played as a loop over and over. While it's at point A, hit Record, and then again when it reaches B.

The video will be saved to the default folder as an MP4 file. The default location is: HOME/Library/Preferences/org.videolan.vlc OR HOME/Library/Preferences/VLC (v0.9 and older)
Also Read:
Combine Videos in VLC with 5 Steps >>
Part 2. iMyFone Filme – An Alternative to VLC
If you think the process of cutting and trimming the video is a bit difficult with VLC or you want more features than cropping or cutting, then consider "iMyFone Filme."
iMyFone Filme is the latest, better, and more multifunctional video editor that makes your videos more vibrant and more creative after editing.
How to Trim a Video with iMyFone Filme
1. Download and launch iMyFone Filme on your PC.
2. Tap on "Import" and click "Import video" from the sub-options.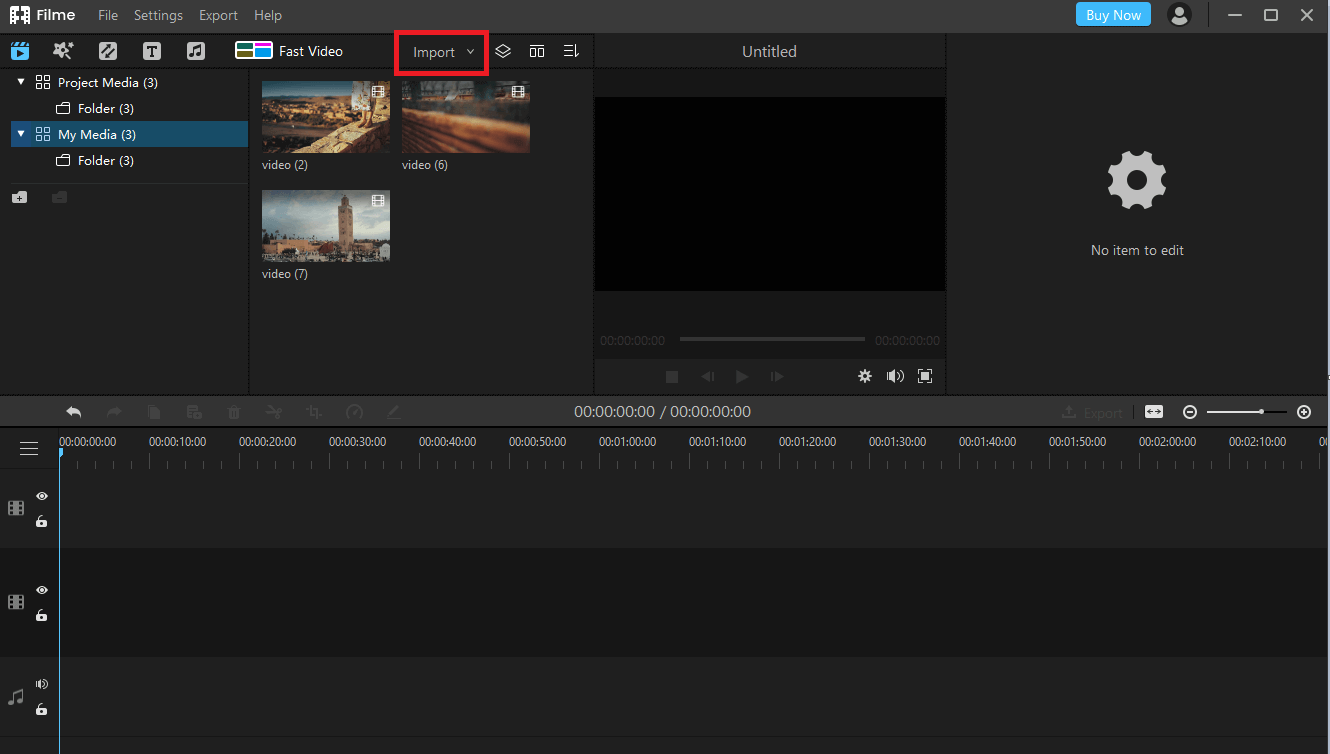 3.  Find your source file and double click to add.
4. Scroll the cursor over your video and click "+."
5. See the menu given in the middle of the page and find the "Split" option. Click it to split the clip and remove unwanted parts by clicking on "Delete".
6. Alternatively, you can trim the clip by dragging the beginning or the end of the clip to adjust the length. Please note that you can only shorten the duration of video clips while you can shorten or lengthen the duration of photos.

7. Save your changes by clicking on "Export".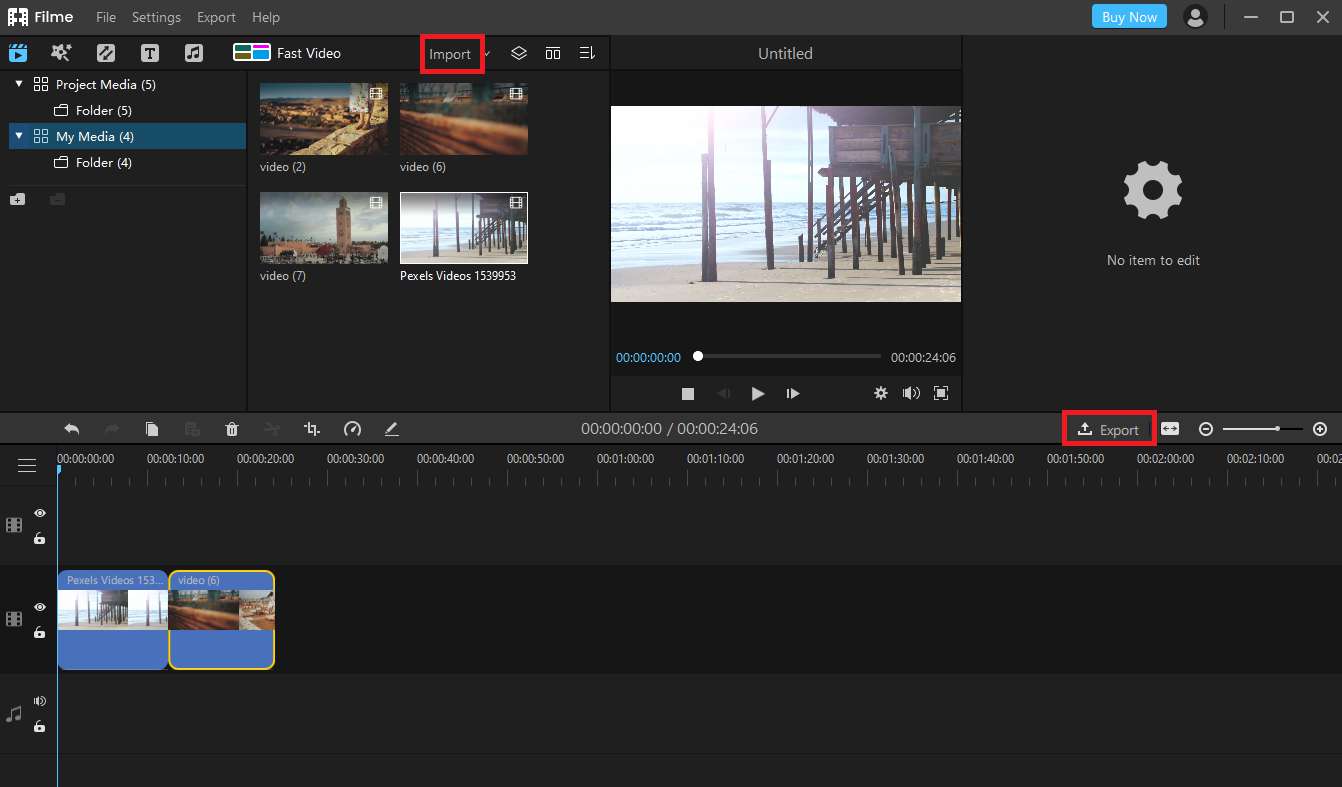 Key Features:
Filme allows you to create and videos and slideshows within one click using its build-in-feature Fast Mode.

It supports the efforts of beginners and offers a quicker working procedure. It just requires a click to set up with the whole process.

Filme is lively, and this is because it comes with a variety of built-in filters and special effects that boost the video editing game in a fun way.

It comes with more accessible and simple video editing options to facilitate the users. You can crop, trim, rotate, split, and slow/fast the videos with a touch of new filters to add a charm just as you want.

Audio is the core strength of any video. With Filme, you can add any audio in the background and opt to voice your videos. So much fun indeed!
The use of iMyFone Filme rapidly increasing day by day, and that's for so many good features. Let's go further to explore how to trim video in iMyFone Filme.
Part 3. 4 Practical Tips for Precise Trimming with VLC
1. Be clear about the difference between trim and crop, so you can find the correct tool
Cropping videos is a different process that allows you to change the dimensions or aspect ratio and resolution of the video. Be sure to use the above process for trimming or cutting the video to the desired section.
2. Trim audio if necessary
The audio track is not visible separately in VLC Mac so it will be trimmed to the section of the video that you cut out. If you need different audio or a different portion, you'll need to use a proper video editor like iMyFone Filme.
3. Cut part of a video with VLC
If you need a precise trim, use the keyboard shortcut while recording - Option(Alt)+Command+R. Since this is faster than using the on-screen menu, you are likely to start and stop recording at the correct points.
4. Join the clip again if you made a wrong trim
Since you're creating a new clip with the section you want, there's no need to worry about the saved file. You can just record again if you make a mistake. All such files are saved in the default folder location, so once you do it correctly, use the most recent file. Make some merges if the clips do not meet your expectation.
Part4.Popular FAQs around VLC Trim Function:
01

Why can't I trim a video in VLC?
VLC is not a video editor, but it does have some extra functionality like recording, which allows you to trim a video using a workaround solution. To get features like cropping, trimming, speed control, comprehensive editing, zooming, panning, transitions, effects, texts, etc., try a robust video editor like iMyFone Filme.
02

How to trim a QuickTime video in VLC?
QuickTime uses the MOV output format. VLC supports MOV-related codecs but your video may be corrupted or you may not have the required codecs installed. The easiest way around this is to use a MOV to MP4 online conversion tool like Zamzar and then trim the output file in VLC.
03

How do you crop a video in VLC and save it?
As with the trim function, there's no crop tool. However, if you have the QT4 GUI, you can use the command-line interface to crop a VLC video and save it.
Click Ctrl+E to go to Effects, then Video Effects → Crop
Set the crop values and confirm the crop action
04

What are the differences between VLC and VLC media player, which one should I use?
No, VLC for Android currently does not have a video trimming function.
05

Can I trim videos in VLC Android?
VLC stands for VideoLAN Client, which was the original name of the product developed by the group called VideoLAN Organization. The product is called VLC Media Player or just VLC for short; both refer to the same product.
Conclusion:
VLC is a multimedia player that is used around the world. VLC can be used to play videos, and we can also use it for video editing.
VLC is old software that contains limited features. Therefore, its alternative and better version is iMyFone Filme, which includes many features to add fun and creativity to your videos.