What is Vimeo create?
Vimeo is a video-sharing network founded by a group of filmmakers in 2004. Since then, Vimeo has expanded to over 80 million creators, the majority of which are filmmakers, animators, musicians, and other artists who use the site to share and promote their work.
Vimeo can be easily called the Youtube of artists. It doesn't necessarily mean that all the artists only hang out on vimeo, but the creative capacity of the app makes it more attractive to artists.
Vimeo's unique features have attracted a diverse spectrum of content providers. The site has become a home for everyone from documentarians and animators to filmmakers and graphics designers looking to promote their portfolios, thanks to its concentration on high-end video and audio quality.
Vimeo Mobile App Features:
Vimeo Mobile app has the following features that make content creation more convenient, and more engaging:
Shared Vimeo App Features for iOS and Android:
Teams:
Users in the Pro and above tiers may now add and manage team members and permissions, as well as view, create, and manage team folders and transition between teams with ease.
Trimming:
You may easily trim your movie before uploading it and remove any parts you don't want.
Folders:
Organize your material by accessing your accessible folders.
Audio control:
You can now mute your video's sound if it's picking up too much background noise.
Publish to social media with a single click:
Publish your video to social media channels with a single click.
Support for SSO:
The same seamless log-in experience is now available to enterprise users.
Improvements in performance and stability:
There are fewer mistakes and load times are faster.
Video capture:
Use the app to record movies and apply filters for Vimeo, adjust lighting, and zoom in and out. When you're finished, you can upload immediately from your phone.
Live:
Stream live from the Vimeo player or your social media platforms directly from the mobile app.
Showcase:
While on the go, create, tweak, and share attractive video compilations.
Management:
Directly from your device, you can manage anything from privacy to file sharing.
Only for iOS:
Analytics:
Check out your dashboard for aggregated analytics and the ability to drill down to specific videos.
Widgets for OS 14:
Get the most up-to-date Staff Picks and keep an eye on your video statistics right from your phone's screen.
In the dark mode:
You can use the app in the dark mode as well.
Video settings:
Change or update your video thumbnail directly from your phone's video settings.
How to Create Vimeo Videos?
There's a step-by-step guide for making and uploading videos on Vimeo:
1. Pick a Vimeo Template:
You can either pick an already available template from the app by searching on the search bar or if your creative instincts are charged, you can go for creating video from scratch. This option will let you select your photos, music, and theme all yourself.
2. Customizing the Video According to Your Needs:
The customization option lets you select from stickers and other features to add the 'oomph' factor to your videos.
Once you're done adding those additional features, you can also select the video ratio such as square for Instagram feed and landscape for Facebook or Linkedin. Besides, you can also speed up Vimeo video with ease just like other adjustment.
3. Save and Preview:
After you've completed customising, go to the upper right corner and tap the "Save & preview" button to see a preview of your film. Do you want to make some changes? When you tap "Edit," the tool will send you back to the edit page, where you can make any changes you want.
Simply click "Save & Share" if you're satisfied with your video. You're almost finished!
4. Share on Social Media Platforms:
Vimeo allows you to share your video immediately on social media without having to download or upload it. Simply choose a social channel to post your video from the "Distribution" menu next to your video. (You'll be requested to link your accounts if you haven't already.) It only takes a fraction of a second.
Now that we have established the offerings of Vimeo app and how to use it, here are some great tips to make your Vimeo journey a breeze
6 Awesome Tips to Create Vimeo Videos
1. Don't Surrender to the Jungle of Ideas:
The hardest aspect for some first-time video creators is deciding what to make. Do you have too many ideas? Is it not enough? Make a list of 20 ideas that come to you right away. Then go over the list and see which stories are most appealing to your target audience.
This brief activity can help you discover what's vital right away without having to second-guess yourself. Take your final candidates' list and brainstorm angles, then choose the one that comes together naturally
2. Make sure your movies are tailored to your needs.
Vimeo offers a variety of features to help you make your films more interesting and engaging. You can see them before you post your videos to this platform. You may modify the background, apply a few creative filters, tweak the video, and even add an excellent logo to your video.
3. Ensure that the Content is Web-Friendly:
If video editing is a pastime or a profession for you, Vimeo might be a great place to share your work on a regular basis. However, before you submit any video, you must first target the correct audience. It's also vital to have a great and intriguing topic. Take care of these details, and you'll be on your way to gaining new followers.
4. Take control of your privacy.
Every user's privacy is crucial. Vimeo also has a number of useful privacy settings for managing your profile and films. Password protection, private exchange of links, and Embed Permissions are among them.
There's even an option to have a few selected users edit or comment on your films. Vimeo allows you to completely control the audience for your films.
5. Publish videos on a variety of Groups:
You will not be able to attain the best possible results on Vimeo by simply opening an account and uploading content. You must put up the same amount of work in promoting your videos.
You may, for example, increase the number of views on your movies by sharing them with the proper individuals. To get others to know you on Vimeo, look for relevant groups and submit your videos to them.
6. Monetize Your Content:
You can not only reach out to people with your movies, but you can also make a significant amount of money. You'll need to enable the "Tip this Video" option beneath your videos to do so. This feature allows viewers to donate money directly. You can also ask the audience for money directly.
Best Vimeo Create Alternative: All-in-one Video Editor for Your Vlogs
If you're a vlogger who loves to explore life at every layer, Filme is another great video editor for you to try. You can inspire your audience through crisp videos, and exceptional filters that make day-to-day video editing much more fun and easy.
Key Features
One-Click Editing: By using the app, you can master video editing in a snap. The app allows you to use features such as import, crop, split, rotate, adjust speed and pan, and zoom.

Effects and Filters: The app allows you to use cool features for your vlogs such as 20+ fast video mode, 110+ transitions, 170+ filters, and 50+ audio from the app resources.

Make single click fast videos: The app allows you to make high-speed videos with a single click.

Instant Preview: Every vlogger knows the urge to see what they're editing and how the results are. For that, the app allows you to see instant previews without waiting to reach the end of editing.
How to Edit your vlog using iMyFone Filme?
The process of video editing for a social media platform using Filme is pretty smooth. You need to:
1. Open the App and Upload:
Open the Filme app on your PC and import the videos or images you want to edit to the Filme Library.
2. Drag and Drop the Videos you Want to Edit:
Drag the videos down, and trim their duration according to your requirements.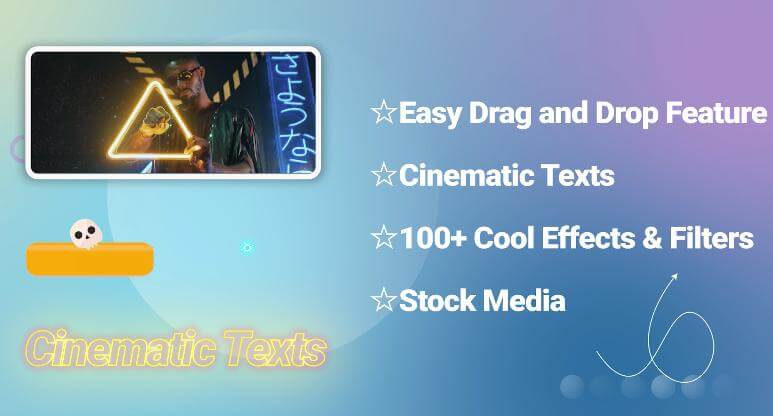 3. Adjust Your Video Settings:
Adjust the settings such as brightness, contrast, etc to make your vlog natural.
4. Add Sound Effects or Text:
You can add sound clips and text to your videos through the available resources.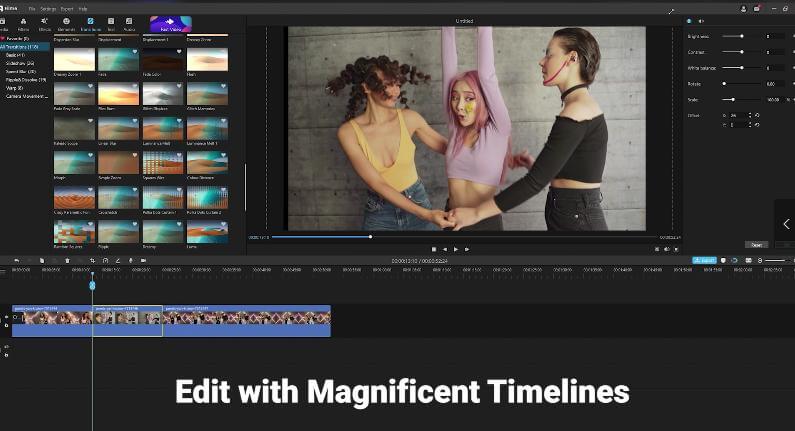 5. Add Filters and Transitions:
You can choose from more than a hundred filters and more than 150 transitions to make an impactful vlog.
6. Export Your Vlog:
Now that you have edited your vlog with the variety of available resources on Filme, you can export it to your social media platforms such as Facebook, Instagram, Twitter, etc.
Bottomline:
Vimeo is a professional app that has many features to satisfy the creative pangs of artists. However, anybody who has interest in video making can use the app with the tips and tricks listed above. You can also use iMyfone Filmy to create aesthetically appealing vlogs.