When a demonstration takes place, a PowerPoint presentation becomes convenient. Most of us know a lot about presentations in PowerPoint, but we still don't realize how we might transform it into a video or how to accomplish it. One would wonder it couldn't be; it can truly be converted, though. May use it in commercial, academic, and other environments. Users may need to convert PowerPoint to Mac video since they do not want to lose some key slideshows; it is understandable. So we'll learn how to convert PowerPoint to video on Mac in this tutorial today.
Part 1: How to Convert PowerPoint to Video on Mac Directly and Free
Always used PowerPoint presentations to enhance colors. They are regarded highly and provide a variety of features to improve their appearance. You may have to deliver the presentation to the receiver without a PowerPoint. Therefore, one of the best methods to look at is converting the PTP to a video format.
Below are the steps needed to follow how can convert PowerPoint to Mac video. The technique seems cool, so you wonder why you haven't done it. To export PowerPoint straight to your Mac, you have to install the presentation PowerPoint on your Mac properly, particularly the newest version, to achieve the desired result.
Step 1: Create and save your PowerPoint layout as normal. The next thing you do is go to the File on your Mac screen on the left top and click Export. Export. Don't utilize Save As an option because there are no video alternatives available.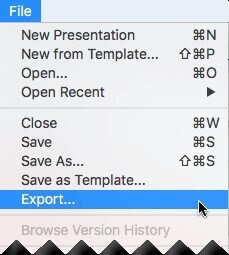 Step 2: There is a pop-up window with many possibilities. To pick the appropriate output format, such as MP4 or MOV, click on File Format from the drop-down selection.
Step 3: The next thing to do is to pick your favorite video quality and tailor the movie size. Note that video size is defined by quality.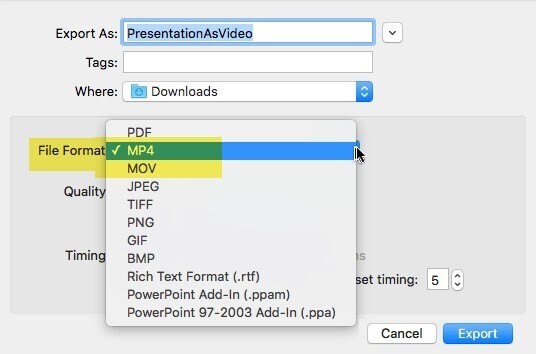 Step 3: The next thing to do is to pick your favorite video quality and tailor the movie size. Note that video size is defined by quality.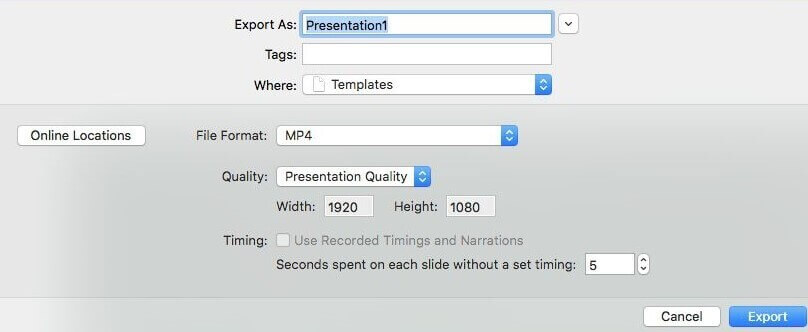 Step 4: You can tick the option Use Recorded Timings and Narrations if you want your videos to use recorded times. If you haven't yet defined it, you may also configure the slide timings.
Step 5: Select the Export option to complete the procedure after everything has been done.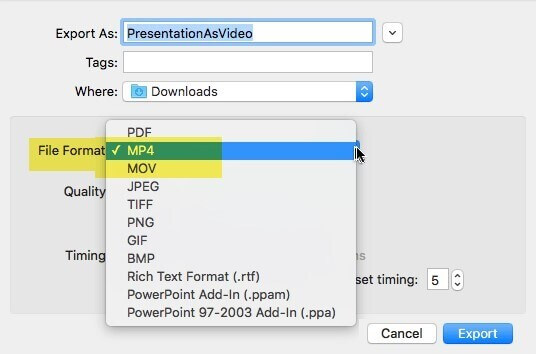 You may share it with anybody when the PPT is saved as a video and play videos on any app or device.
Part 2: How to Convert Powerpoint to Video on Mac Online
Another easy way to export PowerPoint as a movie is to convert file types using Online Convert. Conversion to MP4/AVI or any other video format is also helpful. You need to enter the desired File or give an online converter with an address for the video file. The program generates high-quality movies and is not restricted to use. The converted video is instantly downloaded at extremely high speed into your PC. There is no watermark seen in the final File in the video converter. It's wonderful because it offers several alternative output configuration choices.
Step 1: Select a destination format under Video Converter and click Convert MP4 to AVI or any other formats by visiting onlineconvert.
Step 2: Next thing you want to download PowerPoint to MP4/AVI. Move to the Optional Options box and select your preferred customization settings.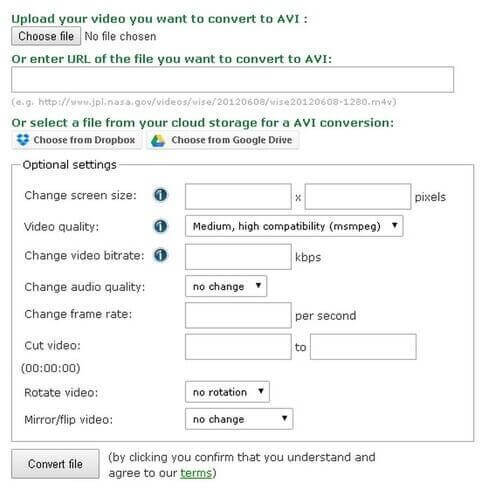 Step 3: Save choices that you made and type the name of your File, then click the Convert file button, and in few minutes, you will convert your PowerPoint presentation to MP4/AVI format.
Part 3: 6 Recommended Powerpoint to Video Converters on Mac/Windows
If you wish to export PowerPoint to Mac video, several applications might be useful. The program helps to safeguard your layout. 6 applications mentioned below that support PowerPoint video conversion.
1

Filme( for both Windows and Mac)
Filme is the easiest way for you to understand how to convert powerpoint to video on mac or windows. From the clear interface of software, you can easily find the function to convert powerpoint to video. No matter you are using mac or windows, do not miss it.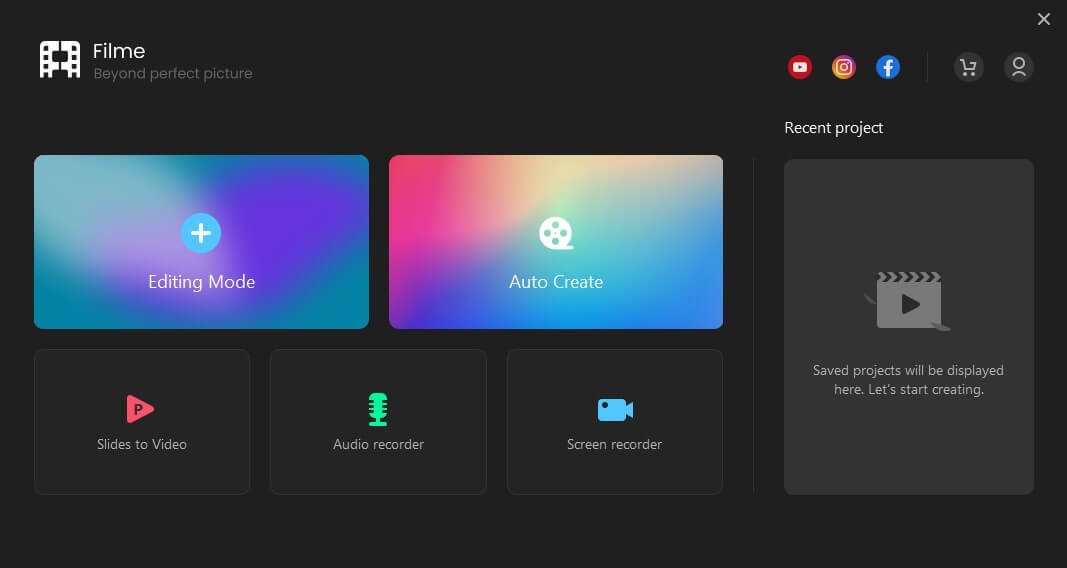 iMyFone Filme
2

Xilisoft PowerPoint to MP4 Converter for Mac
You can help convert PowerPoint presentations into several common video formats, including full HD resolution. Without Microsoft PowerPoint installed, it can transform all PPTs into movies. This program offers a series of features to enable you before conversion to personalize and modify your presentation.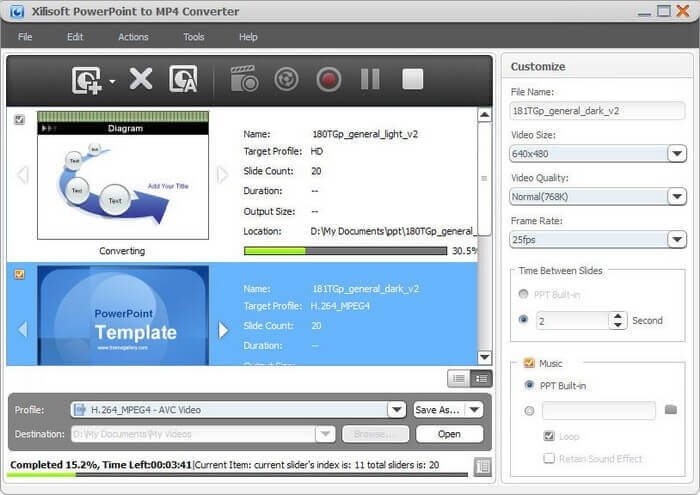 Pros:
● Allows you to convert PowerPoint easily into various formats.
● Includes fundamental editing features and can convert PPT to HD videos.
● It's Mac working.
Cons:
● The big files may crash.
● Navigation is quite challenging.
● Some formats do not function correctly (for example, RM).
3

ETinySoft PowerPoint Video Converter for MAC
The ETinySoft conversion system promises one PowerPoint converter to export files to all standard video formats. The website offers several video lessons that aid novices. It has an extremely rapid conversion speed. On social networking networks, they may easily share exported videos. It's a great converter built just for Mac users.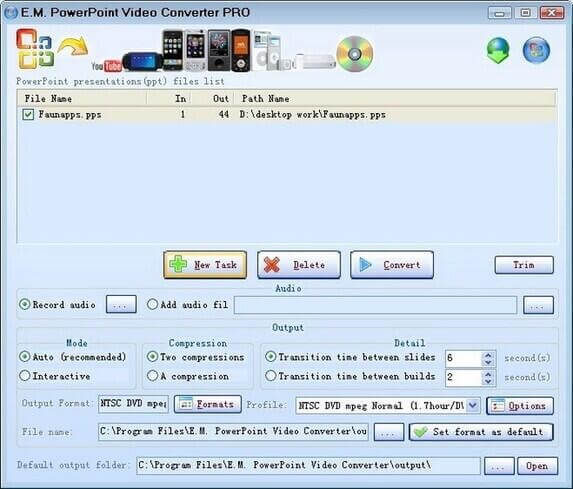 Pros:
● It allows its users to choose between high-quality, rapid, and simple conversion.
● It offers a wide range of output formats.
● It supports converting PowerPoint files to still images in a variety of formats.
Cons:
● It consumes system resources a lot.
● It runs only on Mac OS X 10.6 or above version.
● Its work is unstable sometimes.
4

Digital Office Pro PPT to DVD Converter for Windows
It allows you to export your DVD or video PowerPoint file. It also allows the ability to pick other variants of video file formats. Most portable devices, including Mac, are compatible with the files.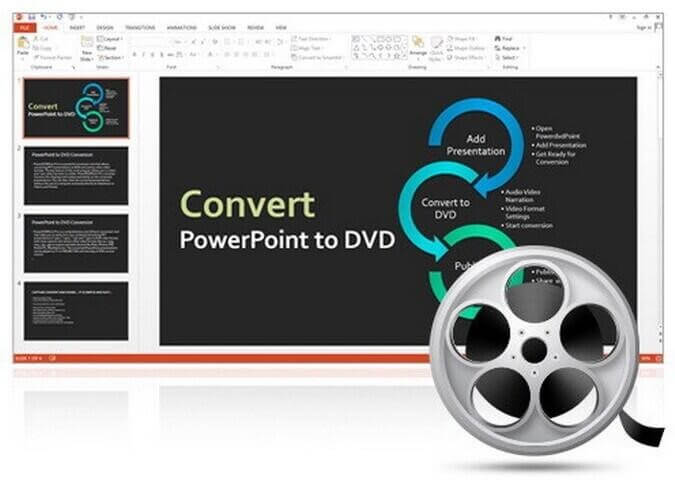 Pros:
● The video may preserve all effects, including original file transitions and animations.
● Allows you to convert PowerPoint to other formats like WMV, MOV, and M4V easily.
● Supports all file formats and all versions of PowerPoint.
Cons:
● The Export of the files might take some time.
● Video and audio narration are barely supported.
● It does not permit technical support.
5

RZ Soft PowerPoint Converter to Video for Windows
RZ software is free PowerPoint converting software that supports almost all PowerPoint versions and formats. And the output size and resolution conform to user requirements. It enables conversion to a certain portable device in several popular formats such as AVI, MP4, and FLV. It is straightforward and fast to convert. The program enables blogs and social media to share videos. The video settings may be modified from the quality to the frame rate and video bit rate to the user's desire.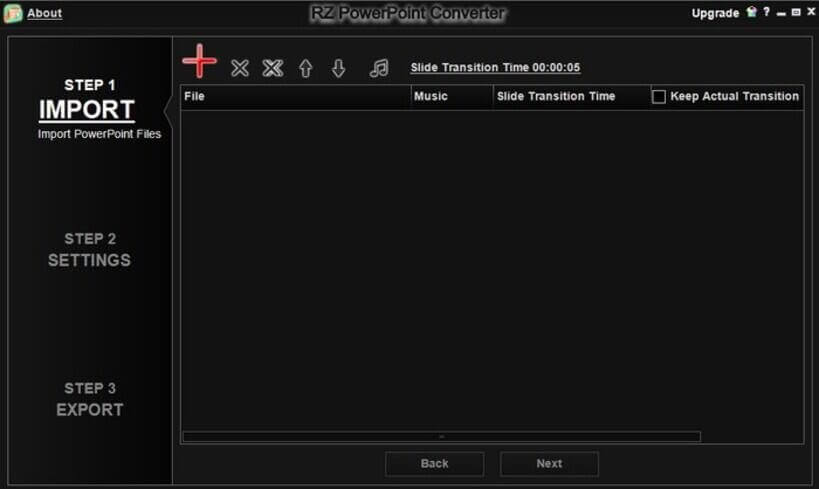 Pros:
● The DVD burner functionality is included in the program.
● Exported video tends to maintain the original functions of its slideshow, such as video clips, audio, and transitions.
● There is no time restriction for a free version.
Cons:
● You need to buy a paid HD quality version.
● The free version of external devices is not permitted.
● Export AVI files for the free version only.
Final Words
It is both easy and free to export PowerPoint to video on Mac or windows without experiencing any difficulties if you follow the ways and guidelines explained in the article. Every method is well organized and reliable to process even by an amateur. So, go ahead and choose any of the above ways to have your PowerPoint convert to video on Mac.

iMyFone Filme