There are different reasons why you need a text-to-speech generator. It can be for entertainment purposes, for recording voicemail, or any other. If you are looking for a robot voice generator, you are in the right place. We will share some of them in this article. Although there are many TTS generators, we will discuss only a few that are the most effective. Let us see what tools you can use to generate a robot voice.
Part 1:List of Top 4 Robotic Voice
I guess that people think of a poor-quality voice which is a robot voice. But following Movie, TV shows or Cartoons create the character of the robot, and there are some different ideas of robotic voice. I've introduced 4 kinds of robotic Voices
1) C-3PO
C-3PO is a humanoid robot character in the Star Wars franchise who appears in the original trilogy.
2) JARVIS
J.A.R.V.I.S. (Just A Rather Very Intelligent System) is a fictional character voiced by Paul Bettany in the Marvel Cinematic Universe (MCU) film franchise, based on the Marvel Comics characters Edwin Jarvis and H.O.M.E.R.
Optimus Prime is the awe-inspiring leader of the Autobot forces.
4) Robots-Bigweld
Bigweld is the Inventive Businessman. His voice is perfect for News reports,announcement,etc.

Part 2:What is a Robot Text-to-Speech Voice Generator?
A robot text-to-speech voice generator is a tool that allows you to convert text into a real robotic voice. A TTS generator is very effective and is being used in AI to develop instructions and tutorials for different applications.
The voices we hear in different assistants are mostly generated using a TTS generator. There are different types of robotic voices as well. We will discuss a few tools from which you can choose the perfect robotic voice for yourself and use it for any purpose that you like.
Part 3: How do I Get a Robotic Voice?
If you are looking to generate a robotic voice using a text-to-speech generator, then iMyFone VoxBox is the best tool for you. It offers a 30-day money-back guarantee and provides a free trial to every user. It is completely safe to buy, and it provides professional customer support as well.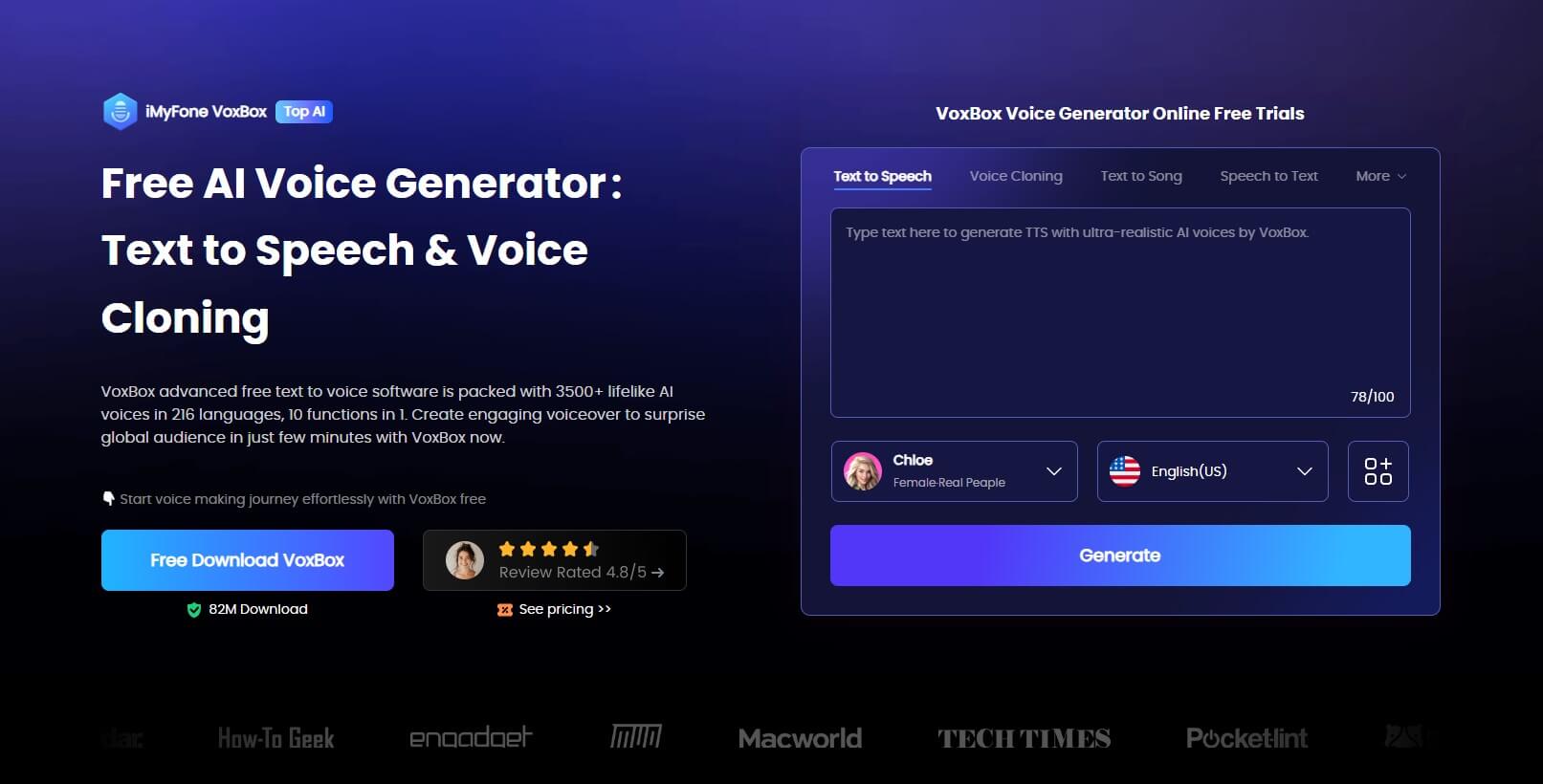 Features:
iMyFone VoxBox is a professional audio tool that allows you to create different voices using 46+ languages.

It has over 3200 voices, including expressive and realistic audio that can be used to generate audio.

Supports different audio formats, including MP3, WAV, and AAC.

This tool allows you to import, export, edit, convert and combine different audio files.

It is among the easiest tools to use.
Pros:

Very interactive user interface

No ads and does not invade the privacy of users.

It can also record and edit audio files.
Cons:

You need to download and install this tool to be able to use it.

Not available on macOS.
Price:
| Plan | Price |
| --- | --- |
| 1-month Plan | $14.95 |
| 1-year Plan | $39.95 |
| Lifetime Plan | $79.95 |
Watch this video to learn more about the Best Robot TTS Voice Generator VoxBox:
2) Lovo
If you don't want to use a desktop application, then you can also use online TTS generators. Lovo is a simple and easy-to-use online tool that allows you to create voices using 33 different languages and more than 180 voices. It has a user-friendly interface and doesn't require any technical expertise to use it.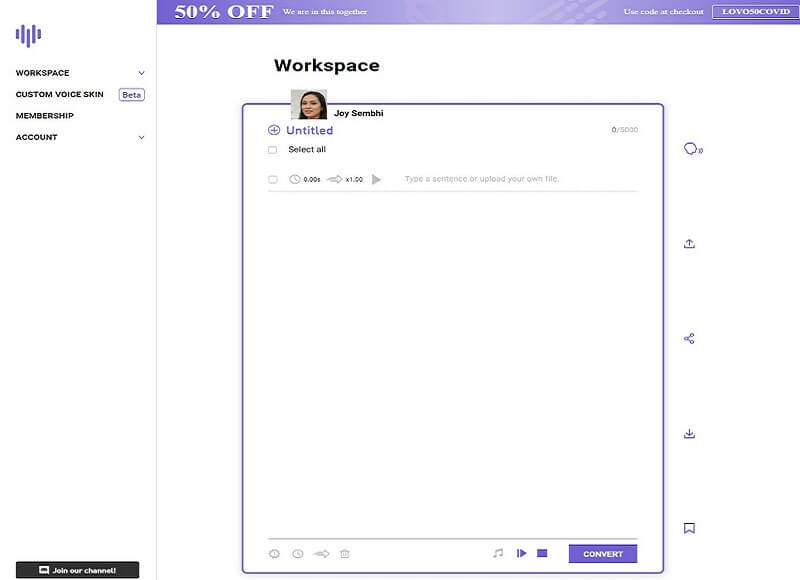 Features:
Lovo has 33 different languages from which you can choose.

It has more than 180 voices, and each voice has a unique trait to fit your content.

This tool also has a custom voices option that takes about 15 minutes to create a customized voice skin.

It uses authentic voices with human emotions and natural pauses.

Lovo provides a free trial to every user.

If you are a developer, then you can use voiceover API to integrate it into your own TTS product.
Pros:

The trial version of Lovo provides 3 downloads per month.

You also get 3-day access to premium voices with the trial version.

If you get the premium version of this tool, you get the ability to add BGM.

You can convert up to 15,000 characters for a single download.

It also gives you commercial rights.

Lovo allows you to convert, listen and share your created TTS voice.
Cons:

Lovo is quite more expensive than the iMyFone VoxBox.

It is an online tool, so you will require a stable internet connection.
Price:
| Plan | Price |
| --- | --- |
| Personal Month | $24.99 |
| Personal Annually | $209.88 |
| Freelancer Month | $74.99 |
| Freelancer Annually | $599.88 |
3) Streams Speak
Streams Speak is another online text-to-speech voice generator that you can use. It is the simplest TTS generator among all three that we mentioned. It does not require any signup or sign in. You can just go to the website, enter your text script, choose the voice, and convert it into speech.
Streams Speak uses a machine learning algorithm to generate the feeling of the real human voice. Most of all, this tool is free to use.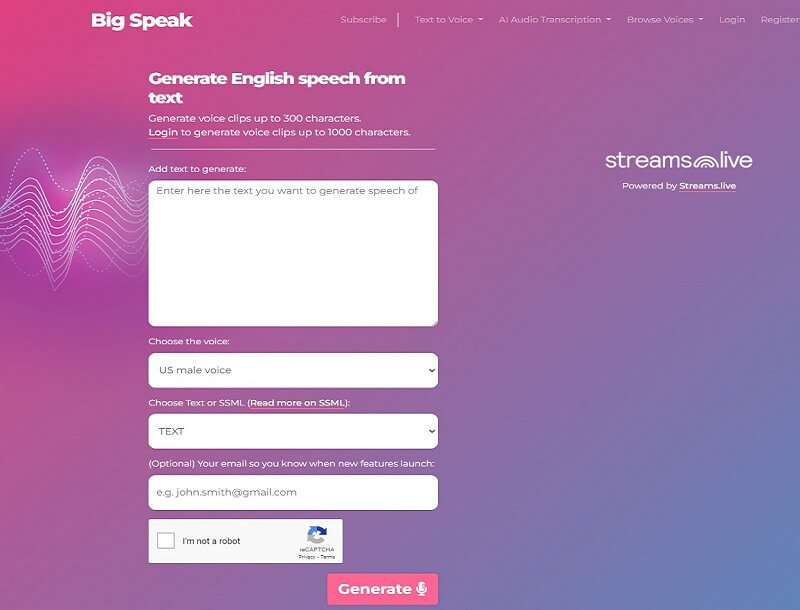 Features:
Streams Speak can generate text-to-speech in 6 different languages.

The Voice library of this tool is not vast, as it contains only a few distinct voices.

Using the free tool, you can generate voice clips of up to 300 characters.

It also has a feature of AI Audio Transcription.
Pros:

You can browse voices from different genres.

Login to generate about 1000 characters from the text to speech.

The premium version will get you about 180 minutes/month of AI Audio Transcription.

It has a trial version for premium members as well.
Cons:

Streams Speak has only 6 different voices to choose from.

The combination of characters and voices is not so wide.

It only has 6 different languages.
Price:
| Plan | Price |
| --- | --- |
| 1-month Plan | $19.9 |
Conclusion
If you want to generate robotic voices using a TTS generator, then there are certain tools you can go for. There are different online tools like Lovo and Streams Speak that are decent to use. However, these tools are not as effective as iMyFone VoxBox.
iMyFone VoxBox is the best TTS voice generator as it is easy to use and also works offline as it is a
desktop software
. You can download it for free and try out its text-to-speech feature.