Mordecai, the beloved cartoon character from Regular Show, has left a lasting impact on audiences worldwide. His distinctive voice has captivated the hearts of many, leading to a surge in the use of his AI voice for dubbing and creating AI cover songs on social media platforms.
If you're wondering how to obtain the perfect Mordecai AI voice that flawlessly captures his essence, worry not! The solution lies in the powerful AI voice generator and text-to-speech tools at your disposal.
In this article, we will provide you with a step-by-step guide on effortlessly acquiring a free Mordecai AI voice. So, let's dive right in!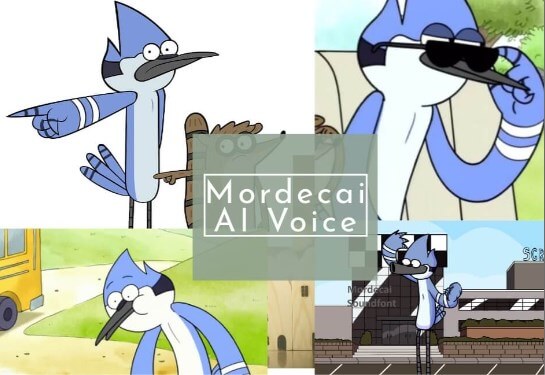 Part 1: Info about Mordecai in Regular Show
Mordecai is one of the main characters in the animated television series "Regular Show." Created by J.G. Quintel, the show revolves around the lives of two friends, Mordecai and Rigby, who work as groundskeepers at a park.
Mordecai is a tall, anthropomorphic blue jay with a slender build. He typically wears a white T-shirt, blue jeans, and brown shoes. He has a laid-back and easygoing personality, often displaying a mild-mannered and big-hearted nature. Mordecai is known for his loyalty to his friends and his willingness to help others.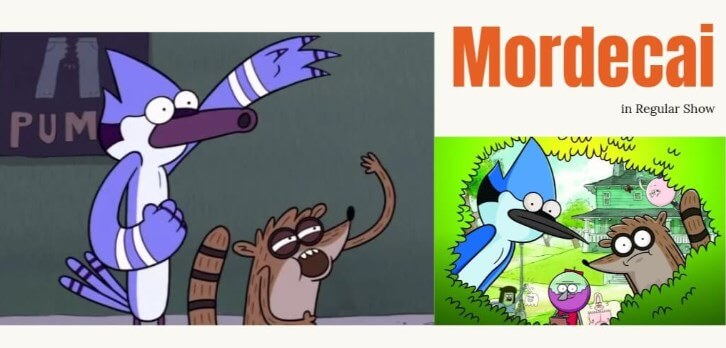 Throughout the series, Mordecai engages in various adventures and misadventures with Rigby. While Mordecai may face challenges and conflicts, he usually handles them with a level-headed approach and tries to find solutions. His character development throughout the series focuses on maturity and personal growth.
Part 2: Voice Actor for Mordecai
Mordecai from "Regular Show" is voiced by J.G. Quintel, who is not only the show's creator but also lends his voice to the character. J.G. Quintel is an American animator, writer, and voice actor known for his work on the show.
He provides Mordecai with a distinct voice that captures the character's laid-back and relatable personality. Quintel's involvement in voicing Mordecai adds a personal touch to the character, as he brings his creative vision and understanding of the role to the performance.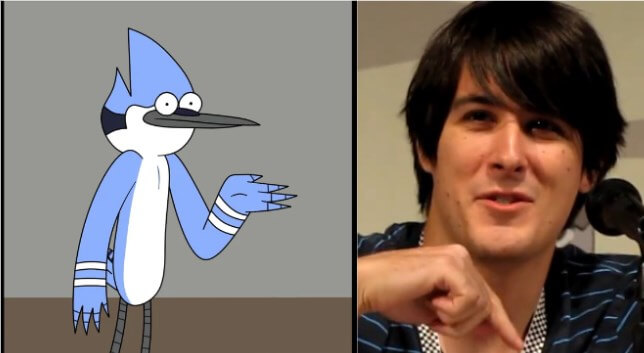 Part 3: How to Get Mordecai AI Voice with AI Voice Generator?
VoxBox -- AI Voice Generator with Voice Cloning
VoxBox is an advanced AI tool that creates flawless AI voices, accurately capturing the individual style and unique vocal tone of anyone you desire, including Mordecai. With VoxBox, you can effortlessly generate captivating voiceovers that mirror Mordecai's distinct characteristics
Additionally, VoxBox offers a comprehensive text-to-speech feature with support for over 46 languages and an extensive library of 3200+ voices, including renowned singers, rappers, actors, making it the ideal choice for content creators seeking high-quality dubbing solutions or simply looking to have fun with voice manipulation.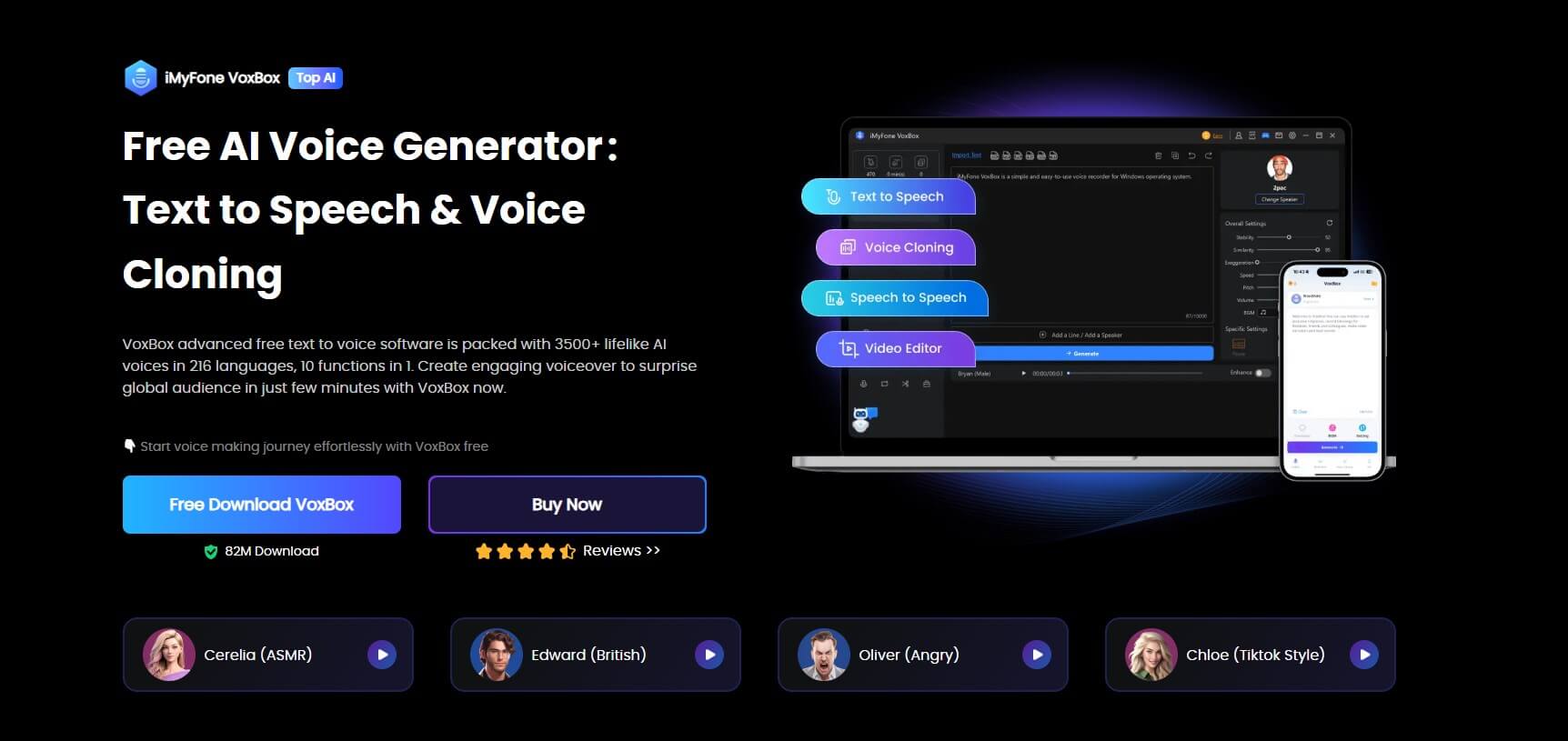 How To Make Mordecai AI Voice
Step 1: Download and install VoxBox, click on "Voice Cloning", and then upload Mordecai's audio to clone.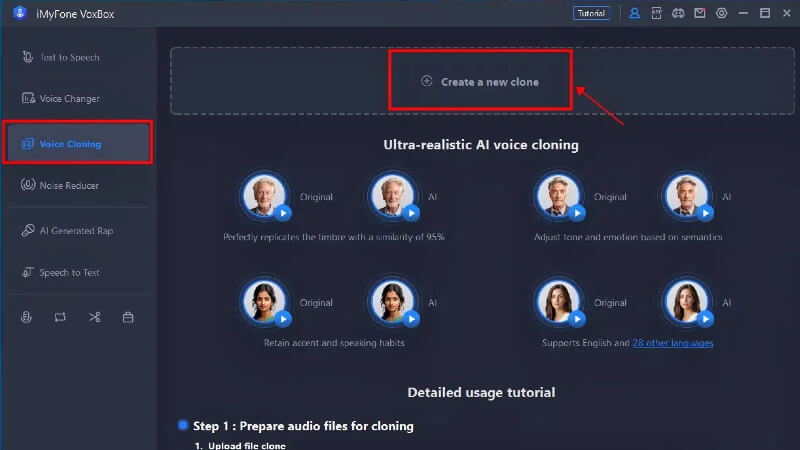 Step 2: Then wait a min, you can get his AI voice perfectly emulating the essence of his voice.
Steps to use Mordecai AI voice for TTS
Step 1: Click the "Text to Speech". Type the Cloned Voice name like Mordecai's to choose and then enter text to convert.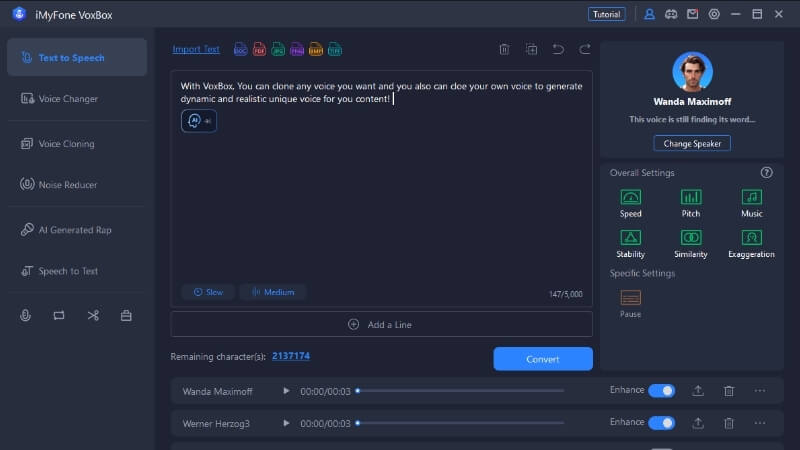 Step 3: Click the "Convert" button to export the voiceover.
Key Features:
It has diverse range of ready-to-use artist voices.

With a collection exceeding 3200+ voices n 46+ languages, VoxBox grants you an extensive repertoire for dubbing purposes.

VoxBox allows you to effortlessly export your generated content in multiple formats, including MP3, WAV, and more.

VoxBox places great importance on your security, employing state-of-the-art measures while ensuring swift processing times.

VoxBox empowers you with its robust text-to-speech and voice cloning features, meeting all your voice generation requirements with utmost precision and versatility.
Part 4: FAQs about Mordecai AI Voice
1. How to get Mordecai AI voice?
You can easily get Mordecai AI voice with the best AI voice generator -- VoxBox.
1. Download and install it.
2. Click "voice cloning" & "upload the audio file of mordecai"
3. Download the generated AI mordecai voice for other usages, or directly head to "text to speech" session to start dubbing using the mordecai ai voice.

2. Can I modify the characteristics of the Mordecai AI voice?
Yes, the Mordecai AI voice generally preserves the unique style and vocal tone of Mordecai's character. Lukily, with VoxBox, you can customize the voice speed, pitch, sound effect, and more, satisfying all your needs.
3. What is the best Mordecai AI voice generator?
VoxBox comes highly recommended as an AI voice generator for crafting the beloved Mordecai AI voice. Leveraging advanced AI text-to-speech technology and voice cloning features, VoxBox enables you to effortlessly produce lifelike and expressive AI voices that closely resemble Mordecai's unique vocal style. With a plethora of customization choices and support for diverse output formats, VoxBox is the perfect tool for creating captivating content inspired by Mordecai.
Conclusion

In essence, Making AI voice of Mordecai in Regular Show has become much easier with voice cloning feature in AI voice generator -- Voxbox. Furthermore, if you find the voice enchanting, and desire to use it for other purposes, VoxBox's text-to-speech technology can perfectly match your needs.
Now take the leap to explore Mordecai AI voice, using it for dubbing or cover songs, and thriving in social platform today!