Do you know the American animated science fiction film Wall-E, many WALL-E fans want to use an auto wall-e voice generator to get the voice of wall-e, and other characters, are you also looking for the best auto voice generator to create WALL-E voice clearly? If yes, then this article is for you. We are going to show you the best auto WALL E voice generator and will show you a step-by-step guide on how to generate a WALL E voice with a few easy steps. Moreover, the article will also discuss additional information, features, pros & cons, reviews, and pricing plans of the software.
Part 1: Info of Wall-E
WALL-E is the main character of the movie WALL-E released in 2008. The character was designed and created by Jim Reardon and Andrew Stanton as a solitary, garbage-processing, and an environment-friendly robot that collects garbage from Earth left by humans. The robot was sent to Earth to collect trash, but after 700 years, he faced a glitch that created this character's personality. He started feeling lonely, inquisitive, and curious.
WALL-E with the full name Waste Allocation Load Lifter: Earth-Class has two extending arms with articulated fingers on U-shaped tracks through which he picks and collects garbage and things that attract him. After picking them, he stored the processed trash in his body that opened from the front side.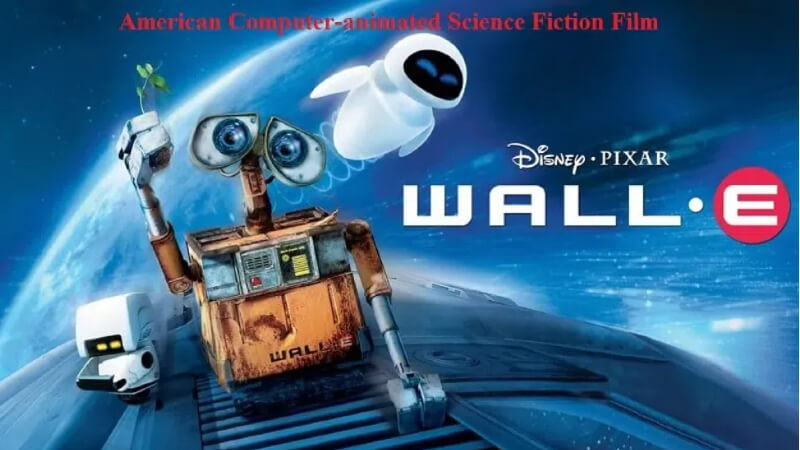 Part 2: Who Voices The Wall-E
Benjamin Burtt Jr is an American voice artist, screenwriter, voice designer, and editor who is well-known and popular all over the world because of his contribution to WALL-E. Ben Burtt was selected to voice over the character of robot WALL-E in the movie WALL-E 2008. Ben Burtt is a global artist well-known for his work in many other famous films like Star Trek, Invasion of the Body Snatchers 1987, E.T. The Extra-Terrestrial, and many more. In the movie WALL-E, Ben Burtt served as the voice artist as well as the voice editor for the WALL-E character. Other than this, he also did vocalization of many other robots in the same movie.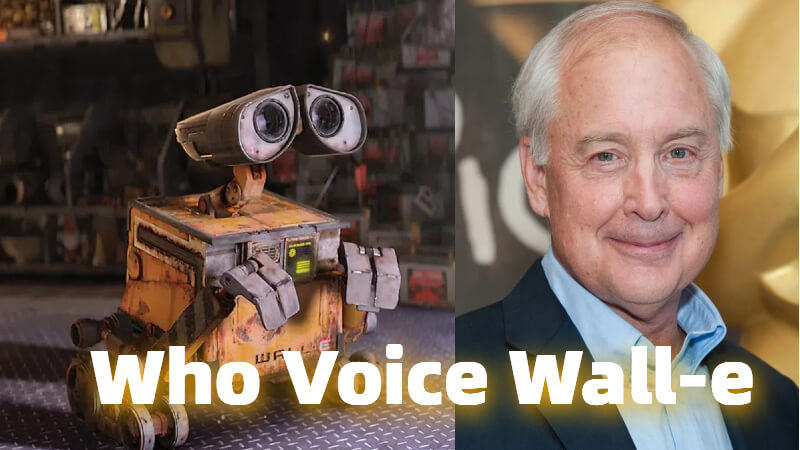 Part 3: Use Auto Voice Generator Get Similar Voice Like Wall-E
Step of VoxBox Generate Voice:
Step 1: Download and install the iMyFone VoxBox

Step 2:From the left-hand menu panel, click "Text-To-Speech" then choose a voice similar with Wall-E

Step 3:Type your content or paste,then convert.
1)Comparison Review of VoxBox
iMyFone Voxbox is one of the best, most versatile, and most flexible AI voice generators and audio managers. It can create realistic, natural, and error-free voice clips in almost 3000+ different sounds. You can create multiple voice clips using VoxBox totally free of cost using this massive collection of sounds.
Moreover, VoxBox also offers the option to use different input and output languages. It means you can give the text in a different language and can get the audio clip into another language using the desired sound or voice. As far as its multi-functionality is concerned, it can convert PDFs, images, and audio files into speech according to your demand. VoxBox also allows its users to convert, edit, and record voice extraordinarily using the free built-in flexible features.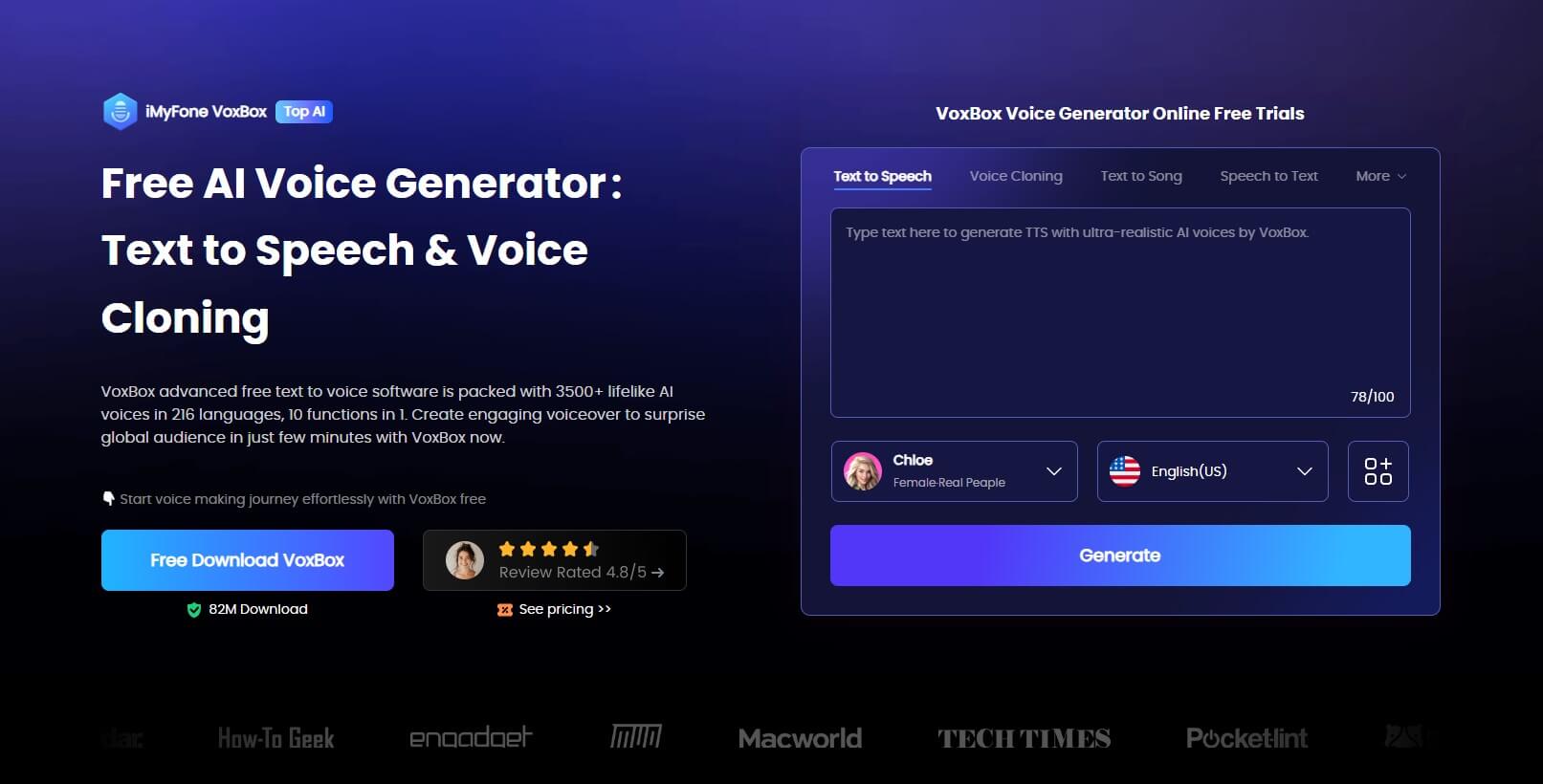 Features:
Supported 3200+ voices except wall-e,like other Rappers, YouTubers, Characters, Celebrities, etc.

Also supported 46+ languages like Japanese, Hindi, etc

100+ pro accents like British, New zland, south-africa, chile .

More Functions like text-to-speech, speech-to-text, speech-to-speech, video convert, voice record, etc

More adjust parameters like Pause, Volume, Pitch, Speed, Emphasis, Sound effect, BGM, etc
Pros:

Easy-to-use.

User-friendly interface.

Privacy and security are guaranteed.

Safe and No Ads
Cons:

Only supported Win, Mac coming soon.
Reviews:
VoxBox has built around 269 honest and positive user reviews. Moreover, it also has a user rating of 4.9 out of 5 stars.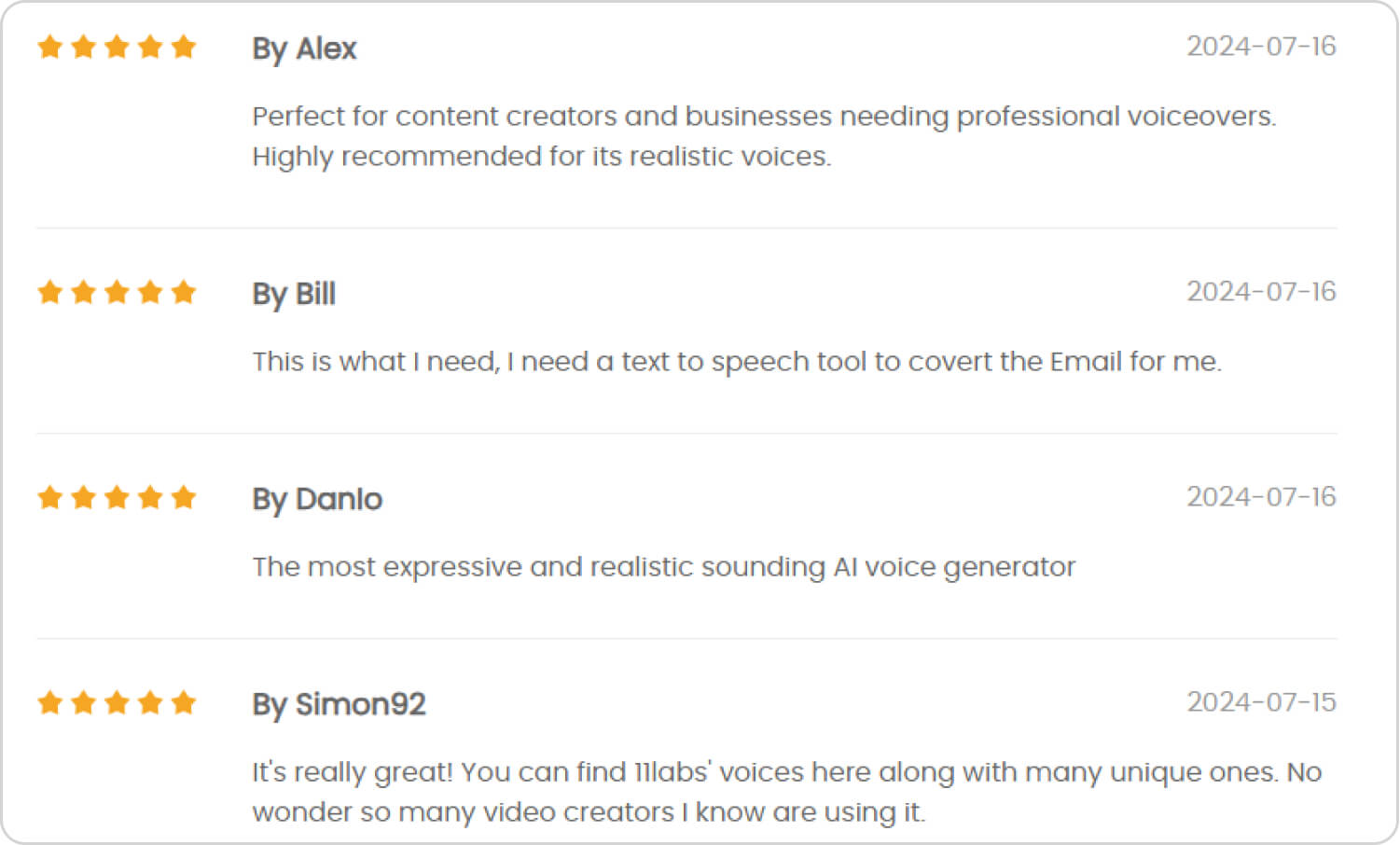 Price:
| Plan | Price |
| --- | --- |
| 1-month Plan | $14.95 |
| 1-year Plan | $39.95 |
| Lifetime Plan | $79.95 |
Conclusion
In this article, We have introduced the American computer-animated science fiction film. For WALL E lovers, if you want to generate wall-e voices for audiobooks, presentations, gameplays, streaming, and whatever you want, we have made this article a complete guide on how to generate WALL E voice with an auto voice generator.
Of course, if you just have a big need for voiceover, I'd also recommend VoxBox. which is no big money, no hire artist voice, but you can get a natural and realistic voice through the functions text-to-speech, This software will also allow you to edit, convert and record voice efficiently and seamlessly.