Anya Taylor-Joy is a well-known actress, and her iconic voice is also loved by many fans and content creators. Relying on advanced technology, you can use Anya Taylor-Joy AI voice or the voice of other actresses for dubbing in documentaries, commercials, animations and other videos to enhance the emotional impact of the content.
In this article, we will explore how to use the best voice generator to clone and customize the most realistic Anya Taylor-Joy AI voice.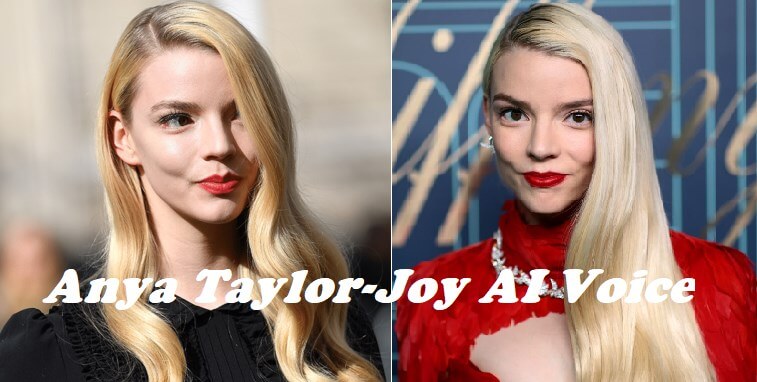 Part 1: Anya Taylor-Joy's Acting Career
Anya Taylor-Joy, born on April 16, 1996, is a British-Argentinian actress and model who has captivated audiences with her remarkable talent and distinctive on-screen presence. Her journey into the entertainment industry began in 2015 with a standout role in "The Witch," a haunting psychological horror film. Her portrayal of Thomasin marked the emergence of a talent that would soon become a household name.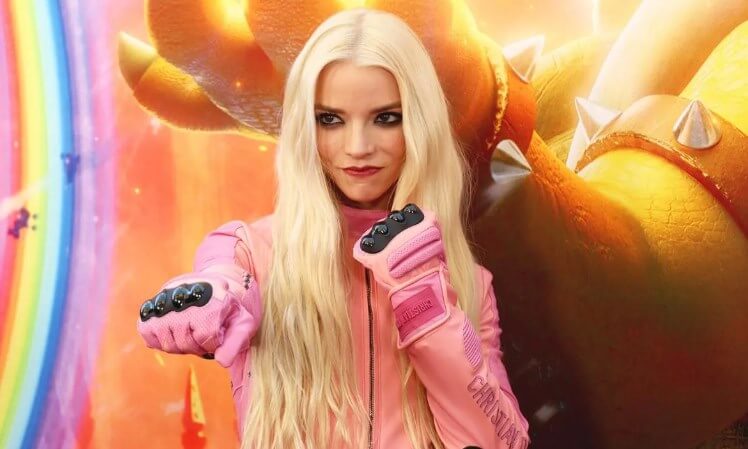 Taylor-Joy's career continued to ascend with roles in diverse cinematic endeavors, from playing complex characters in suspenseful thrillers like "Split" and its sequel "Glass," to demonstrating her mastery in period pieces like "Emma." However, it was her performance as the brilliant yet troubled chess prodigy in "The Queen's Gambit" that truly solidified her status as a powerhouse performer. The accolades and awards that followed, including a Golden Globe, underscored her ability to embody multifaceted characters with depth and authenticity.
Part 2: How To Generate Anya Taylor-Joy AI Voice Through Voice Generator?
As an Anya Taylor-Joy fan, now you can use the leading AI voice cloning and tts technology to create humorous content, parody famous quotes, and even participate in creative pranks with Anya Taylor-Joy charming voice.
VoxBox is an innovative voice clone and text-to-speech software that will help you get Anya Taylor-Joy AI voice. Through the fusion of advanced voice cloning and text-to-speech synthesis, VoxBox brings you 3200+ voices for you to make dubbings, not only deepfake Anya Taylor-Joy voices, but also more talented stars you like in different fields.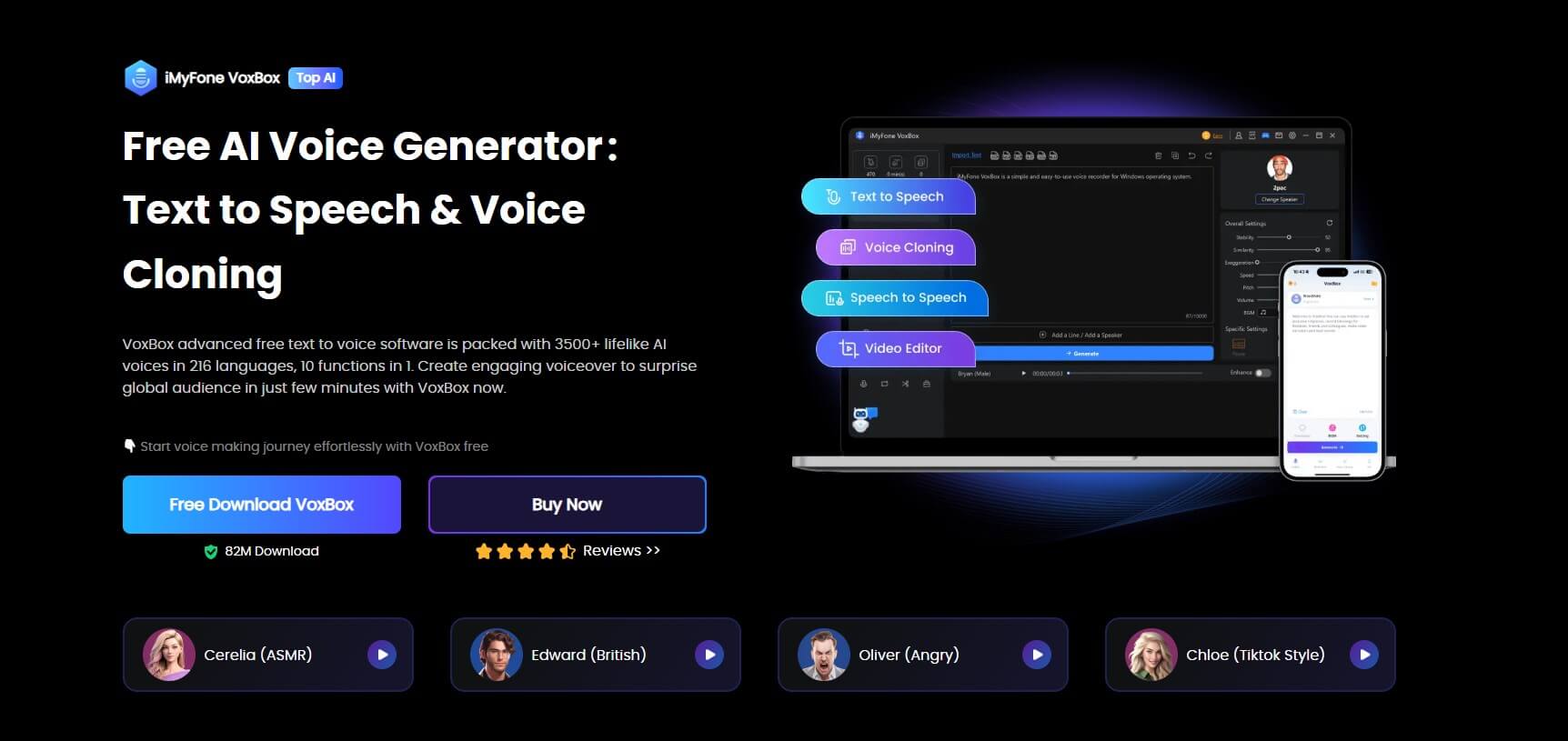 Steps To Create Anya Taylor-Joy AI Voice:
#Step 1: First, download and install VoxBox.
#Step 2: Nagivate to the "Voice Cloning" lab on the left side and go to it.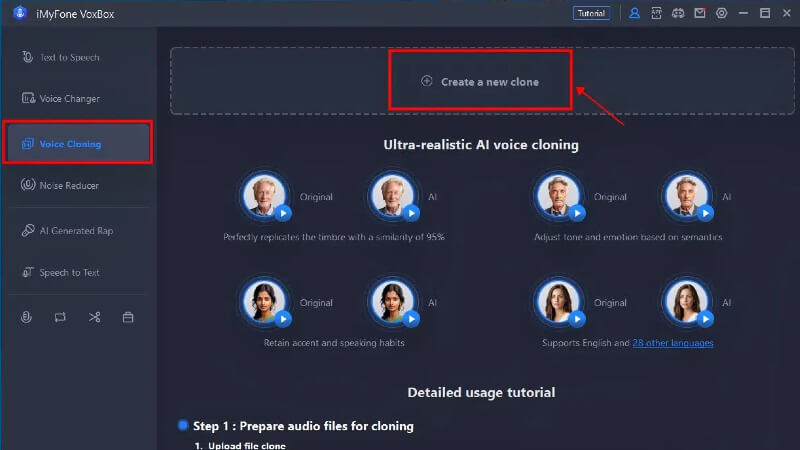 #Step 3: You should import your audio, wait for a min and you can find Anya Taylor-Joy voice in "My cloned voice"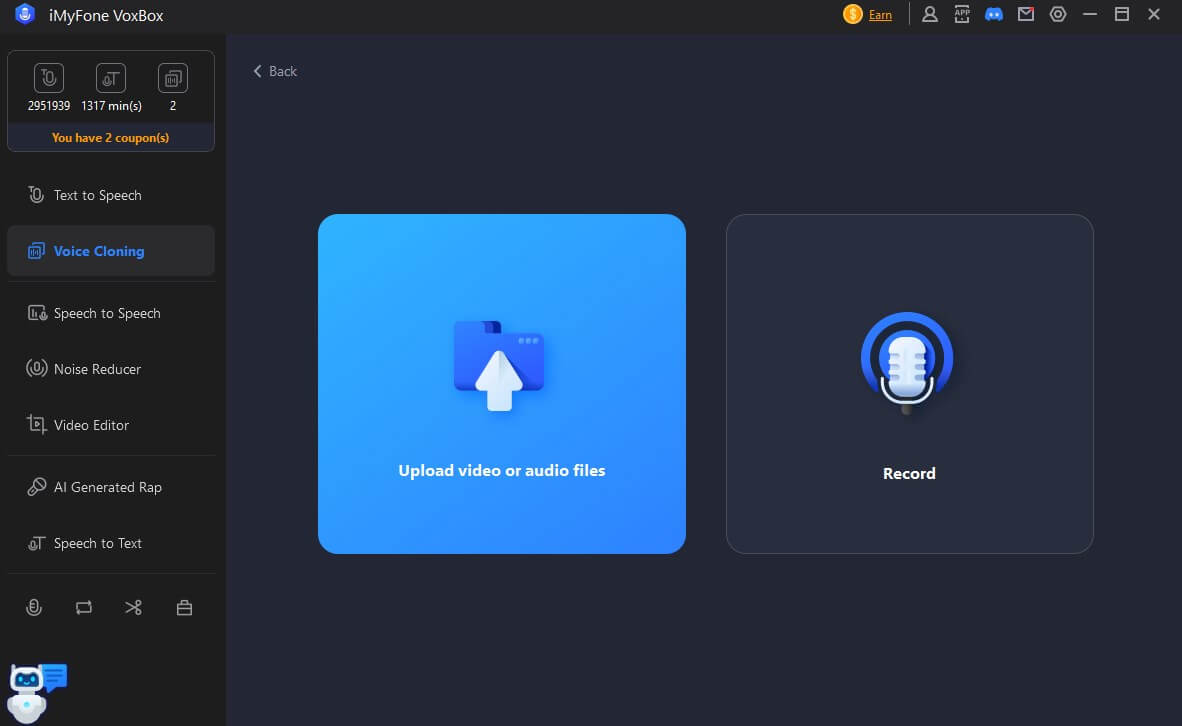 #Step 4: Hit "Text to Speech" lab and type the text to generate voiceover in Anya Taylor-Joy AI voice.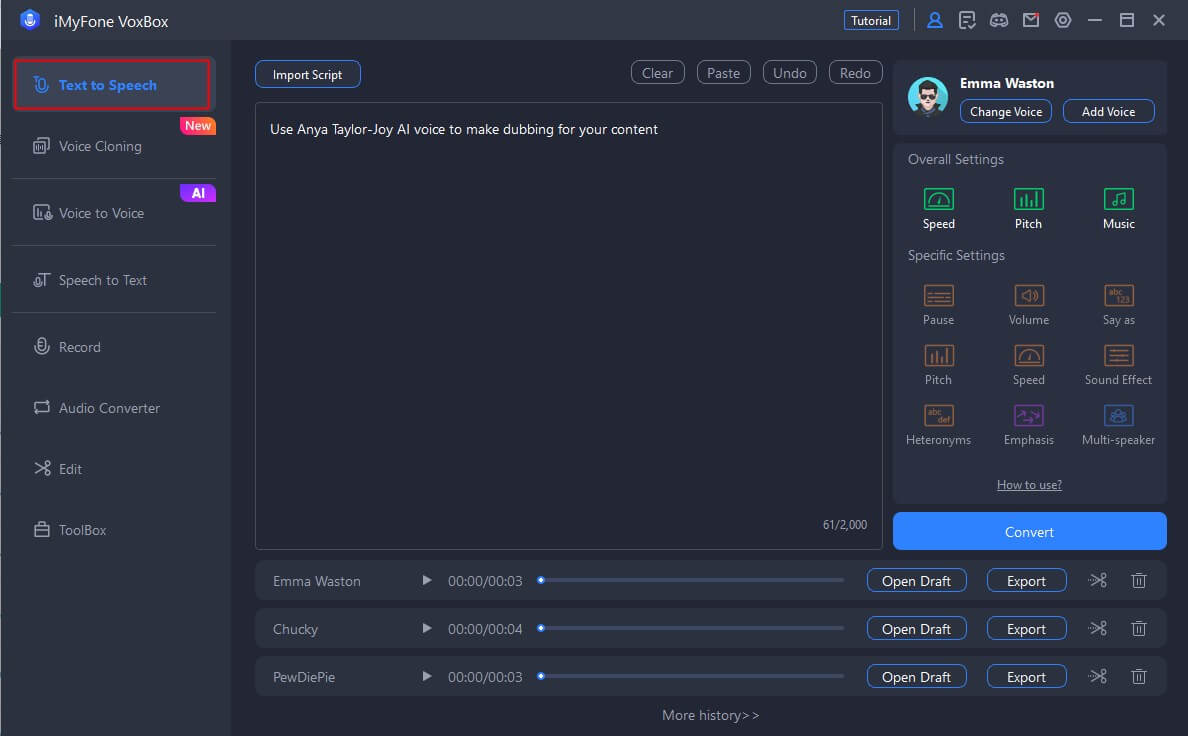 Key Features:
More than 3200 voices including lots of famous people voices like actors and actresses.

Over 77+ languages and 100+ accents to assist you create voiceover.

Customize the overdubs via most adjustable options like volume, pause, etc.

Also makes you voice sound like Emma, Ariana and more renowned female stars.

All-in-one conprehensive voice generator to access functions: speech-to-text, text-to-speech, voice-to-voice, voice cloning, editing, recording and conversion.
Pros:

A great number of voices of celebrities are provided.

2000 free letters for beginners to generate everyone's tts voice.

Natural real people voice models.
Cons:

You should installed the software by yourself.
Bonus Tips: Top Anya Taylor-Joy Movies and TV Shows
Anya Taylor-Joy Movies: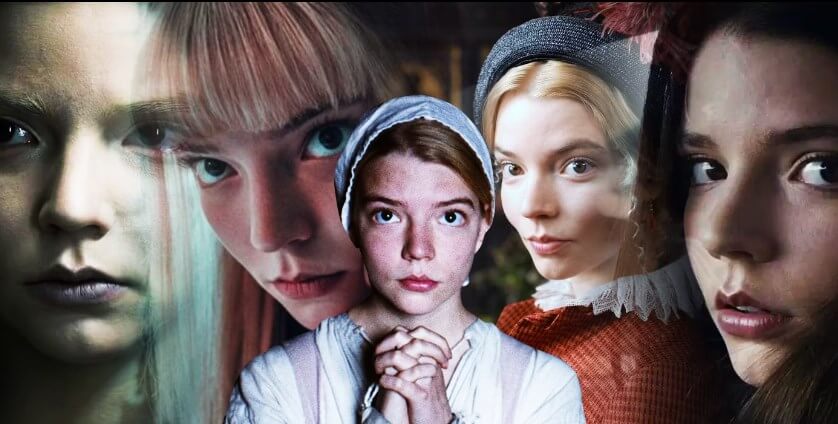 Split(2016) - In this M. Night Shyamalan thriller, she portrayed Casey Cooke, a young woman who must outwit a man with multiple personalities.
Last Night in Soho(2021) - In this psychological horror film directed by Edgar Wright, she took on the role of a young woman who experiences eerie visions of 1960s London.
The Witch(2015) - Taylor-Joy's breakthrough role as Thomasin in this psychological horror film marked the beginning of her successful career.
Anya Taylor-Joy TV Shows: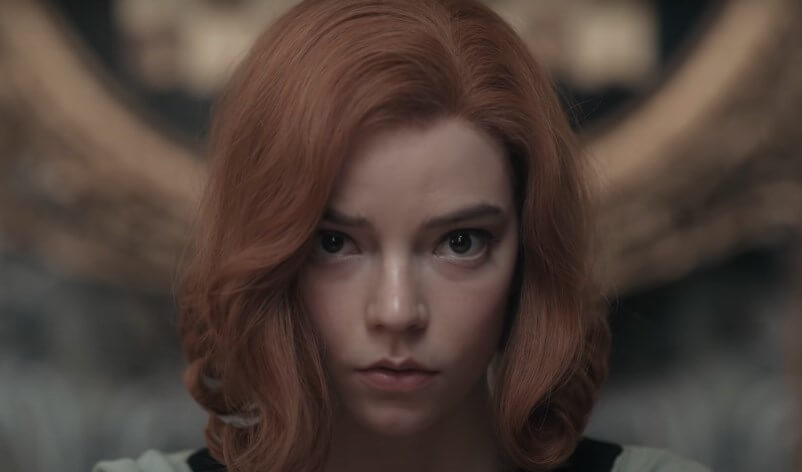 The Miniaturist(2017) - Taylor-Joy played the lead role of a young woman who uncovers dark secrets in 17th-century Amsterdam.
Peaky Blinders(2019) - She had a guest role in the acclaimed British crime drama series, portraying Gina Gray, the wife of a gangster.
The Queen's Gambit(2020) - This Netflix miniseries was a major success, and Taylor-Joy's performance as the troubled chess prodigy garnered widespread praise.
Part 3: Hot FAQs about Anya Taylor-Joy AI Voice
1. Can I use the Anya Taylor-Joy deepfake AI voice to impersonate her?
Yes, of course, you can use VoxBox to custom Anya Taylor-Joy unique voices to impersonate her for pranks or other purposes.
2. Where can I access the Anya Taylor-Joy AI voice?
The availability of the Anya Taylor-Joy AI voice depends on the platforms or services that offer AI-generated voices. These platforms might include text-to-speech tools, AI voice generators, or similar services.
3. Has Anya Taylor-Joy won any awards for her acting?
Yes, Anya Taylor-Joy won a Golden Globe award for Best Actress in a Limited Series or Motion Picture Made for Television for her role in "The Queen's Gambit."
Conclusion
From video voiceovers to virtual assistants, the possibilities for the Anya Taylor-Joy AI voice are as diverse as the talents of the actress herself. With its ability to evoke authenticity and familiarity, this technology adds a new dimension to content creation, enriching the experiences of audiences across various mediums.
If you're seeking Anya Taylor-Joy voice generator for your projects, look no further than VoxBox. Whether you're a filmmaker, content creator, storyteller, or simply an admirer of the actress's voice, you can use VoxBox to achieve all goals.