In a world where music transcends language and culture, karaoke stands as a universal language that unites individuals with the power of song. AI karaoke song generator empowers users to curate their musical adventure, catering to diverse applications and captivating audiences across various domains and change the ways we interact with music, offering a gateway to creative expression.
Let us delve into the significance of the karaoke song generator and explore how to use generated AI karaoke songs to enrich our life.
In this essay, we will delve into the facts behind the singing generators as well as singing covers, and recommend several AI generators to make songs and covers.
Part 1: Why Karaoke Songs Are So Popular?
Karaoke songs are immensely popular due to their role as a social and inclusive form of entertainment, providing stress relief and joyful expression. They offer a platform for people of all skill levels to showcase their singing talents, fostering confidence building and performance opportunities.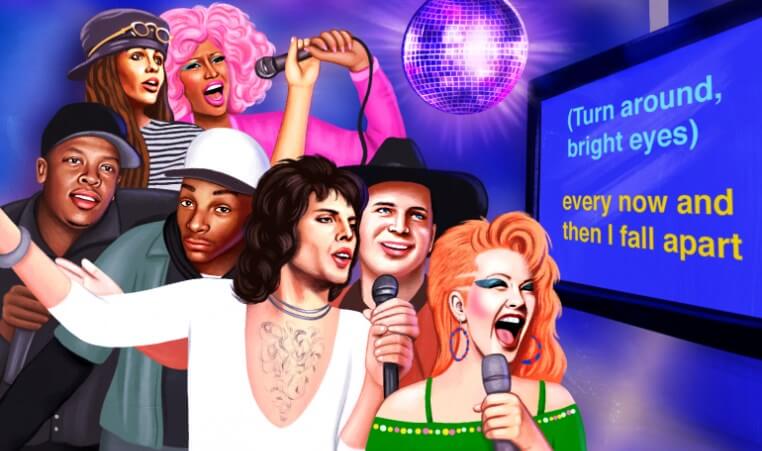 Karaoke has catapulted several individuals to popularity, including Susan Boyle, whose viral performance led to a successful music career, Justin Bieber, who gained recognition through YouTube karaoke covers, and Charice Pempengco, whose emotive karaoke videos garnered international attention. Additionally, James Corden's "Carpool Karaoke" segment became a cultural phenomenon, and numerous social media influencers have utilized karaoke to amass followers and engage audiences.
Part 2: The Best Karaoke Songs Listed 2023
"Bohemian Rhapsody" - Queen (Rock/Opera)
"Don't Stop Believin" - Journey (Rock)
"Sweet Caroline" - Neil Diamond (Pop/Rock)
"Livin' on a Prayer" - Bon Jovi (Rock)
"I Will Always Love You" - Whitney Houston (R&B/Soul)
"Hotel California" - Eagles (Rock)
"Billie Jean" - Michael Jackson (Pop/R&B)
Part 3: Ways to Make Karaoke Song with AI Generators
1. MusicAI
iMyfone MusicAI, a new artificial intelligence-driven AI music generator designed to elevate your karaoke experience to new heights. With MusicAI, you can create personalized karaoke songs in various genres through its comprehensive functions coming soon.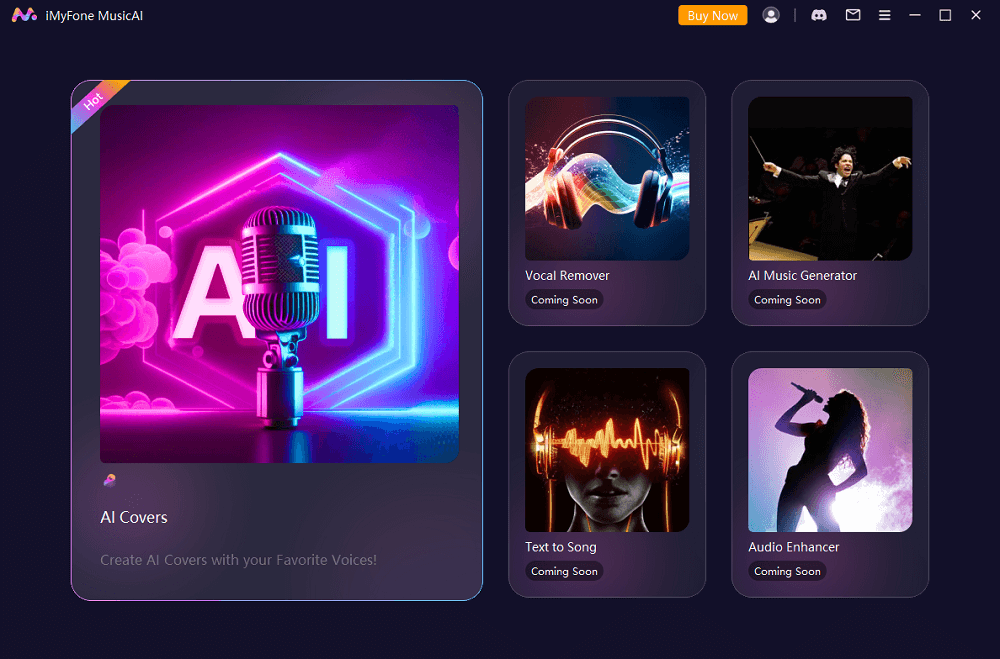 Here free listen to Michael Jackson singing vocals generated by MusicAI.

Key Features:
An expanding voice library to cover favorite karaoke songs.

A free trial and downloading chance.

Get ready for an extraordinary musical journey with MusicAI's upcoming features, including vocal removal, text-to-music conversion, AI composition.

Tracks of different genres like lofi, country will offer recently.

Export your songs in a multitude of formats.

Perfect for a wide range of applications, from entertainment and education to social media and beyond.
2. Media.io
Media.io is an ultimate destination for karaoke songs and a free AI song generator. This innovative online mashup maker empowers you to effortlessly remix songs and adjust audio lengths with exceptional quality.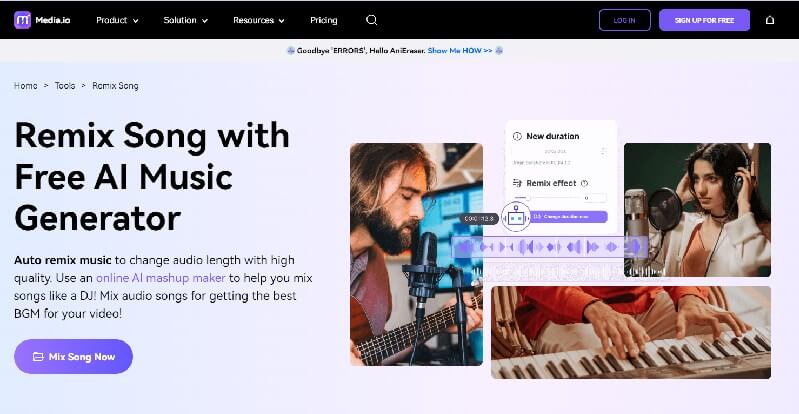 How Media.io Make Karaoke AI Songs:
Step 1: Log in to your account on the website.
Step 2: Choose your file by directly selecting it.
Step 3: Remix your music and customize the effects to your liking.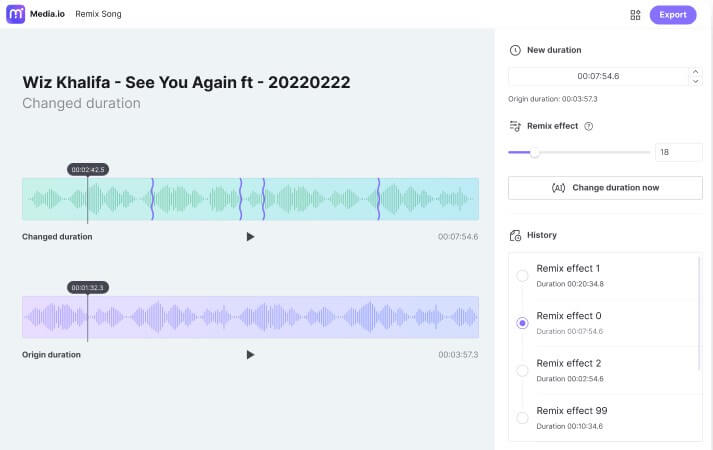 Step 4: Preview your creation by clicking the Play button.
Key Features:
Media.io boasts an impressive collection of more than 100 stylish remix effects.

Adjust the audio length on Media.io to perfectly align with your video duration.

It can automatically handle tasks like trimming, rearranging, and adding captivating remix effects.

A hassle-free and swift mixing experience with Media.io's user-friendly interface.
3. Chosic - Random Karaoke Song Generator
Chosic is an innovative random karaoke song generator that brings the excitement of musical exploration to the palm of your hand. With a vast collection of songs spanning diverse genres, Chosic allows users to discover and sing along to new and exciting tunes, ensuring an entertaining and immersive karaoke experience.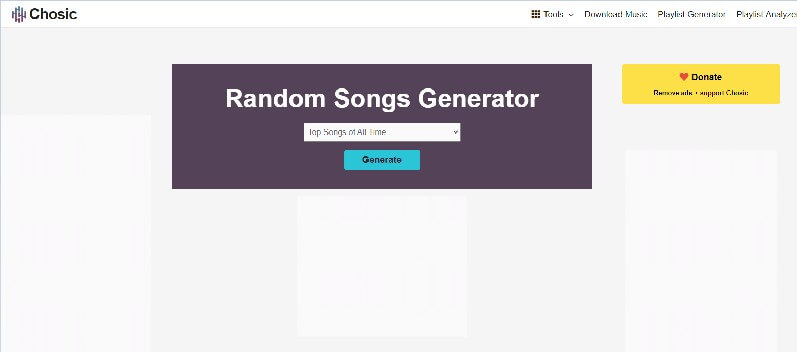 Key Features:
A fair and unbiased method of selecting songs.

You are able to listen on YouTube or Spotify.

Random festival songs can be generated.

It offers a wide range of music genres to explore.

Promises entertainment and enjoyment for its users.
Part 4: Hot FAQs about AI Karaoke Song Generator
1. Can I convert a song into karaoke?
Yes, you can convert a regular song into a karaoke version using various audio editing software and tools. One common method involves removing the vocals from the original song, leaving only the instrumental music. While it's not always perfect, there are dedicated audio editing programs and plugins specifically designed to help remove vocals and create karaoke tracks.
2. Are AI music generators safe to make karaoke songs?
AI music generators can be safe to use for creating karaoke songs, but it depends on the specific platform and technology. It's essential to consider the quality and accuracy of the generated karaoke tracks, copyright issues related to using copyrighted music, user experience, privacy, and data protection. Exercise caution and choose reputable platforms like iMyfone MusicAI to ensure a safe and satisfactory experience when creating karaoke songs with AI.
Conclusion
In conclusion, the karaoke song generator redefines the way we interact with karaoke music. Its ability to remove vocals, personalize playlists, and offer a diverse range of genres enables users to foster creativity and enjoyment in abundance. From entertainment venues to content creators and social media enthusiasts, the applications of the Karaoke song generator are limitless.
As we look to the future of music exploration and creation, one AI-powered tool that stands out is MusicAI. It is the ideal companion for any music lover or creator seeking to elevate their karaoke experience to new heights, which will assist you to obtain attractive songs.