How often do you come across a stunning YouTube video and want to make it your phone's ringtone? I bet too often and quite understandably as YouTube is full of short videos having captivating background music. Luckily, there're tons of tools available to convert YouTube video to MP3 ringtone.
We have explored the internet and curated a list of best MP3 ringtone makers. Stick to reading and find out how to make a YouTube song your ringtone on an Android or iPhone device.
Best YouTube to MP3 Ringtone Maker - iMyFone Filme
If you're looking for the best software to make YouTube video into MP3 ringtone, then iMyFone Filme is what you are looking for. This expansive, multi-featured, and user-friendly tool lets users to turn any YouTube video into a ringtone – that you can simply make a ringtone for your smartphone.
Apart from changing the video format to MP3, Filme also acts as YouTube to MP3 ringtone cutter and empowers you to trim the unnecessary part. The whole procedure takes just a few minutes and what's best is you don't have to be tech-savvy to use this smart video editor.
Features of iMyFone Filme
Easily convert YouTube video into ringtone

Trim the unnecessary video and audio

Advanced fast mode

Wire import

Add dozens of video overlays, effects, and themes

Unique video transitions

Multi-layering of videos and audios

All basic video editing features
Text Guide
Checkout yourself how to convert YouTube to MP3 ringtone using Filme:
Step 1
Once installed, launch iMyFone Filme on your computer.
Step 2
Click on the 'import media" option and import the YouTube video you want to convert to MP3 ringtone.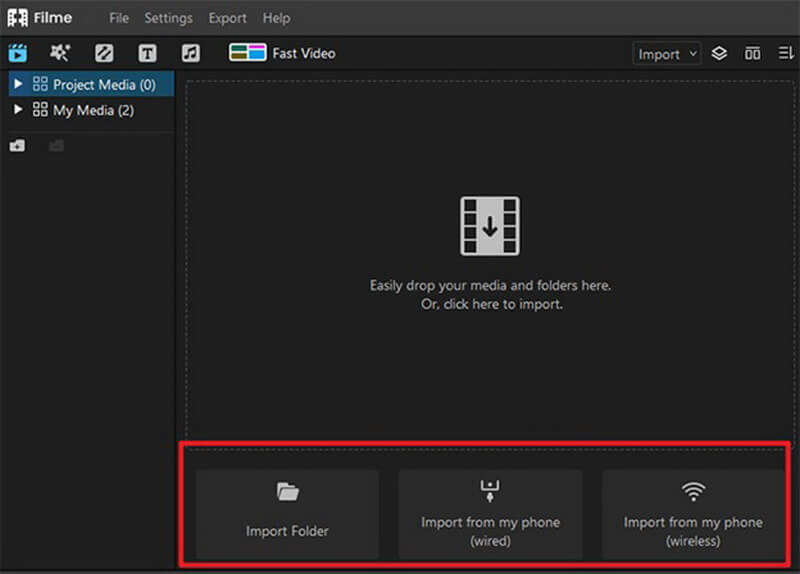 Step 3
Now, hit on the "+" sign on the video to move it to Filme's timeline.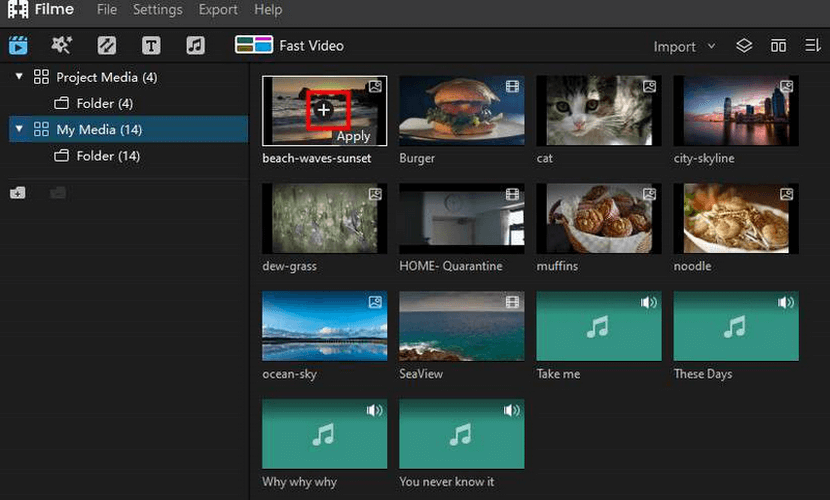 Step 4
Once in the timeline, right-click on the video and select the "Detach Audio" option and you'll see the audio clip in golden below the video file.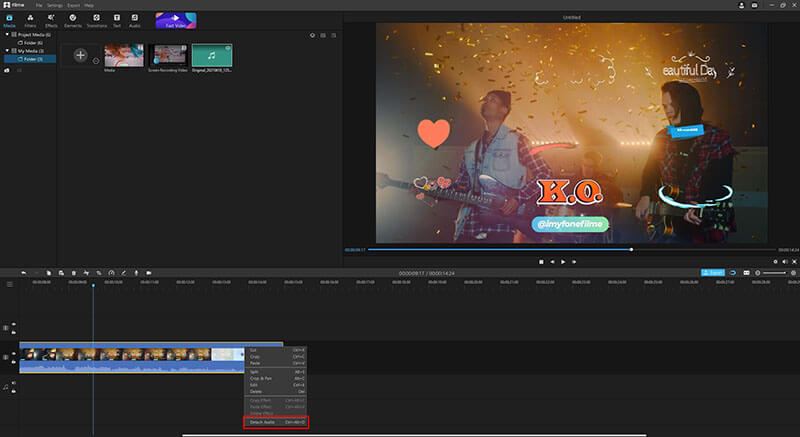 Step 5
Now, single click on the audio track to select it and pull the clip to Trim it to the required length.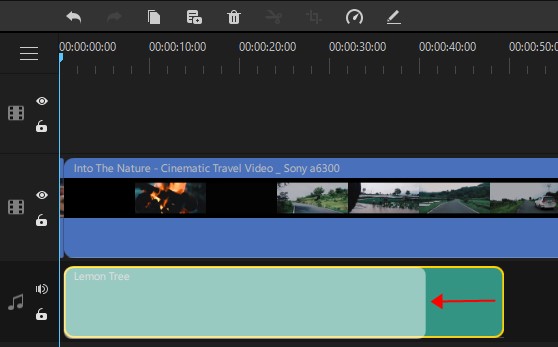 Step 6
Once you're done editing, select the audio clip and hit on Export and choose MP3 as the output format as shown in the figure.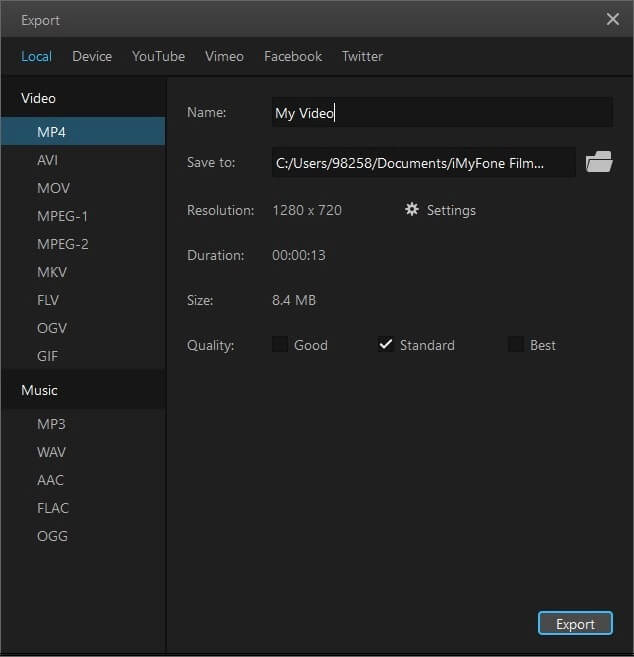 Also Read:
How to Trim YouTube MP3 Files >>
Download MP3 Ringtone from YouTube Online
With just one quick search on Google, you'll find a myriad of software to assist you in downloading MP3 ringtone from YouTube video.
The tool you choose depends on your individual preferences. Here, we will go with YTMP3.cc which is a free, online service that allow users to convert any YouTube video of up to one-hour length into MP3 ringtone.
What makes YTMP3.cc a go-to YouTube to MP3 ringtone converter is its ease of use for both beginners and professionals. You don't need to register yourself or buy its premium version to avail its services. What's more, this service works perfectly on all PCs, tablets, gadgets, and so on.
Here's how you use this service for YouTube to MP3 ringtone download:
Step 1
Play the YouTube video you want to download into MP3 ringtone and copy its URL.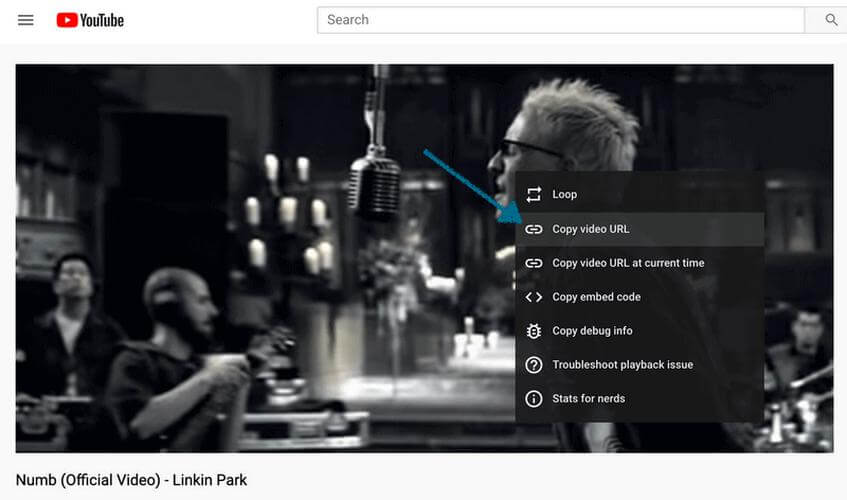 Step 2
Now, navigate to YTMP3.cc from your browser and paste the link in the search box. Hit Convert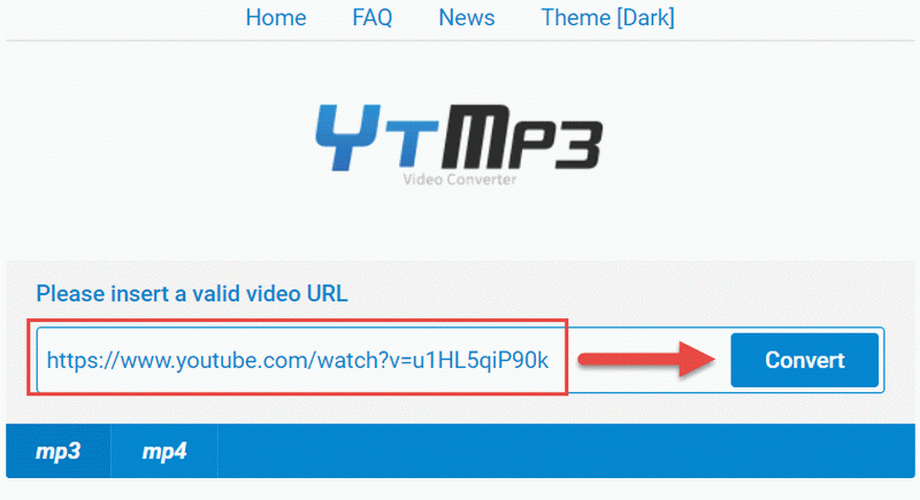 Step 3
The program will take a few seconds to process the video and convert into MP3 format.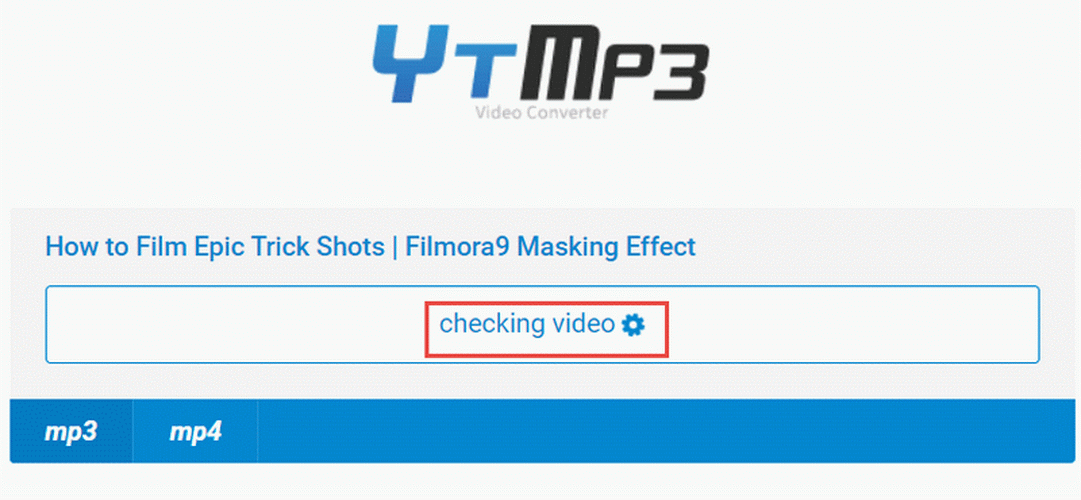 Step 4
When it's done, select the mp3 option and hit on Download. Then, choose the desired location on your computer to save the output file.

And there you go, that how easy it is to YouTube MP3 ringtone download via YTMP3.cc. Using the same procedure, you can download as many ringtones as you want.
Also Read:
Convert YouTube to MP3 Ringtone Online
The online world is awash with online YouTube MP3 ringtone converter tools that make it exceptionally easy to convert any YouTube to MP3 ringtone. The best thing about an online convertor is you don't need to install any third-party app on your computer.
The only challenge you face is choosing the right product to convert YouTube a video. We have done a comprehensive research and found Clideo as a reliable YouTube to MP3 ringtone cutter online. It is an easy to use, free software that helps you convert a YouTube video to a soundtrack. What set it apart from other tools is its ability to trim the soundtrack using its in-built audio editor.
Follow the below steps to use Clideo:
Step 1
Head to YouTube and play the video you want to convert to MP3 ringtone. Copy its URL link.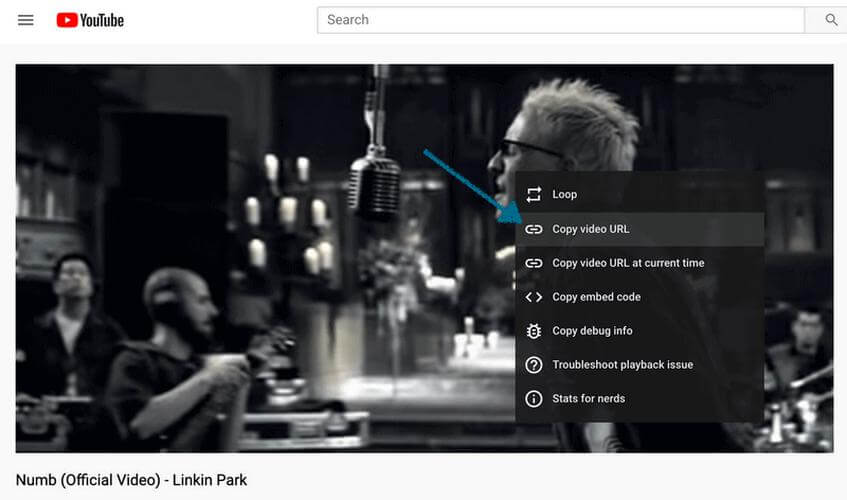 Step 2
After that, navigate to the Clideo Online Video Converter from your browser and hit on the arrow on the right-side of "Choose File." Paste the link in the search box.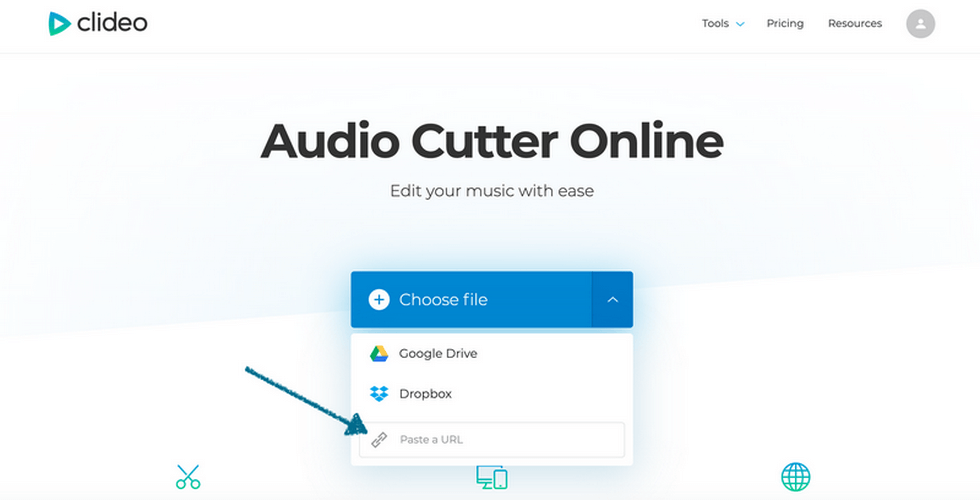 Step 3
The program will automatically fetch the details of the YouTube video and open it in the Clideo audio editor.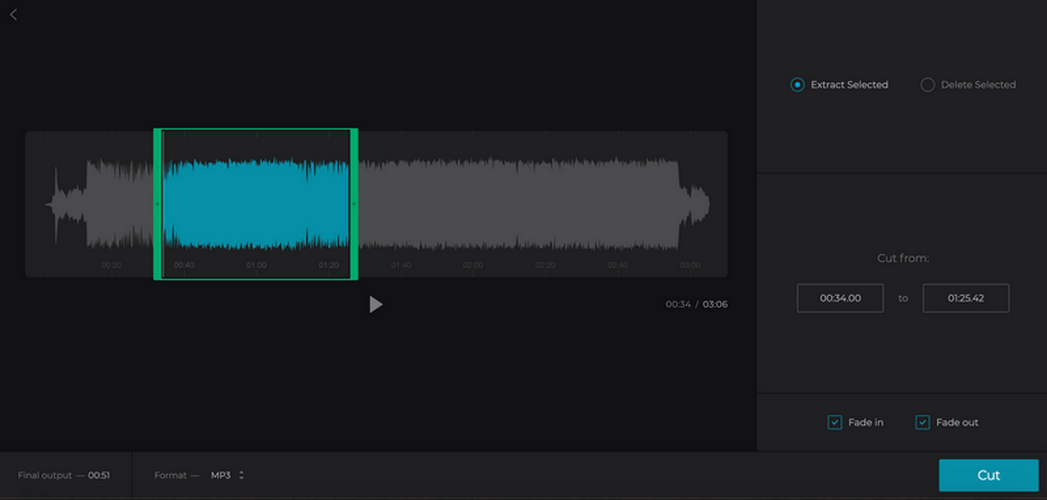 Step 4
Here, you can set the starting and ending point of the soundtrack – if needed – using the slider or by entering manually.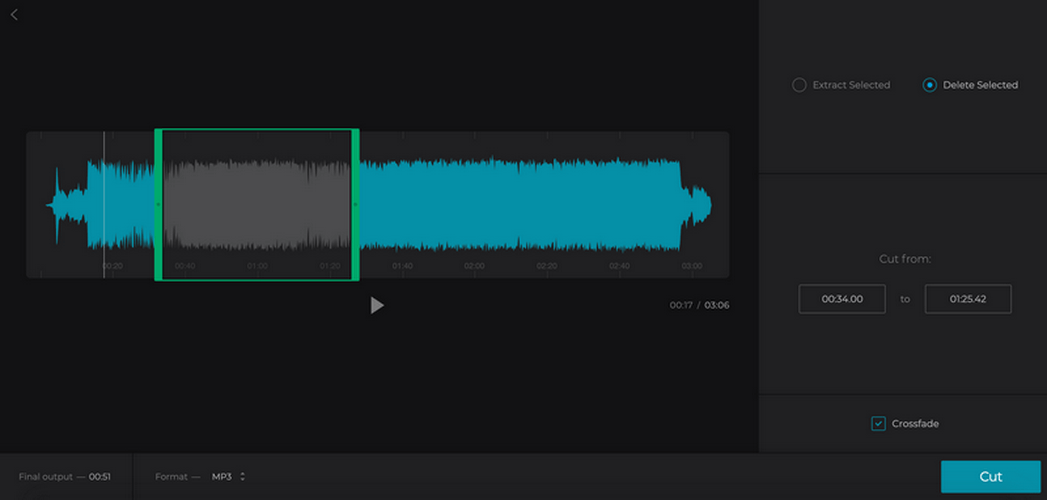 Step 5
Finally, choose the output format as MP3 and hit Cut. Wait for a few seconds until the program saves the output MP3 file on your computer.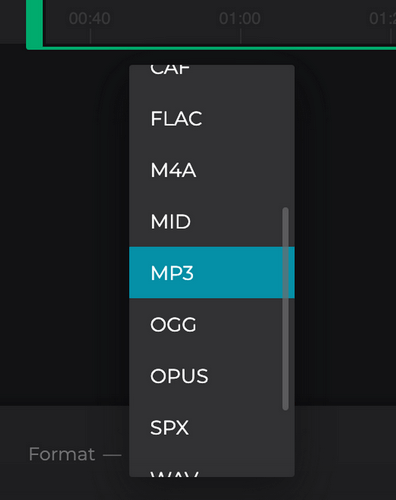 And that easy it is to YouTube music ringtone MP3 download using Clideo.
Also Read:
How to Make a Tiktok Sound Your Ringtone >>
How to Make YouTube Video to Ringtone
Now that you know how to download and convert YouTube videos to MP3 ringtone. Let us discuss the best method to make YouTube video to ringtone on your iPhone and Android.
On iPhone
Follow the below steps to make a YouTube video as ringtone on iPhone:
YouTube to MP3 iPhone ringtone
Step 1
Start by downloading the YouTube video following the steps shown in Part 2 or Part 3.
Step 2
Once the video is downloaded, launch the latest version of iTunes on your computer and drop and drag the MP3 file into it.
Step 3
After that, navigate to File > Convert > create AAC version.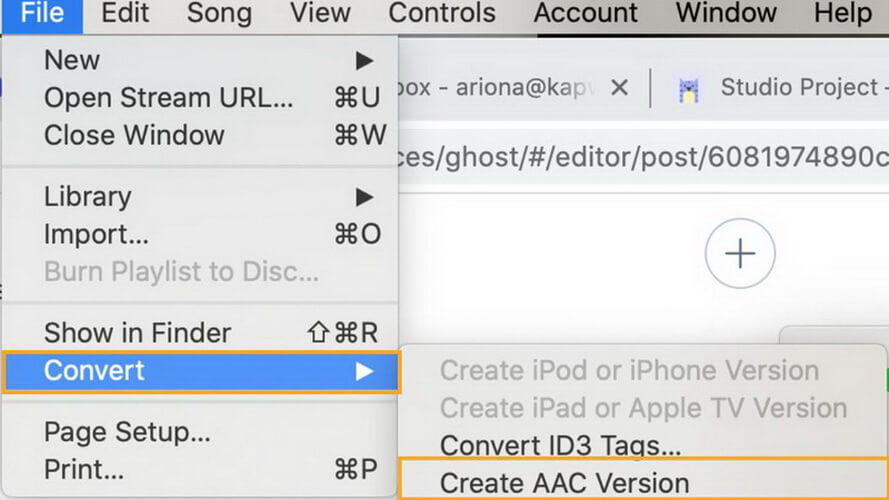 Step 4
Now, you need to convert the file into M4R. For that, right-click the new version and select "Show in Finder." Then, change the file extension from m4a to m4r and delete the other versions from the iTunes library, however, do not send them to the trash.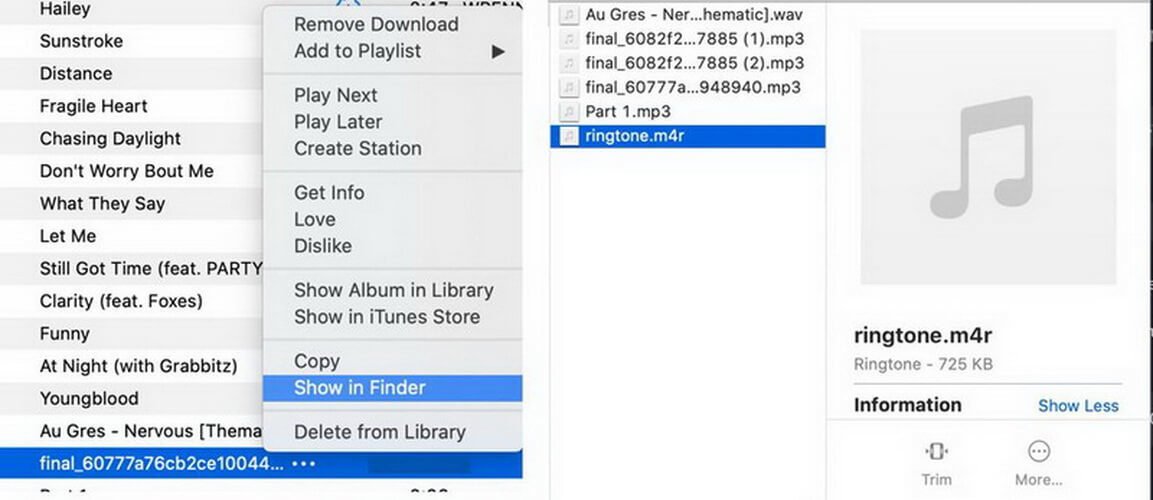 Step 5
After that, connect your iPhone to iTunes and drop and drag the m4r from the iTunes Finder in the sidebar of the Apple Music application of your iPhone.
From your iPhone's Home screen, head to Settings > Sound & Haptics > Ringtone. And you'll have a brand new ringtone.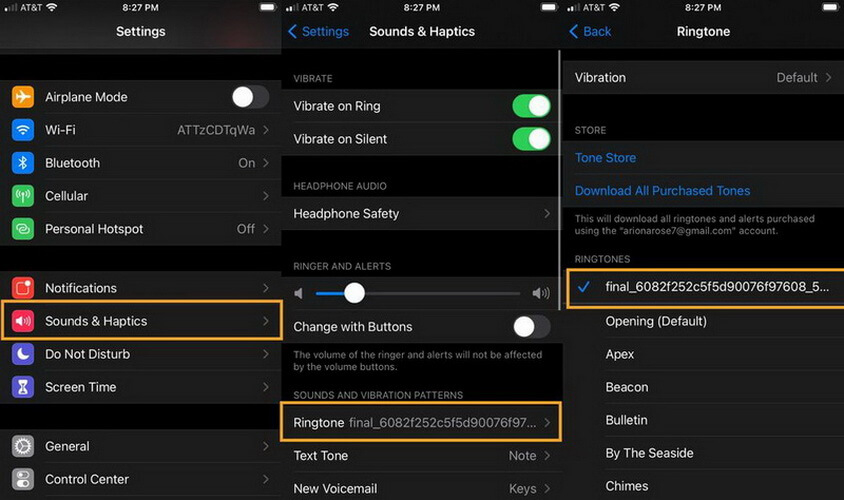 On Android
For making the YouTube video into ringtone on your Android phone, follow the below steps:
Step 1
After downloading the YouTube MP3 ringtone, transfer it to your Android phone.
Step 2
Now, go to Settings > Sound and Notifications > Ringtones > Add. Then, choose the recently added track that you want to set as ringtone.
Step 3
Then, simply tap on it and set is as ringtone.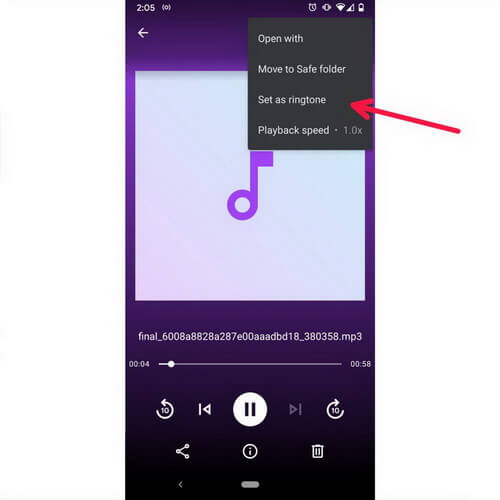 Note that the steps for setting a ringtone on an Android phone varies in different models and Android versions. We have outlined the steps used in the latest Android phones. If you're having any difficulty, simply search for your Android's model and learn how to set a ringtone on it.
In any case, the steps show that making YouTube video to ringtone is quite easier for an Android device compared to an iPhone.
Final Words
To sum it all, this article has provided an in-depth guide on how to YouTube convert MP3 to iPhone ringtone. The only thing you have to worry about is choosing the perfect app to turn YouTube videos into soundtrack.
Hopefully, you'll get all the necessary information from this blog post. As far as our recommendation goes, we urge the readers to install iMyFone Filme and make YouTube MP3 ringtones as easily as it can get.
Feel free to ask any questions.