When you are at a tourist spot, it is almost impossible to avoid unwanted people from the background. There are people all around, so you cannot have a perfect picture without any hassle. If you also face such situations, then do not worry. This article is going to be a complete solution to your problem. We are going to share the most effective software or tools for removing unwanted people from photos. Therefore, you can click as many photos as you want without worrying about unwanted people in the background. Let's start the discussion.
1 Click to Remove Unwanted People from Photos - MarkGo
iMyFone MarkGo is a profoundly designed watermark remover for photos and videos. It can also be used for removing any object or person from photos. It offers optimal perfection and does the job in no time. With one click, you can get rid of people in the background of your photo.
Features of MarkGo:
iMyFone MarkGo is used to remove watermark from video and images. It also supports adding different objects to both these formats. You can add your own logo or another object to videos and images easily.

MarkGo is a wonderful and smart software for the removal of unwanted objects from images and videos. Its main motive is the removal of watermarks, but any undesired object from images and videos can be erased easily.

One of its most interesting features is batch processing. Anyone can remove or add objects to many pictures at a time without wasting time by repeating the process.
Steps on How to Remove People from Photos:
Step 1: Download and Install the Software
First of all, go to the iMyFone website and download MarkGo. Install it and open the software on your device.
Step 2: Open Image with MarkGo
After opening MarkGo, you will see a very simple and clear interface with four different options: 1) Remove Video Watermark, 2)Remove Image Watermark, 3)Add Watermark to Video, and 4)Add Watermark to Image. As we want to remove people from images, click on the second option, Remove Image Watermark.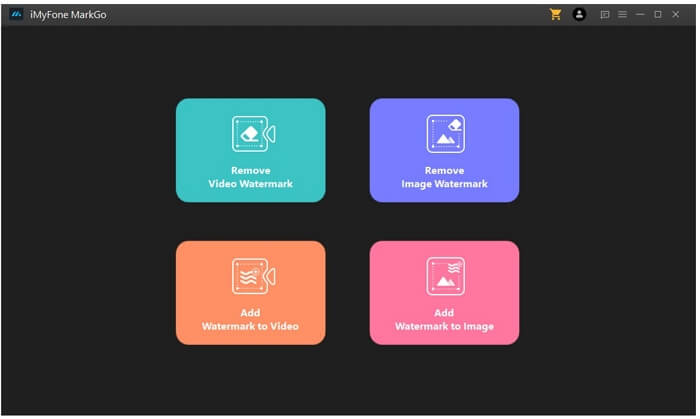 Step 3: Open Image
On the next screen, you will see the option of Add Image. Click on it to add your desired Image from your device.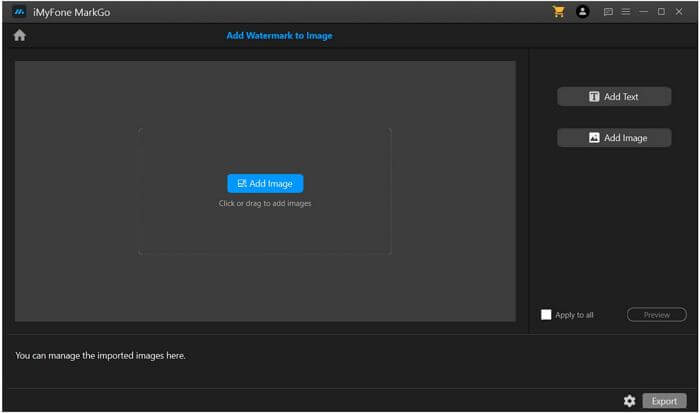 Step 4: Select the Area
In this step, click on the selection tool from the right side of the screen and select the area or people from the Image which you want to be removed. You can do it by creating a loop or selection box over the part of removal.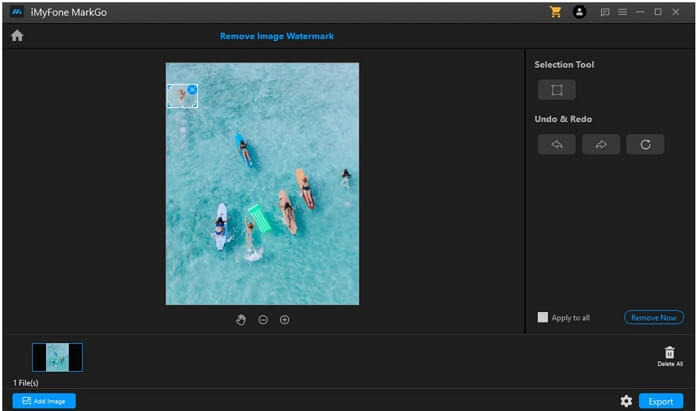 Step 5: Remove and Save Image
After selecting the area or people from your Image, click on the Remove Now button from the right bottom of the screen. After a few seconds, your selected area will be removed from your Image, and you can save or download the Image through the Export button.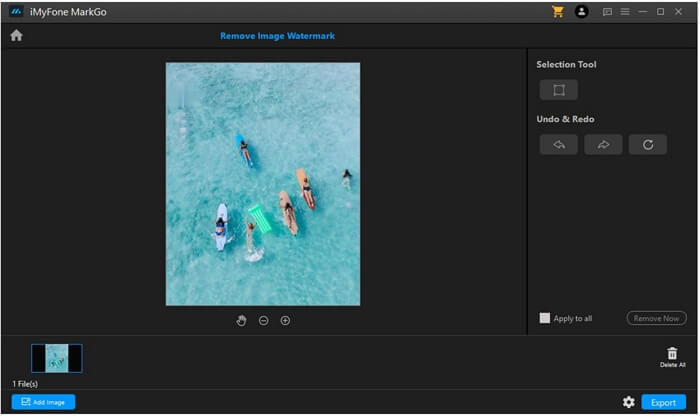 User Feedback:
iMyFone provides the best customer services to buyers for their ease and satisfaction.

The software MarkGo is used by many people, and it provides them satisfactory results with great quality.
Remove Shadow from Photo Online >>
Remove Stickers from Photos >>
Remove Someone from Photo on iPhone & Android - TouchRetouch
TouchRetouch is a mobile application designed for editing images on iPhones and Androids. This app can be used to remove unwanted people from photos with a very easy method. It offers a simple single brush for selecting objects from images easily. The application is very fast and provides excellent results.
Price:
TouchRetouch is a paid mobile application that requires 1.99$ for downloading this app on your device. Pay for it first, then download and install it for your use. So, it does not offer any free version or trial period.
Steps on How to Remove People from Photos:
Step 1: Download and Install the App
Firstly, go to the App Store or Play Store to download the app on your device. You will see an option through which you can pay the amount and purchase the app for downloading it.
Step 2: Import Your Photo
After installing TouchRetouch, import images from your camera roll. You can also choose the output resolution of your final file.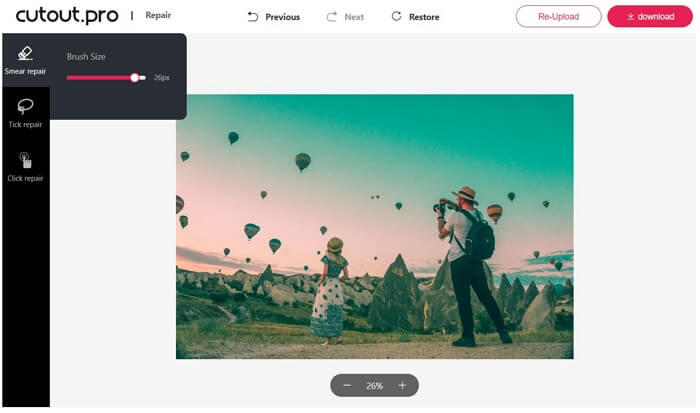 Step 3: Select Tool
From the tool section, select Lasso or Brush Tool for selecting the area from images. Create a loop or select an area by drawing a loop around the part which you want to remove from the photo.
Step 4: Remove Selected Part
Now, tap on the Start button at the bottom of the screen to remove the selected part.
Pros:

Easy to use

Available for both iPhone and Android mobiles

Clear interface
Cons:

Paid application
Remove People from Photos with Online Tool - Cutout.Pro
Cutout.Pro is an online tool for removing the background of images with a single click. It is also used to remove and blur different unwanted objects from images, so it can be a perfect online tool for the purpose.
Price:
Cutout.Pro offers a free account with one free credit. But if you want to use it continuously for a long time, then you will have to subscribe to its paid plans. The subscription plan demands 0.009$/credit, and you can buy as many credits as you want according to your budget and requirement on a monthly basis.
Moreover, there is also a Pay as you go plan which means you can buy credits whenever you want according to your needs.
Steps on How to Remove People from Photos:
Step 1: Go to the Site
First of all, go to the website through this link. At the top of the website's main page, you will see some options in the header menu bar. From those options, click on Products > Photo Retouch.
Step 2: Upload Image
On the next screen, you will have another option: Upload Image. Click on it and choose an image from your device. After the opening of the Image, click on the Smear Repair option from the left side of the screen.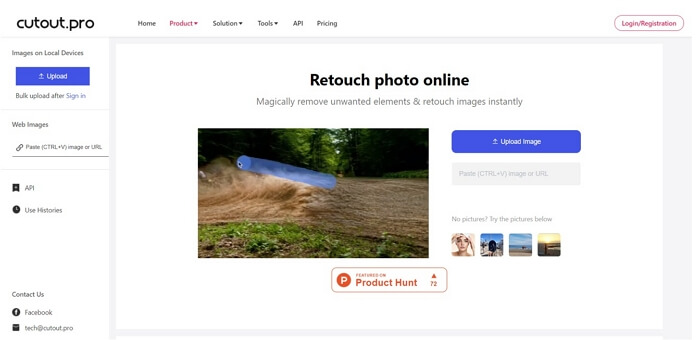 Step 3: Select the Area
Smear Repair will turn your cursor into a brush. Now, just select the people from photos through the brush and after leaving the brush, Cutout.Pro will take some time to remove people.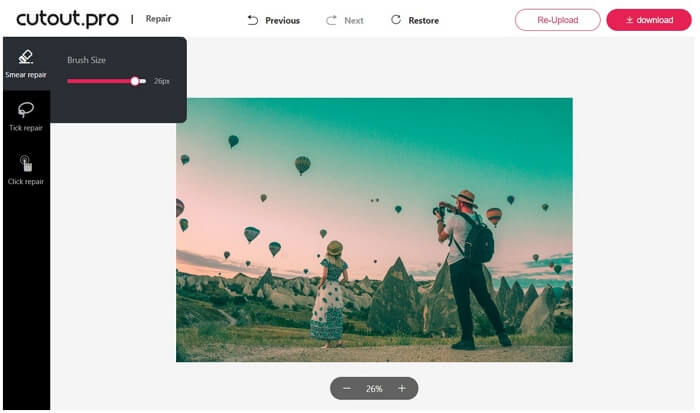 Step 4: Download the Image
If you get unwanted spots over the Image, then repeat the process. Once you are done, click on the Download button from the right top corner of the screen.
Pros:

Free to use

Clear interface

Supported by all platforms
Cons:

Works slow
Tips You Should Know for Removing People from Photo
1: Duplication of Layers
Whenever you are going to edit your photos, always duplicate the layers first. You can make multiple layers to keep all your steps saved and separated. It proves helpful when the user wants to go back to the original step or image from the last step. If the tool does not support layers, create a copy of the image.
2: Selection of AccurateTool
Different software provides different built-in tools and features. Let's take the example of Photoshop. In Photoshop, the most amazing tools for removing people or objects are the Spot healing brush tool, Patch Tool, and Content-Aware Fill Tool. You can use them to remove the person.
3: Select Area Precisely
After selecting the best tool, the next step is a pinpoint selection of the area which you want to remove. The accurate selection brings the clearest results. For this purpose, all software allows the zoom-in feature to magnify the image for clear vision and detection of area.
Final Words
Now, there is no need to repeat the shots just because of unwanted people. Just remove them through software, online tools, or mobile applications. We have shared all these sources with their complete method on how to use them. However, we recommend MarkGo. It is a simple tool to remove watermarks/objects.