The IGTV app is trending these days. This is because it helps you watch your favorite videos without spending a lot of time searching for them, as they are automatically recommended to you by the IGTV app, based on your Instagram usage.
This guide will help you find out the easiest and the shortest way to upload to IGTV from the desktop directly.
In the end, we will also recommend you a great software that makes IGTV upload from the desktop a lot easier and efficient. It is called iMyFone Filme. You can try it out for free and check out its advanced features in video making.
How to Upload Video to IGTV from Desktop (Windows & Mac)
Uploading your video to IGTV from the desktop will save you from sending your IGTV to your phone first and then upload it. With the help of uploading video to IGTV from your desktop, you can easily upload your video from your desktop without going through the inconvenience of sharing it to your mobile phone.
For uploading the IGTV video from your desktop, all you have to do is follow this easy 2-step how to upload on IGTV from the desktop process. This process is the simplest answer to the most commonly asked question, i.e., how to upload to IGTV from mac and windows. Let us get started with it.
Step 1: Go to Instagram.com
On your desktop, go to Instagram.com and enter the login details to sign in to the account where you want to upload your IGTV video. Under your stories, you will see the IGTV tab.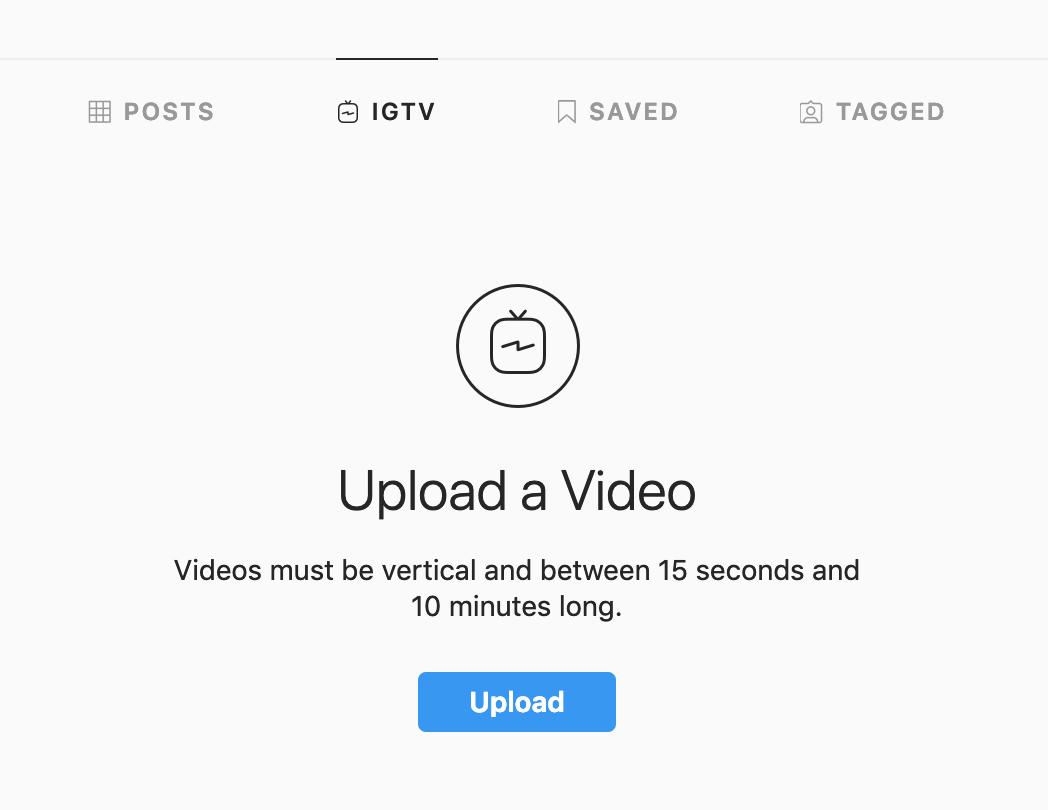 Step 2: Upload your video
Now for uploading your video, you need to click on the upload option. Then you will be given the option to drag or drop your video. To locate this option, see it on the left of the screen. At this stage, you can also fill in other pages and information related to your IGTV video. This page includes the Title page, whereas the information covers the description of the IGTV video. Here you can also add a cover frame to your video. Now click on the post button to successfully upload the video to your IGTV channel.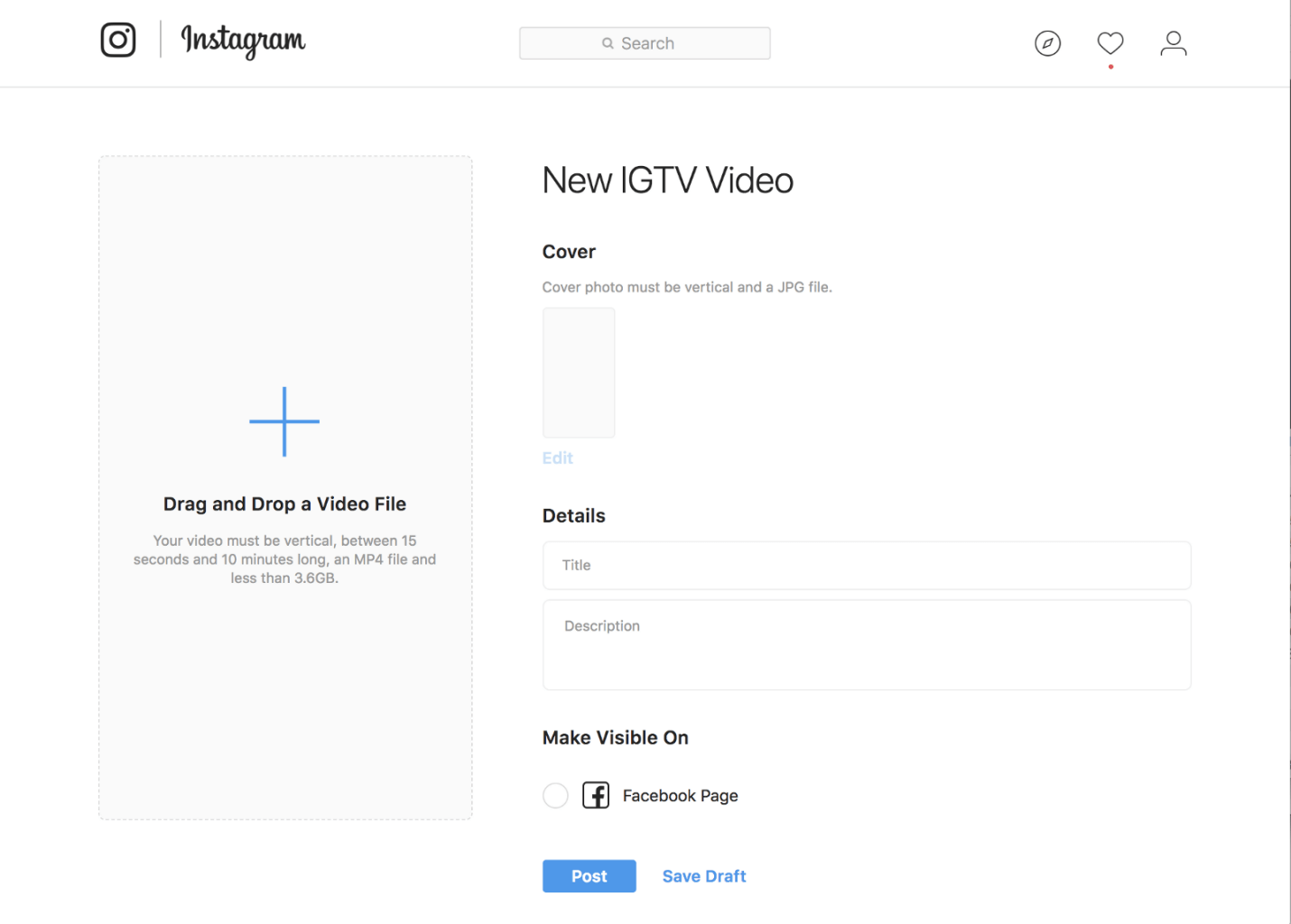 What's extra?
You can also edit your video to increase or decrease its duration. In case your video is too long, simply trim it down with the help of a trimmer. And if your video is too small, simply go to looping it multiple times until it reaches your desired length. In addition to this, you can also adjust the size and dimensions of your video to size it as per the demands of IGTV.
Check Out These IGTV Requirements
After learnning out how to upload to IGTV, you have to make sure that you follow IGTV video uploading requirements. To know about these requirements in detail, read this out.
1. 9:16 size ratio
Make sure to adjust the aspect ratio of your video before capturing it. For this, you just need to choose a 9:16 aspect ratio from your camera ratio options. But in case you forgot to adjust the size before capturing it, you still have the option to resize it when uploading it to IGTV. Resize your video to a 9:16 ratio to follow IGTV requirements.
2. 15 seconds minimum and 10 minutes maximum video length
The minimum video length required by IGTV is 15 seconds. On the other hand, the maximum video duration can go up to 10 minutes. Be careful with the length of your video if you want to get it uploaded successfully to your IGTV. One thing to be noted here is that verified accounts are eligible to upload videos up to 1-hour duration.
3. Under 650 MB file size
Another important thing to consider before uploading the video is keeping the file size under 650 MBs. So make sure to record your video to an appropriate length to avoid file size issues. You can also compress your file before uploading it to reduce the file size.
Pro Tip: Create Amazing IGTV Videos Before Posting with Best Video Editor(Win&Mac)iMyFone Filme
iMyFone Filme is a great video editing software that offers you multiple video editing features to edit your IGTV videos creatively and uniquely. Let us know more about this software below.
Key Features
Some of the great features of iMyFone Filme include:
Easy-to-use

iMyFone Filme has an easy interface which makes its usage easier for people, even for beginners.

Allow quick and high-quality video editing

You can choose to edit your videos using this software featuring high-quality results.

20+ Fast video mode

The 20+ Fast video mode helps you easily choose between multiple modes while editing your video.

Diverse transitions and filters

iMyFone Filme offers 110+ transitions and 170+ filters to add more to your video editing experience.

Audio supported

The 50+ audio feature of this software allows you to add high-quality audio to your videos.
How to Edit your Instagram video before posting using iMyFone Filme
With the help of iMyFone Filme, you can choose to edit your Instagram video before posting it. For editing your video in the best way, follow this short iMyFone Filme editing guide.
Step 1. Upload your video for Instagram
The very first thing you have to do is to upload your video for Instagram. Choose the video that you want to upload and make sure it matches the Instagram video uploading requirements. This includes ensuring appropriate aspect ratio, recommended video duration, and compatible file size.
Step 2. Add transitions, filters, music, and text
Before actually uploading your video, you can choose to add transitions and filters to your video. In addition to this, it also allows you to add text and add captions to your IGTV videos. Not only this, but also you can go for adding music to your video.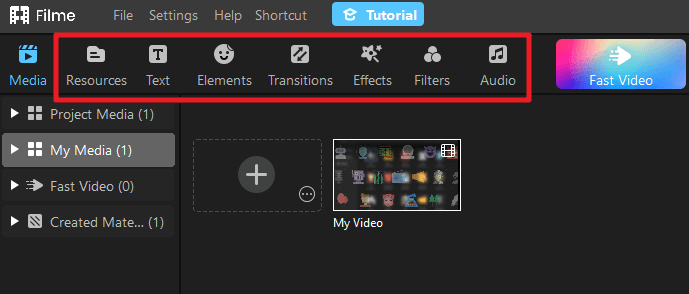 Step 3. Export and Share It on IGTV
The final step is to export your video to your system from where you can share it on IGTV. You can even add IGTV to your instagram story and gain many likes. Make sure to choose the ideal file size and video duration for the early completion of the video-sharing process. Long videos have a large file size which takes more time to get shared on IGTV.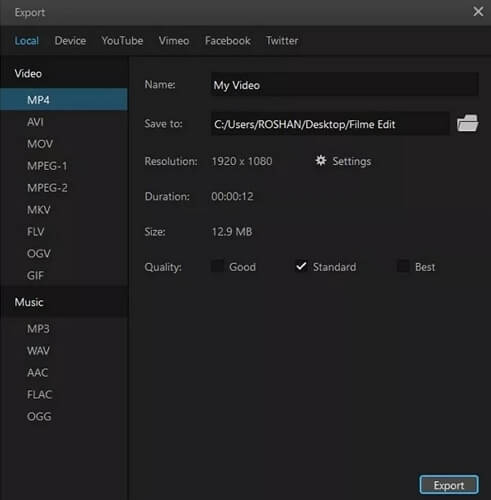 Final Verdict
iMyFone Filme has made the video uploading and sharing process a lot easier and more enjoyable. It also allows you to edit the videos as you desire before you finally upload them to IGTV. Hopefully, this how to upload IGTV from mac and windows has proved helpful to you. In case you have any further queries, drop them down in the comment section below.