Facebook is one of the biggest social networking platforms which is used for communicating with friends and interacting with the audience. Due to the option of sharing images and videos on it, we often come across a soothing motivational or musical video.
If you want to share it on any other social media platform, you can't because of the copyright issue. But still, there is a way of sharing music or motivational talks with others. Well! You can do so with converter video de Facebook para mp4.Here are some tools for converting Facebook video to mp4.
Top 4 Online Facebook Converter to Convert Facebook to MP4
People often claim to have low-quality audio after converting the Facebook video. If you are facing such problems, there is a probability that you might be using non-durable tools. To resolve this issue, we suggest you use some reliable, and durable software.
Here are the top 5 online converter Facebook video to mp4tools that produce smooth, high-quality sound.
FB Search is an excellent Facebook video converter mp4 HDtool. There is no hard and fast rule for converting the video into high-quality audio. It offers a straightforward secure method for the conversion of videos into other audio and visual clip formats. The most amazing thing is you don't have to pay anything for getting registered on it as it is a free tool.
To convert video to mp4 on any device, you need to paste the copied Facebook URL of the video in the search bar of FB Search. Then, select the format of audio you want to produce and click convert. Moreover, you have the freedom to convert as many videos into audios as you want with a single IP address.
Pros:

Free of cost

Easily accessible

Secure tool

No limitation of video conversion
Cons:

No subtitle support

Poor resolution
Getfvid is a comprehensive awesome-looking tool used for converting Facebook videos, GIFs, and live videos to audio. This converter video Facebook em mp4 helps download and convert both mp4 and mp3 files. To enjoy the hassle-free download of Facebook video, you should follow the typical easy copy-pasting formula of URL.
Along with converting videos to audio, it helps in other editing tasks as well. With time, this tool is regularly updating itself for satisfying others with improved features. Feel free to use its updated version on multiple devices.
Pros:

Fast and easily accessible

Can access all formats and conversions of file

Workable with major multiple platforms
Cons:

Have little stability and ping issues across servers.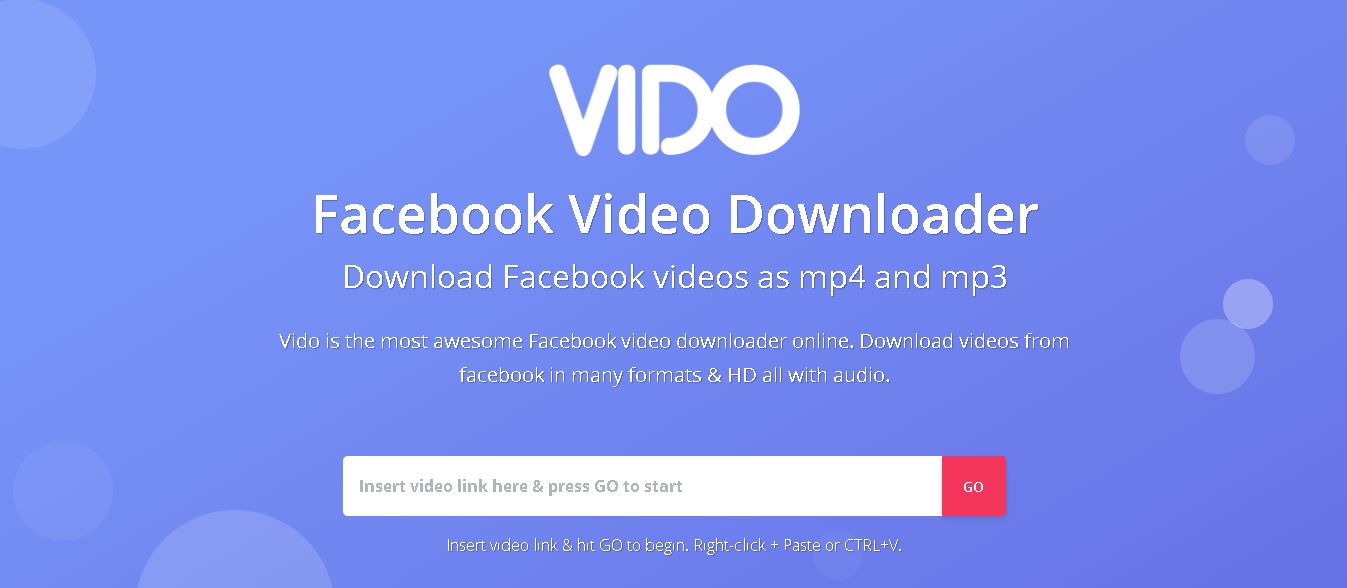 Vido is another amazing online converter of Facebook video to mp4. There are no format limitations in this interesting tool. You can easily download videos of all formats such as HD and convert them into audio. Just like FB search, you have no limitations on the number of conversions with this Vido.
To convert video to mp3 by using video, you should copy the URL of the video and paste it into the white box. After pasting the URL, select the "GO" icon to open a new page through which you can download videos. Insert the video in the Facebook video converter to audio and enjoy.
Pros:

User-friendly

Supports all format files

Can save Facebook videos in high resolution
Cons:

Can be a little buggy.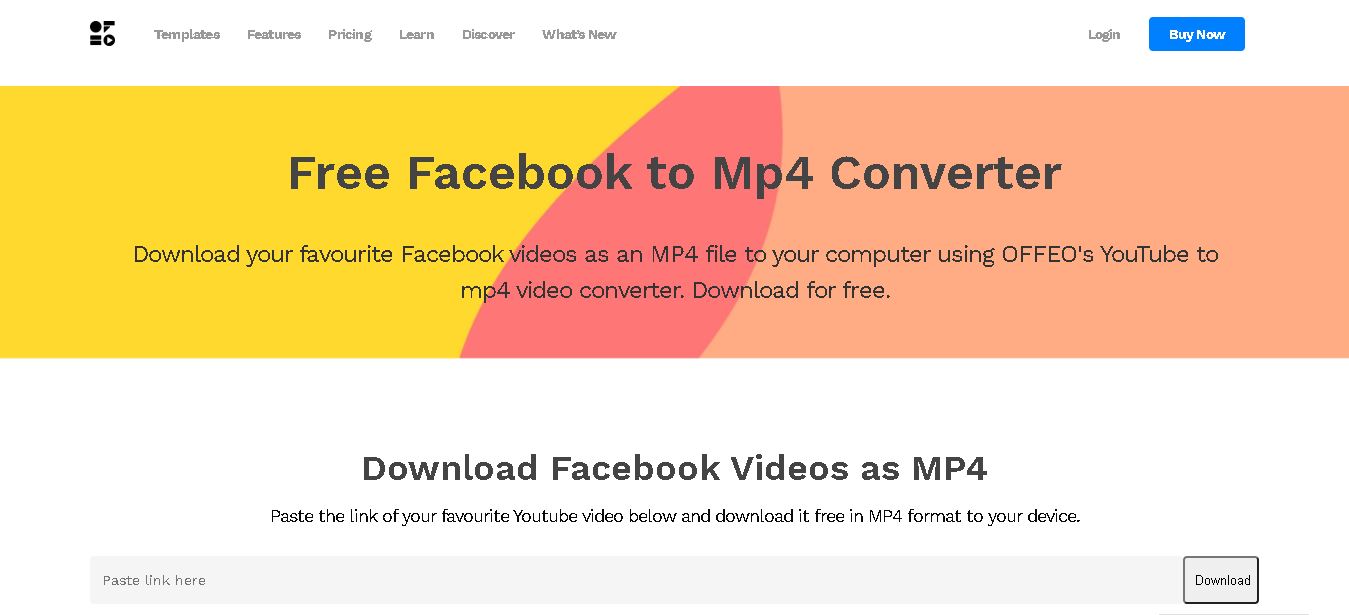 Being a sophisticated design-driven video maker, OFFEO is also used as a Facebook video to mp4 converter online free.This tool not only attracts the attention of users in the market due to short clip creation but also their audio conversion. If you want to have a musical track or points to be discussed in the video of a competitor, you can without having any copyright issues.
For this, we suggest you use OFFEO. Besides converting Facebook videos to mp4, it is also helpful in converting youtube and Instagram videos. Edit and convert uploaded Facebook videos into mp4 by downloading them through OFFEO.
Pros:

Easy to use

Beginner-friendly

Have attractive templates

Allows video editing
Cons:

A little slow and buggy

Less stock footage

Have no render option
Best Alternative to Convert Facebook Videos to MP4 on Desktop- iMyFone Filme
Instead of using converter to convert video Facebook mp4 to remove copyright issues, you can also use its alternative. Yes, there is no problem if you don't want to use separate tools for editing and converting. You can do both editing and converting the Facebook and Instagram video with iMyFone Filme.
iMyFone Filme is a fantastic video editing software that makes use of various effects, filters, and editing tools to bring impressiveness to the video. It is not only a versatile video editor but also a video converter. Through this, you will be able to convert one format video to another. Feel free to convert MPEG and TS to MP4 in this software.
Key Features
The following are some key features of iMyfone Filme to edit and convert Instagram videos in other formats.
Easy to use and support high-quality video editing due to its versatile unique themes and effects.

Facilitate exporting and converting the videos in other formats at greater speed.

Supports the addition of multiple musical tracks in a video.

Used by Instagrammers and Millenials in creating generation Z's cup of tea.

Equipped with 170+ video effects, 50+ audio modes, 110+ transitions, and 20+ instant modes for personalized editing.
How to edit your Instagram Video before Posting Using iMyFone Filme

Though it is tricky to deal with Instagram videos, you can handle them easily with iMyFone Filme. This user-friendly software can create videos for uploading Instagram posts and stories smoothly. Everyone can easily access its full editing features.

Whether you want to split your long video into short clips for Instagram or change filters and effects, all this can be done with iMyFone Film. For example, you can adjust the size of video taken from other social media platforms according to the posting dimensions of Instagram.

Besides this, several built-in effects, filters, transitions, animations, and text style can be integrated into the video with iMyFone Filme. Let's have a glance at the steps by going through you can edit your Instagram video before posting by using iMyFone Filme.

Step # 1: Upload your video for Instagram

The very first step you need in editing an Instagram video is its uploading. After downloading iMyfone Filme, upload your Instagram video on the launch filme. After this, you need to import the media you want to add. It can be done by using copy-paste or drag and drop feature.

Step # 2: Add transitions, filters, music, and text

Then, you can improve your video by inserting transition, a musical track, text, and other effects. There are many editing options in iMyFone Filme to make your video more impressive. You can add either music from your library or the Filme library. Adjust the background music of the video for the displayed text.

Step # 3: Export and Share It on IGTV

When all the editing is done, you need to export your video out of software to your gallery. For this purpose, you have to navigate the "Exports" in the top toolbar. There, select the format in which you desire to get your video.

After saving the video into the gallery, upload it on Instagram IGTV. Instagram supports longer videos only in the IGTV version. So, uploading in another version may trim your video to only the first 30 seconds. That's why I share videos carefully on IGTV.

Facebook Video Uploading Requirements

To upload a video on Facebook, you need to fulfill the following requirements.

1. Video Format

Video of any format can be uploaded on Facebook as it supports almost every file. But we recommend you upload video in mp4 format to get better results.

2. File Size

The size of the video to be uploaded on Facebook can be up to 10 GB. In horizontal videos, Facebook supports 16:9 aspect ratio while 9:16 ratio aspects are supported in full portrait videos. Furthermore, the video length should be less than 24 minutes.

3. Resolution

The resolution of the video should be a maximum of 1080p with a minimum of 120 pixels in width.

Facebook Video Converter FAQs

1. How do I extract a video from Facebook?

There are many websites for extracting a video from Facebook. But I use fbdown.net to extract videos simply by following these steps.

Step # 01 – Click on the Facebook video you want to extract and copy its URL.

Step # 02 – Then go to fbdown.net to paste the link where it is required.

Step # 03 – Click the download icon to move to the next page where quality is selected between HD and normal SD.

Step # 04 – Finally, right-click the video and select the location for saving the video.

2. How can I download a video from Facebook to my Android?

It's not possible to directly download the Facebook video on android without using a 3rd party application. After installing the 3rd party app like Friendly, you need to follow these steps for downloading Facebook videos to android.

Step # 01 – Start Friendly and tap add an account for opening your account.

Step # 02 – Log into your Facebook account by using credentials.

Step # 03 – Going through this app, tap the cloud-shaped icon to download the video.

3. How do I download a Facebook video to my computer?

Unlike Android, there is no need for third-party applications. Download the video directly to your computer. Here are some steps to download the Facebook video on the computer.

Step # 01 – Find the video you want to download and play it.

Step # 02 – Right-click on the playing video to extract the URL of the video.

Step # 03 – Press CTRL-C to copy the video URL.

Step # 04 – Paste the copied URL in the new browser window.

Step # 05 – Edit and replace the "www" of the URL with "mbasic".

Step # 06 – Press enter to get the video in an optimized format for a mobile device.

Step # 07 – Start playing the video and click "Save Video As" to name and save it in your gallery.

4. Can FB live videos be downloaded?"

Yes, FB live videos can be downloaded onto your device if present on Facebook. Some streamers think that it is possible when they have not posted the video. Well! The live video gets automatically posted on your Facebook timeline after ending streaming.

To download a live video, you need to click on the video you want to extract. Select Download and your computer window will be refreshed automatically. In this way, FB live videos can also be saved to your computer.