Twitter is a great platform to share videos but at the same time, it implements strict video size and length limits. One can't record an endless video and share it on Twitter at it is.
The idea is to enhance user experience, so people with low or poor internet speed can also view the videos quickly. Most often, you've to compress a Twitter video to be able to upload it.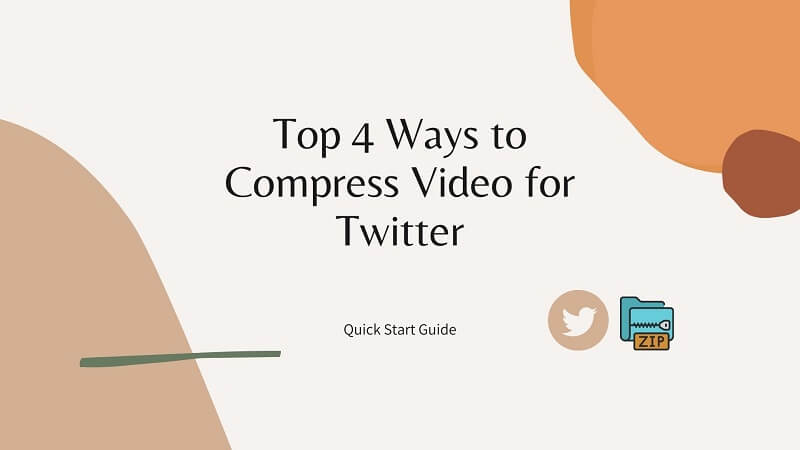 Given this, we have done a comprehensive research and handpicked the most popular Twitter video compressor apps for you. Let's read them up.
Why Compress Video Before Uploading to Twitter
Twitter has a few specifications for uploading videos that bar users from sharing every video on their smartphone.
Before you upload video for twitter, if you want to compress video or change the video format to AVI, MOV, MPEG, MKV, or if you want to upload those downloaded video to other website like facebook,vimeo,youtube with single click. You can download iMyFone Filme on PC to compress, or resize your twitter video now, after you resize video,you can upload to tiktok,youtube at different size. Download iMyFone Filme now below.
Below are the main reasons which prompt users to compress and resize their videos before sharing on Twitter.
Specifications for Video Length: Users can share a record of only 2 minutes and 20 seconds. For videos longer than that, you need to trim them and share them in parts.
Specifications for Video Size: You can share a video of 512 MB or less. The Twitter mobile app supports MP4 and MOV formats while the web is also compatible with H264 format with AAC audio.
Specifications for Video Resolution: Twitter supports video resolutions ranging from 32 x 32 to 1920 x 1200 pixels.
Your video should meet all three guidelines to be uploaded on Twitter, else you'd need a video compressor to make your video fall within the specified length, size, and resolution.
Also Read:
Post Long Videos on Twitter >>
Twitter Can Not Upload Video Fix >>
Best Free Video Editor for Twitter >>
Best Online Twitter Video Compressor
Below are the 3 top-ranked online video compressor tools for Twitter.
The first tool on our list is KeepVid Online Video Compressor. It is as simple and easy to use as video compression software can get. You can compress any video in MP4 and MOV formats.
Key Features
Adjusts video size and length for Twitter quickly.

Lets you compress videos for email and YouTube.
Pros:

Easy, efficient, and quick to use

Effortless video upload
Here's how you use this tool for Twitter compression video:
Step 1
Head to the official KeepVid website from your web browser.
Step 2
On its Welcome page, hit on the big "+" sign to import the video that you want to compress.

Step 3
Once the file is uploaded, tweak with the Output quality, format, and resolution settings according to your requirements and then, click on Compress Now.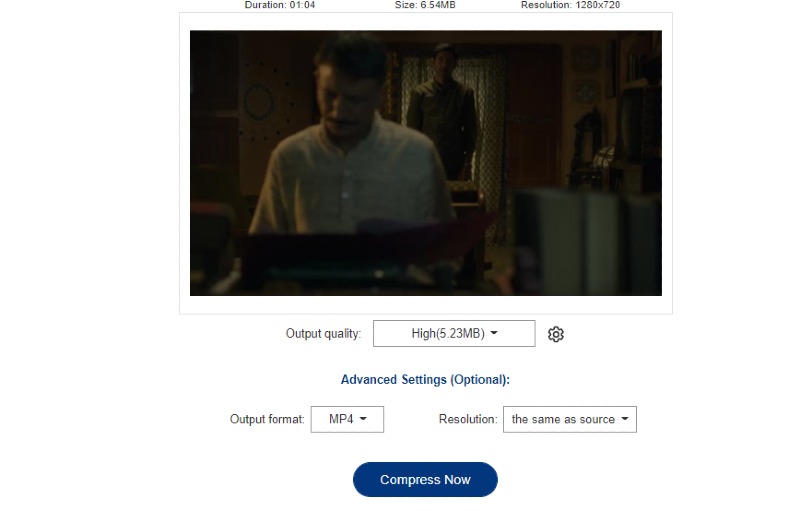 Step 4
When it's done, hit on Download to save it on your computer.
It may not be the most powerful online video compressor but it has got all the features that you need to compress a video for Twitter. What makes it set apart is it also allows users to compress PDG files and images and create Archive and ZIP files.
Key Features
Users can directly import files from Dropbox, Google Drive, and online websites (using URL).

Create both Archive file and ZIP files

Compress images and PDF files as well
Pros:

Multi-functional tool

100% free

You can download the output file as a ZIP
Cons:

Too slow especially for longer videos

Very basic compression feature

Supports only MP4 output format
Follow the below steps to use this tool:
Step 1
Head to the Compress2Go website and hit on the Compress Video option.

Step 2
Now, click on Choose File to load your video.
Step 3
After that, set the file size in MBs which you need, and hit on Start.
Step 4
The program will compress the video and ask you to save it on your computer.
If you want to compress video for Twitter as well as apply various video editing effects on it, then Video Resizer Online is what you need. Developed by Clideo, it has built-in video presets for all major social media platforms including Twitter.
Key Features
Compresses the video directly for Twitter and other popular platforms.

Allows you to crop and resize a video

Convert a vertical video into horizontal or vice versa.
Pros:

Completely free

Protects your privacy

Simple and straightforward procedure
Cons:

Very limited video editing options

No batch processing feature

No file sharing option
Follow the below steps to compress a video using this tool:
Step 1
Go to the official Video Resizer Online and hit on Choose File.

Step 2
Select the video you need to compress and wait until the program loads it.
Step 3
Now, you can directly select Twitter and a specific aspect ratio under the "Resize For" option to edit your video.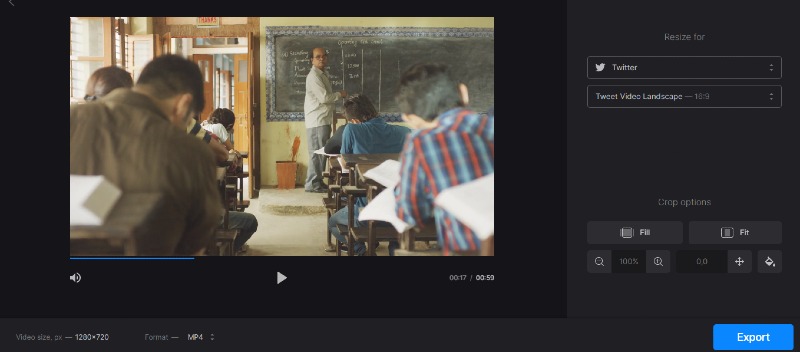 Else, choose the Custom option and adjust its aspect ratio, resolution, and output. Hit on Export to download the output file.
More Advanced Twitter Video Compressor & Editor - iMyFone Filme
The aforementioned online tools offer limited and very basic editing features. If you want the most advanced and comprehensive software that allows you to compress and edit Twitter videos, then iMyFone Filme is your ideal choice.
It has got all the stellar video editing features that users expect from a top-notch premium software. Apart from compressing the Twitter video, Filme offers tons of templates, animations, graphics, stickers, themes, and voice effects to help you create super-cool and amazing videos.
Pros:

Easy to use even for novices.

Intuitive interface

Offers the most advanced editing effects

Instant preview of effects

Unlimited transition effects
Here's how you use this amazing software:
Step 1
Launch iMyFone Filme on your computer.
Step 2
Use the 'import media" option on the Home interface to load the video you want to compress and edit.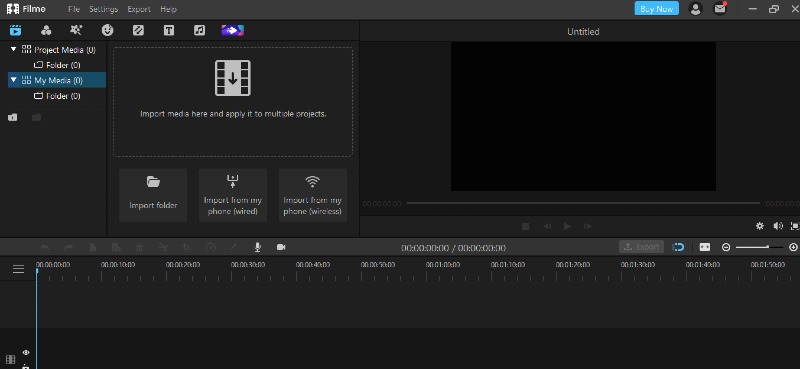 Step 3
Now, click on the "+" sign on the video to load it to Filme's timeline.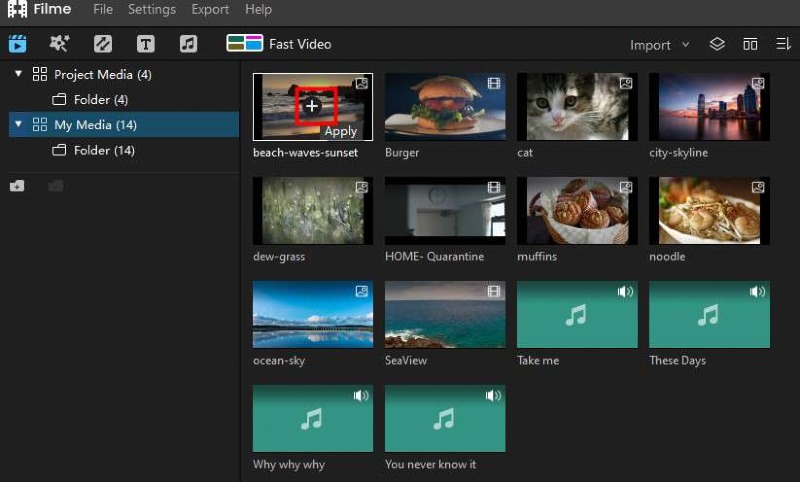 Step 4
Once the video is in the timeline, you can compress it using the "Crop and Pan" option (Alt+C) according to your requirements.
Filme also allows you to adjust its brightness, speed, playback video quality, and apply unlimited video effects to enhance its appearance.
Step 5
Once you're done editing, hit on Export > Export Video at the top tab to download the final product to your computer.

Using iMyFone Filme, you can make a super cool video without compromising its quality with just a few clicks.
4. FAQs - How to Compress Video for Twitter
1. How to upload high quality videos to Twitter?
To upload the best-quality video on Twitter, you should keep its resolution to 1920 x 1200 – the maximum resolution limit allowed on Twitter.
However, we advise users to share videos having an ideal resolution of 1200 x 1900 to ensure they fall within the 512MB size limit.
2. Can I upload a 4k video on Twitter?
No, you cannot upload a 4k video on Twitter – thanks to Twitter restrictions on a video's maximum resolution. A 4k video comes in 3840 x 2160 resolution which exceeds the maximum resolution limit of 1920 x 1200 pixels.
However, Twitter has recently rolled out a new update that allows users to upload photos in 4k video.
Conclusion
After reading this guide, you won't face any trouble in uploading a longer and high-quality video on Twitter. All the tools discussed in this guide are reliable and useful to help you compress a video before uploading it on Twitter.
Now, you have an idea of why a user does Twitter compress video and how to do that quickly and safely. We recommend users installing iMyFone Filme to edit and compress the Twitter videos like a pro. It is a perfect choice for both beginners and professionals to create amazing videos.