We come across different moments when we wish to download some video on Facebook in an MP3 format - probably for your car or iPod. It is not always that we need to watch videos. For instance, during running or when you are at the gym, you prefer going audio-only. There are a few tools out there that will help you convert Facebook Videos into MP3 audio files.
In this article, we will have a look at some of the easiest ways that help us to convert Facebook Videos into MP3 format. So, let's get started.
A Quick Look at Handbrake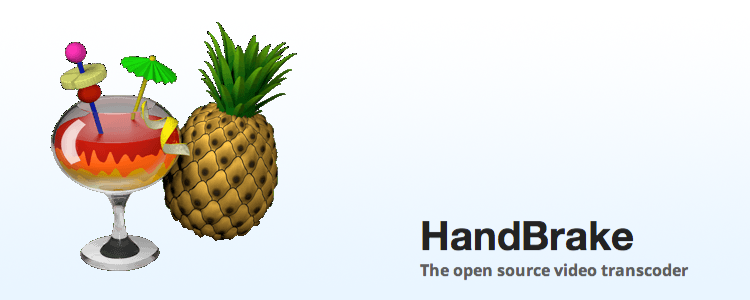 Handbrake has been available for more than a decade and continues to be one of the strongest software for converting video files between formats. Handbrake is totally open source and comes with no strings added or dubious offers; you get just what you download. Finally, it is usable as a graphical user interface (GUI) or command-line utility for Windows, Mac, and Ubuntu. We'll use the Windows graphical user interface edition of this post.
Without the need for a question, Handbrake is one of the simplest video converter services offered.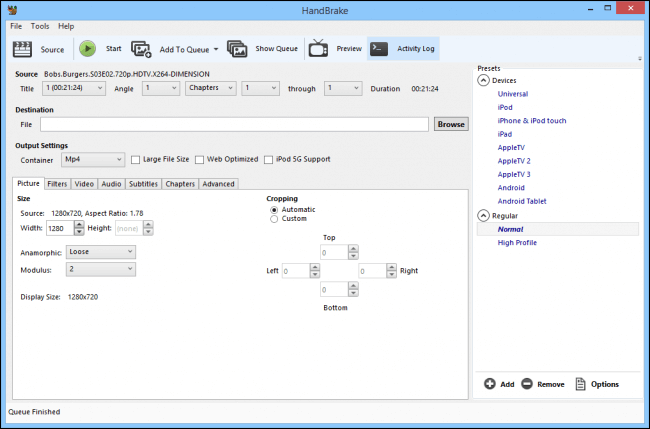 In the top row are six buttons for performing important tasks such as opening the source file or attaching a job to the list, as well as a straightforward "Start" tab.

Your Source and Destination features are located under these keys. Naturally, destination enables you to choose the location and name of the converted paper. Source shows simple details about the source file: the file's names, angles, and dropdown buttons for converting the file by chapter, time (seconds), or picture.

Finally, there are your Output configuration options. There is a great deal of material here. You may change the video and audio output, as well as incorporate subtitles.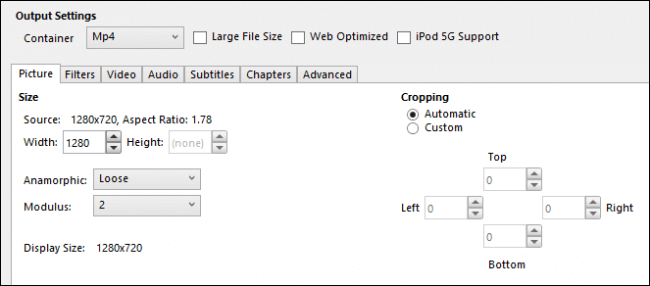 How to Convert MP4 to MP3 with Handbrake
Handbrake is a fully free and open-source command-line interface for converting video files between different formats. While the interface seems complicated, it is very simple to use. Below, we'll demonstrate how to easily transform MP4 to MP3.
Step 1: Launch HandBrake and navigate to Source. Now, go to Open File to locate and open your MP4 file.
Step 2: Once you have opened the Facebook video or other MP4 file, navigate to Output Settings and select MP3 as the container format.
Step 3: Now Click on Browse to select a location for the new MP3 files and then click Start to begin the MP4 to MP3 conversion.
Bonus Tip: Using Handbrake to Convert M4V to MP4
In general, M4V is a video file format developed by Apple Inc. for the purpose of encoding Apple's movies and television shows available via the iTunes Store. Apple encrypts the M4V files with DRM (Digital Rights Management) to safeguard the videos' copyright.
As a consequence, only approved devices that support iTunes are capable of playing DRM-protected M4V movies. Non-DRM M4V videos can be played on the majority of common devices and players without issue.
To be more precise, if your M4V videos are not DRM-protected, you can easily convert them to MP4 or other formats using Handbrake. However, if you obtained your M4V files from iTunes, you would need additional software to convert the M4V movies, as Handbrake does not allow DRM-protected M4V files.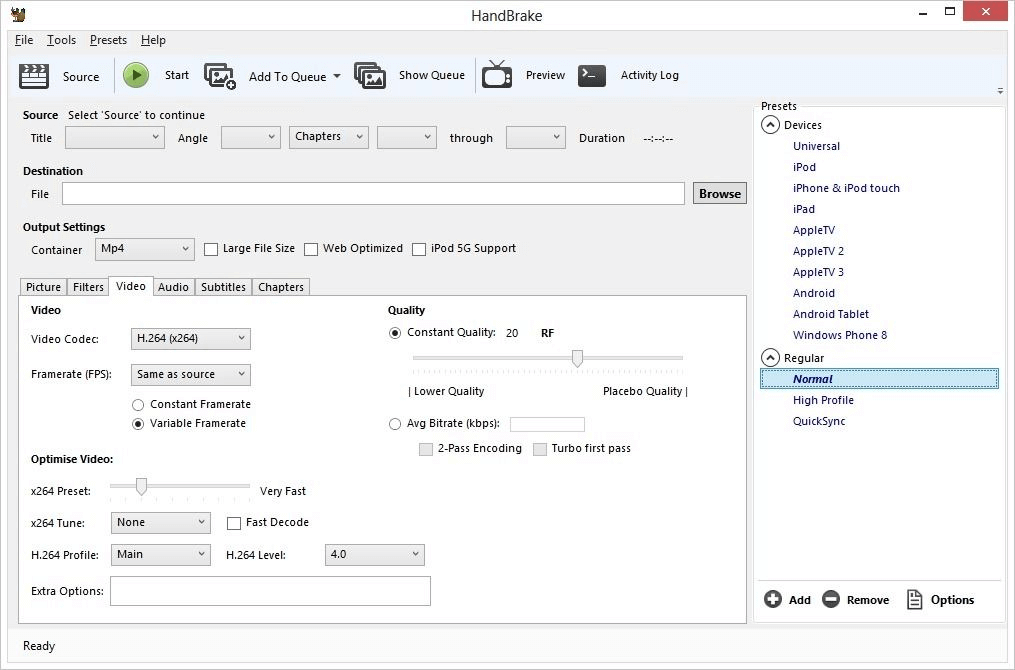 Step 1: Start Handbrake and browse for M4V data.
Launch the Handbrake application on your device. Tap the Open Source button on the main screen to search for and select M4V files to convert. You can also move and drop videos through the interface.
Step 2: Choose MP4 as the destination file.
In the Source folder, the newly inserted file will appear. Then, on the Summary page, choose MP4 as the appropriate output format from the Configuration drop-down display. Filters, video codecs, and other file parameters may be modified if required.
Step 3: Transform the destination folder.
Select the output file's name and position on your PC under the Destination line. Finally, press the Start Encode button to begin converting the M4V video to MP4.
Easiest Way to Convert Facebook Video to Mp3 on Desktop-iMyFone Filme (Win&Mac)
Filme is a video editing available for Mac and Windows. It is equally well-suited for novice consumers, inexperienced video editors, and experienced professionals, leading the list of the top MP4 to MP3 converters. It provides a comprehensive set of features, including quick video production, simple video editing, layered video support, the ability to add music to video clips, and the ability to interact with effects, filters, and picture editing.
While it is a lightweight application, the speed of the program is dependent on the type of video being edited, its size and resolution, and other variables. Additionally, it is dependent on the RAM capability and age of your device. However, on average, it is somewhat quicker than a large number of cumbersome laptop video editors.
You can conveniently transform MP4 to MP3 with the help of this app. To begin, simply follow these steps: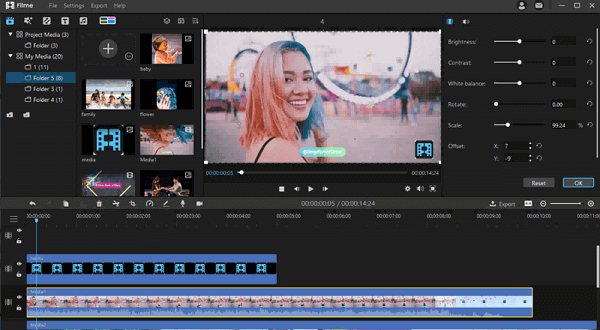 Step 1: Import Source Media
To begin, import the MP4 or YouTube file that you want to convert to WAV or MP3 format. To do so, navigate to the "File" tab of the menu and press "Import Media." Choose from one of the options that relate to your requirements.
Step 2: Add Media to Timeline
To import the image, navigate to "My Media." After choosing the image, drag and drop it into the iMyFone Filme sharing space. Alternatively, you should manually attach the file by clicking the + icon.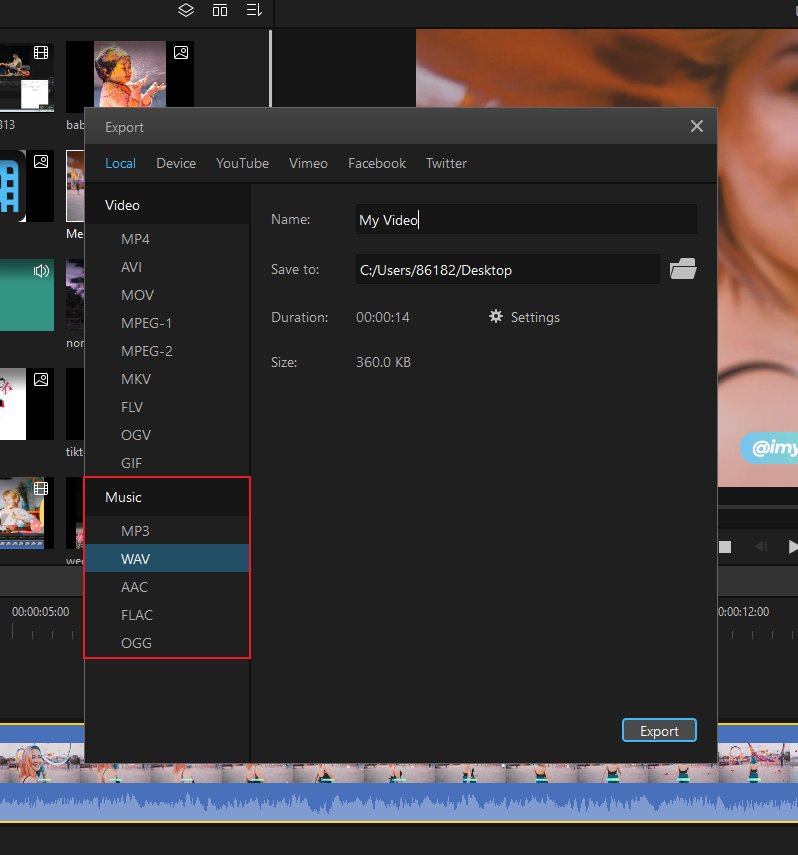 Step 3: Convert MP4 to MP3 in 3 Seconds
If the video has completed uploading to the interface, navigate to the "Export" tab and choose the format in which you want to save it. MP3, WAV, AAC, FLAC, and OGG are a few of the supported formats.
Adjust the file or audio's name in the title bar. Additionally, you will customize the saving route by clicking the folder icon at the side of the saving bar.
Now, on your device's bottom right hand, click the "Export" button to save and export your updates.
Features of iMyFone Filme
To confound your social media fans, incorporate a variety of transitions into your video.

You may integrate filters and transitions into your visual tales in a multitude of ways to construct immersive and sleek dynamic storylines.

You can cut or trim videos easily

Cropping and spinning of videos is also possible

You can change the speed of the video or audio

You can create picture-in-picture effects that are all easy to do without any technological knowledge.

You can make breathtaking slideshows in a matter of seconds by using sleek models.

Many content elements including music, templates, effects are available
Conclusion
There are many explanations why individuals wish to move MP4 files to MP3. Individuals typically convert because they are more concerned with the audio quality of the video than with the visual content. Numerous services, websites, and software are required to assist users in completing this mission in seconds or minutes.
We've discussed a few straightforward approaches for converting mp4 to mp3 on Windows and handheld devices. However, we suggest Filme as a competent video editing app that makes it simple to produce high-quality MP3 audio files. Additionally, you should configure advanced settings such as bitrate and sample rate.