Suppose you're looking to increase the social media engagement of your Instagram account. In that case, crafting and posting creative IGTV videos is one of the best ways to grow your business online that will help it reach a wider audience. The launch of IGTV on Instagram has taken video trends to the next level making it profitable for companies, content creators, influencers, and others.
In this comprehensive guide, we have brought for you a complete guidebook on posting IGTVs from your phone & web, along with some quick tips for video enhancement.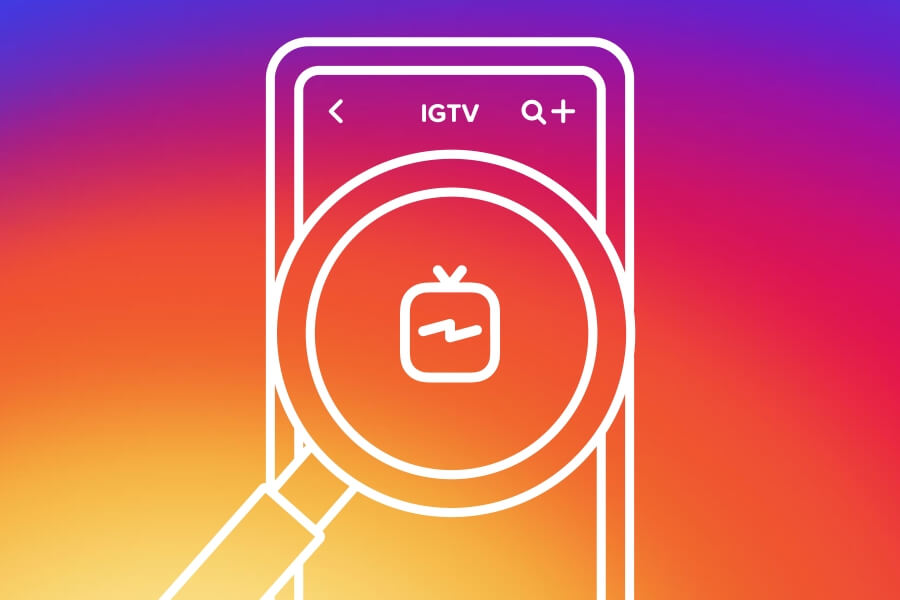 Complete Steps for Posting/Sharing on IGTV from Mobile and Web
Are you wondering about how to post an IGTV video either from mobile or web?
To make things easier for you, we've mentioned all the steps on how to post IGTV on Instagram from mobile and web. However, before that, let's briefly go through IGTV post requirements and specifications:
IGTV Specifications
Video File Format: MP4

Video Dimensions: 1080 x 1920 pixels

Minimum Video Resolution: 720 pixels

Minimum Video Length: Should be at least one minute

Maximum Video Length on Web: One Hour

Maximum Video Length on Mobile: 15 minutes

Aspect Ratio: 9:16

Frame Rate: 30 FPS
Before you post an IGTV video, don't forget to ensure that all the specifications mentioned above are fulfilled.
Now, let's learn how to post to IGTV by simply following the steps given below:
How to Post IGTV on Instagram using the Web
Step 1: From your desktop, log in to your Instagram account from any web browser.
Step 2: Now, go to your profile from the top right corner.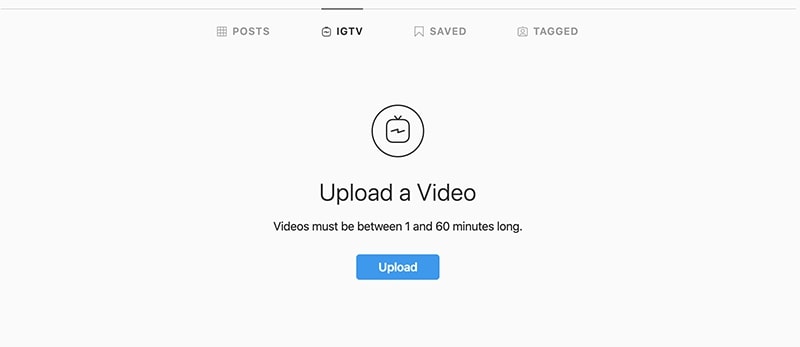 Step 3: Then, select the IGTV option icon and tap on upload.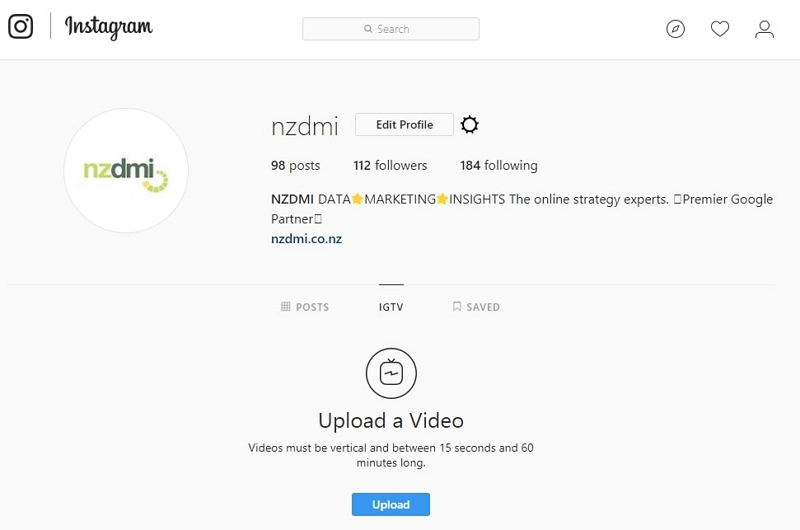 Step 4: Once you've clicked on upload, you can easily select or just drag & drop the video file you want to post.
Step 5: Once you've dropped the file into the box, enter the relevant information, such as title and description, into the video.
Step 6: Always make sure to put a tick on 'Post a Preview' to preview the video before posting it.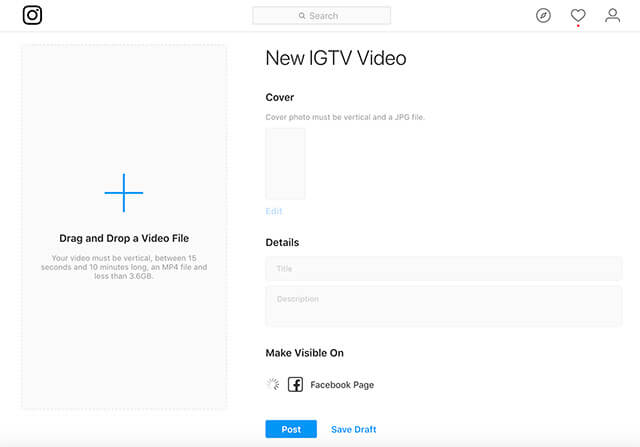 Step 7: Next, you can select whether you just want to publish the video on 'IGTV' or 'IGTV and Facebook Page.'
Step 8: Finally, you can either save the video as a draft to be published later by clicking 'Save Draft'or directly post it by tapping on 'Post.'
How to Post IGTV on Instagram using Mobile application
Step 1: Open your Instagram mobile application on your phone.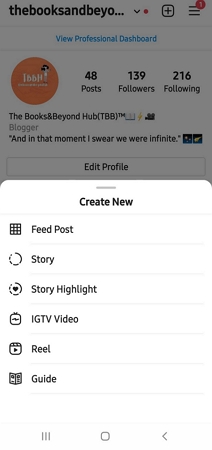 Step 2: Now, open your profile and click on the '+' icon in the top right corner of your screen.
Step 3: Now, select the 'IGTV' icon from all the available options such as feed post, story, reels, and guide.
Step 4: Next, select the video file you want to upload and share on your feed and then tap 'Next.'
Step 5: After that, two options will prompt in 'Share As,' one for uploading a 'Short Video' and the second for sharing a 'full-length video on IGTV' that you can select according to your video duration requirement.
Step 6: Now, select 'Continue'and then tap to choose a cover photo for your IGTV post. You can even add a cover photo from your phones' gallery by tapping on the plus sign at the bottom of your screen.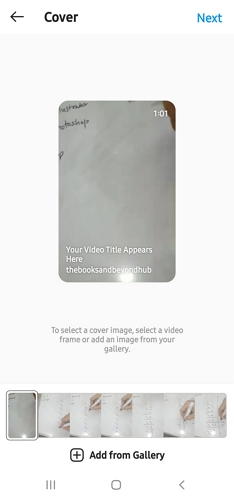 Step 7: After you've selected a cover photo, you will be prompted to add a title and description to your post.
Step 8: Now, you can add your video to IGTV Series using the 'Add to Series'feature offered by IGTV Instagram. IGTV series feature is quite useful if you will be posting more identical videos in the future.
Step 9: Select 'Post to Preview' to make sure your video is ready to be posted. If not, you can edit the video further before posting it
Step 10: Once done editing, click on 'Save' to save changes to your video.
Step 11: Now, click on the 'post' to post your IGTV.
Know the Difference: Video Sharing on Feed, Story and IGTV
Instagram has rapidly changed in the last few years, transforming from any normal social platform with pictures of food, fun, and chaos of life to the full-fledged application with in-built marketing tools to help you grow a business.
Instagram provides its users with various in-built business tools with an inherent purpose to help build up social media engagement. Here we will learn about the meaning of video sharing on Instagram feed, story, and IGTV posts.
Instagram's IGTV platform allows you to post long-length videos to host Q & A sessions, tutorials, BTS to give insight into your work, and so much more. IGTV videos will be permanently saved and can be watched anytime on your IGTV channel.
On the other hand, disappearing Snapchat stories inspired Instagram stories that allow you to post short videos lasting up to 24 hours only. You can access Instagram stories by simply tapping on the circle around the profile picture of the user. To make IG story videos more engaging, one can add texts, filters, stickers, and GIFs to attract more viewers.
Instagram feed or regular videos are no longer limited to just 15-seconds. You can now post up to a one-minute video on your Instagram feed that could be anything from quick DIYs, a glimpse of your IGTVs, Reels, or even short video tutorials that are currently in trend. But splitting up long videos is still recommended as users usually prefer short video.
All these in-built video sharing tools have their purpose, specification, and dimensions but ultimately act as important tools to bring more engagement to your business and brand.
4 Bonus Tips for Posting on IGTV
Below we have provided four quick protips to make posting IGTV videos on your channel more effective, efficient, and a little effortless for you.
Step 1: Did you know that you can schedule publishing your Instagram video posts using the auto-publish feature of Instagram?
Unfortunately, we yet don't have applications or features that can auto edit and enhance the quality of your video content. However, for now, you can make use of video editors to elaborate your videos before scheduling them for posting.
iMyFone Filme is one such video editor that will make editing your content an easy and effortless task. It offers a wide range of editing options, from solid professional features to the most basic editing features to make your IGTV videos look more alluring to the viewer.
Using iMyFone Filme video editor doesn't require any advanced knowledge about editing making it easy to navigate for beginners. It offers various layout designs and effects for editing making all your videos appealing at an extremely affordable price.
Step 2: Make sure to use the IGTV cover feature to add a cover picture to your video. Since it will be the first glimpse of your video, you should make it artsier to attract more people to your content. You can use platforms such as Canva, Picsart, and others to make it look eye-catching.
Step 3: Next, be sure to use the IGTV series feature to keep all your videos organized under one roof. It will be easier for you and your audience to find videos they're looking for quickly and effectively.
Step 4: Finally, it is always a good idea to post your IGTV videos on your feed or Instagram story to allow more people to engage with your work. You can make it more attractive by adding creative and catchy captions explaining the idea, story, or inspiration behind your video.
Final Words
The IGTV video feature to Instagram has changed video trends on Instagram, allowing you to build better engagement, quality marketing strategy, and interesting collaborations with brands and influencers.
We hope that our quick guide about posting IGTV posts from your mobile and we must've helped clear all your doubts and gain some insight about sharing IGTV on Instagram. Now, go craft IGTVs to post on your Instagram account and get one step closer to running a successful business.

iMyFone Filme
Make Digital Storytelling on IGTV Easy with iMyFone Filme!
Download Now