Facebook has been a leading social media platform for the past decade. Introducing new features every year, Facebook brings many interesting and entertaining things to our social media lives.
In this ultimate guide, you will get to know the following interesting things about Facebook Live
What Is Facebook Live?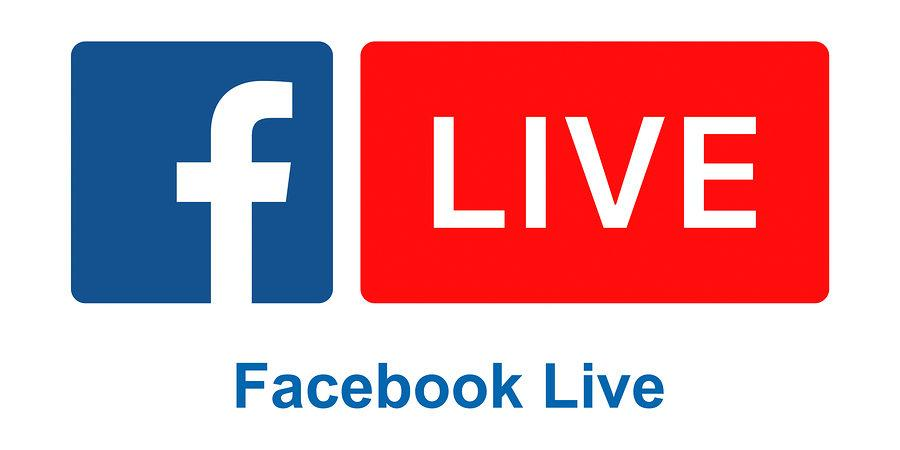 'Facebook live' is another feature introduced in recent years by Facebook. This feature came out in 2015 and today this feature is available to every personal profile. Facebook live allows you to share your real-time (live) video with friends, family, or fans of what you're doing or seeing. With Facebook Live, you can either share your camera covering or you can share your screen with the audience to interact with them. You can add a description, tag your friends, choose your location, or add an activity that you want before starting a Facebook live video.
The working mechanism of Facebook live is almost similar to going live on Youtube. However, live streaming on Facebook is quite different from live streaming on Instagram.
Today, there are so many content creators, social influencers, and celebrities on Facebook using Facebook to express themselves or communicate with their followers.
How to Create a Facebook Live Video on Facebook
Along with the Facebook live video feature, Facebook has now added the features to edit it as well. We all know that sometimes, the video you're trying to share is not the same you wish it to be. There are cases when the video capture is too wide so content on it looks quite blurry and also sometimes the quality is not up to the mark because of the wrong aspect ratio. You also need to do trimming so that you can share the desired part of your video. You must've gone through these issues if you do a live stream on Facebook.
Well, nothing to worry about. We've got you covered with the step-by-step ultimate guide to edit and trim your Facebook live video to make them more appropriate and fitting to your audience's screens.
How to Trim Facebook Live Video
It happens sometimes when you were live on Facebook and after your session is completed, you forgot to end the broadcast. It results in adding unnecessary length to the video. You will definitely need to erase the extra useless part. For that, you can use the Facebook trim feature. Here's how you can edit and trim Facebook videos on Facebook!
Step 1
Go to the homepage of your Facebook page, and click on the 'videos' button on the left side of your page view. This will redirect you to all of your page's video content.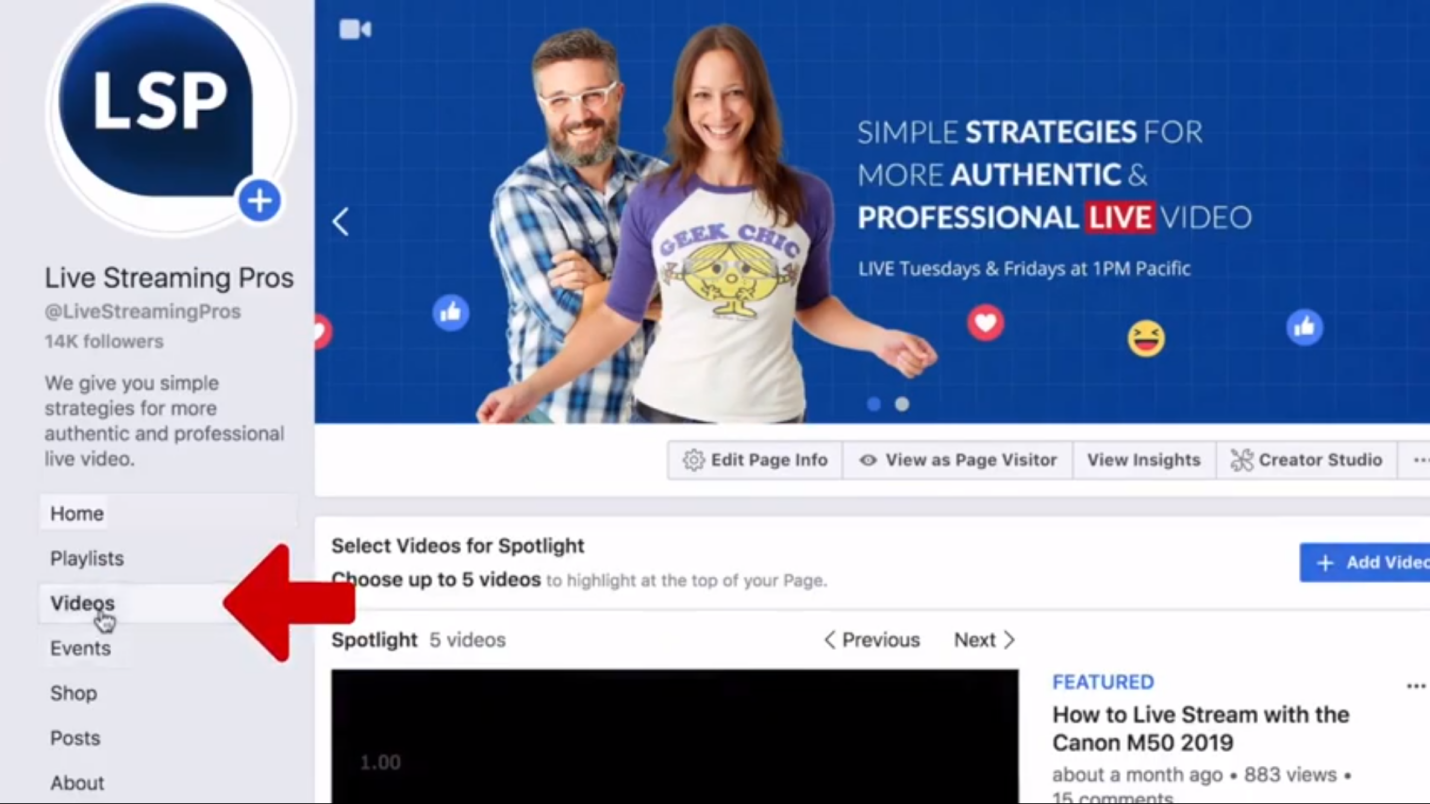 Step 2
After successfully opening the video tab of your page, you have the access to all of your videos. Now select any video that you want to edit. Click on the video. Go to the video options by clicking on the three dots on the right upper corner of the page. There you will have many options for your video. For editing, click on "Edit Video".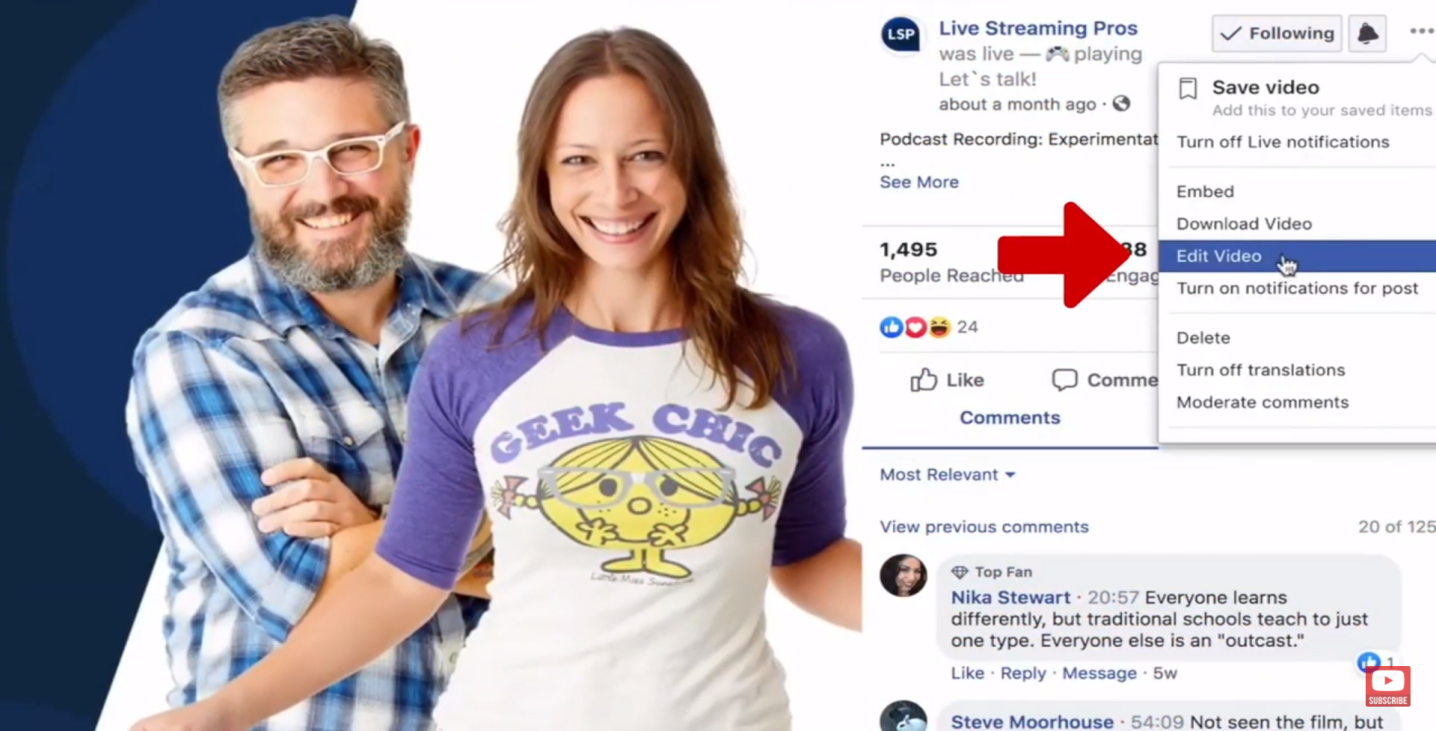 After that, you will be given many editing options for your video. Search for the trim option among them.
Step 3
Now select the "Video Trimming" option to trim the video.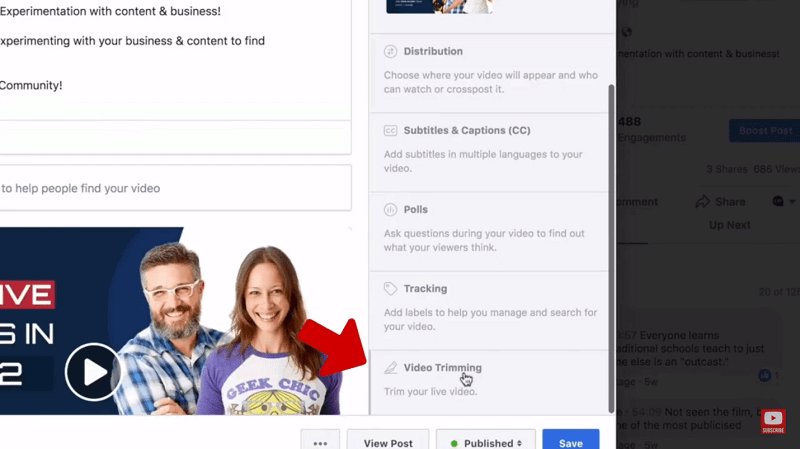 After that, you will have your complete video length and also the option to trim it manually by using the mouse to set the limits of the video. Also, you can trim the video by just entering the starting and ending time by using the "From and To" option of the video to trim that specific part.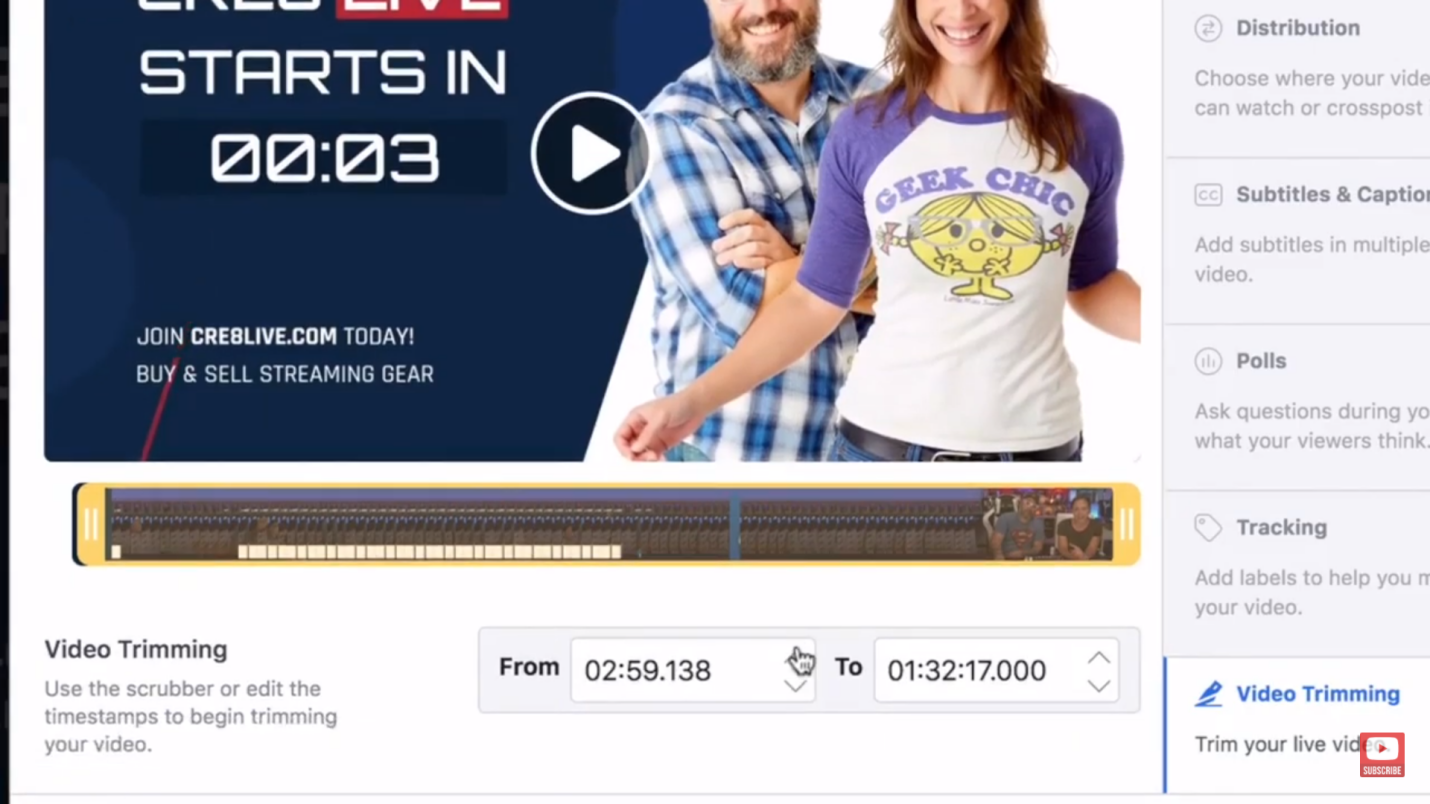 When done with trimming your video, just click on "Save" to save your trimmed video.
For a thorough visual guide, have a look at this video .
How to Edit Video on Facebook
Just as mentioned in the steps above, step 1 and step 2 are the same. Now, instead of choosing the trim option, just stay on the edit video page. There, you will see all the details of your videos that you can edit including
Title of the Video

Description

Tag people and friends

Subtitles and captions of your video

Creating polls

Controlling video distribution

Editing or changing the video thumbnail

Clipping the video
How to Start a Live Streaming on Facebook Using OBS Studio
Yes, you've heard that right. Now, you can also do live streaming on Facebook with the help of third-party streaming software. OBS Studio is one of the most used streaming software for this purpose. However, live streaming via OBS is not that easy as compared to streaming from mobile but the software is free. It only works for pages from your desktop.
Here's how you can start a live stream on Facebook using OBS Studio.
Download and Launch the OBS Studio App
First of all, you need to download the OBS Studio app which is free. After that, launch the app.
Navigate to your Facebook to copy the Stream Key
Now go to the Facebook page and click the "Publishing Tools" option at the top of your page. Now, on the left side of your screen under 'Videos', click on the "Video Library" option. Then, click on the "+Live" button on the top right with the "+Upload" button.
Now, you will see the options as depicted in the image below.
Copy the Stream Key from there and click Next.
Open OBS to Go Live
Open the OBS app and click on the settings at the bottom right. Select the Stream option on the left side. Then, in the Service scroll menu, select Facebook live. Now, paste the Stream Key that you've just copied from the Facebook pop-up window into the Stream Key box of OBS and click Okay.
You can now add the scenes and sources according to your video requirements. After that, click Start Streaming. Once done and satisfied with everything, now go to your Facebook page and click Go Live. Congrats! You're now Live!
How to Live Stream on Facebook from iOS/Android
Live Streaming on Facebook from a mobile phone is much easier than using OBS Studio.
Here's a step-by-step guide to doing live streaming on Facebook from Android/iOS.
Step 1: First of all, if you don't have it already, install and set up the Facebook app on your phone.
Step 2: After installing the app, you need to go to the page or event from which you want to go live. Now, you can also do live streaming from your timeline.
Step 3: If you want to stream from your timeline, you need to click the live option from the Create Post menu. If you want to stream from a page, you can select the live option directly from the homepage or videos section.
Step 4: After that, you will have to permit the Facebook app to record video and audio. For that, click Allow.
Step 5: Now, you can adjust the setting of your live stream. Your camera opens with a live stream option.
Step 6: Once done with everything mentioned above, to begin streaming, click on the Start Live Video.
Step 7: A small red circle will appear on your screen after a while. It means that you are now live streaming on Facebook.
Notes and Tips regarding Facebook live
The maximum time limit of live streaming on Facebook is 30 minutes

If you don't like any comment, you can block them from the Livestream

Make sure you have a fast internet connection before going live

You can remove the video at any time
How to Save and Edit Facebook Live Video
Filme is one of the most recommended video converters by professionals. With the help of iMyFone Filme, saving and creating a stunning Facebook live video becomes very easy. It has all types of efficient tools and techniques for video editing.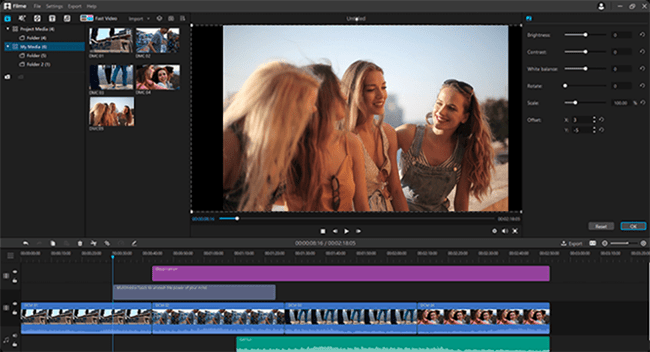 To make videos more splashy and vivid, you can use cool effects, filters, and animations.
Features
Instant preview while editing the video

Multi-layering of videos, audios, and images

Play more than 8 audio tracks simultaneously

The style and atmosphere of the video can be adjustable
It covers a wide range of video, audio, and image formats to be uploaded and downloaded. In short, Filme is a great video editing tool that you can use for streamlined video editing.
Your video will appear in the videos section of your page or timeline when done with the live streaming. You can save and edit that video with the help of third-party video editing tools like Filme. It is one of the convenient video editing tools that you can use today. It allows you to change and edit your video just according to your accord.
Here's how you can use iMyFone Filme to edit Facebook live videos.
Step 1. Download or import the Facebook live video
Let's consider downloading and launching the app as Step 0. Moving forward, after opening the iMyFone Filme app, you need to open the downloaded Facebook live video from downloads or you can import it to the app. Just click on the files, then import. Now click download media from Facebook and choose the desired video. The video is now successfully imported to your app.
Step 2. Trim, add filters or other effects to the video
That's the best part of the process. After importing the video, you can easily edit with the help of the Filme app. You can trim the video, try out hundreds of different filters, and also add various video effects to make it more lively.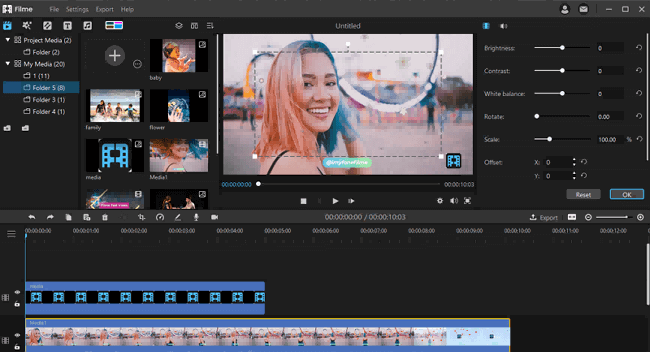 Step 3. Now export the edited video to Facebook
After done with editing, you can now directly export the edited video to your own device and then upload it to your Facebook page or timeline. Click on the Export button, if you have the option of Facebook there, you can directly export it to Facebook, otherwise export it to your device and then upload the video on Facebook.

It's that simple!