Making videos from photos have become extensively familiar these days. It may be your friend's birthday, or some other days you would like to remember them. Everyone likes to make videos with their pictures and a favorite sound as a piece of background music.
How do you make such videos? Is there any app to do it? We'll show you 10 best free video makers from photos including those with free music and online tools.
Part 1: 5 Best Free Photo Video Makers with Free Music
A lot of people would like to save all their best days in the videos together with their favourite songs in the background to match the vibe. It lets you live those moments in the same as before. Here are 5 video makers from video with free music you can get.
1

iMyFone Filme - Full-featured Free Photo Video Maker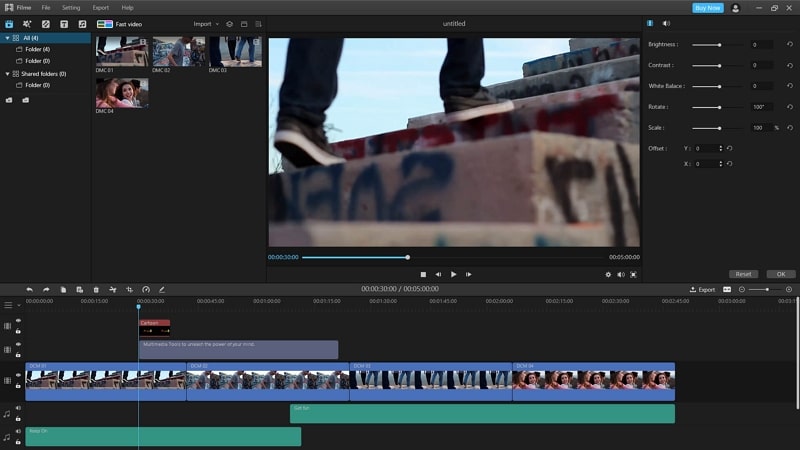 Filme is one of the latest programs for making videos from photos, and it helps you to finish your editing much quickly with a perfect finishing look. Filme helps tell your story perfectly with the ideal blend of emotions pulled out while romantic background music plays at the back. 
If you have little tech knowledge, you can still very easily alter and edit its settings because it is very convenient to use. Therefore, are you ready to use this video maker and experience it is it claims to be the quickest video makers? Following are few of its features:
Features:

It permits you to create your videos in the fastest way with its fast video mode.

Multiple templates are available to make your stunning photo videos.

It allows you to add videos and images at the same time to your photo video.

Plenty of free music are offered. You can also add your custom music.

You can also add different effects to the photo video with Filme.
Pros:

Easy to use for both beginners and professionals.

Free tool with tons of powerful video editing features.

You can both make photo videos with templates or customize with your favourite effects.
Cons:

It is a very new product and currently not quite well-known.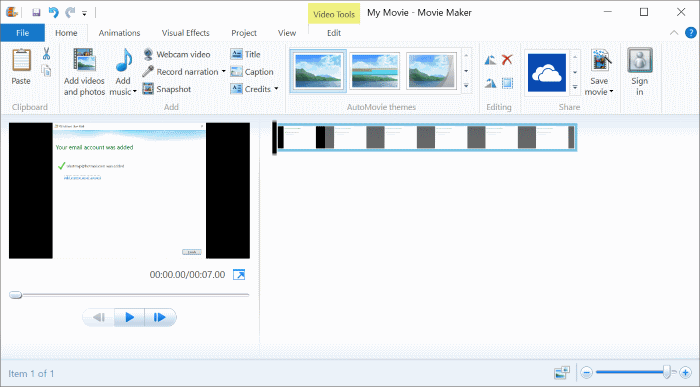 It is a software, made explicitly by Microsoft to work as a video editing tool in a Windows PC. You can very conveniently create your videos with free music and publish it on any social media platform, and you'd like to. The following are some of its features, pros, and cons.
Features:

It is easy-to-use with user-friendly interface.

Add free music you want to create your personalized photo videos.

It offers different kinds of themes and transitions for photo videos.
Pros:

Absolutely free for Windows, XP, Vista, etc.

It is specially designed for beginners.
Cons:

It is often known to freeze and crash regularly.

You cannot do complex editing using a windows movie maker.

The effects in Windows Movie Maker are not adjustable.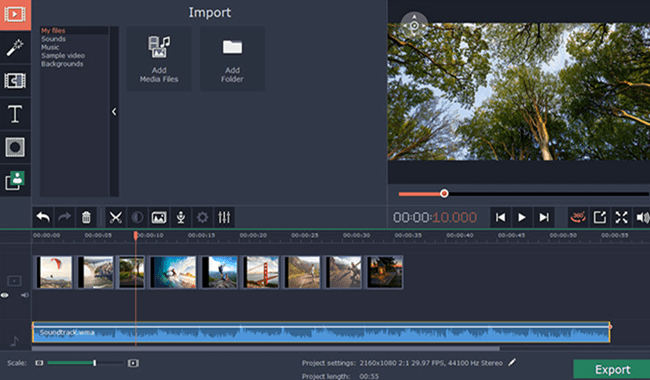 It is a beginner-friendly software for editing photo videos as another best free video maker from photos with free music. Following are its features:
Features:

It consists of multiple built-in sound effects.

It has a vast number of transitions by default.

Audio editing can be done effortlessly in Movavi.
Pros:

Its latest interface is entirely new and intuitive.

The drag and drop option for transitions and filter etc, is perfect for users.

The operation is smooth with high running speed.
Cons:

The templates for text and transition are quite limited.

Free trial is not that good for user experience.

Not available for Mac system.
4

iMovie - Mac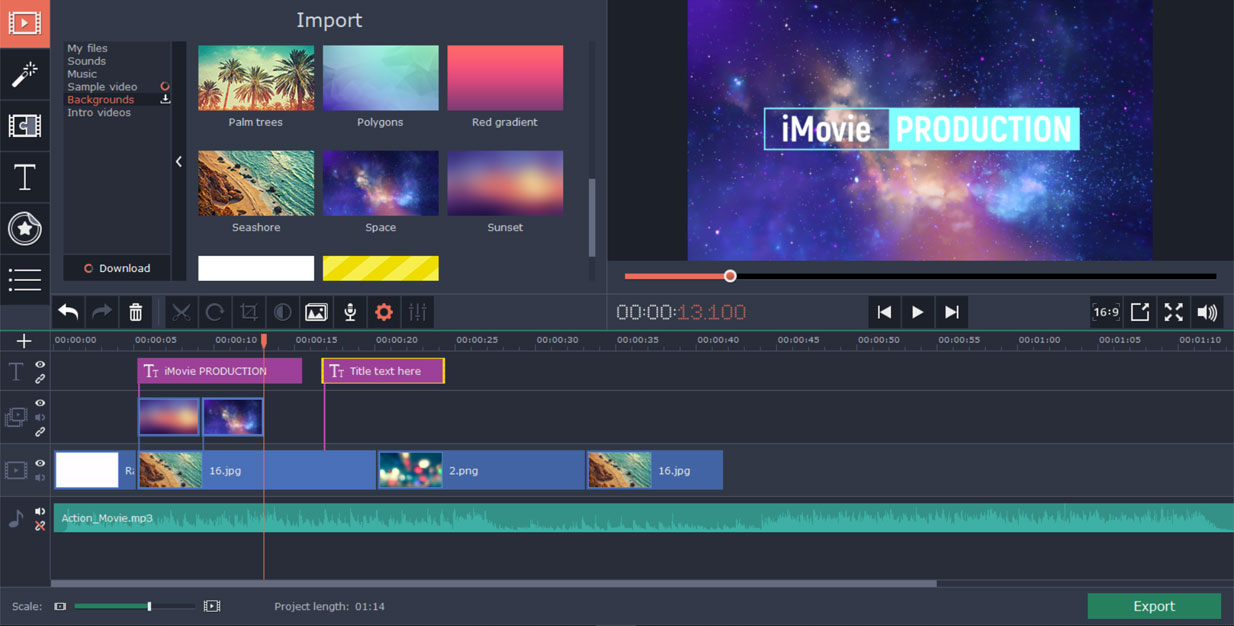 This video editing tool iMovie has been mainly developed for iOS and macOS. You can easily create storytelling videos by using your favourite photos and videos stored on your devices. Following are few of its features:
Features:

It supports HD and 4K videos.

It allows users to do audio and music editing.

You can very quickly open multiple projects at the same time.
Pros:

It can fix a shaken video.

You can easily add texts and credits.

You are allowed to change the audio over a particular music trip.
Cons:

Only available for Mac and iOS.

It cannot be used for professional editing.
You May Want to Read:
3 Easy Ways to Speed Up Video on iMovie >>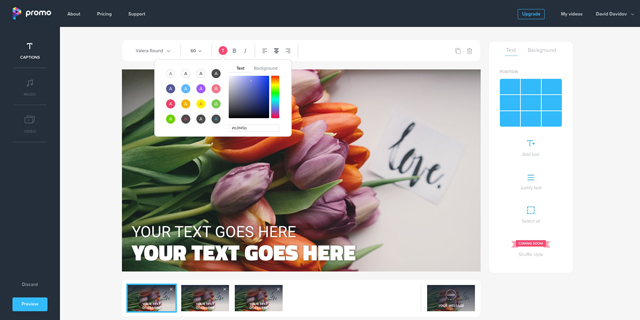 As another free photo video maker, Slidely has a service for video production dedicated to launching marketing videos in the market for promotions of certain products. Here are some of the features of Slidely.
Features:

They are mainly designed for business and personal use.

Its creative applications allow you to create fantastic video slideshows.

Beautiful collages can be made with it.
Pros:

It allows you to make videos at a professional and business level.

It captures memorable pictures.
Cons:

It needs more options for better customization.

It freezes from time to time, so you may to save the project more often.
Part 2: 5 Best Online Video Makers from Photos
You may don't want to download any software onto your computer or laptop. Then here are 5 free online photo video makers you can directly enjoy without downloading and installing. Some don't even require you to get an account for the website. However, one of the obvious disadvantages that you can see for online tools is, you can't do the editing offline when you are disconnected.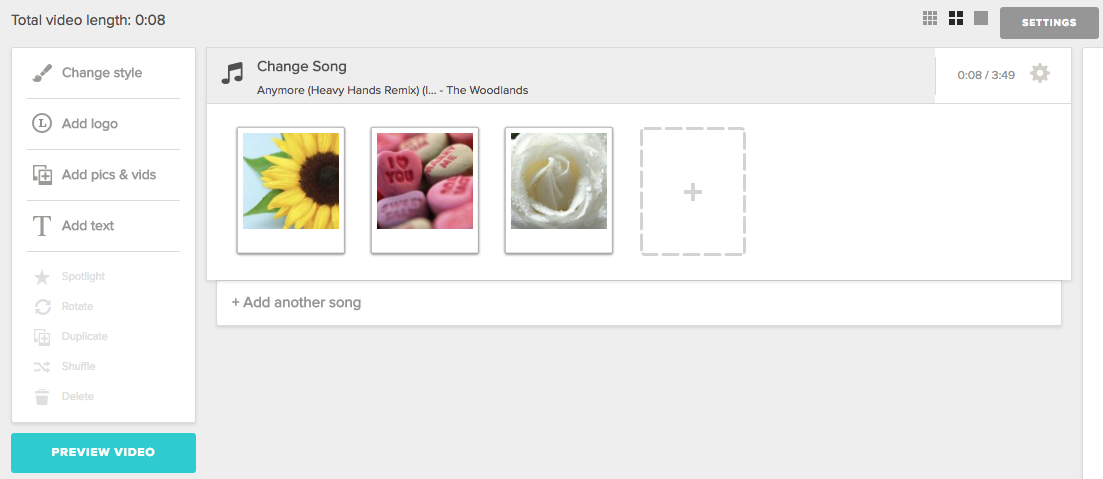 It is a video slideshow maker where you can create stuff for your marketing and personal slideshows. Following are some of its features:
Features:

The video it export is high quality.

It consists of a font library that would be useful to your photo video.

It possesses about 3000 licensed music tracks.
Pros:

It is an online editor. Therefore you do not need to download it.

It consists of a user-friendly interface.

It also has a music library where you can add sound to your video.
Cons:

Templates are minimal.

Not every editing feature is accessible.

You get to see a watermark that appears on a free version.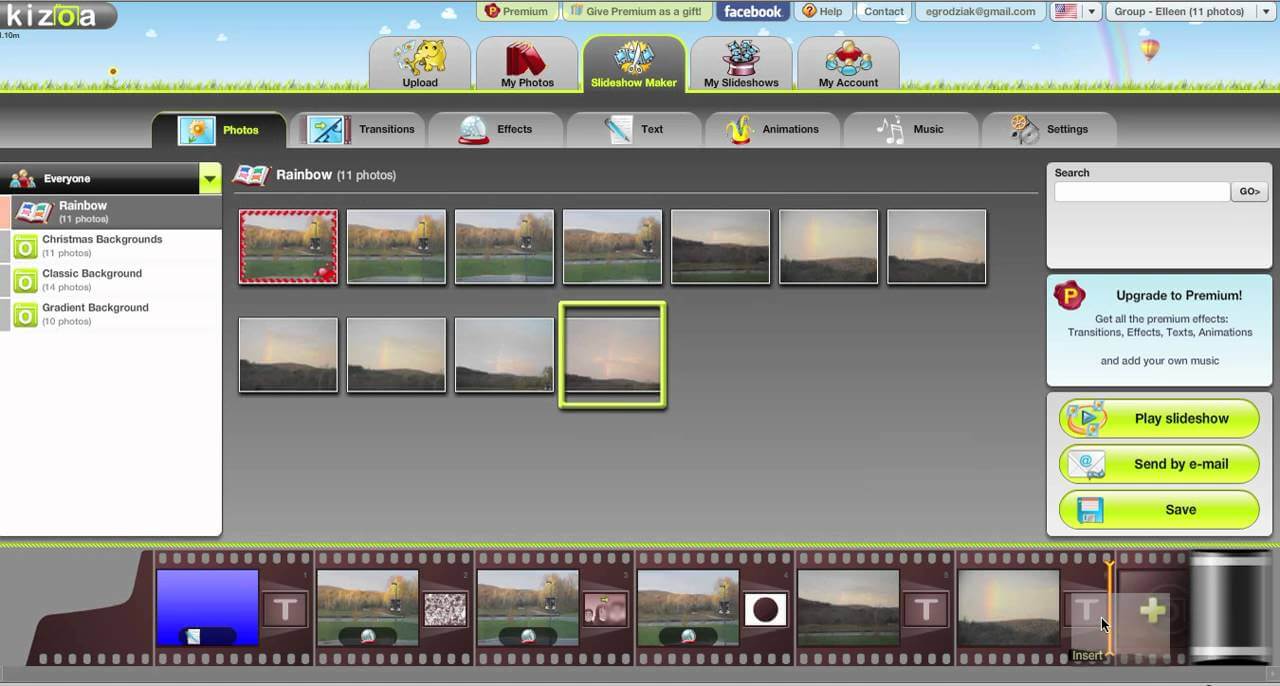 To begin create photo video on Kizoa, you do not even require an account or downloading because it is an easily accessible online editor. Following are some of its features:
Features:

It consists of pre-made video templates.

It consists of a large number of texts and transition options.

You can also play with editing tools such as Editing by cropping, rotating and straightening, etc.
Pros:

Pretty easy and friendly to beginners for video editing.

It offer pre-made templates for photo video making.

Easy to share your editing work on social media.
Cons:

The free version does not have much to offer.

The video quality is not satisfying HD and 4K resolution support are available on $299 plan.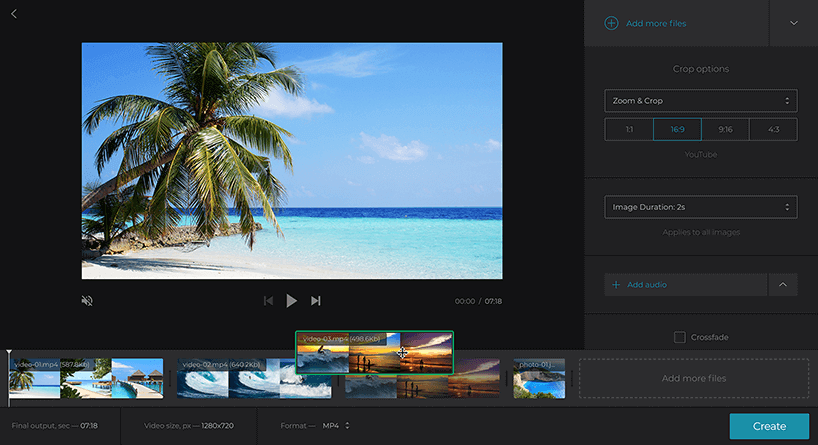 As another free online photo video maker, Clideo is the best for those needs no complicated video editing, as it mainly provides basic features, including:
Features:

It merges video clips into one single video.

It can compress videos for reducing file size.

It enables you to resize your photo video easily for YouTube, Facebook, etc.

You can add free music or your favourite music to your photo video.
Pros:

No need to sign up.

It has a wide range of format support.
Cons:

You cannot add videos of more than 500mb for free.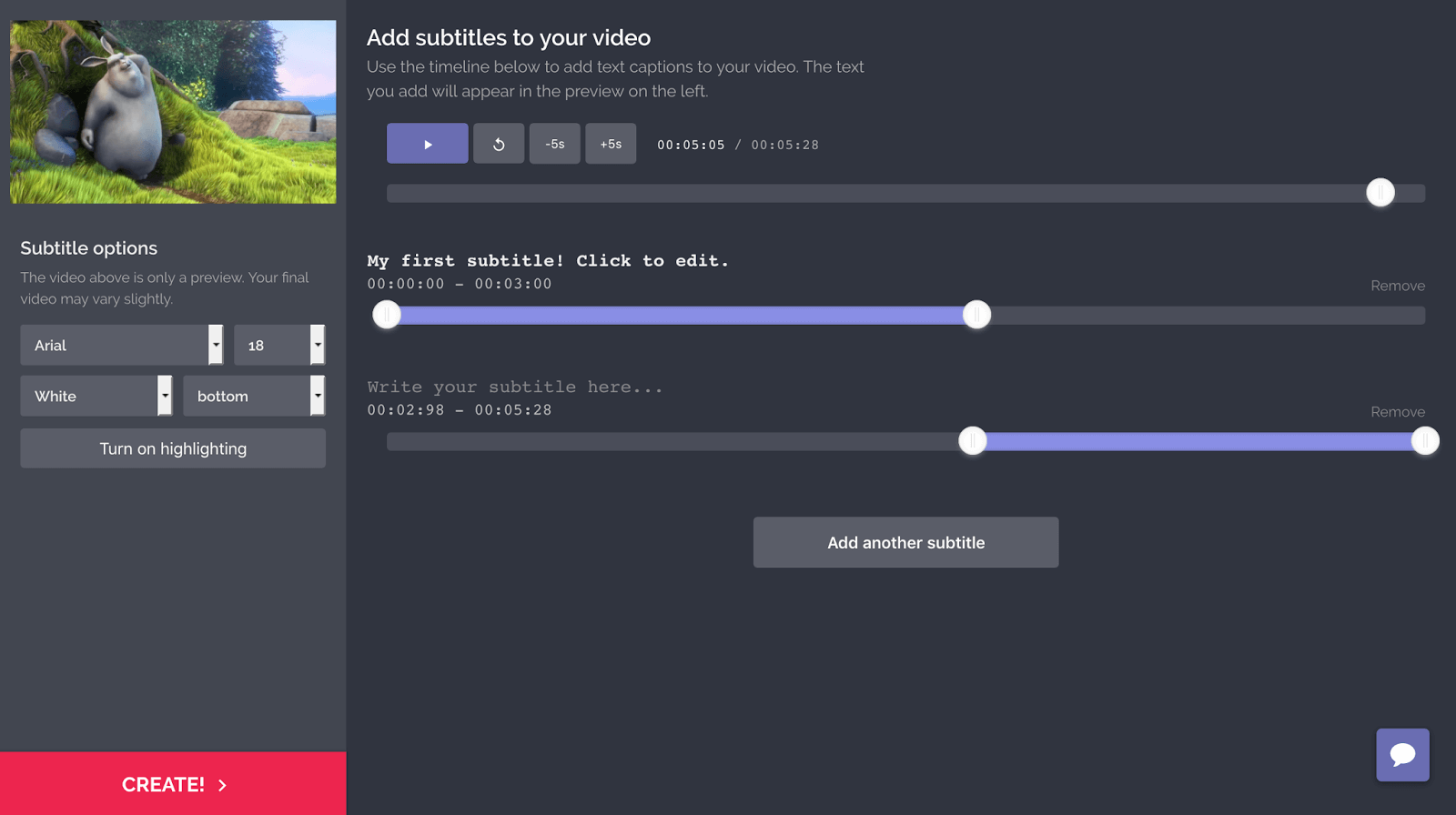 Creating high-quality photo videos is one of the best feature Kapwing is dedicated to offer for users. Same as most online video tools, Kapwing is relatively simple for video editing. You can make use of the following features to create your customized photo video:
Features:

Basic features including cutting, trimming, rotating, joining, etc.

Add audio or music to the original video file.

You can share the work directly on social media once it is finished.
Pros:

It is quite friendly to social media content creation.
Cons:

Users are not happy with its interface.

It costs money to keep your video private.
Renderforest is an online platform where you can create photo videos with free music. It is created for both professionals and beginners. You can boost your skills by practicing on it and creating quality videos with utmost ease in very little time.
Features:

It can create photo videos with music and effects.

Add text to make it more meaningful.

The photo video is smooth after it is finished.
Pros:

Its user interface is straightforward and can be understood quickly.

A massive number of templates and toolkits are available for you to use them.
Cons:

It can't create square videos.

It  can't fine tune videos like advanced software.
You May Want to Read:
How to Make a TikTok with Photos and Videos >>
2 Ways to Create a Photo Slideshow on iPhone >>
Part 3: 5 Tips for Creating Video from Photos
Apart from finding a good free video maker from photos, you might also want to know some tips for creating photo videos and make them look amazing. Well, here are 5 tips for you: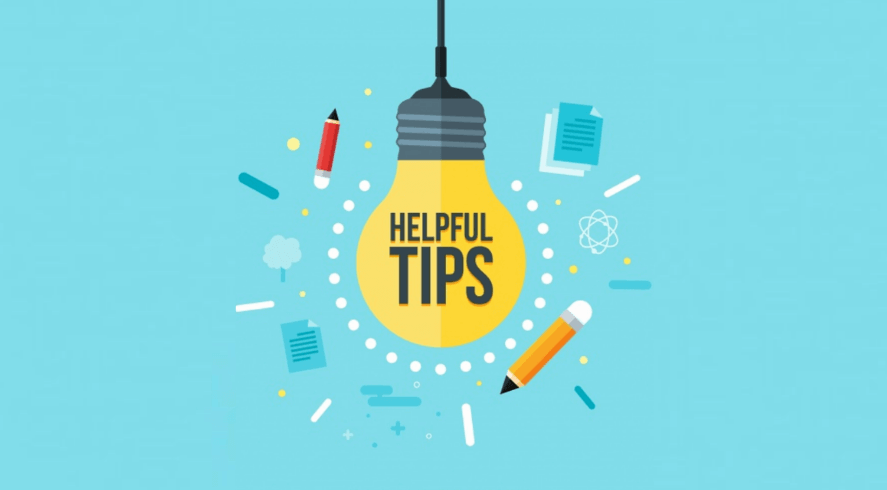 1. Photos are the most important.
Select the photos that are related the most to the video them you want for the photo video. Photos of higher resolution are recommended.  
2. Take right amount of photos.
A photo video which is too long to watch can lose the interest of your audience.  
3. Think about the duration.
If you show every photo too quickly, you are showing it well and the audience may not even know what your photos are. But too much duration can also ruin the video. 3 seconds for each photo is recommended.  
4. Don't overuse effect.
Adding transitions and effects can enhance the beauty of your video, but too much will lose the main value of the photo video.
5. Proper music helps.
It can also improve your photo video by adding a suitable song which can help convey the mood you want the audience can feel.