The MP4 file format, which is supported by almost all video editing applications and media players, is used by the majority of smartphone cameras. Additionally, iPhones and Android phones have microphones that allow you to capture sound along with the video.
It would be daunting to save all of your videos on your phone's SD card since a single MP4 file can quickly take up more than a gigabyte of space.
If you just want to save the audio from an MP4 format, converting it to MP3 is a perfect way to save space on your memory card.
As a result, we'll walk you through some of the best MP4 to MP3 converter applications for Android devices in this article.
Part 1: Top 7 MP4 to MP3 Converters for Android
High-resolution video recording is no longer a fools' errand since there are a number of models on the market that can provide clean, clear images.
Converting a video clip to an audio file doesn't take long, and there are a number of third-party applications that will do it for you in a matter of seconds.
The following are some of the latest Android MP4 to MP3 converter applications:
Filme Lite is a fantastic app for converting MP4 videos to MP3 audio files in an easy and enjoyable manner. For Android smartphones, the app is available for free download from the Playstore. It doesn't take up any space on your phone or computer.
Apart from reversing standard images, the Filme Lite application has a lot of other useful functionality. You can use a variety of built-in models to create and film videos with these. Simply choose a base, add the clips you want, and export your completed video to your preferred social media platform.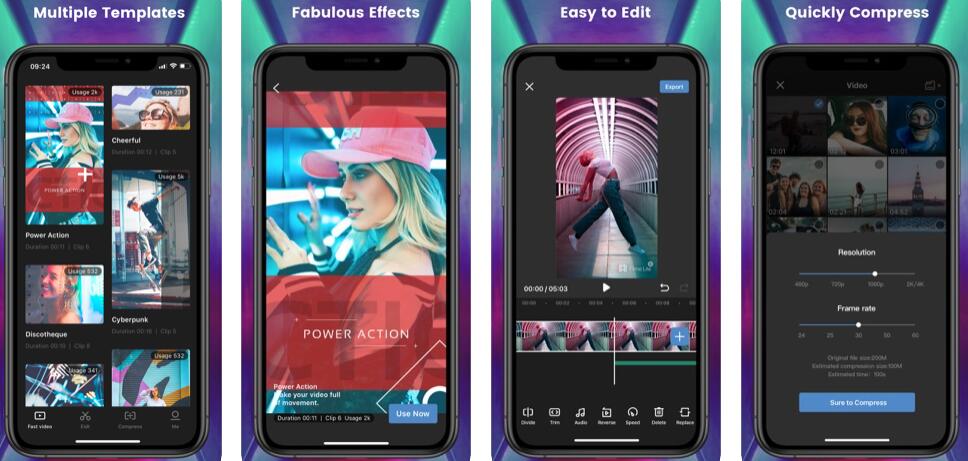 This software has a variety of features, including the ability to extract audio from video. Simple and Advanced MP3 conversion modes are available in Video to MP3 Converter, giving you full control over the audio extraction method.
The software supports a variety of video file formats, including MP4, WMW, and AVI, and its Video Cutter feature allows you to delete any segments of a video clip that you don't want anyone to see.
The audio cutting tool included with the video to MP3 converter allows you to quickly generate a new ringtone for your devices. Since the software allows you to create files with bitrates ranging from 48 kb/s to 320 kb/s, you can even monitor the bitrate of the audio files you're creating.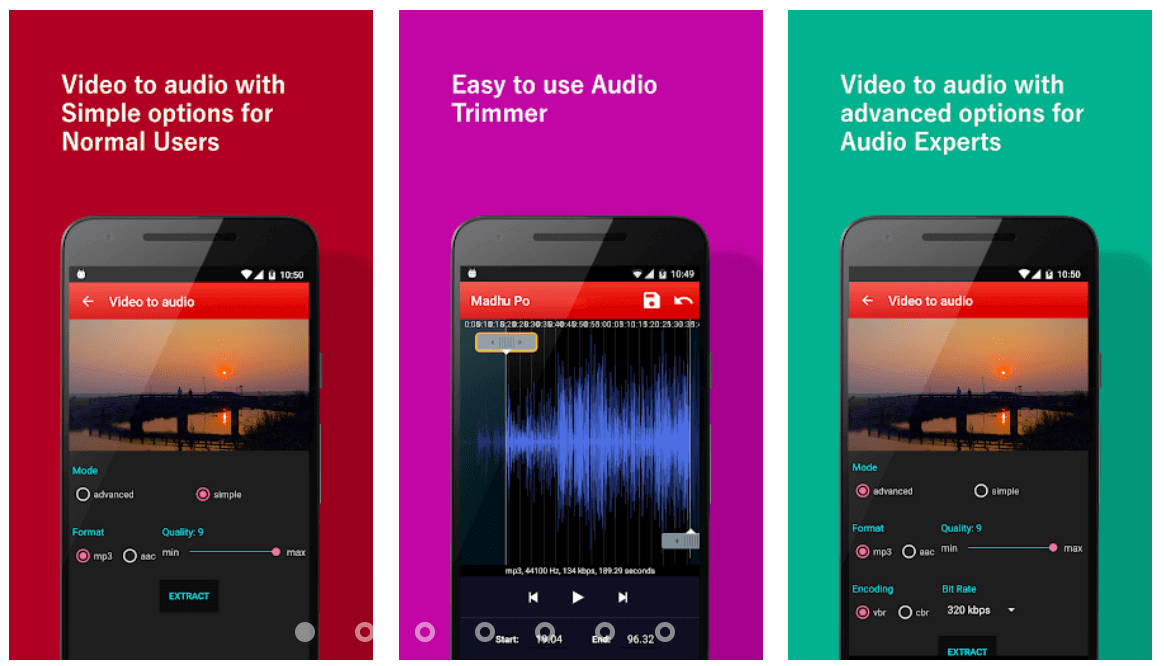 You can convert all video and audio files to a variety of audio file formats using the Audio Converter application. You can convert a variety of audio file formats to MP3, Avi, AAC, Ogg, Wav, and other formats, including MP4, m4v, AMR, and MPEG.
Since all conversions are done on a cloud service, you won't be able to use The Audio Converter if your smartphone isn't connected to the internet.
Keep in mind that the free edition of the software has minimal functionality, and if you want to use it to convert MP4 to MP3 on a regular basis, you'll need to buy either a Premium Pass or a Lifetime Pass.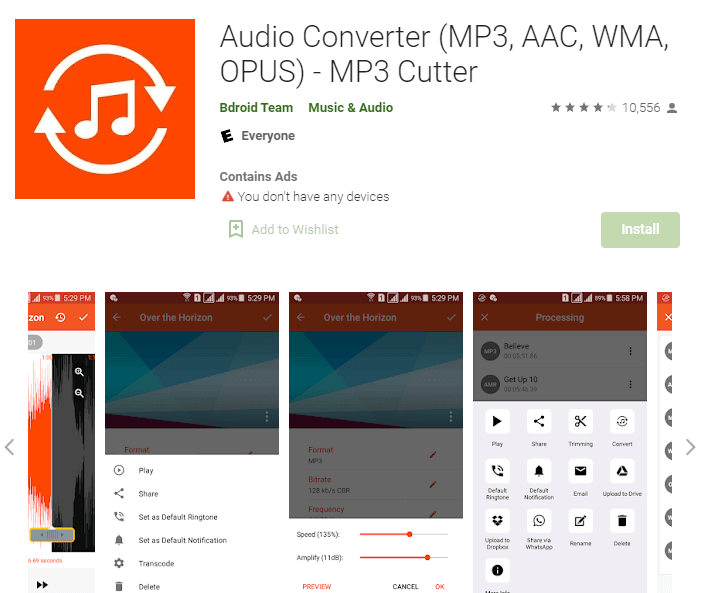 This is a basic and efficient file conversion tool that allows you to convert video files in formats such as MP4, 3GP, and FLV to MP3 or AAC audio files.
It won't take you long to choose an output file's bitrate or to add the title of a song and an album. The MP3 Video Converter, on the other hand, does not have audio or video editing capabilities, so you won't be able to split or combine multiple audio files.
Furthermore, in order to run this application, the smartphone must support ARMv7, which means it will not work on older Android phones.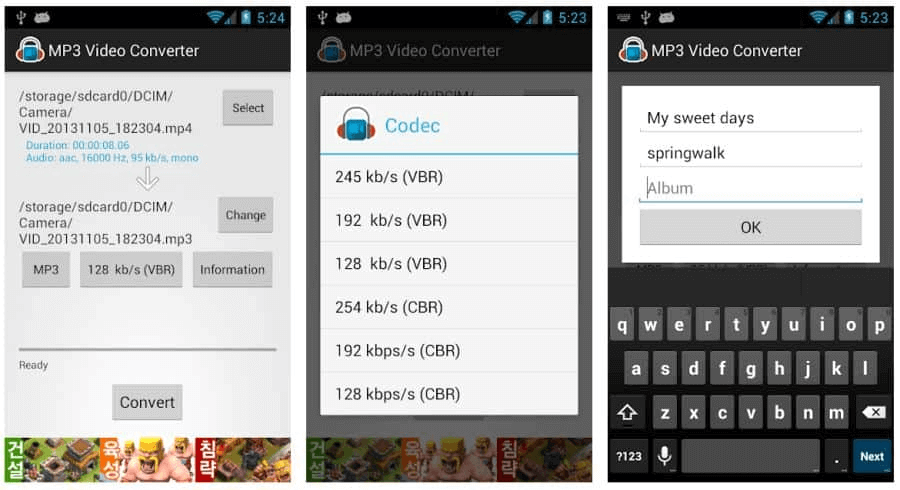 The media converter is a simple, lightweight, and easy-to-use tool. It has received over 5 million downloads and a 4.1 average rating. The default interface looks and feels like Windows 98, but it is easy to use.
Themes, output directories, plugins, and a few other options are all included in the configuration menu. The output folder can be accessed through a button on the left.
With a single button, you can convert videos to MP4 and MP3 formats. Expert is a feature that comes standard with it. You can customize the video in expert mode. You have the option to
Cut the video into parts.

Change the standard of the recording, as well as the bitrate and sample rate.

Video quality, save location, bitrate, and sample rate can all be changed.
MP4, OGG, M4A, WebM, MPEG, Avi, Flv, 3GA, OGA, WAV, and GIF are among the formats supported by the application. Before starting the conversion, you should change the output folder. MKV to MP4 conversion is also a breeze with Media Converter.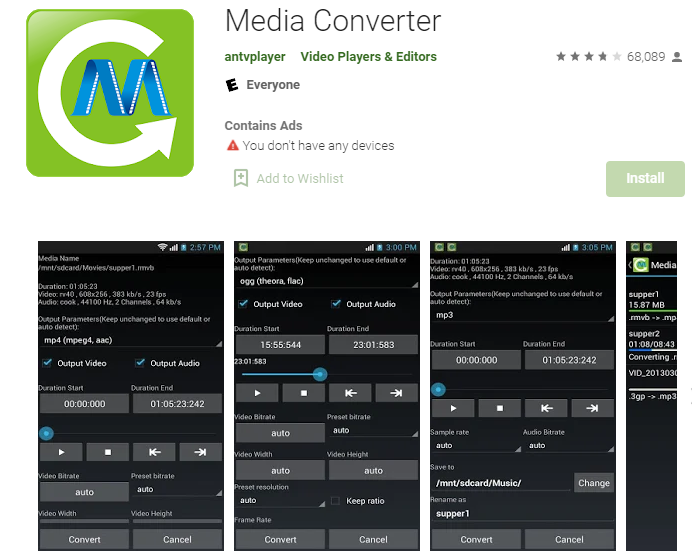 Your Android mobile will benefit from using MP3 Video Converter. This multi-format converter software has a straightforward and user-friendly interface that will make converting videos easier.
Despite its simplicity, it can transform videos from almost any file or audio format. Delete any videos from your phone that you don't want.
To take advantage of this application, simply select any desired video from the gallery and convert it with a single click.
It doesn't end there; the interface also allows you to choose the start and endpoints. It also helps you to adjust the resolution of the final video. You can store the videos on internal storage or share them with your loved ones after they have been converted.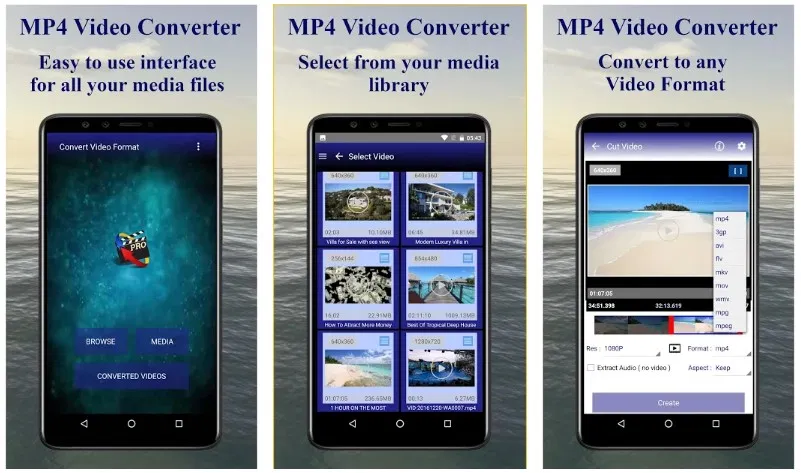 MP3 Video Converter, leading the list of the best converters, is a tool that helps you to convert any audio or video file saved on your device's memory to a different format. You'll also be able to quickly and conveniently cut every video or music on your phone.
MP3 Video Converter can convert into a number of different formats, including MP4, 3GP, WEBM, WMV, and FLV. Additionally, audio formats such as MP3, AAC, OGG, and FLAC are supported by this software. It can also edit metadata on any file with ease (artist names, album names, songs, etc).
One of the best aspects of MP3 Video Converter is that you can convert or cut videos in a couple of seconds due to its straightforward interface. All you have to do is choose the output format and resolution for your file, and this app will process it in a matter of seconds.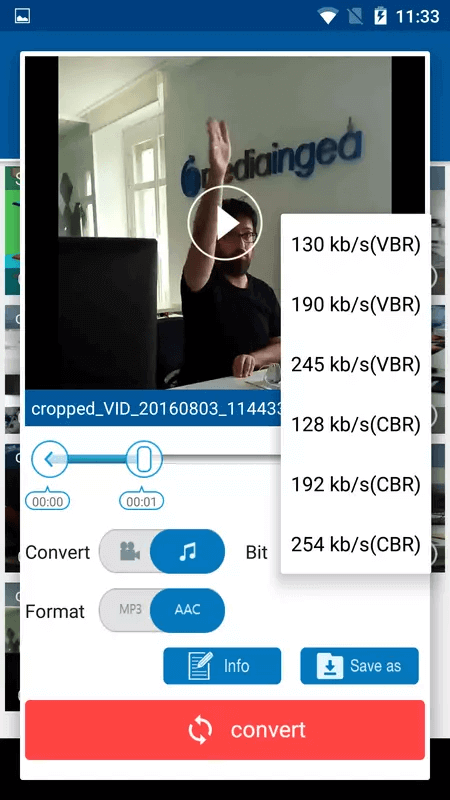 Part 2: Convert MP4 to MP3 with iMyFone Filme (Win&Mac)
The popular method of iMyFone Filme is to convert Mp4 video files to Mp3 audio and provide a range of file editing functionalities. Just drag and drop the video file into the program you want to convert to an audio file.
Simply export the file you chose as an audio file for Mp3, and you're done. iMyFone Filme also allows you to upload and capture your favorite parts from your videos by adding and finishing your voice and music.
The great thing about using iMyFone Filme is that it can track connectivity with a wide range of devices, including iPhones, Android phones, iPods, Apple TVs, PCs, Tablets, Samsung Galaxy Notes, Android Standard, Smart TVs, iPod Touch, PlayStation 4, Xbox One, and PSPs.
You can also crop, split, rotate, break and adjust the speed of your streams using iMyFone Filme.
Features
You can make amazing slideshows using sleek templates in a matter of seconds.

Share special videos such as birthdays, celebrations, travel, festivals, etc.

Cut/trim, split, rotate, speed change, photo-in-picture effect, and many more are easy to do without any technological expertise.

Several resources for effects can be used to add filters and animations to produce colourful and polished visual stories.

Add a number of transformations into your video to amaze your social media adherents.
Step 1. Add MP4 Videos to Filme by Simple Drag N Drop
To start, you must import the MP4 file to be converted to MP3. "Import Media" is a menu option under the "File" menu. There would be a total of four available options.
Choose "Import Files" to import individual files, "Import File Folder" to import an entire folder, "Import from my phone" to import files from an iPhone or Android device, or "Import from a wired or wireless network" to import file types from a wired or wireless network.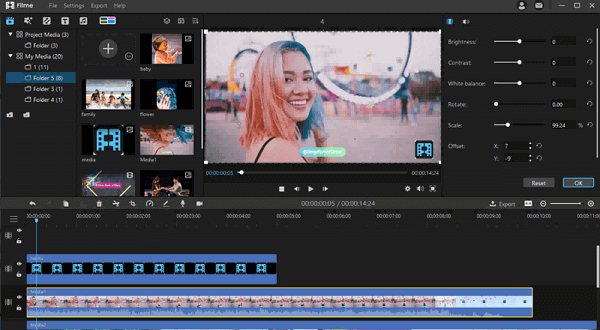 Step 2. Choose MP3 as An Output Format with 1 Click
Now, pick MP3 as the output file format. To navigate quickly, see the example below: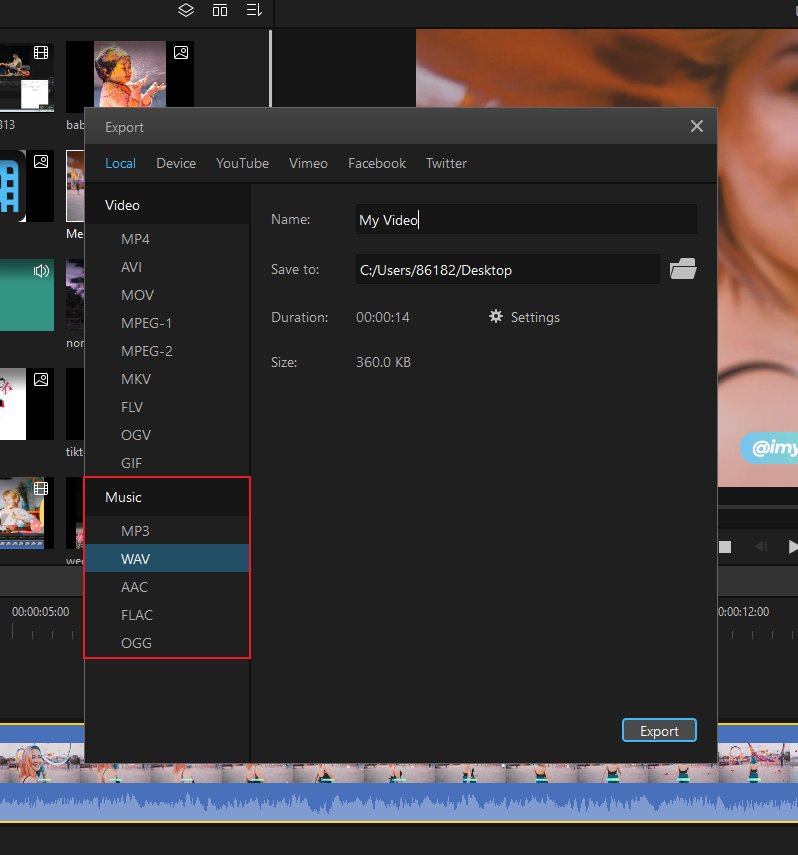 Step 3. Convert MP4 to MP3 in 3 Seconds
In the title bar, change the title of your video/audio creation. By pressing the folder icon at the end of the "Save to" bar, you can change the default saving location on your device and convert MP4 to MP3 fast and easily.
When done, press the "Export" button in the bottom right corner to save your changes.