Cute CUT is a great option for making changes in your videos and short clips using mobile. Anyone can easily convert a simple video into a professionally edited video using this application. Due to its easy-to-use feature, this editor is highly recommended for mobile users.
This article will tell you all the necessary information about Cute CUT, its pros, cons, and user reviews. It will help you decide whether you should use it or not. Moreover, we will also suggest an alternative if you want to take video editing to the next level. Let's start.
Part 1: Cute CUT Introduction
Cute CUT is an amazing video editing application for mobile. This part is going to be all about Cute CUT's main key features, operating systems, and price. We will also discuss how to use this app.
1. Key Features
Cute CUT is famous because of its numerous admirable features that make video editing easier and faster. Some of these features are,
The app is very user-friendly.

It provides 30+ tools to do drawings over videos.

4 super brushes for professional editing (Spray, Texture, Linear Gadient, and Radial gradient)

You can apply High-quality and gentle transitions to your videos.

You can create videos of your choice and easily share them on any social media platform directly from this app.

You can enjoy 1080P full HD video quality.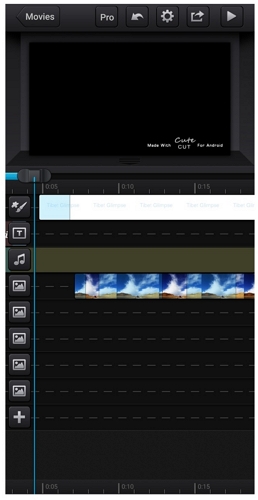 2. Operating System
Cute CUT is supported by Android and iOS devices. It is free to install and download. However, you can also install it on your PC for desktop use, but the method will be a little different because Cute CUT for Windows will require an Android Emulator to work. Android users can easily get this app on the Play Store. On the other hand, iOS users can grab this editor from the App Store.
3. Price
| Plans | Price | Details |
| --- | --- | --- |
| 1. Cute CUT (Full-featured Video editor) | Free of cost | For Android and IOS devices. |
| 2. Cute CUT pro | $5.99 | Paid app for mobiles |
| 3. Cute CUT pro (Upgrading) | $5.99 | Purchase premium features (in-app purchase) |
| 4. Cute CUT pro (MAC version) | $29.99 | Paid app for MAC users. |
4. Ease of use
As we have mentioned above, this app is beginner-friendly and user-friendly, so anyone can use it without any hassle. The drag and drop feature makes it super simple for all kinds of users.
Moreover, the app lets users edit the video in both vertical as well as horizontal manner. This is why it is highly recommended for iPod users. You can easily enjoy the user-friendly features free of cost, and if you want some more amazing features for your ease, you can purchase the pro version or in-app features.
Part 2: How to Use Cute CUT
Take a look at this video to see how to edit with Cute CUT:
You can use Cute CUT by following these simple steps.
Step 1: Install the latest version of Cute CUT on your device, and if you already have installed it, then go and check for the latest updates on App Store or Play Store.
Step 2: Open the app. At the top left corner of the mobile screen, you will see a Plus "+" sign. Tap on Plus+ > Create. On the screen, you will have to select different settings like Resolution, Orientation, Video Background color, and Frame Rate, etc.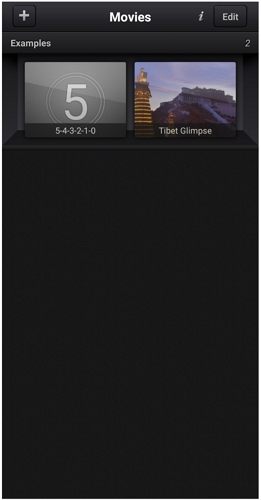 Step 3: After setting everything, you will see a Plus sign again on the next screen. Tap on that to select Media Type. You can choose any of the six Media Types. We are going with the Video.
Step 4: After selecting media from the device, now double-tap on the lower line showing the video's sections to get the editing features on your screen. A row of many video editing tools will appear at the bottom of the screen.
Step 5: After tapping on any editing tool from the bottom line, you will again see a Plus + sign. Tap on that and get 25+ Transitions to make your videos more appealing.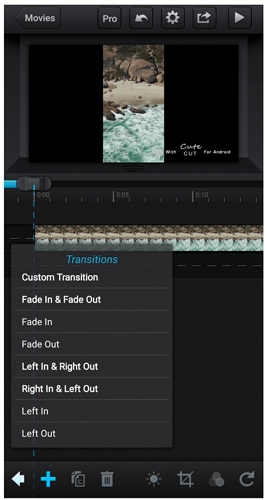 Step 6: After all editing, you need to tap on the export icon at the top right corner of the mobile screen. Select the quality of the video and wait for a few seconds. Your video will be exported and saved to your device within a few seconds.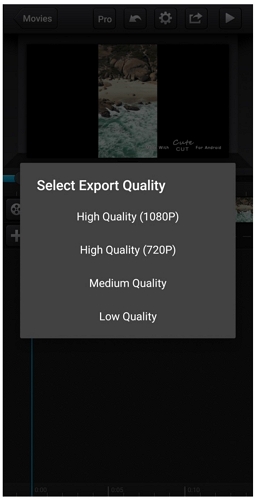 Part 3: Pros and Cons of Cute CUT
Pros of Cute CUT
1. Editor of Multiple Media
Cute CUT does not bind its users to edit videos only.
This is an amazing all-in-one application that supports six different Media Types.

You can use this tool with the inputs like Videos, Photos, Text, Self-Draw, Music, and Voice. You can use all these six Media simultaneously.
2. Best Editing Features
This video editor contains the best features and tools that a professional requires for making excellent videos.

You can use different pictures in the video, and it also helps the user to create the Picture-In-Picture (PIP) effect within the videos. You can use the aspect ratio of your own choice. There are HD (16:9), SD (4:3), SQUARE (1:1), and a Portrait.

There are over 30 drawing tools with six professional brushes (Spray, Texture, Linear Gradient, and Radial gradient)

There are 20+ transitions to add to the videos. All Transitions are highly customizable.
3. Export and Share Feature
You can easily share your edited video to any social media platform like YouTube, Facebook, and e-mail.

You can export the video in four different qualities. You can choose High Quality (1080P), High Quality (720) P, Medium Quality, and Low Quality.
Cons of Cute CUT:
1. Premium Features and Version
You need the In-App purchases for exciting premium features of the Cute CUT.

To enjoy professional features, you need to purchase the Cute CUT pro version.
2. Interface Problem
The interface of Cute CUT is different from other free video editors and can be difficult for first-time use. But the video tutorials and usage tips make it easy to use for beginners as well.
Part 4: Cute CUT User Reviews
Cute CUT's users are quite satisfied with this application, but due to the lack of some features, users want the developer's attention. Here, we are going to summarize reviews of Cute CUT.
Excellent App
Most of the Cute CUT's users love this app to edit videos without sitting in front of a computer screen. They enjoy all the built-in features for editing their videos. It is considered a well-reputed movie editing app.
Need for a Redo Button
There is an Undo button at the top of the screen, but there is no Redo Button available in this application. Users sometimes accidentally tap on the Undo Button, and then due to the unavailability of the Redo button, they need to do the same things again.
Need for More Sounds
Cute CUT has its own sound library, but it should be updated with time. People get bored after using the same track again and again. So, there is a need and demand for adding more music tracks to the application.
Part 5: Recommended Video Editor for Win & Mac
Filme is a professional and all-in-one video editor. Beginners and experts can use it to make stunning videos for different purposes and social media platforms. It is a versatile tool that has a voice changer, screen recorder, video converter, slideshow maker, and voice recorder. You can edit your videos like a professional.
How to Edit Videos Using Filme
Step 1: Launch Filme on your computer. Go to File > New Project and select any aspect ratio.
Step 2: Import the files that you want for video editing. You can import from the Media menu. Select the video, audio, image, and GIF files you need. After importing the files, drag them to the timeline.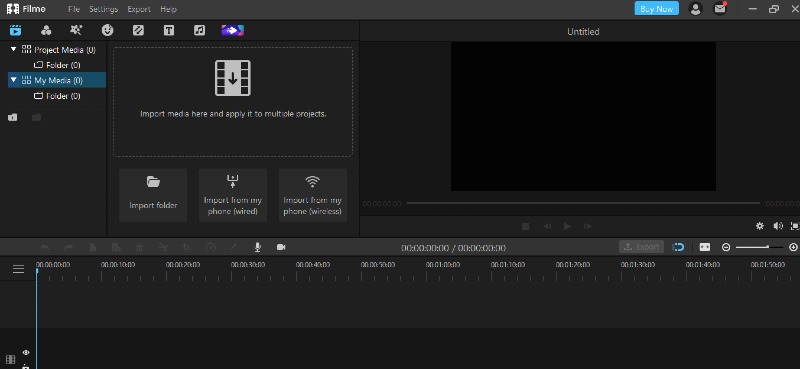 Step 3: In the timeline, you can adjust the position of the media. You can also trim it by moving the handles. You can split, crop, adjust speed, adjust color, and make other changes. You will find all the basic tools over the timeline. You can also double-click on the video clip to see more editing options.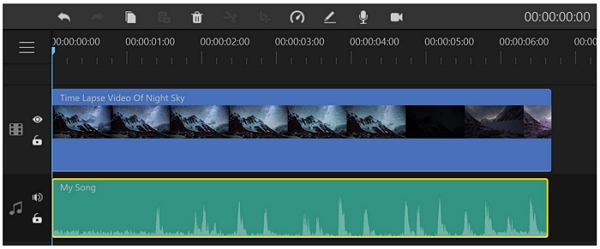 Step 4: From the top menus, you can add effects, filters, transitions, stickers, and text. Go to the menu, select anything you like, and drag it to the timeline.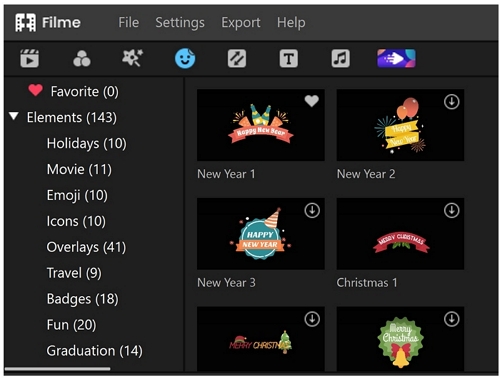 Step 5: You can add music by dragging the audio file to the timeline. Filme also has its own music library of royalty-free music. Moreover, you can also use the voice changer to change your voice in real-time.
Step 6: After making all changes, click on the Export button. Select the file format and other settings. Click on Export.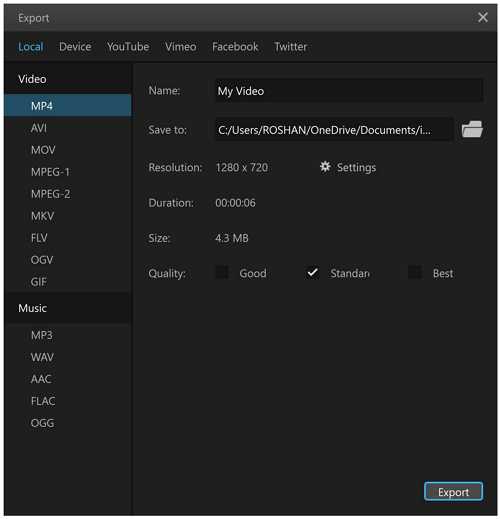 Final Words:
Cute CUT is a splendid application to turn simple videos into professionally edited videos. You can use different drawing tools and transitions to make your video more captivating and attractive. Moreover, Cute CUT allows users to use six different media types in a single movie. This application is worth using and buying. If you need more tools and features to take video editing to the next level, you need to use Filme. It is an excellent tool with a beginner-friendly user interface. You can use it to create awesome videos for any purpose.