To capture any kind of screen or video is considered as Screen Recording. During the process of screen recording, you record everything that happens on the screen of your phone. It is one of the safest methods to record the screen as it only involves recording the movement of desktop grabbing and encoding and has no potential danger at all. Can Android Screen Record? In fact, many of the android systems support screen recording. If you are confused about how to screen record on Android, then feel at rest as most of the androids can record the screen, and the process is very simple.
Part 1: Can Android Screen Record Without App?
How to record your screen on Android? The features of screen recording have been implemented by many different kinds of androids. Its process is mostly the same in every android mobile phone. Nowadays, recording a screen for different types of purposes is very easy and trending. It can help you record many tutorials and helpful videos, which you can easily save on your mobile phones. The answer to the question that arises is how to screen record on Android is not difficult to find. You just have to follow some simple steps for this process: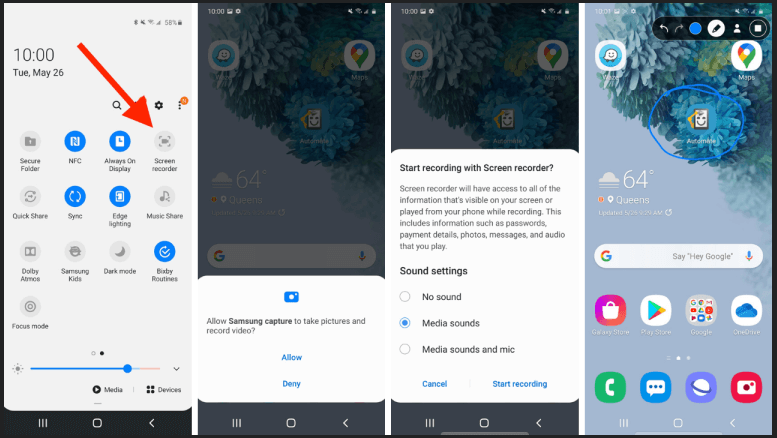 Step 1: From the top of your mobile screen, swipe it down two times.
Step 2: Tap on the icon of the screen record.
Step 3: Tap start after choosing what you want to record on your mobile phones.
Step 4: After the countdown, the recording begins.
Step 5: If you want to stop the recording of your screen, swipe down the top and press the screen recording notification.
After this process of screen recording, you can go to your gallery. There will be a folder of screen recording as every advanced android mobile phone has this folder. You can now edit your recording according to your style after this process. In the process of how to screen record on Android, you can also record the voice in the video you are recording on your smartphone.
Can you screen record on Android with an older version? If you are an android user and cannot record your screen, then you are using the older version of it.
Part 2: How Can I Screen Capture Video on Android Phone With Third-Party Apps
Before the final release of the Android 10 beta, the screen recording feature added by Google was removed. There are chances of its appearance in the next version of Android, which is Android 11. But still, many smartphones have it. Can the Android screen record if you have the older version? The answer is yes, as you can involve third-party applications for this process.
If you want to record your screen in your older version or Android that doesn't have built-in, you can download different apps for this purpose.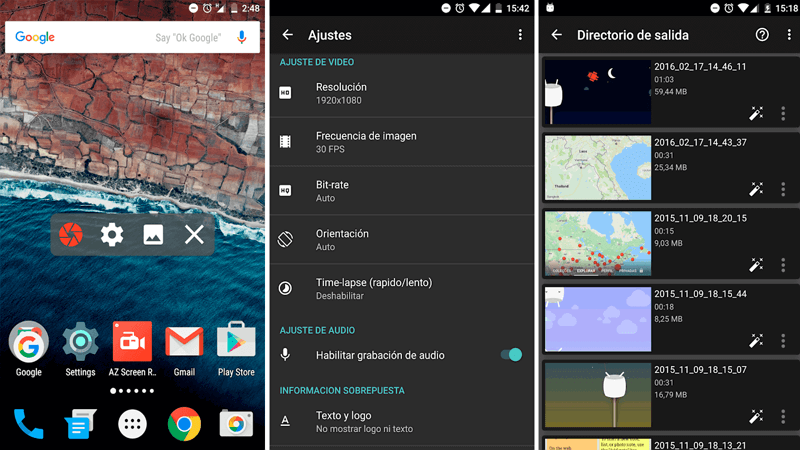 One of the top Android screen recorders is AZ Screen Recorder. It is free that you can use as a third-party option. It helps you to record any kind of activity on your phone in the form of recording. It also allows you to record the audio in high quality. After the process is completed, the recording is sent into the gallery of your phone as well as the app also has its gallery for this purpose. It has a high rating by the users of the play store.
For a third-party option, you can also use a Mobizen screen recorder. It can also be used on computers as well as smartphones. To get to know how to screen records on an android, you just have to download it from the Play Store. To use this free app, you have to sign in for it. One of the most significant features owned by this app is its floating button which lets you record your screen without closing any other application.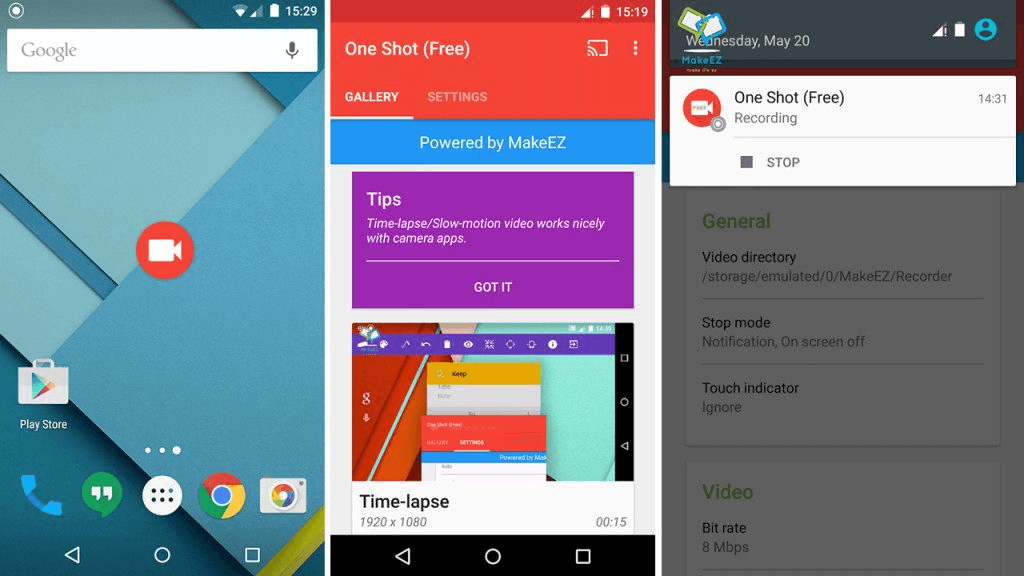 If you want the easy-to-use app for this purpose, then you should simply download the app One-Sho. You just have to select the option of the Capture Screen, and your recording will start. This app also has its gallery where your screen recordings can be saved, and you can easily have access to them. It is one of the ideal apps for people interested in making tutorials, as you can also set the speed and resolution of your recording.
Several apps can be used as an option for third parties. Many of them are very easy to use and have their gallery, which will help your smartphone process better. You can use them to record anything that is happening on your screen. Some of them can also be used in computers. They are also helpful for people that want to make different kinds of tutorials for their social media platforms. You can also use these third-party options in creating content for your business. They also help you to set the quality of the video according to your need.
Part 3: Top 8 Screen Recording Tips That Will Make You a Good Creator
Some of the following tips can help you in becoming a good creator:
Anything can be recorded.
Screen recording has several benefits, and one of them is that you can capture anything at any moment if you like it. But one of the downsides of this process is that you record the popup notifications on your screen by accident. So before recording, you can turn off your notifications.
Make a plan on what you want to spark.
If you want to avoid ramble, construct a plan about what you want to say during your screen recording. You can set up the script for this procedure which can provide you a lot of help. This tip will help you to stay on your topic and ensure you remember everything about it.
Video length matters.
If you add a lot of useless information to your content, your viewers will be distracted easily and lose focus. If you make shorter videos and skip any important part of your topic, you will annoy your viewers, which is not good. You just need to focus and stay to the point in your whole video.
Quality of audio matters.
One of the things that make a great difference is the quality of your audio. If you have bad quality of your audio, then your viewers will be easily pissed off.
The video should be recorded in an appropriate size.
To avoid a not-so-good experience of viewing then you should record the important parts. To stay focused, you should capture the necessary part that can be used for your content.
You should look good on your webcam.
You should never underestimate the effect that can be put by eye contact. To let your audience believe, set your webcam on the eye level so they can see into them to believe you.
Control your mouse cursor.
The mouse cursor helps your viewer to follow you on the screen. It is one of the most important tips for making good content. Never move it carelessly.
Cut out useless content.
While recording, you can make several mistakes as it is normal. But to make your content effective, cut out the unneeded part from it.
Part 4: Best Alternative to Android Screen Recorder on Desktop (Win&Mac)
iMyFone Filme - All in one screen recorder and video editor
iMyFone Filme is software that is used to edit videos in different types. It helps you edit your movie trailers, music videos, and many others in very simple steps. It is one of the user-friendly video editor cracks that can also help you record screens. It works on all types of computers, including windows and mac.
You can make and edit your videos more magical by adding the eBay quality audio in your videos after recording. This software is considered as one of the best all-in-one screen recorders and video editors because of its advantages and key features, making it more popular and useful.
Features:
Easy to use and record screen for beginners.

The video is exported at a fast speed and high quality.

After recording, you can edit your video by following easy steps.

Faster mode of video

Different types of editing and recording modes.

Easy screen recording modes.
This software can be used in different types of computers. This is an absolute cup of tea for every person of gen-z as they can easily sort out its features and modes.
How to Record Your Screen Using iMyFone Filme:
To record your screen using the editor iMyFone is very simple and easy. This software is highly acknowledged by the gen-z as it has very sharp and to-the-point steps that you can follow very easily to edit or record your video. By following a few steps after opening this software, you can record your screen and edit it with no problems or complications. You can record and edit amazing videos for your content.
You can record your screen by following 3 steps.
Firstly, you have to open the software. After opening, you can see the icons of video and audio.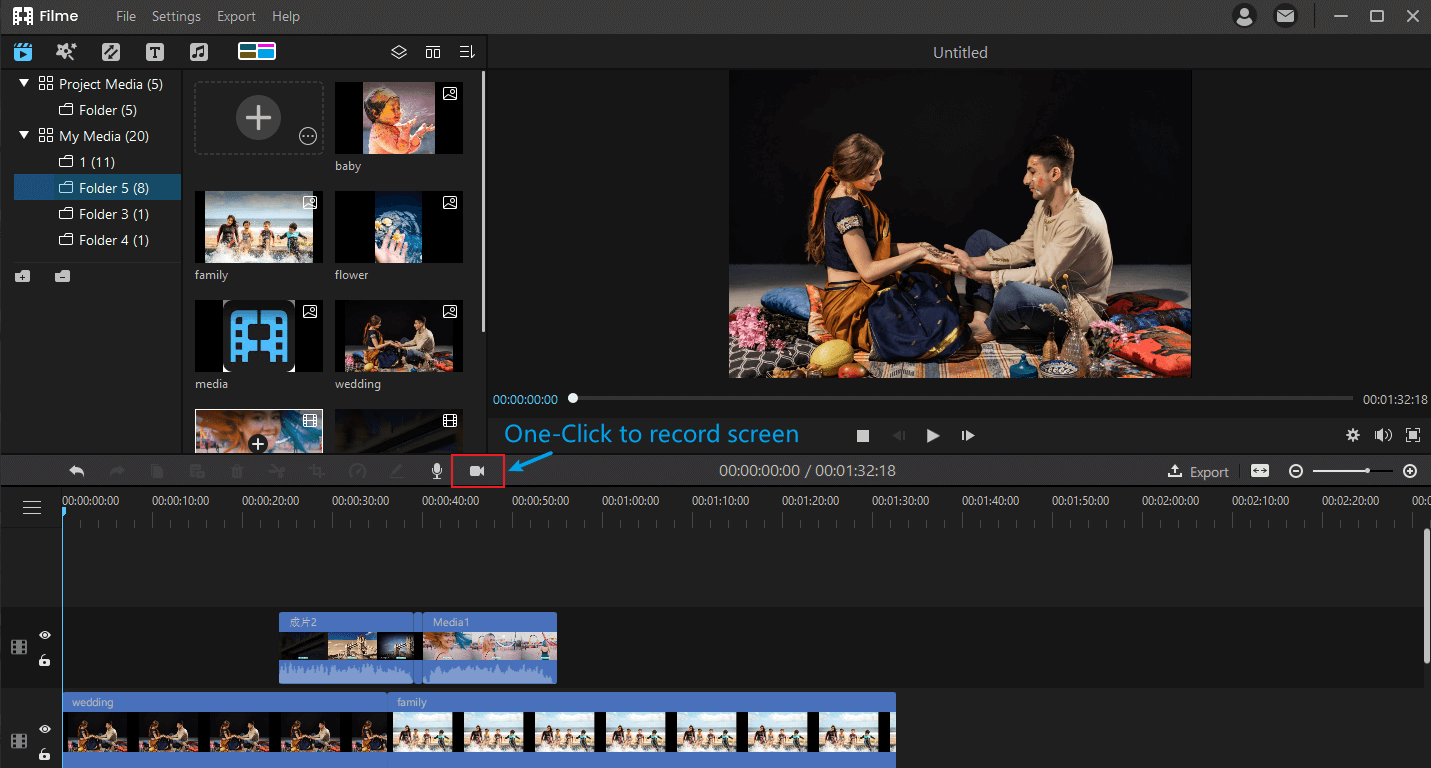 There will be a record screen audio icon and record audio icon. After pressing them, your screen recording will begin to start.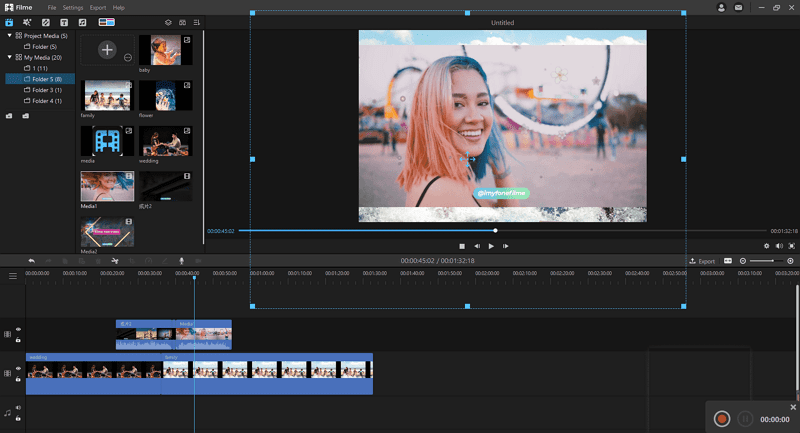 After the recording of your screen, your video will be seen in your Media Library directly. After it, you can edit your video according to your requirement.
Final Words
iMyFone Filme has several features and modes that can be used to make your content more magnetic and great. To make it more impressive, you can also add texts as it has several beautiful and graceful texts. Editing is also very easy and simple, which makes this software great among all other software. Your slideshows made in this software will never disappoint you and your viewers. After it, you just have to export it. You can arrange its quality of audio and video before exporting it to your specific folder. After setting it to the required quality of video and audio, you can share it directly.