Are you looking for the best video filter software for PC in 2021? Then say thanks to stars because you have landed in the right place. various tools are available online as well as software systems that can be downloaded for enjoying different filters such as color correction, color grading, monochrome, and sepia. Applying these filters to the videos will help you to get the desired visual results. Some software apps also make it possible for you to enjoy custom filters such as iMyFone Filme.
Let's have a look at some of the most commonly used video filter software for Windows in 2021-22.
8 Best Video Filter Software For PC
In the upcoming lines, you will read about the best video filter software for PC. However, iMyFone Filme is our number one recommendation, so first get through this software.
iMyFone Filme is one of the most prominent video editing software that you can readily download to your Windows and Mac and add amazing filters to video for FREE. The most distinguishing feature of this tool is that it has an extremely simple and easy-to-use interface, still, you can use it to get all the advanced video editing options.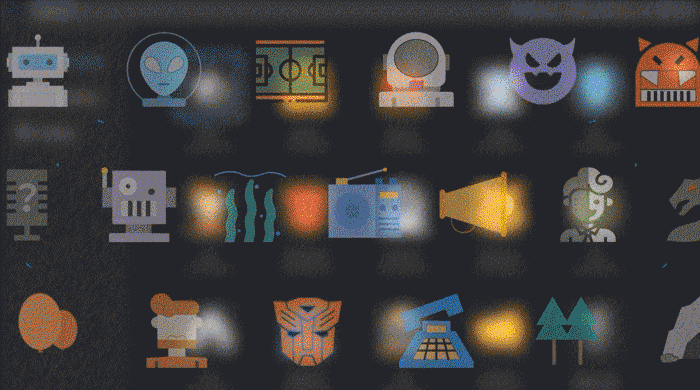 Key video editing features of iMyFone Filme:
Allows you to add any number of filters to your videos for free.

Offers various video effects including elements, text, transitions, etc.

Comes with advanced video editing features as well such as picture-in-picture effects, video watermark removal, video speed adjustment and more.

Exports video with high quality for audio and video formats.

Directly upload to social media platforms, such as Facebook, Twitter, YouTube, and more.
Pros:

Compatible with Windows 10, 8.1, 8, 7 & Mac.

Simple and easy interface.

The perfect tool for professionals.

Free trial is offered to try it out without any cost.

Allows advanced video editing.
Cons:

The downloading process may take a few minutes.
2. HitFilm Express [For Windows]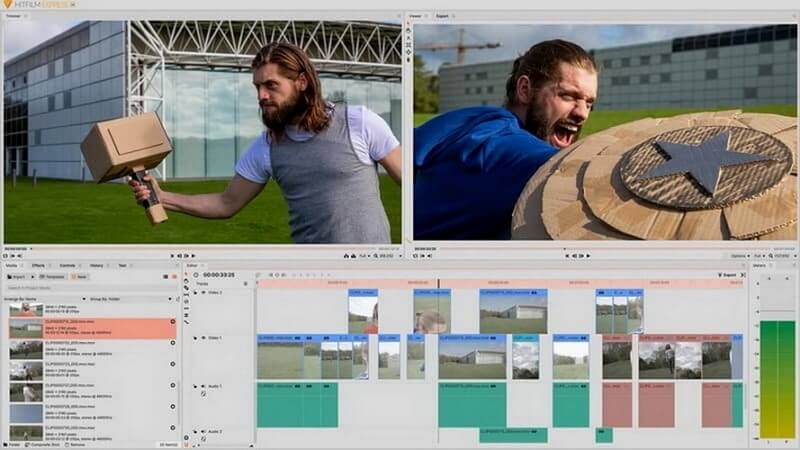 HitFilm is another video editing software that can be used for professional purposes. It has all the basic video editing tools including the addition of text effects, splicing, trimming as well as other things like filters and transitions. Currently, it is offering 180 + different effects which include transactions as well. This tool is a bit difficult to use for beginners, however various YouTube video tutorials are available on the internet that you can watch to create excellent content for your YouTube channel, Facebook, or any other social media platform, especially Snapchat and TikTok.
Pros:

3D camera projection

180+ transitions and effects that you can use to edit videos.

Easy export options that you can use to download your video and upload it to your YouTube channel or any other social media platform right away.

Perfect for professionals.

Requires a lot of space on your PC.
Cons:

The download process is much lengthy and confusing

Not suitable for beginners

Multiple add-ons are required.
3. DaVinci Resolve [For Windows]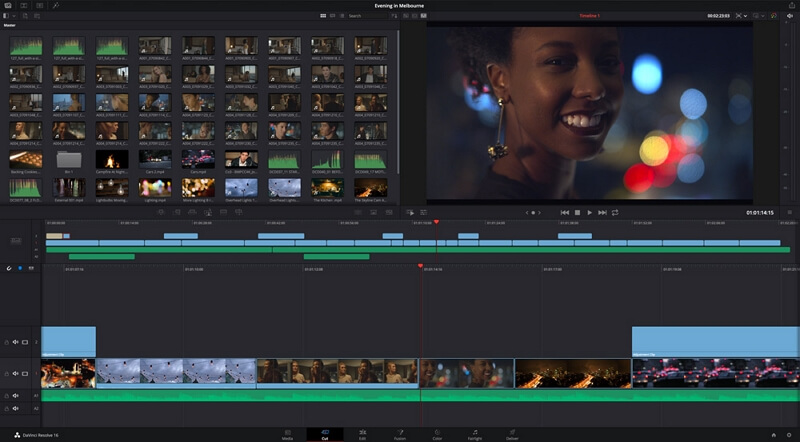 It is 100% free video editing software that you can use for your megaprojects because it allows you to enjoy a lot of filters and video editing features including facial tracking, color and lip adjustments, and much more. It would be right to say that it is a very important professional video editing software that you can use to add big-budget videos. The most important feature of this software is to allow you to add 2D and 3D titles to the videos and it also has audio adjustment features.
Pros:

Allows immediate sharing of edited video to social media or video-sharing platforms.

high-quality video editing tool that you can use like a pro.

Various custom video filters are available along with color correction tools.

The perfect tool for big-budget video productions.

No matter how big a video editing project is, you can use this tool for free.
Cons:

Although the tool is free, the usage tutorials within the tool are not free.

A difficult tool for newbies.

Covers a lot of space on your PC.

May reduce the speed of your system.
4. Lightworks [For Windows]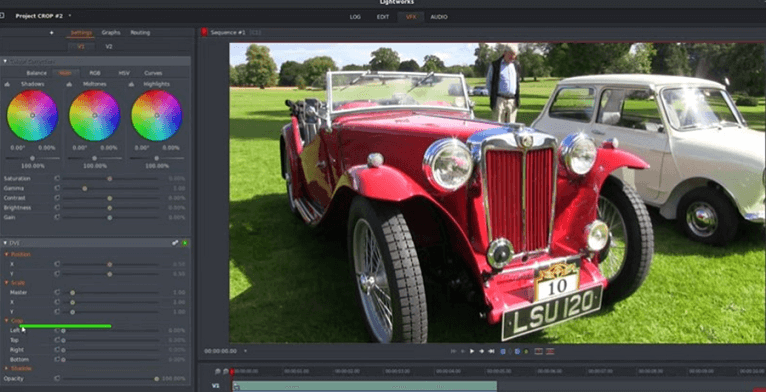 If you are looking for video editing software for Windows, then this can be the best choice. Remember that this is a tool that is particularly designed for windows to provide PC users with a high degree of control. Although its interface is quite difficult to understand, first-time users can watch the YouTube tutorials to improve their understanding of the utilization of the tool. The best part is that here you can access a variety of different filters for completing the editing-related tasks for videos.
Pros:

The amazing tool has unmatched format support including DVC pro HD.

After completing the video editing process through this platform you can enjoy a dedicated Web Export Option where YouTube, Instagram, and Facebook-ready files can be downloaded.

Allows editing with more than one camera at the same time.

Dedicated keyboard for advanced video editing.
Cons:

Not suitable for Mac
5. VideoPad [For Windows]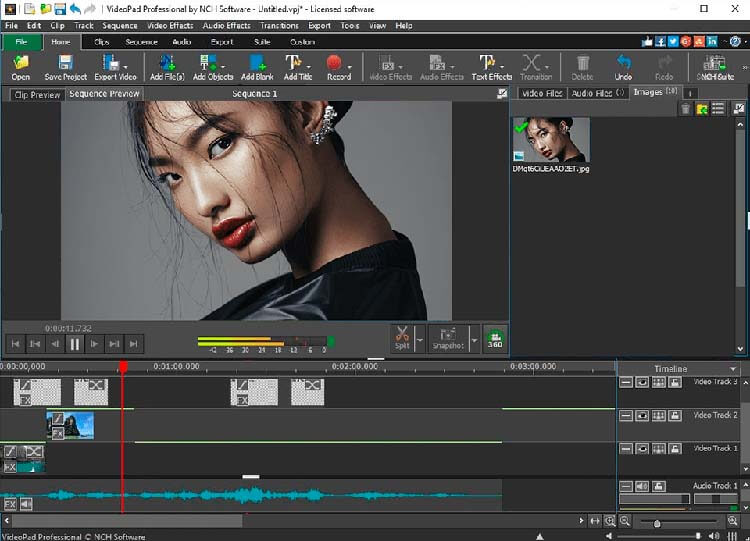 This is a free video cutter software that is designed for PC and Mac users, however here it is worth mentioning that if you want to use it for commercial purposes you will have to pay for it. This tool allows you to add filters to single or even multiple videos because it takes all the commands with two files as input and helps in combined video effect and filter applications. like all the other professionals and advanced to the interface of its commercial version is even more difficult to understand.
Pros:

Has a lot of video effects such as color blending, artistic, sepia, motion, and transform, etc.

Has a quick Preview option that you can use to see the final look of every effect or filter.

Tools and sections are clearly defined on the main interface that helps the users in understanding the wide range of video filters available.

It takes all the video files as input and allows combined effect application.
Cons:

You have to pay for using its commercial features.

Difficult to understand.

Consumes a lot of storage space on your PC.
6. OpenShot [For Windows]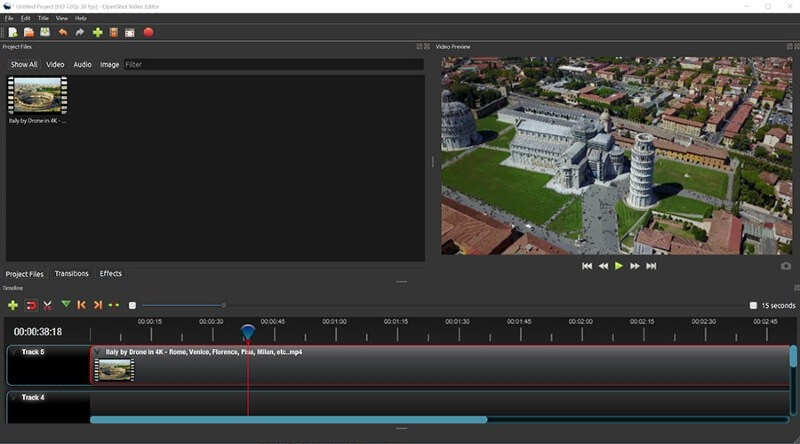 If you are an enthusiast of video editing software, then you must use OpenShot, which is a specialised video editor for the addition of multiple filters to the videos. Currently, it allows you to access 7 effect filters named brightness and contrast, color saturation, negative, alpha mask, deinterlacer chromakey, and Blur. It is comparatively simple to use and has various transition effects as well. These transition effects can also be used to create a smooth transition while joining different clips together.
Pros:

Supports a huge variety of video formats such as mp4, WMV, AVI, etc.

Has a distinct video preview section for watching the final results.

A wide range of effects and filters are available that you can access for free.

Has all the basic video editing tools that you will require as a pro video editor.

Perfect software for Windows

Comparatively easier to understand.

Overall a great interface and good video filter and editor.

User-friendly interface
Cons:

Requires a lot of time for downloading.
7. iMovie [For Mac]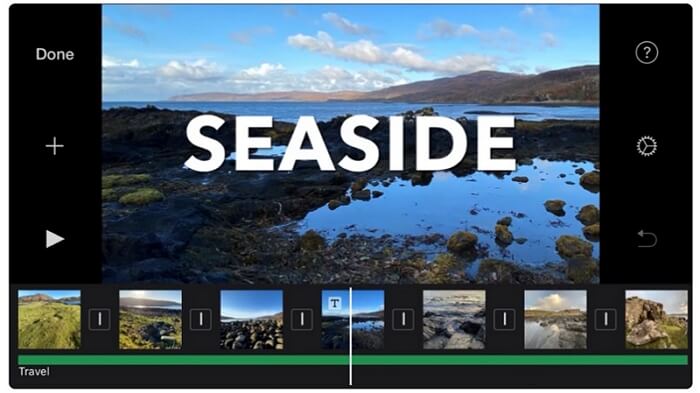 iMovie is a video compression and editing tool that can compress and edit videos without losing quality. For this purpose, you will have to open up the iMovie in the browser and find the project and add the video that you want to edit. Now click on the Edit option and wait until you will see multiple video editing options.
The best part about this tool is that it is available preloaded on Mac OS and can be used for all kinds of video editing including transitions, effects trimming, and much more.
Pros:

Perfectly compatible with windows, Mac, and iOS devices.

100% free video editing tool.

Has multi-camera mixing options.

utility of filters that can uniquely polish your videos.

A wonderful tool both for Mac OS and Windows.

Huge variety of built-in video editing features.

comes preloaded with Mac OS.
Cons:

Limited ability to add titles and text.

It takes up a lot of storage space.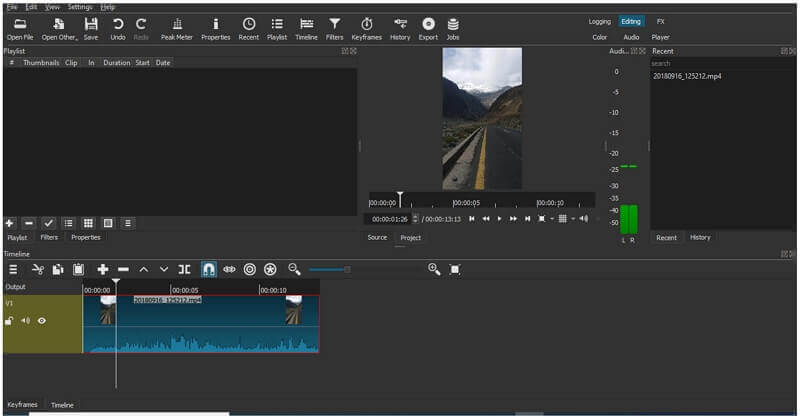 It is an open-source application which means that you do not need to have any kind of license or permission for using this tool as it supports a wide range of formats. It is worth mentioning that this tool was initially designed to provide video editing convenience for Linux users but now it can be efficiently used for other Operating Systems. Like all other important and major tools, it has all the video editing features and can be your tool of choice if you are looking for a vast collection of effects and transitions to apply to your videos.
Pros:

360-video filters

Supports a wide range of video formats

Cross-platform and codec independent
Cons:

Does not allow you to export your video to social media or video-sharing platforms directly.
How to Add Filters to Video Using Video Filter Software for PC
When it comes to using filters, users are always looking for the super amazing and funny that they can never forget. And we recommend iMyFone Filme as the best filter software, which offers unlimited filters and effects that have the potential to adorn your videos in no time. All you need to do is to download this tool in your system in a few clicks and enjoy easy access to unique and different video editing tools.
Check out here to know how to apply filters on videos using Filme:
Step 1. The first step is the downloading and installation of iMyFone which is super simple and requires you to proceed with only a few click steps.
Step 2. After you have successfully downloaded it to your system and completed the installation process, open the main screen and import the media by clicking on the Import Media option. Here Media means the video that you want to edit.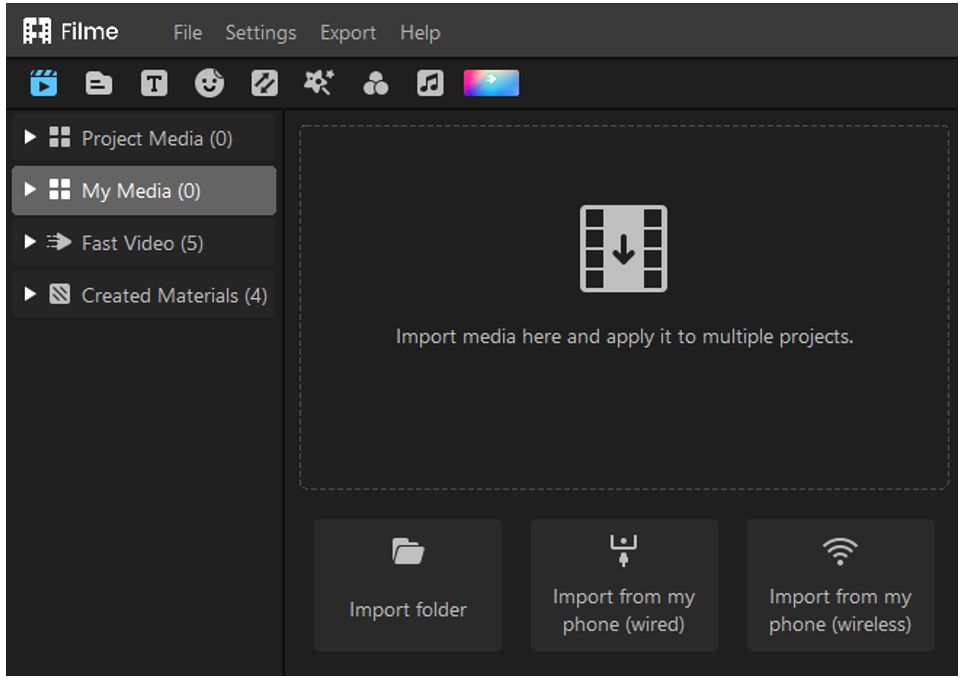 Step 3. Now start using a cursor for editing the video. For this purpose, we have to click on the "+" button that will bring you to the timeline. Timeline is the place where you can proceed with practical editing.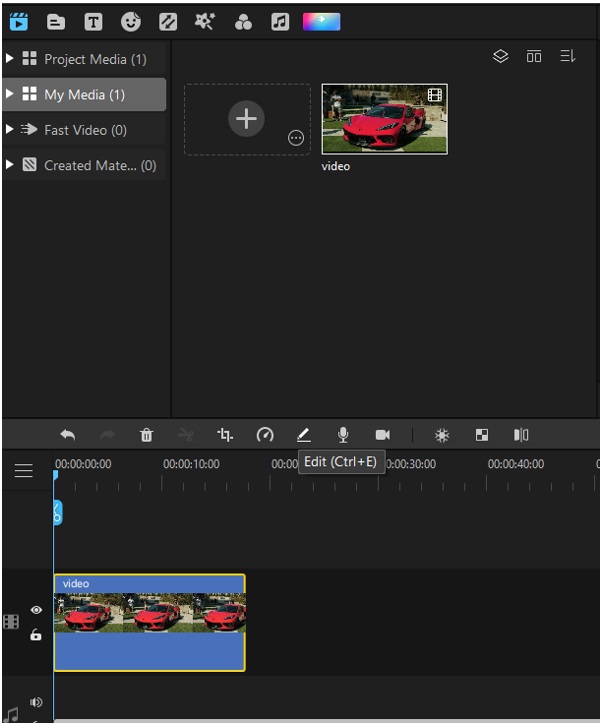 Step 4. As it may contain more than one video, you have to click the required video for which you want editing. Remember that you are free to use unlimited filters and effects for adding them to even a single video. For this purpose, go to the Left Tab where you will see the option to add filters. Click on this option and hit the + button to apply the effect. Repeat this process if you want to add more than one effect to the same video.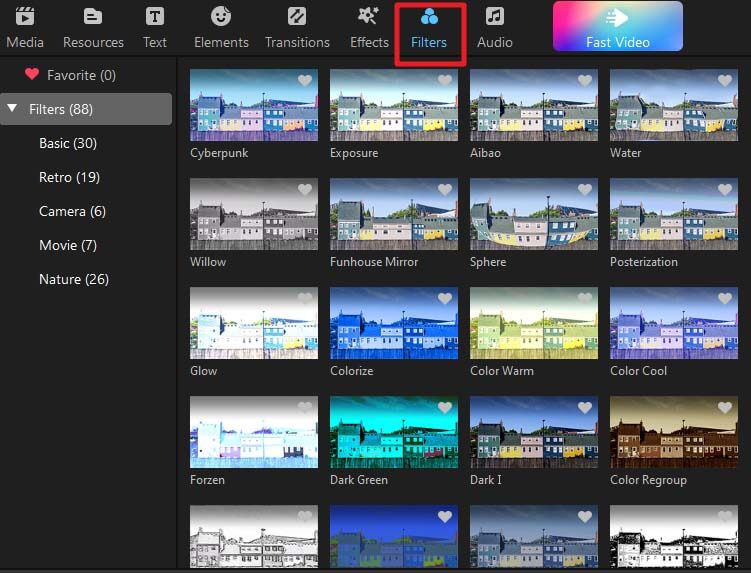 Step 5.After you have finished editing, export the video to download it and get the final product to your PC.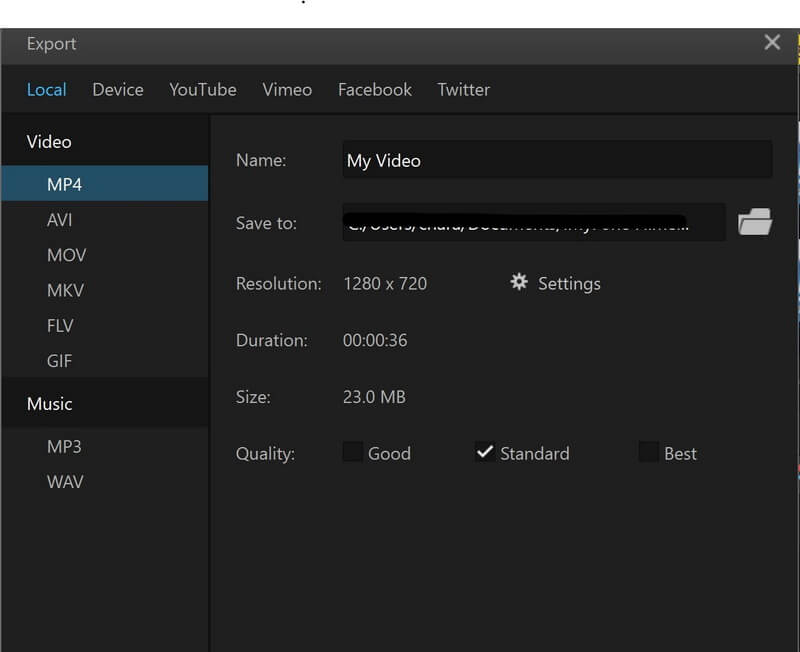 You can easily notice that iMyFone Filme has made it super easy to apply filters on YouTube, Instagram, Facebook, or Snapchat videos. Otherwise, it may take a lot of time to use the amazing filters to make your videos look beautiful.
Conclusion
Now we have gone through plenty of different video filters software for PC, you must have got an idea on the best video filter and the ways how to use them along with their pros and cons. It is up to you to choose the best one. However, our research and detailed analysis of all the tools has helped us in filtering out the most suitable one for both beginners and expert users which is iMyFone Filme.