Instagram is one of the many trendy social media platforms these days. You can connect with your friends and family through posts and videos. But the tricky part is to post GIFs on Instagram. While photos, videos, and messages are much simpler, posting GIFs can be a little work. This article will walk through how you can turn Instagram videos into GIFs to post on Instagram.
Part 1: 2 Methods to Download the Instagram Video before Making GIF
Before converting your video to GIF from MP4, you will need to download it from Instagram. It is simple and nothing more than just a matter of a few steps, but you will need several ways to download it safely. Here recommend 2 ways to download Instagram videos.
1

DownloadGram
DownloadGram is one of the many apps you can use to download the video. It is a one-click download app for Instagram videos. Straight format design and the interface is the reason why DownloadGram is among the easiest programs to use to download Instagram videos and photos. It is not only free and safe but is very quick to download the desired media from Instagram. Let's walk through in detail the steps that are required to download an Instagram video.
Steps of downloading Instagram video with DownloadGram
Step 1: Open the desired video that you wish to download from Instagram and copy the link.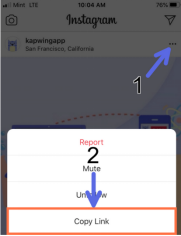 Step 2: Paste the link you just copied.
Step 3: Click on "Download"

Step 4: The download should finish shortly, and your video will be saved on your computer.
2

Ingramer
Ingramer is also an online tool and doesn't require a download for use. It just requires the user to create an account before use. It has five options to download photos, videos, profiles, stories, and IGTV. Let's walk through in detail how you can download videos using Ingramer.
Steps of downloading Instagram video with Ingramer
Step 1: Copy the URL of your desired video from Instagram and open the website.
Step 2: Locate at "SIGN IN". If you already have an account, just enter your email and password and then sign in. While, please sign up without an account.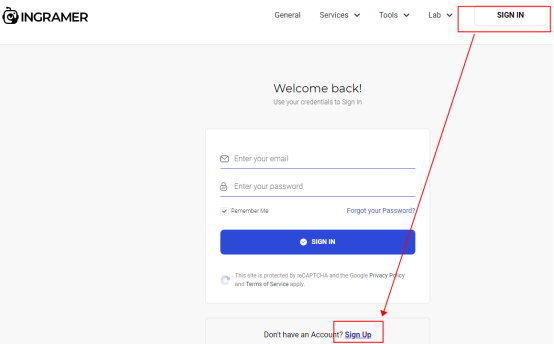 Step 3: Point to "Tools" and choose "Instagram Downloader".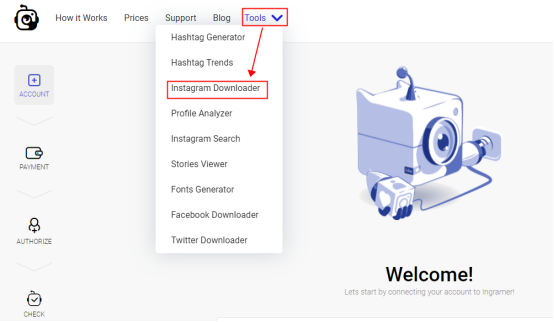 Step 4: Paste the copied URL from Instagram and click on "SEARCH".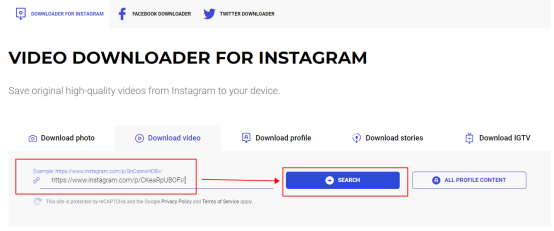 Step 5: $1 needs to be paid to get a 3-day trial.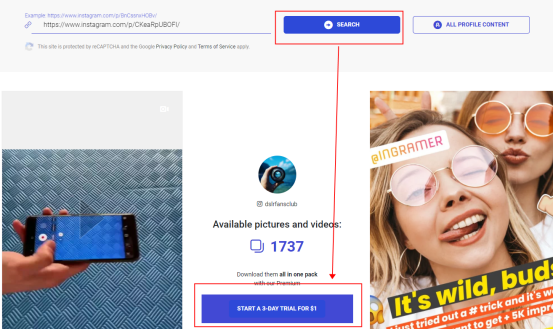 Step 6: Your video will be saved in a folder.
Part 2: 4 Ways to Turn Instagram Video into GIFs on Desktop
GIFs are short and fun types of video to attract and give the audience a message in a shorter time. In today's fast-paced world, people are busy and do not have time to watch lengthy videos. Thus GIFs can be a very good format to share a message or promote something. These GIFs are not always supported by social media handles. Here is how you can convert Instagram videos to GIFs on a desktop.
1

The best tool to turn Instagram video into GIFs
Dealing with Instagram videos can be a little tricky, but Filme has got you covered. As a very user-friendly software, iMyFone Filme helps you to discover a new way to tell your story and create smoothly. Anyone can easily use the full features in Filme to edit their videos such as splitting up long video for Instagram, without technical knowledge. Here shows you the main features of Filme.
Import media from your folder or your phone.
Abundant effects, transitions and texts style
Suitable size for Instagram
Directly upload it to your social media.
Let's walk through in detail how you can convert your Instagram video to GIF on desktop using Filme.
Step 1: Download and Launch Filme.
Step 2: Import your desired media that you should have already downloaded using the aforementioned tools. You can do so by drag and drop the feature or copy-pasting it in the timeline.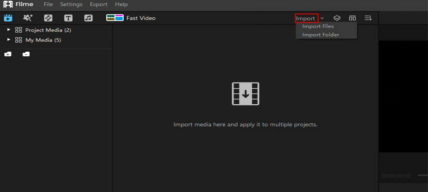 Step 3: Perform any edits from the extensive options of Filme to make your video more interesting.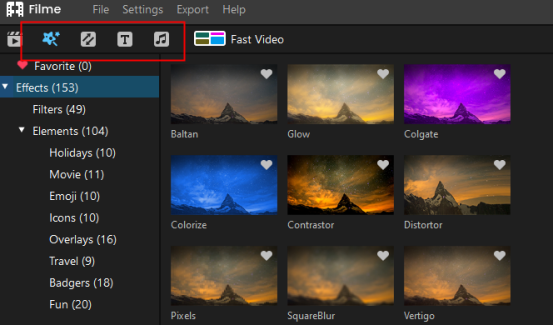 Step 4: Once you are done, it is time for the final and key step. Export your video. Navigate the 'Exports' button in the top toolbar and choose the desired format type to save it on your system or directly upload it to your social media handle.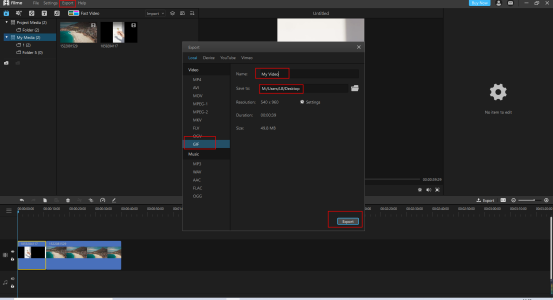 Pros:
Easy for beginners
Fast export
Cons:
Limited features in free version
No render option for smooth editing
2

PicGIF (for Mac)
PicGIF for Mac is exclusive software for Mac users to convert pictures to animated GIFs within a few seconds. Users can create, edit, add, or delete GIFs using different features such as size, text, speed, etc. It is paid but offers a lot of personalization in effects and settings. Here are the steps to do so:
Step 1: Download and Install the app from AppStore.
Step 2: Add the video you downloaded before from Instagram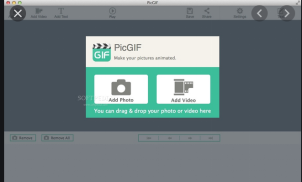 Step 3: Click the Size combo box on the Setting panel to choose the GIF size you need.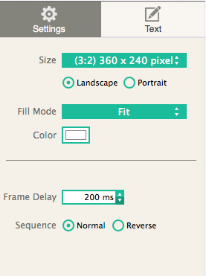 Step 4: Click Add Text toolbar button at the left top to insert text in the GIF. Double click the text to edit it. And set Font, Style, Size, Alignment, Shadow, etc. on the Text panel on the right.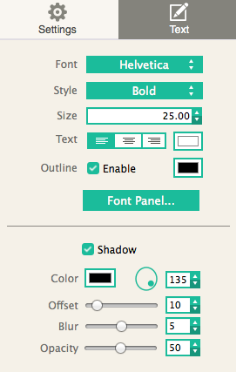 Step 5: Click the Save toolbar button to save the GIF in Finder on your computer and share it on your Instagram

Pros:
Light-weight application
Fast and simple
Cons:
Limited features
Mac only
3

PhotoScape (for Windows)
PhotoScape is a multi-purpose tool for basic video editing with a very intuitive interface. It has an adjustable canvas size with quick personalization capabilities for photo alignment, background color, and transition effects. Users can also set timings between frames while creating GIFs. Let's walk through the steps needed to make a GIF with Instagram video:

Step 1: Download and Install the App.

Step 2: Before making a GIF, take a screenshot from your video.

Step 3: Select 'Animated GIF' from the given options.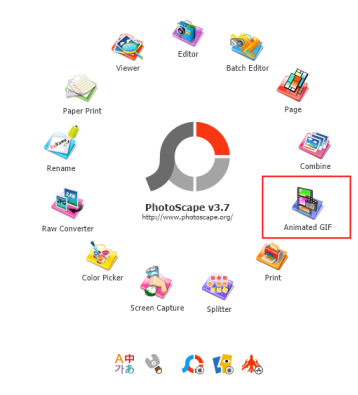 Step 4: Drop the image you previously cut from your video.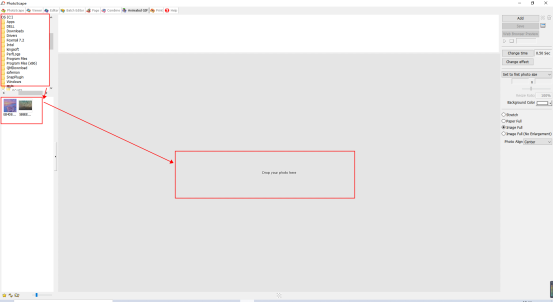 Step 5: Edit your GIF such as changing time, effects and size.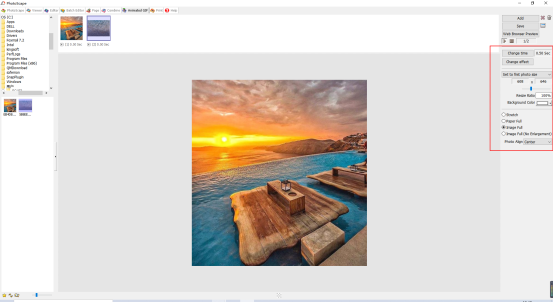 Step 6: Click on "SAVE", and your GIF will be saved on the computer.
Pros:
Numerous options within the app
Up to 200 file formats
Cons:
Can be a little difficult to learn
Windows only
Only support image format, not video
4

Photoshop (for both Windows and Mac)
Photoshop is a two in one software that supports both Windows and Mac that also performs a similar job as the other video editing tool or gif makers. With Photoshop, you can create gif and utilize the extensive editing features. The feature that gives Photoshop an edge is that it can work on big projects without any problem. Here are the steps to create a GIF using Photoshop:
Step 1: Download and run Ps
Step 2: Drag and drop your media directly or select from your computer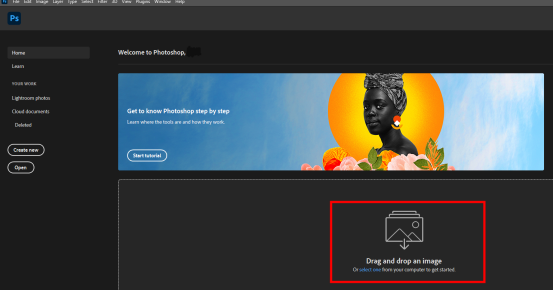 Step 3: The toolbar at the top and the edit bar on the left can make your video more special.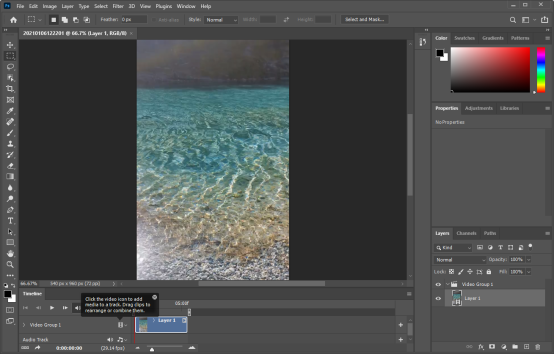 Step 4: Locate at "File", point to Export and Quick Export as GIF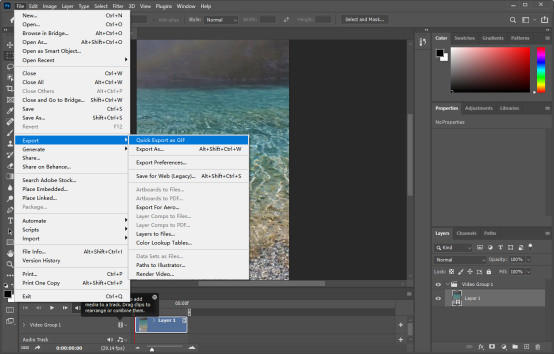 Step 5: Name your GIF and check on the computer.
Pros:
Advanced features with a simple interface
Output quality does not decrease after conversion
Cons:
Can be difficult for beginners
Expensive
Part 3: 2 Apps to Convert Instagram Video to GIF on Mobile
Conversion of videos can be easy on desktop or online with the aforementioned methods and choices. If you don't have a computer available, there is still nothing to worry about. Here are the choices for converting Instagram videos to GIFs on Mobile.
1

Giphy Cam (iOS/Android Free)
Giphy Cam is compatible with both Android and iOS. With the help of this app, you can transform your pictures into GIFs with funky stickers, text, and frames. It's easy and fast to use. Let's walk through the steps to create GIFs using Giphy Cam:
Step 1: Download and Install the app.
Step 2: Open the app and click on "Create"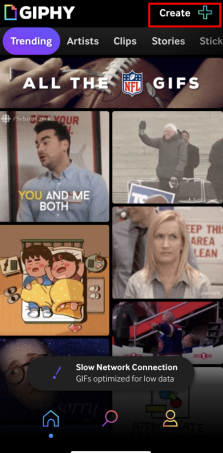 Step 3: Select your media from your album.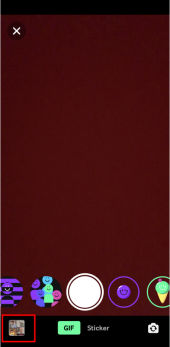 Step 4: Add texts, filters and stickers to make your GIF more attractive.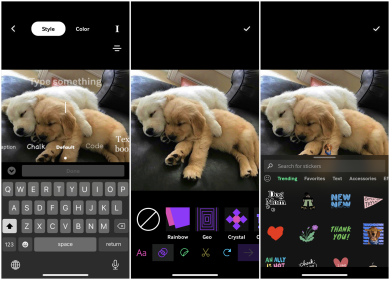 Step 5: Click the right arrow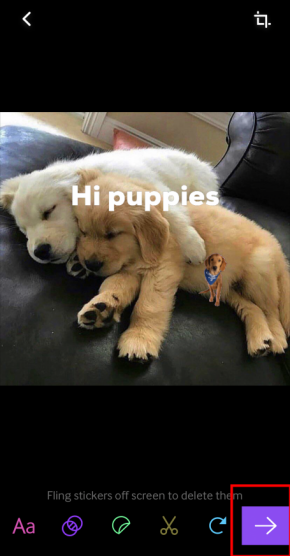 Step 6: Your GIF will be saved on your album at last.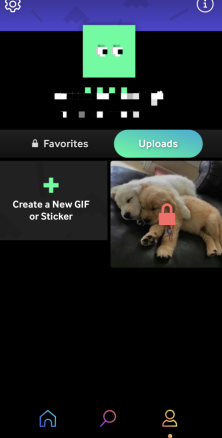 Pros:
Easy to use
Simple yet powerful
Cons:
A bit unprofessional. Not suitable for professional use
Ad-Supported
2

GIFX (iOS Free)
GIFX is free for iOS devices and simple to use. It has numerous effects options and masks to create funky and catchy GIFs. You can also import existing GIFs to edit or convert into other file formats. This flexibility is what makes GIFX so special and helpful. Here are the steps to create or edit GIFs with GIFX:
Step 1: Install the app from AppStore.
Step 2: Pick the option "video to GIF"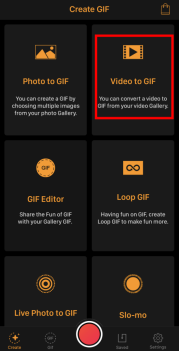 Step 3: Trim your video and click Next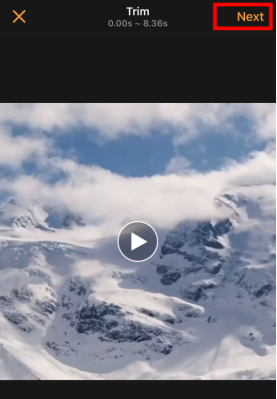 Step 4: Edit your GIF. Users can add texts, filters, stickers and so on.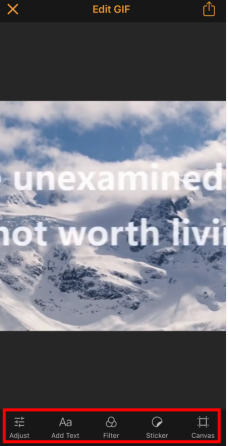 Step 5: Share your GIF. Users can save to your iPhone or share to Instagram directly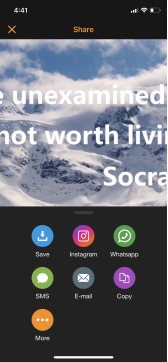 Pros:
Numerous funky designs and layouts
Simple and easy
Cons:
Limited file size
iOS only
Part 4: 2 Tools to Turn Instagram Video into GIF Online
We talked about the methods to turn Instagram videos into Gifs. People may not feel very comfortable having to download software just to convert a small video. In this case, they can use the following options by which you can turn Instagram video into GIF online without having to download any software.
1

Picasion
Picasion is an online tool to create and edit GIFs without downloading an application or software. The unique thing about Picasion is that it is available in multiple languages, including English, Spanish, Portuguese, and Russian. It is simple, easy, and supports almost all major formats. Here is how you can create GIFs using Picasion:

Step 1: Open the website and select your desired language.

Step 2: Capture the Instagram video as JPG.

Step 3: Upload images so that you want to add them to the GIF.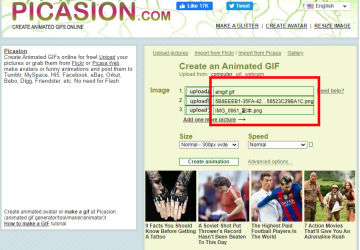 Step 4: Choose settings such as size and speed.

Step 5: Click "Create animation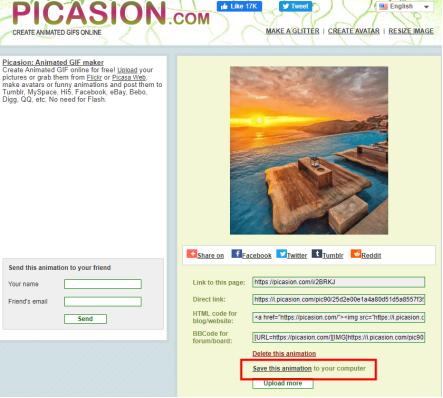 Step 6: Choose "save this animation to your computer" or share it on social media directly.
Pros:
Quick and easy
Does not require any download
Cons:
No editing options
Limited file size
2

Gickr
Gickr is another free online tool to create animated GIFs from photos and videos. You can choose to upload your media from multiple sources such as your gallery, flicker, YouTube, or Picasa account. It is fast and easy and allows you to directly post your results to various social media handles. Here are the steps to create GIFs using Gickr:

Step 1: Open the website.

Step 2: Take a screenshot of your Instagram video

Step 3: Select images you just prepared from your video. If you want to add more images please locate at "Add one more picture"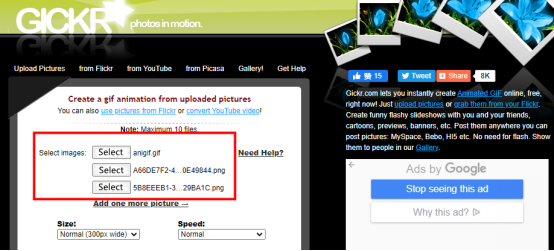 Step 4: Set the size and speed

Step 5: Click the "Continue" button in the bottom right corner and wait for uploading images
Step 6: Download to your computer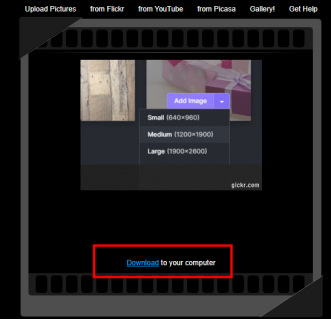 Pros:
Fast and as simple as it sounds.
No hassle of download
Cons:
Quality will decrease in the output.
Limited options and features.
Tips:
1. Making looping gifs on Instagram
Keep it relevant. Make sure the actions that are performed are relevant to the caption or the context.
Use stickers and filters. Instagram has various types of cool and fun stickers and filters to choose from. These make the content more presentable and catchier.
Make them funny. Keep the content light so people can enjoy the content and laugh because of it, perhaps. You can have a look at: 11 Best GIF Meme Makers You Should Try >>
2. Making a high-quality gif from Instagram video
Make sure that when you video which is used to make the gif is of high quality. For this purpose, you will have to use a good downloader.
With the original video in good quality, next up what's essential is to use a good Instagram video to gif converter. This will ensure that the graphics quality does not drop during the conversion process.
Use cloud storage. Refrain from sharing the content from other sources as it drops quality every time you send and receive it.
Frequently Asked Question
1. How do I send a gif in the Instagram message box directly?
Open the Instagram messages section and add in the name of the person to whom the gif is to be sent. This is just the same as sending a DM to a particular Instagram account. Now click on the camera icon on the bottom left and select the boomerang option. This will send a GIF in the Instagram message directly to the selected person.
2. What is the best size of gif when posting it on Instagram?
The suggested gif size to post on Instagram is 2000 x 2000. In terms of the gif length, it is advised to have a 30-45 seconds video. Anything below this size of the gif will compromise the quality, and anything below the said length will fail to keep the users engaged due to the low average attention span.
3. What are good gif ideas to get more views on Instagram?
Here are a few tips to make sure the audience enjoys your gifs on Instagram:
Keep the content light and hilarious
Pick the viral topics for more reach
Ensure that the graphics and sound quality is high
Make use of available tools to improve the gifs, including filters, stickers, frames, etc.
4. Is it possible to create a GIF with sound on Instagram?
Yes, but you have to choose from the given options. Instagram does not have the feature to add your music as of yet.
Conclusion
In this article, we talked about the numerous ways by which you can create and convert GIFs for Instagram. Each of the software or application has its pros and cons. But Filme, which is the latest version, seems to be a perfect package. It has much more to it than basic editing and conversion of file formats. Its other features, such as Animation effects and 35 types of text dynamic effects, all with a super-friendly UI, make Filme a well-rounded application, be It for conversion, editing, or just to have fun.
Also Read:
How to Add Text to Instagram Videos for FREE >>