Lightworks is a professional video editor that experts love to use. In this article, we will explain how you can flip and rotate a video using Lightworks. We will share the step-by-step guideline to make your task easier.
Though Lightworks is a common and traditional video editor, it's still risky for the lag and terribly complicated. If you don't want to deal with any technical process, you may turn to iMyFone Filme, which offers a surprisingly easy solution to flip video fast.You can download iMyFone Filme on PC to create stunning videos for Tik Tok, Youtube, Instagram and amaze your friends and fans.
How to Flip Video with Lightworks
Step 1: Create Project and Import Video
After installing Lightworks, open it. You will see Create a New Project at the top left corner. Click on it, and you will have a new dialogue box. Enter the name and click on Create.

Drag the video to Lightworks. The video will be added to the project media, and you need to drag it to the timeline.
Step 2: Go to VFX and Find Flop Effect
Lightworks has different tabs for different types of editing. For flipping the video, you need to go to the VFX tab. You need to apply an effect to the video to get the desired result. Click on the VFX tab. Now, right-click on the video track on the timeline.
You will have many options; under Effects, you will see Add, place your pointer over it. You need to go to the DVE section, and you will find the Flop effect there. Click on Flop to flip the video horizontally.
Note
The Flip effect in Lightworks is for the vertical flip, so don't get confused.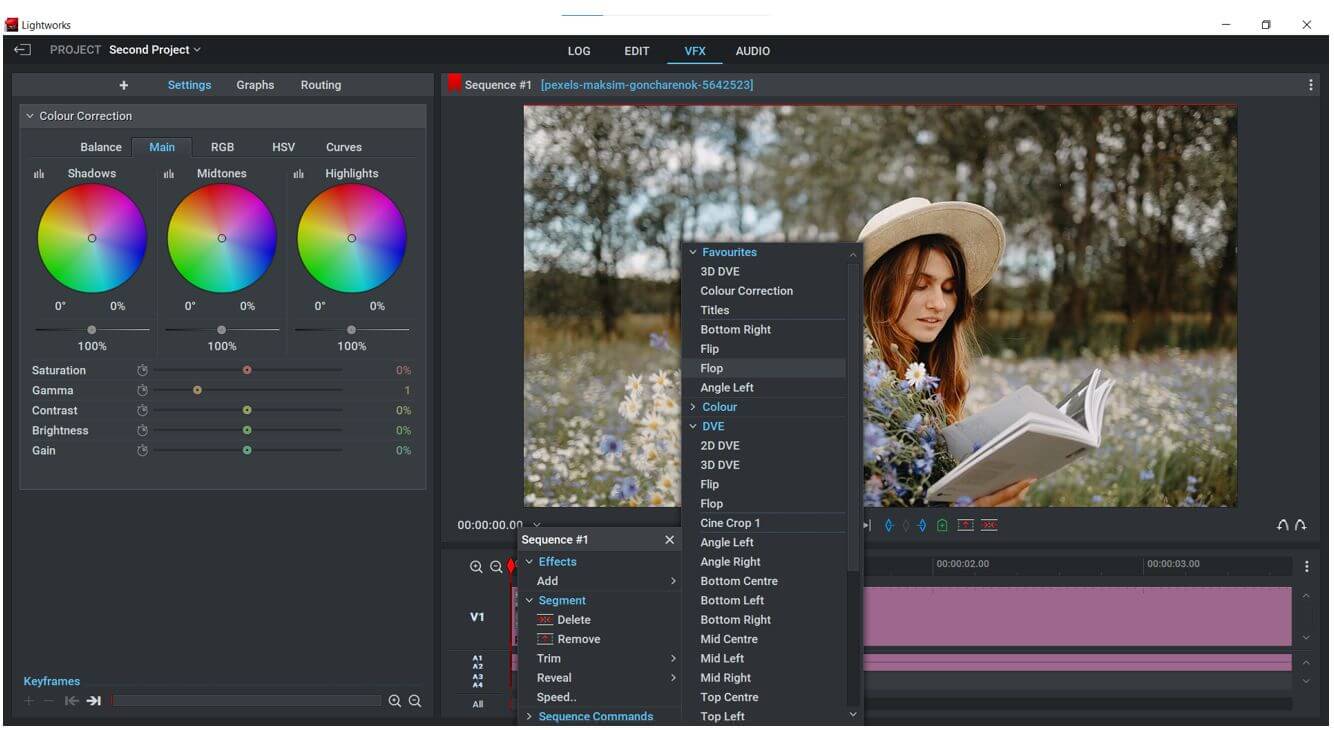 People Who Liked this Content Also Liked
Top 5 Video Flippers to Flip a Video and Photo Online Fast in 2021 >>
How to Flip a Selfie Video? [Online/ Win/ Mac/ Android/ iPhone] >>
5 Best Effective Methods to Flip Your Video on PC [Windows/ Mac/ Online] >>
How to Rotate Video with Lightworks
Step 1: Head to VFX Page to Apply Effect
For rotating your video, you need to go to the VFX page. You need to apply an effect to rotate the video. Click on the VFX page. Do a right-click on the video track on the timeline. It will open a new options menu. Under effects, you will Add; move your pointer over it. There will be many effects, but you need to go to DVE and click on 3D DVE.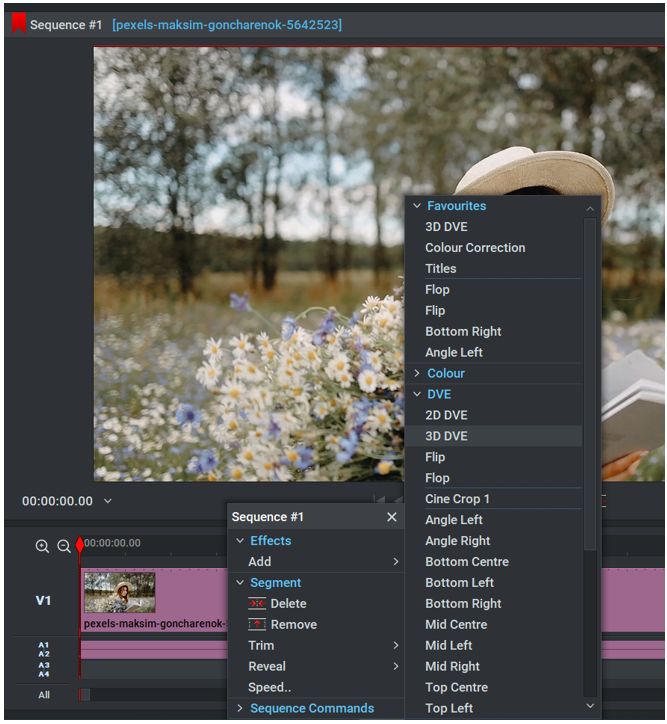 Step 2: Rotate the Video by Clicking Rotation Option
After adding the effect to the video, you will see a new panel on the left. It is for 3D DVE. You will see the rotation options in the panel. You can rotate on X, Y, and Z axes. But normally, editors rotate around the Z-axis. You can enter the value to rotate the video or move the pointer in the circle.
Step 3: Export the Video
You can make other changes to the video if you like. After that, click on the three dots icon on the top right corner of the screen. Go to Export and select the format.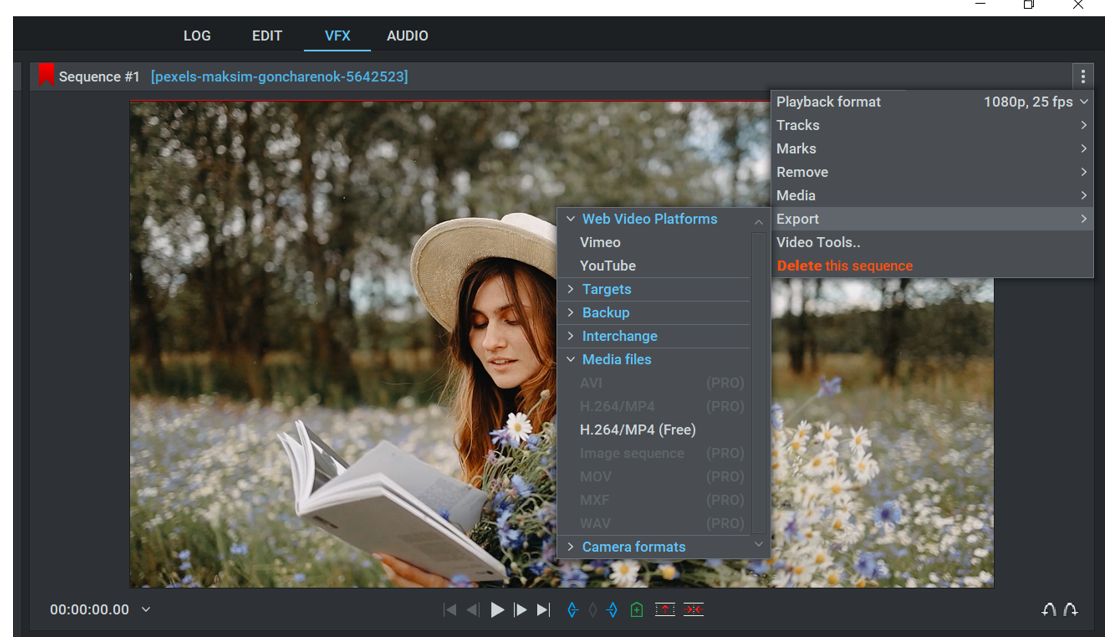 Best Tool to Mirror Flip or Rotate a Video without It being Stretched
Along with Filme's rotating and flipping features, it also has other tools, such as a voice changer, slideshow maker, PPT to video converter, and text to video maker.
Due to the versatility of Filme, it can be used for any purpose, like social media videos, slideshows, business presentations, party videos, or anything else. It has got stunning tools to make your video eye-catching and awe-inspiring.
Method 1: Flip Your Video Horizontally
Step 1: Create a New Project
Open Filme and click on Editing Mode. It will open the video editor, and now, you can edit your videos as you like. But before that, you need to create a new project. Click on File>New Project and select a suitable aspect ratio.
Step 2: Import Videos
Now, you need to import videos to the project. Click on the Media menu to import the video and other media. The imported files will be in the project. Drag the video to the timeline.