In the modern era where technology is upwardly mobile, you'll see many people wanting to share precious moments with their friends and family members.But sometimes, when you create a video to share with your friends, you may see the presence of some strangers in your video's background. Well, it seems weird when your family members or friends get to see strangers beside your footage.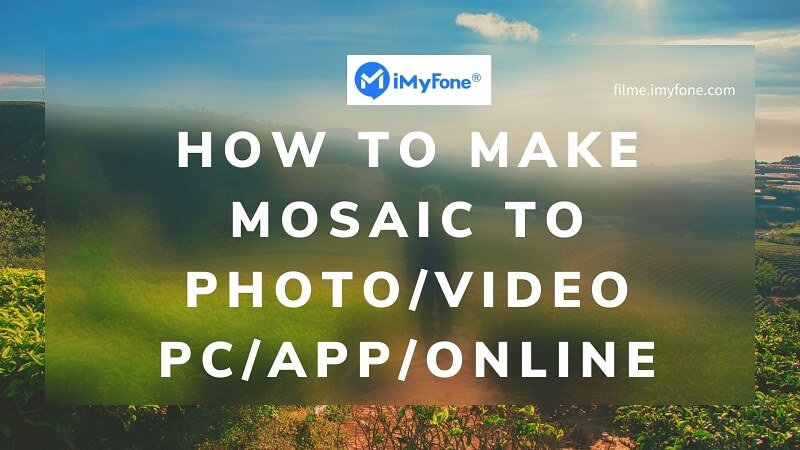 What could you do know?Of course, you'd want to blur those strangers from your video to make it relevant. The demand for adding mosaic to a video has been increasing immensely.There can be some different reasons behind it. But you need to select some appropriate videos editors that can add mosaic to your videos appropriately.
What if, after trying so hard, you didn't find any reliable video editor?You don't need to worry because we're introducing prolific video editors with massive mosaic adding abilities.Let's talk about them.
Part 1. How to Make Video Mosaic with iMyFone Filme on Windows/Mac
Many users often ask before acquiring the services of any software, "would this software offer mosaic feature".
Unfortunately, most video editors won't answer this question due to the inability to add an appropriate Mosaic to your video or photo. On the side, when it comes to iMyFone Filme, it has surprised the users many times.
What about this time?
Luckily for many waiting eyes, iMyFone Filme doesn't disappoint you by offering you the professional way to add a prolific mosaic option to your photo and video. You can easily add mosaic to your video without a second invitation and with no trouble.
Steps of Adding Mosaic to Video Using iMyFone Filme
Step 1: Install the software.
First of all, you need to download and install iMyFone Filme on your computer. After buying a premium version or making an account as a free user, you can start the proceedings by launching it.
Step 2: Import a video or photo
Now, you need to import a photo or a video you want to add mosaic to.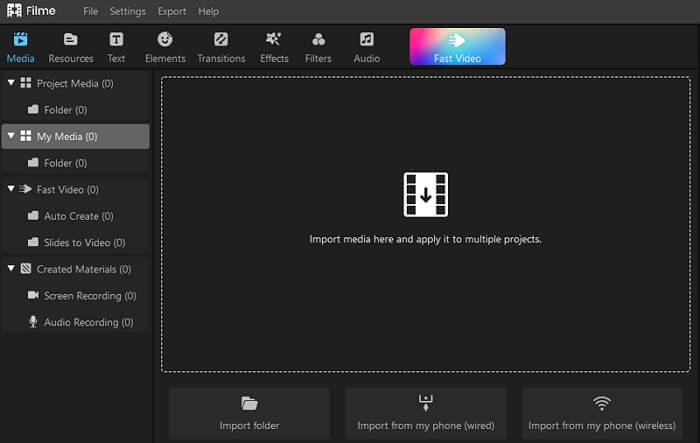 Step 3: Drag to Timeline
After importing your content, you need to push it towards its timeline.
Step 4: Select Mosaic
After pressing the settings option, you can now see three options Background, Basic, and Mosiac. It will help if you hit the Mosiac option from there.
After clicking it, you can now see the shape and style options of mosaic. Select whatever you want and proceed further.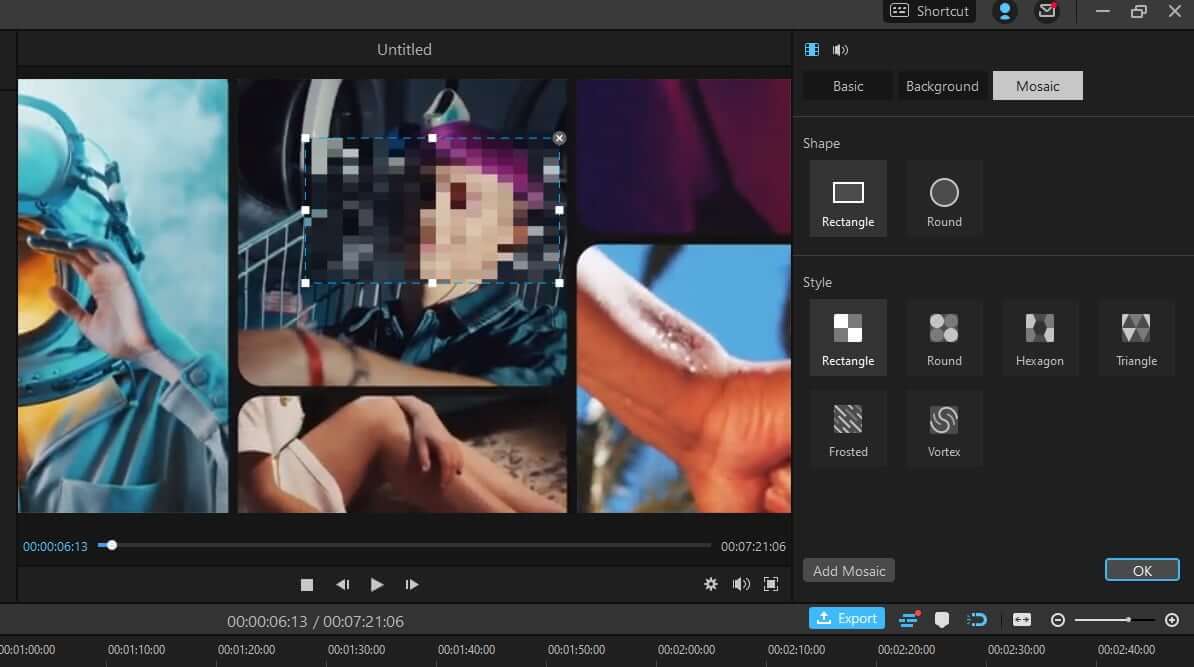 Step 5: Export the file
After adding mosaic to your video, you can also add effects and transitions to your video. When you're satisfied with the editing you've made, you can click on the "Export" button option to save the file.
Also Read
Remove Mosaic Censored Part from Video or Photo>>

Remove Filmora Watermark without Paying>>
Download TikTok/ Ins Video without watermark
Part 2. App to Make Photo/Video Mosaic on iPhone/Android
If you are an android or iPhone user and want to know about the video editors that can add mosaic to your video or photo, we'll introduce you to some reliable options below.
1. Censor for Photos [iPhone]
It is a prolific app for covering photos, adding mosaic for iPhone users. It offers a pretty easy-to-use feature that can make your content look relevant.
If you want to protect your privacy and add Black Bar, Mosaic, and Blur, Censor For Photos covers all these aspects easily.
Features of Censor for Photos
It offers easy to use interface, making it the perfect choice for many users worldwide.

You'll get a variety of options to cover the part of your photo to protect your privacy.

It offers different colors of mosaic, making it a unique photo editor.
Steps of Using Censor for Photo
Step 1: Download the application
In the first place, you need to download Censor for Photo on your device. After, you need to install and launch it.
Step 2: Import a photo
In this phase, you need to upload a photo from your drive, camera, or clipboard.
After importing a photo, hide unwanted photo parts with pixelation, blur, and black bars. The process is pretty simple, and everything thing pops your way once you start the proceedings.
Now, you need to support brush and rectangle tools with preview and precise control.
After applying some essential effects, you can see the critical parts of your photos have been hidden.
2. Mosaic Pixlate Censor [Android]
If you want to add motion Blur or Mosaic on your Android, Mosaic Pixlate Censor might be an appropriate option for you.
It offers some scintillating functions that offer a lot of good things for users. Using this tool, you can add mosaic to your video professionally. In addition, it doesn't take much of your time to get your job done.
Features
You'll see any quality loss on your photo.

It offers an intuitive interface for its users.
How to Add Mosaic Using Mosaic Pixelete Censor Photo?
Step 1: Launch the application
Download the application in the first place and install it on your device. Later, it would help if you launched it.
Step 2: Add Mosaic
Now, you need to press the "Mosaic" button option to add mosaic to your content.
Step 3: Press Black
After mosaic to your content, you can also change its color. For this, you need to press black.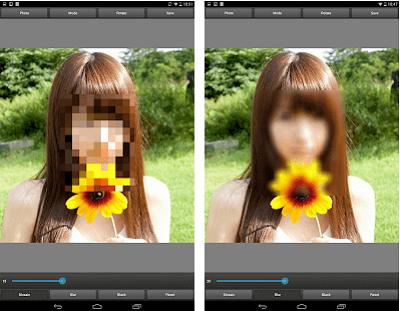 Part 3. How to Make Photo/Video Mosaic Online
If you're looking for online tools that can add mosaic to your photo and video, you'll find some prolific online applications in the market.Let's explore them.
1. FlexClip
Flexclip is special online video software that can serve your purpose massively. It is also known as the software for beginners due to its pretty intuitive user interface.
You'll have some impressive features with this tool, like a video template library, the ability to add Gaussian blur, and adding remarkable themes to your video.
This online software tool is built-in many video editing features such as it allows you to add text, overlay, mosaic music, and many more to your content.
If you want to add mosaic to your video, you don't need to make many efforts. Instead, it will take only a few moments to get your job done.
How to Add Mosaic with
Flexclip

?

Step 1: Open the website

After navigating to the website, you'll see Add Mosaic to video and View Templates options there. You need to click them to start the proceedings.

Step 2: Press + icon

After pressing the + button icon, you need to select the "Add Local Media" option after pressing the + button icon to import a video from your PC.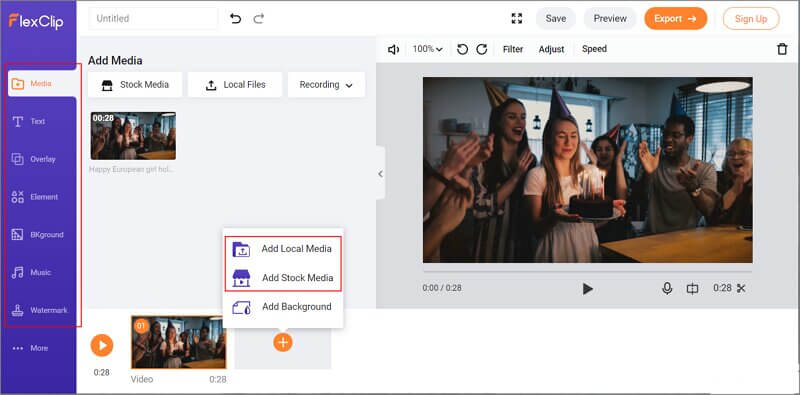 Step 3: Search "Mosaic"
After navigating to the elements set, you need to search the mosaic option from there. After searching, you'll see some mosaic shapes there.
You can select any option you want. It also allows you set the fade out and fade in of the mosaic effects.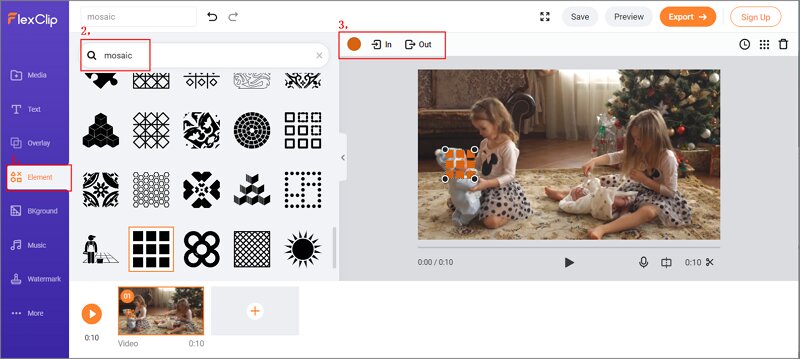 Step 4: Export Video
After editing the video, you can download the file by tapping the "Export Video" icon.
2. FotoJet
FotoJet is a unique photo editing website that provides professional templates to its users. Using its templates, you can create social media graphics, posters, banners, cards, etc. It also offers some prolific built-in features to edit your photo in a befitting manner.
Using the tool, you can add motion blur, overlay, mosaic, and frame. After editing your picture, you can easily share it without your social media friends.
Simple Guide to Add Mosaic to your Photo Using FotoJet
Step 1: Open the website
After navigating to this website, you need to hit the "Edit a Photo" option to start the editing proceedings in the first place.
Step 2: Hit the Focus button
Now, you need to press the "Focus" button option under the Edit settings. After pressing it, you'll see a blur option appearing your way. From there, you can range and place the mosaic in the photo. You can also add a Tilt Shifter or Radial blur option in your photo.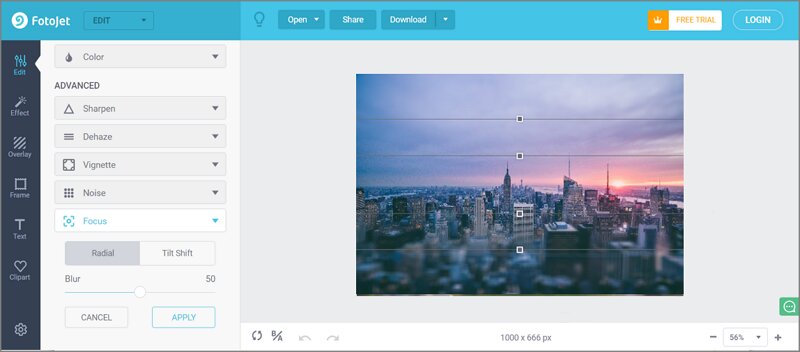 Step 3: Export your file
Besides adding mosaic to your photo, you can also add frame, overall, and other effects to your photo. Once you're done editing your photos, you can press "Download" to import your file.
Conclusion
Since iMyFone Filme is healthy software, you can expect it to offer some unique features. Unlike other video editing software, iMyFone Filme doesn't just rely on paper abilities, but it can practically and professionally serve your purpose.
Using it, you can have unique advanced and professional features whenever you want. Besides, you can change your voice in real. And it also allows you to extract audio from your video.
Features
Suppose you want to crop a clip because the video you've created doesn't look relevant; you can serve your purpose using iMyFone Filme. In addition, you can also trim and split your video using iMyFone Filme to make it more interesting.
With iMyFone Filme, you can extract audio from a video and add audio to a video with ease. In addition, you can also change the voice of your audio in no time.
The one thing that makes iMyFone stand out is its ability to add terrific transitions and outrageous filters to your video. Adding these two magnificent features, you can make your video look exciting.