Have you ever recorded a video in wrong angle? And later faced difficulty in setting it right? Unfortunately, we have once been in the same boat.

Let's have a look at the following softwares and decide which one is your favorite. Here is one pro tip try to go with a tool that offers extra features and easy video flipping.

Among them, iMyFone Filme, an all-in-one video editor, is outstanding in various aspects, to help you not only flip video fast, but also edit video fabulously to share on platforms like facebook, vimeo, youtube with single click. You can download iMyFone Filme on PC to create stunning videos for Tik Tok, Youtube, Instagram and amaze your friends and fans.
Final Cut Pro - Affordable and Professional Video Flip Tool
Are you thinking about flipping your video? Then why are you wondering and searching for flipping tools? Now your problem is solved because you have reached your destination – Flip a Clip in Final Cut Pro.
For any new and non-technical users, Final Cut Pro is an advanced and powerful video editing platform to transform clips into any orientation according to your interest within minutes.
Final Cut Pro has several other superb features. Let us check them out first.
Although it's convenient to use Final Cut Pro, the novice or new to video editing needs to know how to use FCP. Here are hassle-free or simple steps for flipping and mirroring video using FCP.
Step 1: Find and Download Final Cut Pro
To use easy to control and cache interface Final Cut Pro for your video flip, you just need to find it. Once you searched out, then start the download on your PC without the wait.
Step 2: Select Video and Insert in FCP
Get start and open Final Cut Pro for video editing. Then import your project file that needs to flip.
Every clip of your project will display as a thumbnail on the timeline. From all of them, locate the required video by clicking on the timeline clip.
Step 3: Find and Activate the Transform Tool
Find out the Transform tool by going pop-up menu on the lower left side of the Project Viewer Windows. Then tap on it and open "Transform tool."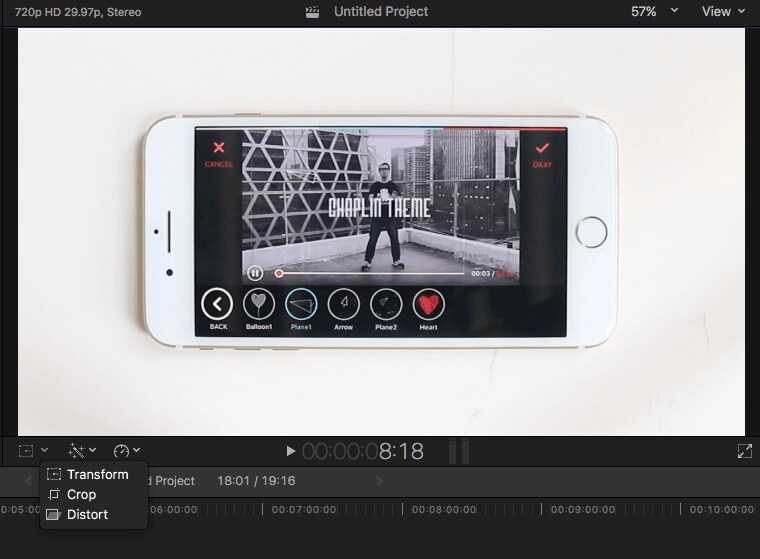 The easiest way to open the Transform tool is by pressing SHIFT + T or CMD + Click, then choosing the Transform option.
Step 4: Adjustment of Transform Effects without Video Inspector
To reveal the overscan areas in FCP, click on the overscan button by going to the upper-right corner of the viewer.
At the same time, drag blues handles at each corner for adjustment of horizontal or vertical size and ratio aspects.
The center white-colored point helps to set the rotation angle.
Keep in mind these controls are not useable with the Video inspector due to unavailability.
Step 5: Start Video Flip by Using Final Cut Pro with Video Inspector
First, select the video and navigate to FCP's right upper side after highlighting the clip. From Video Inspector Tool, set the rotation angle by shuffling numbers under the "Transform" section.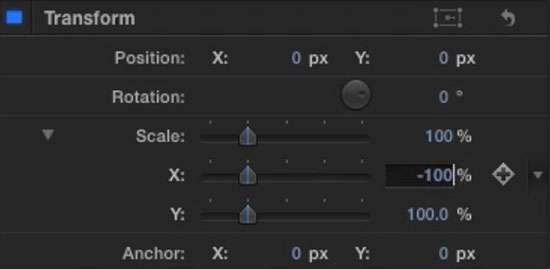 Pick your demanded flip angle simply by adjusting value -100 in Scale Option's X sidebar and Y sidebar for horizontal and vertical flip, respectively.
Best Alternative: Filme – Impressive All-in-One Editor to Flip [Win& Mac]
Although there are several alternatives of video flipping editors, the more functional and useful is the only one that is iMyFone Filme. A product of iMyFone came in 2015 and is known as a fast, user-friendly, and intuitive interface editor to create stunning slideshow videos in just one click.
Filme is capable of video editing with the help of features like split, merge, resize, crop, trim, speed adjustment, various effects, and transitions. The nice thing is that Filme's easy-to-use fast video mode makes it more convenient and keeps it in the top list as the best video flip tool.
With professional video editing qualities, including filters, motion graphics, special effects, and flipping abilities, iMyFone Filme is the best tool. Especially for MacOS users, it's a strong editor tool that enables them to create stunning videos.
With 360-degree video editing for VR, it's a real-time playback video flip tool in which the editor can do a comparative analysis of headset playback to see modifications result.