Did you just make an amazing selfie video or photo? Is it all set to go straight to your story or post? Well, this is only possible in a utopia. Let us be real. We all know that everyone edits selfie videos or photos before posting. We strive for perfection. Mostly, we think that the selfie video or photo might look perfect if flipped. Wait, do you know how to flip a selfie video to achieve perfection.
Well, you are at the right place. Here, we learn how to flip a selfie video online, on Mac, Windows, or Android. Let us start with the best platform for this, iMyFone Filme.
Part 1. How to Flip a Selfie Video Using iMyFone Filme [Win/ Mac]
iMyFone Filme is the most convenient video and photo editing platform. The platform is perfectly apt for millennials and Gen Z. After all, it enables you to quickly flip your selfie video or photo. Moreover, it allows you to access 20+ fast video modes, 170+ filters, 110 transitions, and 50+ audios for your selfie videos.
With this exciting range of editing features and tools, you can create the best Instagram video or photo. iMyFone Filme is apt for Instagram and Tik Tok influencers looking for trendy edits for their videos and photos. The best thing is that it is compatible with all kinds of operating systems, i.e., Windows and IOS.
Let us now learn how to flip a selfie video using iMyFone Filme.
How to Flip a Selfie Video on Windows & MAC, Using iMyFone Filme ?
iMyFone Filme offers a user-friendly interface with advanced editing features. Let us walk you through the simple steps on how to flip a selfie video. The following steps work for both IOS and Windows.
The first thing you need to do is to install iMyFone Filme on your system. You can get iMyFone Filme here.

After installation, you need to launch the software. As you launch, the interface will appear. First, upload the video that you want to flip. For this, click on the add files button. Select videos from the relevant files.

After uploading the video, drag the video to the timeline. You will see the video on an editing dashboard. You will see all the advanced options.

For flipping the video, click on the Mirror Option. As you click, the video will be instantly flipped.

After you are done, you can quickly export your video to your system. Simply click on the Export button, and save it on your system.
People Who Liked this Content Also Liked
How to Flip and Rotate an Image in Canva Easily in 2021 >>
How to Rotate Video on Facebook & Video Rotating Tips >>
6 Easy Ways to Rotate Video on iPhone >>
Part 2. How to Flip a Selfie Horizontally Using Snapseed [Android]
Snapseed is a popular app for editing your images. It helps you to transform your selfies for your Instagram. Snapseed can help you quickly flip your selfies on Android. Moreover, it provides a ton of viable tools for images.
Let us see how we can flip a selfie using Snapseed on Android.
Flipping a Selfie using Snapseed App on Android
First, download the Snapseed app on your Android mobile.

Now, launch the Snapseed App.

After that, select the selfies from your phone gallery.

Now, tap the tools button on the bottom of your app interface. It will open a number of amazing editing tools for you.

Select the "Rotate" tool from the tools panel.

As you select it, a rotate setting interface will appear with your selfie.

You will notice an option on the bottom with two arrowheads pointing towards each other and a dotted line between them.

Tap it, and it will flip your selfie or any photo horizontally.

After you are done, save the changes and export the image to your gallery.
Part 3. How to Flip a Selfie Video or Photo [iPhone]
This is for all the iPhone users out there. We will see how to flip a selfie video or photo on iPhone Photos. Honestly, the process is very easy. With a few simple steps, one can easily flip a selfie video or a photo in iPhone Photo.
Flipping a Selfie Video or Photo in iPhone Photos
Let us walk you through the simple steps.
Simply open the Photos app on your iPhone.

Now, select your desired image from the Photos app.

First, you need to select the crop option, which is at the bottom of the screen.

Now, in the upcoming interface, you can flip the photo.

For flipping, tap on the flip option or icon. The icon is present on the top left side of the screen. It will be a small bisected triangle. By tapping, you can flip your photo easily or apply the mirror effect.

After you are done, tap the yellow "Done" option on the bottom right side of the screen.
In this way, anyone can quickly flip photos using the Photos app on an iPhone. It would take seconds.
Part 4. How to Flip a Selfie Video/ Photo Using Canva [Online]
If some is looking for a perfect graphics solution online, Canva is the best option. Without any doubt, Canva provides a wide array of online editing tools. Moreover, a big chunk of them is totally free. In addition, the platform is not complicated at all. You do not need any expertise to use it. It helps you throughout the process. Literally, you can do any graphical or creative work on Canva.
It can also enable you to flip a selfie video or a photo easily. Let us learn how we can do that.
Flipping a Selfie Video or Photo Using Canva
Head on to the Canva Website, and make a free account.

As you get to your personalized dashboard, click on "Create a Design."

You will get a blank interface with editing tools. Name your design.

Now, tap on elements, which is present on the left side of the tab.

After that, select videos. Now, upload a video or a photo from your files.

As you upload it, it will appear on the blank interface. Below it, you will see a rotating icon.

Simply drag the icon, left or right, for flipping.

After you are done, export your video to your system.
Part 5. How to Flip Selfie Video Using iMovie [Mac]
For all the MAC users, you can flip any selfie video. In a matter of minutes, you can flip your videos and photos using the iMovie app on your MAC. You do need to download it, as it is preinstalled on your MAC. Let us walk you through the simple steps to get this done.
Flipping a Selfie Video using iMovie, on MAC
Open iMovie on your MAC. Add the video to the timeline. When it is selected, you will see it highlighted in yellow.

Up next, tap the Crop Tool. It is above the viewer panel.

Now, tap on the rotating icon twice. It is present on the right side of the panel. As you tap it twice, your image will be flipped.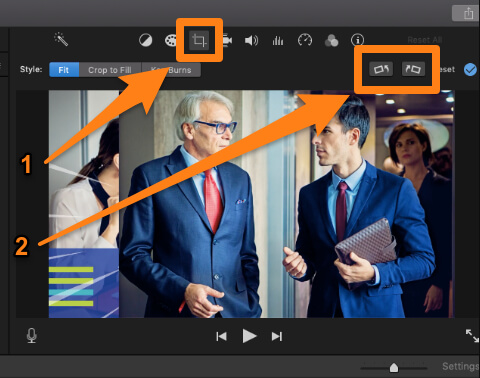 This is the best thing about IOS applications. They enable you to do things in the simplest manner. This makes IOS highly user-friendly. Moreover, you get high-definition video quality in iMovie.
Part 6. How Do I Stop My Phone from Flipping My Pictures [Android]
When you take a selfie on your android front camera, it turns out to be amazing. However, one thing that bugs a lot is the auto-flipping feature on the camera. That ruins the perspective on your selfie. Moreover, you do not get the shot you thought about.
Well, you can solve this problem in a matter of seconds. Let us see.
Stopping an Android Phone from Flipping Photos
First, open your camera app on your android phone.

Go to settings, the icon in on the left side of the screen.

Choose the pictures option. Further, click the save option.

Next, find the "Picture as Previewed" option. You can turn it off using the toggle button.

Now, your Android camera would not flip your clicks.