We were not even done with photos and Gifs yet when Instagram played an ace and introduced boomerang videos. Boomerang videos instantly became a big hit. Generation Z and millennials love to make boomerang videos on Instagram.
Creating boomerang videos on Insta is super easy. However, the only drawback that we face is the inability of Instagram to flip boomerang videos.
Especially when we make boomerangs on Insta from the mobile phone, they often turn upside down when played on laptops. Hence, we need to flip videos to set the orientation right. Now, if you are also going through the same issue and want to know how to flip a boomerang video, then we have got you covered.
This article will discuss the 3 suitable softwares to flip boomerang videos quickly without investing much time.
Part 1: iMyFone Filme - All-in-One Editor to Flip a Boomerang Video
Software that is easy to use, cost-effective, and free for basic editing, full of high-quality templates, slideshows, effects, animations, stickers, and much more. We are talking about none other than iMyFone Filme, the best video editor available for Windows and Mac Pc.
iMyFone Filme assists you in taking your video editing skills to the next level. It makes video editing fun and interesting. All its primary functions are free and easy to use. We can quickly flip our boomerangs with it by the below-listed steps. However, let's first check how resourceful this app is.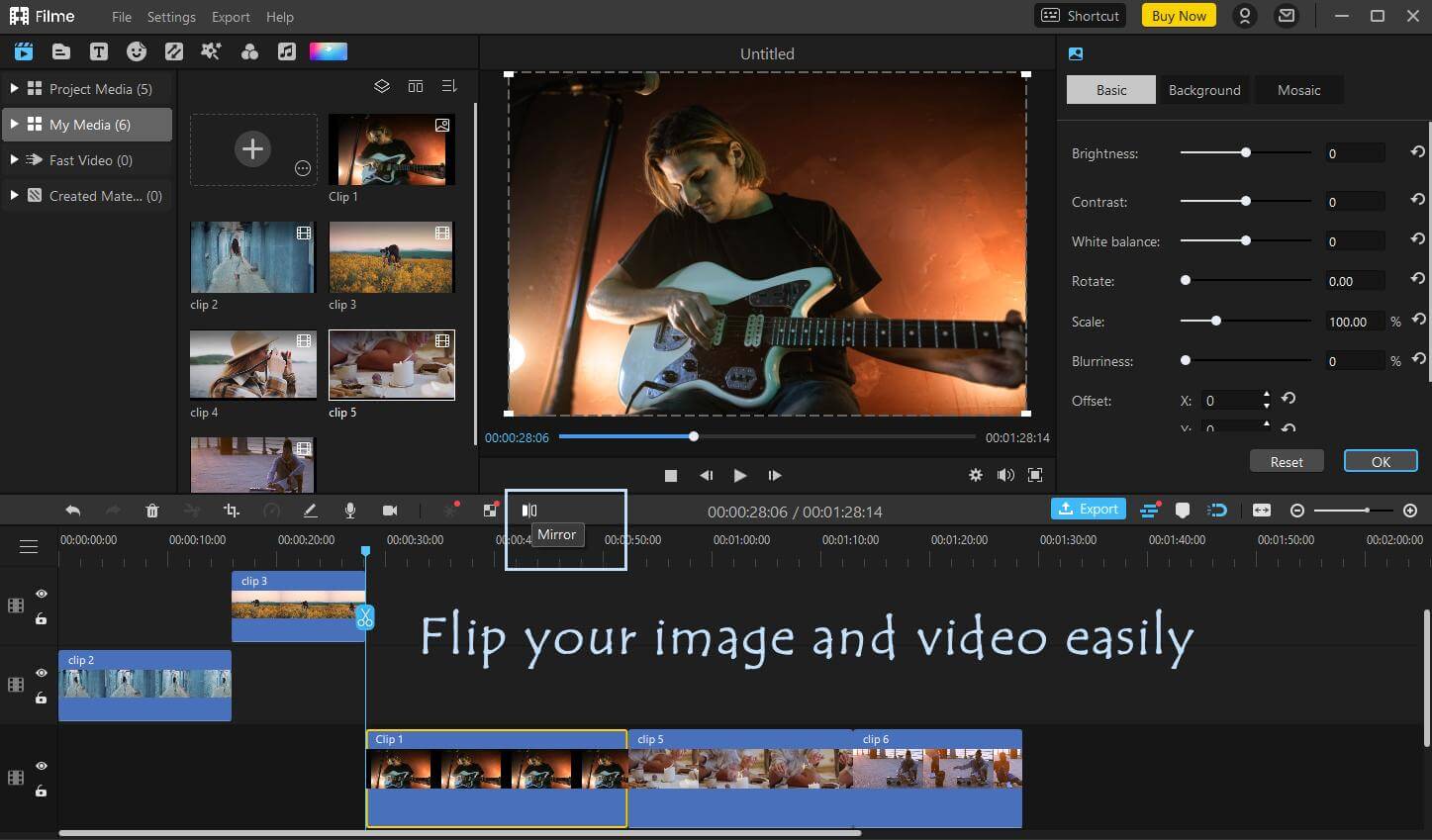 Step-1: Download and Run the Software:
Firstly, go to iMyFone Filme and download, install and launch it on your computer to perform the desired task.
Step-2: Upload the Boomerang Video:
From the interface, upload or add your video and bring it on the timeline with the help of the drag and drop function.
Step-3: Open the Editing Window:
The editing window will open when you right-click on the video or click the "Edit" icon on the toolbar.
Step-4: Flip and Adjust the Angle.
Option#1: Now, press the "Rotate/Scale" option from the drop-down menu. You can rotate the video to any orientation you want by moving the slider.
Option#2: If you want to flip the boomerang video horizontally, click on the "Mirror" option and complete your task.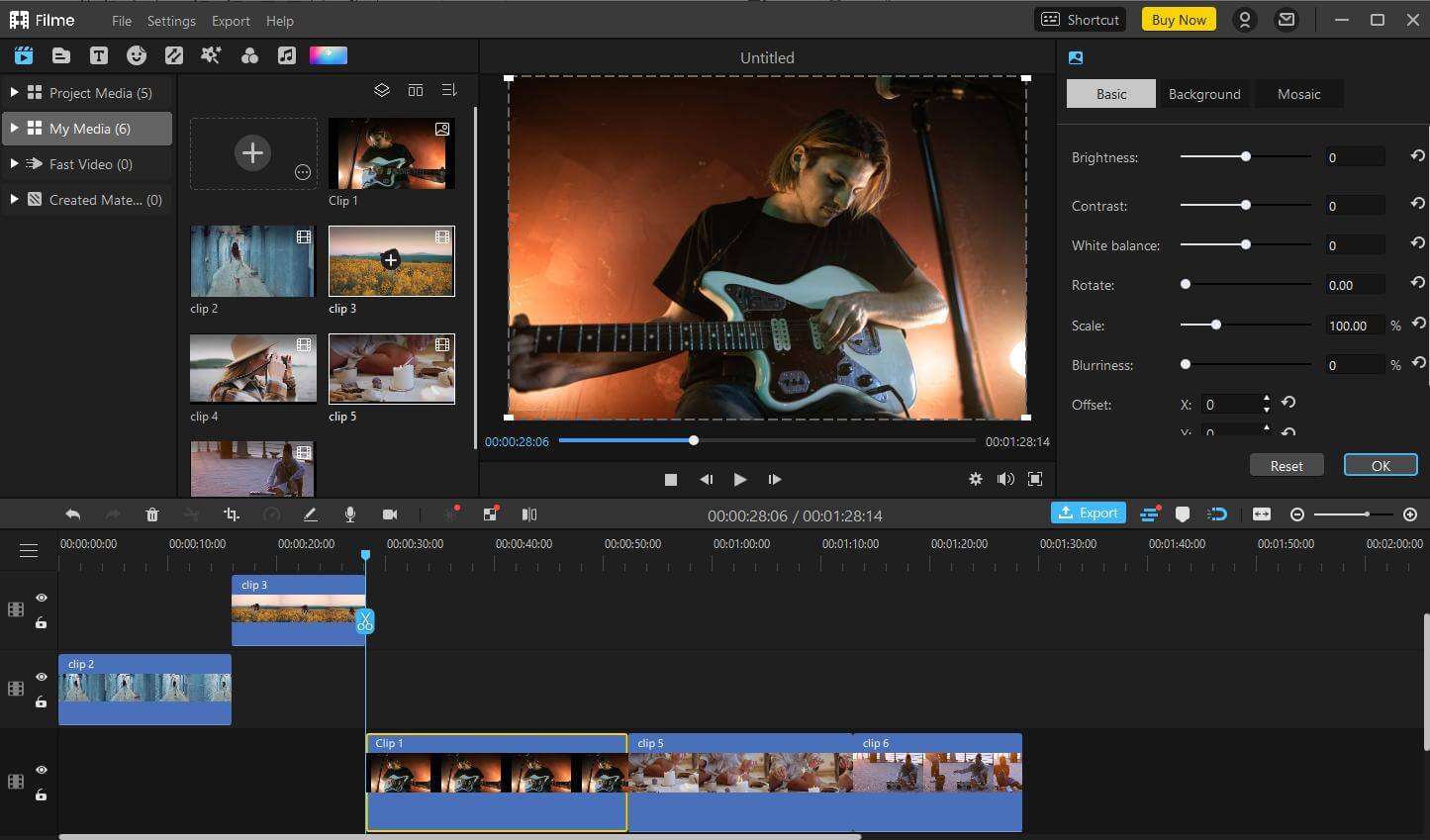 Step-5: Save and Export the File.
To confirm the changes, click "OK" and hit "Export" to save the file in the desired location.
Key Features
iMyFone Filme can transform every type of image and video in any direction.

It also allows you to add royalty-free music to your videos to keep your audience engaged.

By selecting the Picture-in-Picture effect in iMyFone Filme, you may play an image and a video on one screen to impress your audience.

Fast Video Mode is another one of iMyFone Filme's most powerful features.

It comes with 20+ fast video modes, 110+ transitions, 170+ filters, 50+ audio to empower you to create visually pleasing videos.
People Who Liked this Content Also Liked
4 Amazing Tools to Flip MP4 Video Fast and Easily in 2021 >>
How to Rotate Video on Facebook & Video Rotating Tips >>
How to Flip a Selfie Video? [Online/ Win/ Mac/ Android/ iPhone] >>
Part 2: Aiseesoft Video Editor – Functional Editor to Flip a Boomerang Video
Due to the smaller screen, editing videos on a smartphone is inconvenient. Flipping an Instagram's boomerang video on a computer is the preferred solution. Aiseesoft Video Editor is our recommendation at this stage. The following are some of its key features:
Step-1: Install The Most Effective Video Rotation Software On Your Computer
After you've downloaded and installed Aiseesoft Video Editor on your computer, open it. On the home screen, select "Rotate." To import a video to rotate for Instagram from your hard drive, navigate to the video rotate window and click the "Add File" button.
Step-2: With Only One Click, You May Flip A Boomerang Video
To rotate the video to the proper orientation, use the "Rotate 90 clockwise" or "Rotate 90 counterclockwise" buttons on the left toolbar. The clip will be rotated 180 degrees using the "Horizontal flip" and "Vertical flip" buttons.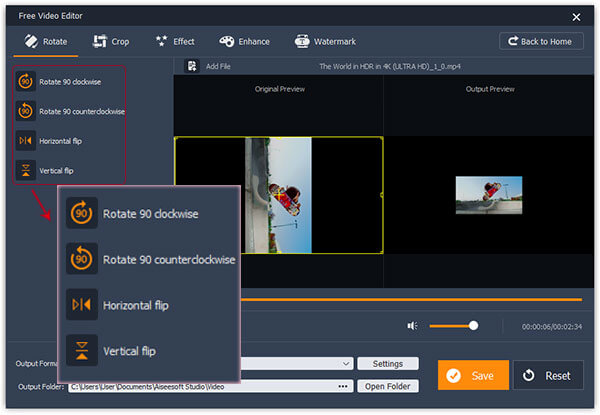 Step-3: Remove The Black Edges
You'll obtain a more petite video when you rotate the sideways video to the right angle, as shown in the image above. This can't be what you're looking for. Crop the video to fit the entire screen. Crop fits the screen by unchecking "Keep Aspect Ratio" and dragging the bar to fit the screen. Then go to Zoom Mode and select Full.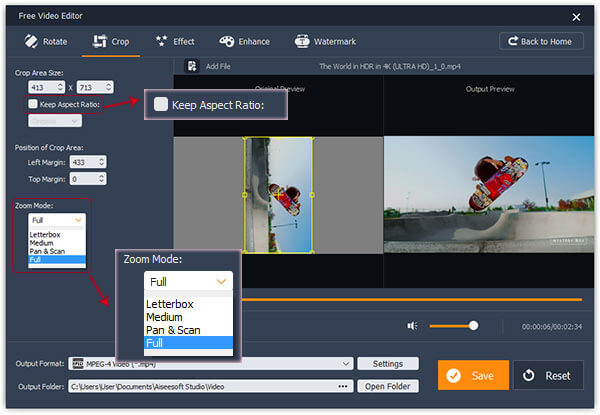 Step-4: Save your Flipped Boomerang Video.
Finally, click the "Save" button after selecting the desired format as the "Output Format."
Key Features
It is simple to use. It can rotate a video with only a single click.

Lossless retouching.

A wide range of video editing software. It can edit, split, trim, and enhance films, in addition to flipping and rotating them on Instagram.

Make your videos look good. For producing unique effects, this video editor also includes a variety of video effects, personalized watermarks, and text tools.

Increased compatibility. All video and audio formats, including 4K video formats, are supported.

Compatible with Windows 10/8/8.1/7/XP/Vista/Vista/XP/Vista/Vista/XP/Vista/Vista/XP.
Part 3: VLC Player - Flip a Boomerang Video Fast
VLC Media Player is one of the best media players since it supports various formats. It is compatible with Windows, Mac OS X, and Linux, and also it is free. This video editing program also has several features that many people are unaware of. The ability to rotate and preserve an inaccurately centered video that you recorded on the mobile phone is one of the most admirable tools that VLC has to offer.
Open the boomerang video and navigate to tools from the main menu after installing the VLC media player on your device. Go to the Video Effects tab after selecting Effects and Filters. Now switch to the Geometry tab and select the Transform option. You can flip the videos with this option.
Step-1: Open the Media Player
On your device, launch the VLC media player. To add the video to the timeline, navigate 'Media' and then 'Open File.'
Step-2: Stop the Video and Press "Tools"
The video you've chosen will begin playing automatically. Select 'Tools' after pausing the video. To open the tool's drop-down menu, you can also press the Ctrl + E key combination.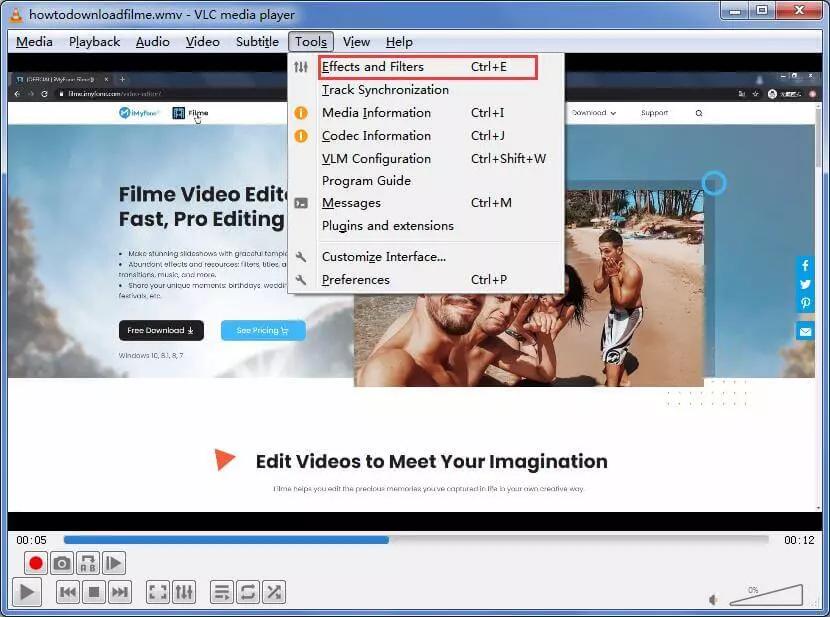 Step-3: Select 'Video Effects' from the 'Effects and Filters' menu
Now go to "Video Effects" and click "Geometry Tab" on the pop-up window. Now to rotate the video, pick the degree of rotation by checking the box next to 'transform.' To finish the process, click 'Save.'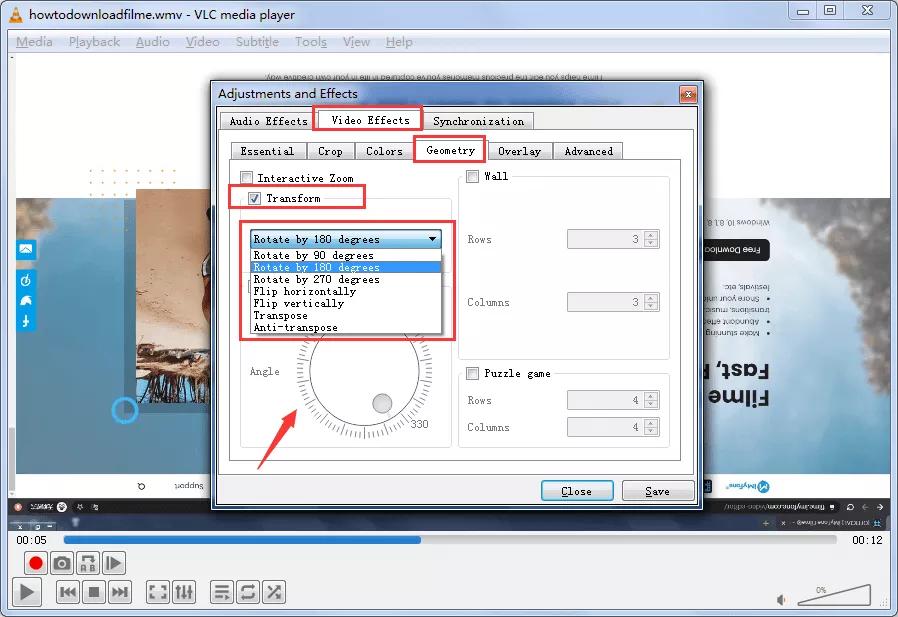 Key Features
VLC media player allows you to create customized clips by using a variety of effects.

VLC offers a better screen recorder that allows you to select clips from your computer while using it as a screen recorder.

VLC's built-in screen recorder can be used to capture what's on your computer's screen.

It supports various rotating angles such as 90, 180, and 270 degrees and at 1 degree, 27 degrees, arbitrary angles, etc.
Part 4: FAQs – How to Flip a Boomerang Video
How Do You Flip a Boomerang Video on Instagram?
Unfortunately, Instagram does not offer the option to flip a video. To flip the video, we have to download it on our computer and then use a video editor to flip boomerang. For this purpose, we recommend you to use iMyFone Filme because it's a fast and straightforward tool for editing.
What is a "Boomerang Video"?
Boomerang puts together a flurry of photographs into a high-quality video clip that plays forward and backward. Whether you're shooting a portrait or a landscape, the choice is yours.
Part 5: Conclusion
Although Instagram's boomerang video function is excellent and fun, the lack of a flipping video option makes it a problem. Resolving a boomerang video's incorrect orientation is possible, and numerous tools are available to assist you.
Suppose you're using Windows or Mac Pc. In that case, you don't need to worry because you can rotate your video using iMyFone Filme. The software is easily installed and works smoothly. Moreover, it not only excels in changing video orientation, but it also has a slew of additional editing capabilities that you'll appreciate. Therefore, give it a try and thank us later.