Google Meet is a popular platform for video communication and is mostly used in business, education, tutorials, online classes, and many applications. It is suitable for both formal and informal video meetings. But during a video meeting, the most important thing that everyone sees is the background. Thus, your background must be up to mark, but if you don't have a suitable background, you must hide it.
In this article, we will guide you on how you can blur background or change background on Google Meet. It is possible, and you can easily be confident in your meetings after hiding your background. We will show you the steps to do it on your computer or mobile. Moreover, we will also share an amazing video editor that can help you create amazing slideshows, presentations, blurred videos, censored videos, video resumes, and everything you can expect from a professional and comprehensive video editor. Let's start!
Part 1. How to Blur Background on Google Meet Windows/Mac
You can blur the Google Meet background very easily by Google Meet itself, but some Google Meet users have cool blur background video. How do they get those background video? You can make cool blur background video by iMyFone Filme and then upload to Google Meet to change the background. Download iMyFone Filme to blur video background now.
Google Meet can be used on Windows or Mac. You need to use it through the website because there is no desktop app available. Just go to the website and start using it; it is just like a web-based application.
For professional and formal usage, it is preferred to use Google Meet on a computer. It is not a good idea to join a formal meeting from your mobile. Thus, users mostly use its web-based tool. The best part is that it is convenient; you just need to open the website, and you are ready to go. You can use it anywhere without any hassle.
You can make your background blurred while having a meeting on Google Meet. It is pretty easy, and you don't need any other tool or software to do that. You can do it using the web tool, and it is pretty simple. Let's see the step-by-step method.
Steps to Blur Background on Google Meet Windows/Mac
Step 1: Open any browser; almost all commonly used browsers are compatible with Google Meet. Follow this link.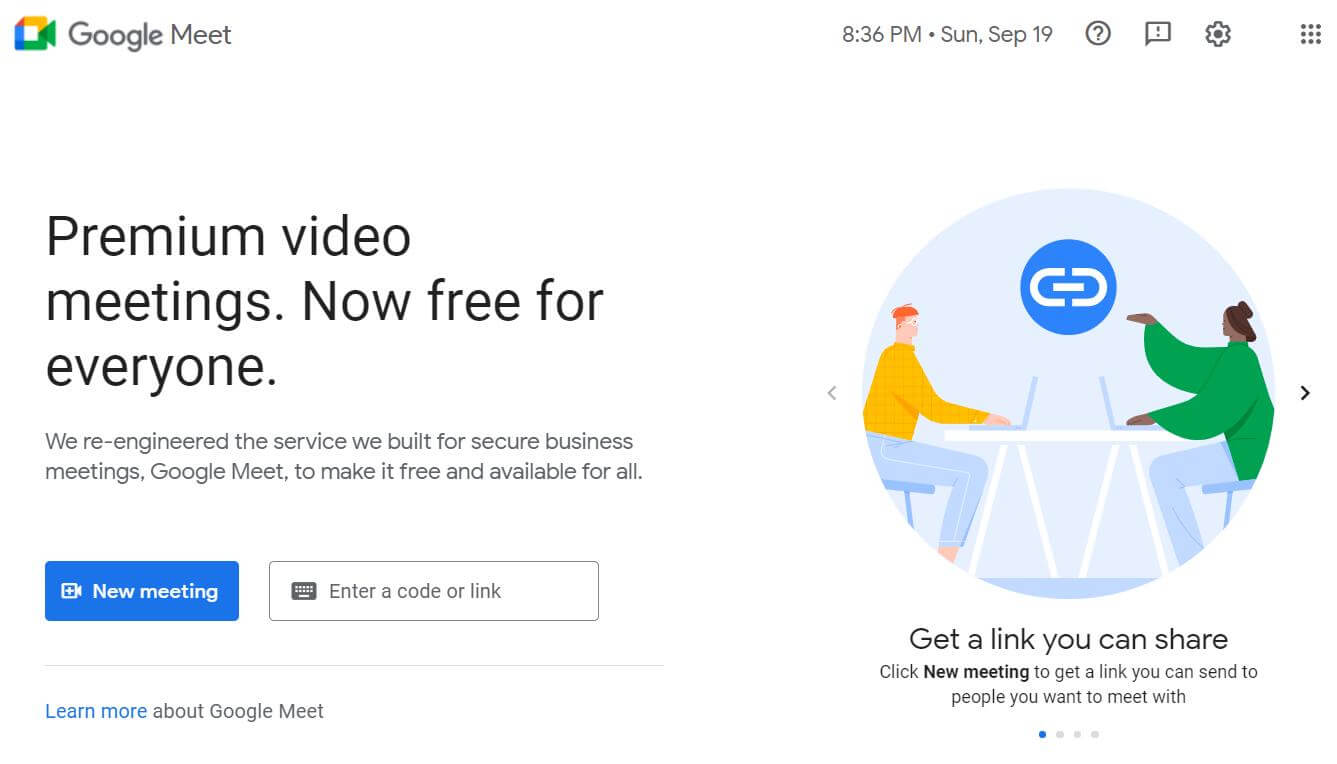 Step 2: If you have a link or code to join a meeting, you can enter that in the given box. You can also start a new meeting by clicking on New Meeting. Click on New Meeting. You will have a few options, click on Start an instant meeting. You can also choose other options.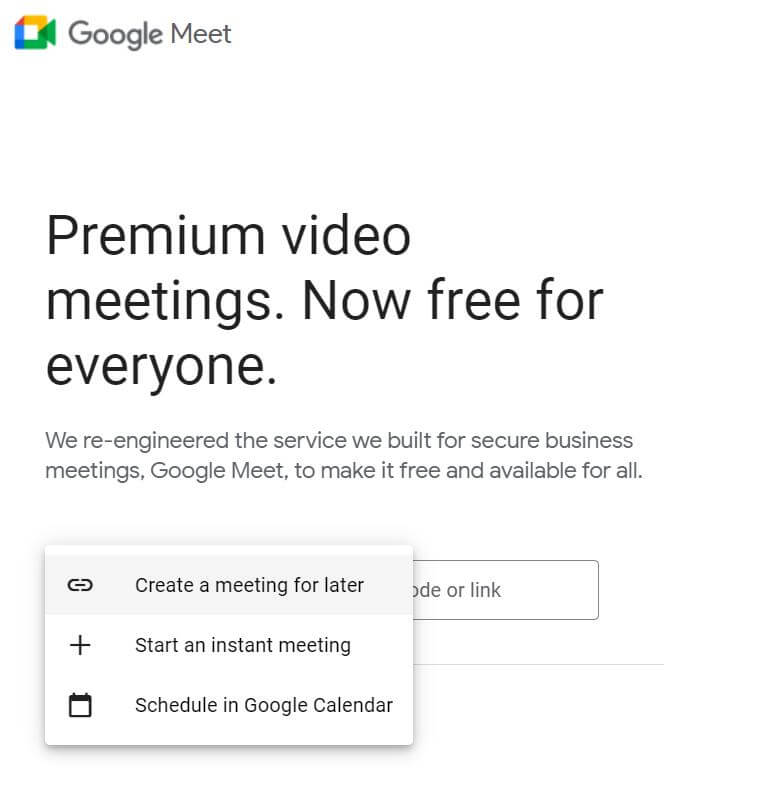 Step 3: You will see a new meeting. You can add participants or share the link. For a blurred background, you need to click on the three-dots icon. You will see various options; click on Apply Visual Effects.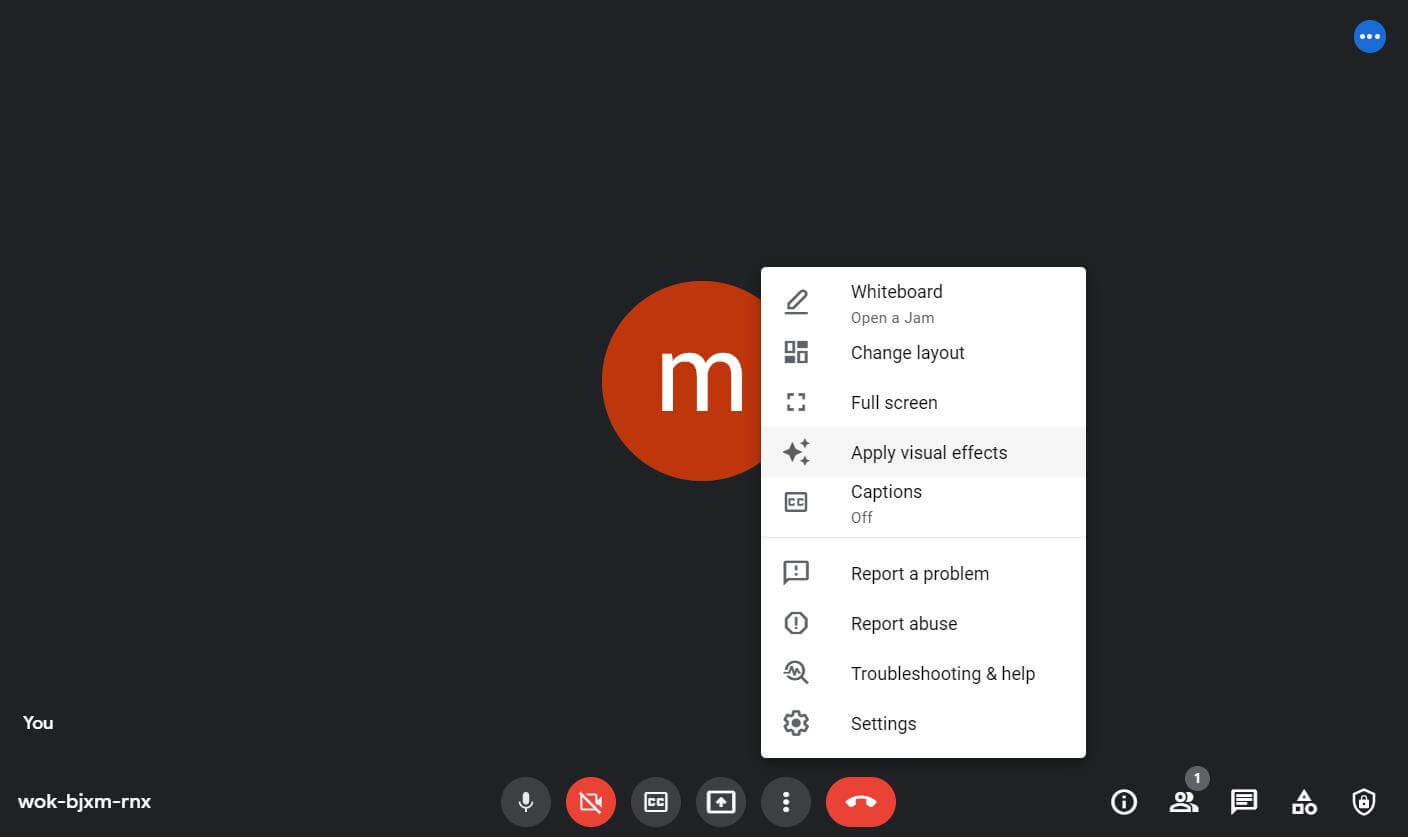 Step 4: You will see the effects on the right side. You can choose slight or complete blur. You can also choose any background of your choice.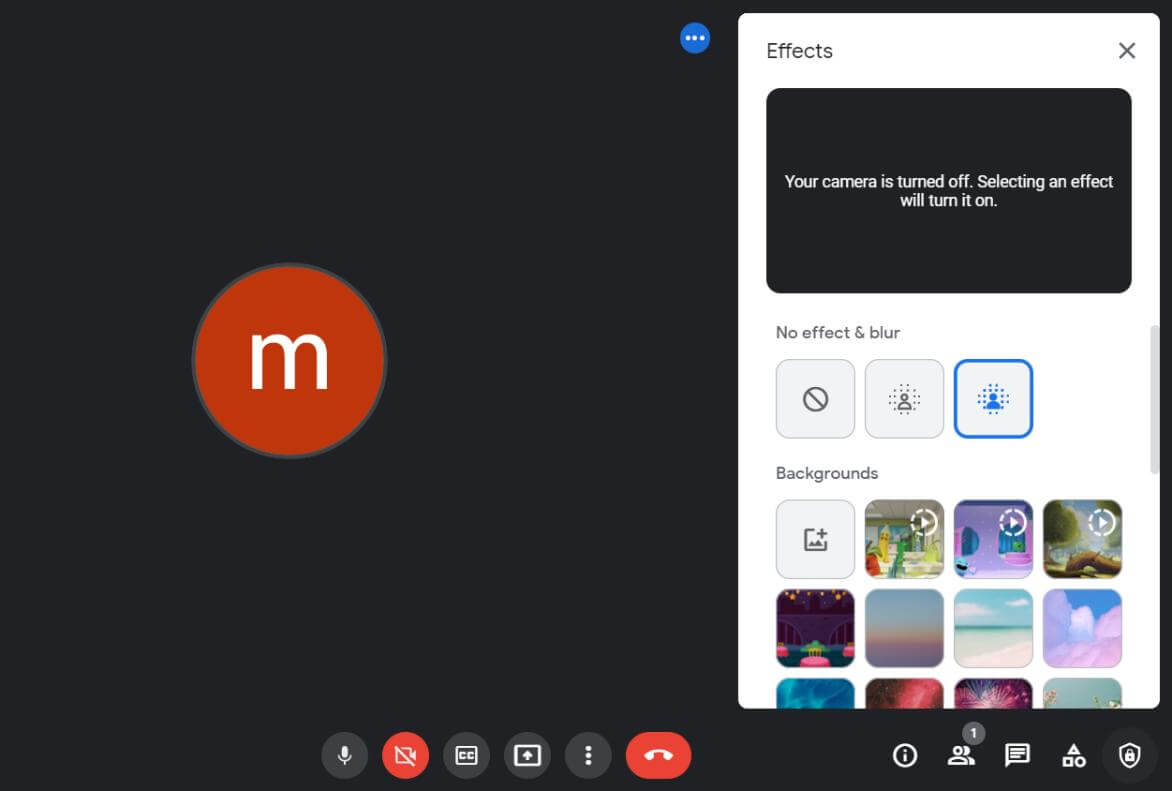 You have successfully blurred the background, and now, you can participate in the meeting confidently.
Part 2. How to Blur Background on Google Meet with iPhone/Android App
You can also use Google Meet on your Android or iOS device. There are applications available on the App Store and Play Store.
The application is almost like Google Meet's web tool. You can have a blur effect in the background, but this only works in a few Android versions and mobiles. The Android version must be P, and the mobiles should be Samsung Galaxy S9 or higher or any other similar device. Thus, you cannot blur the background from any mobile.
Steps to Blur Background on Google Meet App
Step 1: Download and install the Google Meet app from the store. After downloading it, open it and sign in using your Gmail account. You will see the welcome message, tap on Continue. You might need to provide the permission of the camera and microphone to use the app without any issue.
Step 2: You need to select the blur effect before joining the meeting. Tap on effects; you will find it at the bottom.
Step 3: You will have different options. You can select slight blur or full blur. You can also select any background; there are various virtual backgrounds available.
Step 4: Tap on Done. Now, you are ready to join the meeting.
Part 3. Make Cool Blur Video and Blur Persons/Objects-iMyFone Filme
iMyFone Filme is a professional yet beginner-friendly video editor. It is perfect for those who want to make a splendid video but do not have any experience in video editing. The user interface is self-explanatory, and there are tons of guides, video tutorials, and helpful blog posts available for the step-by-step methods. Thus, anyone can use Filme and create an amazing video.
Filme has everything you need. It is an all-in-one video editor. Apart from the video editing, you can do audio editing, file conversion (video and audio), PPT to video conversion, screen recording, audio recording, and voice change. Thus, you get multiple tools at the price of one. Filme will support motion blur effect in the next version.
The most important thing about Filme is its updates. You will receive several updates in a month, and the updates bring new tools, templates, features, and more elements to the libraries. Filme keeps its users updated on the latest features.
Features
Along with the blur effect, there are dozens of other effects available. You just need to select the effect to add to your video.

There are filters, transitions, texts, and stickers to make your videos more appealing.

You can edit the audio of the video. You can adjust its duration, speed, volume, effects, and other things. You can also use the voice changer.

You can use the picture-in-picture effect for presentations and tutorials. Moreover, you can also make slideshows, video presentations, video resumes, and other types of videos with ease.

The final video can be exported in any quality and resolution up to 4K. You can adjust all settings according to your requirements.
Steps to Make Blur Video and Blur Object in Filme
Step 1: Download Filme and install it on your computer. Open Filme and click on Editing Mode.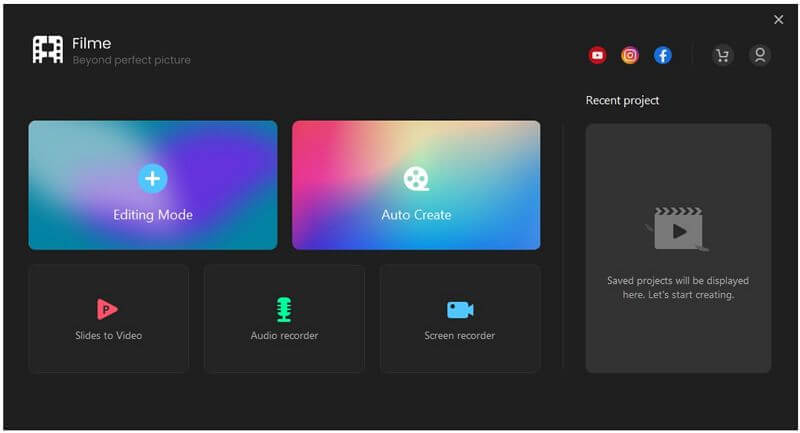 Step 2: Create a new project from the File menu and select the aspect ratio you want.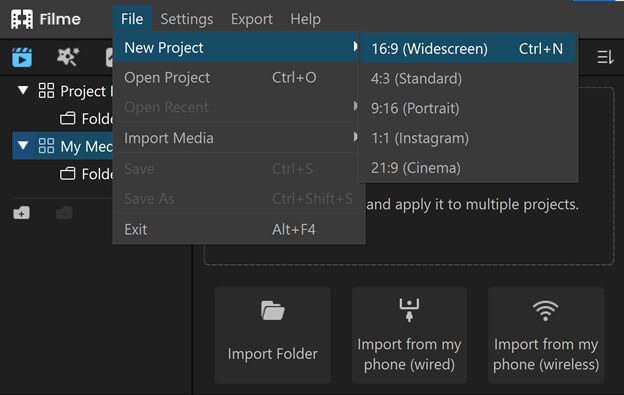 Step 3: Now, import the video and other files to the project. Go to the Media menu and import everything. Drag the video and other media to the timeline.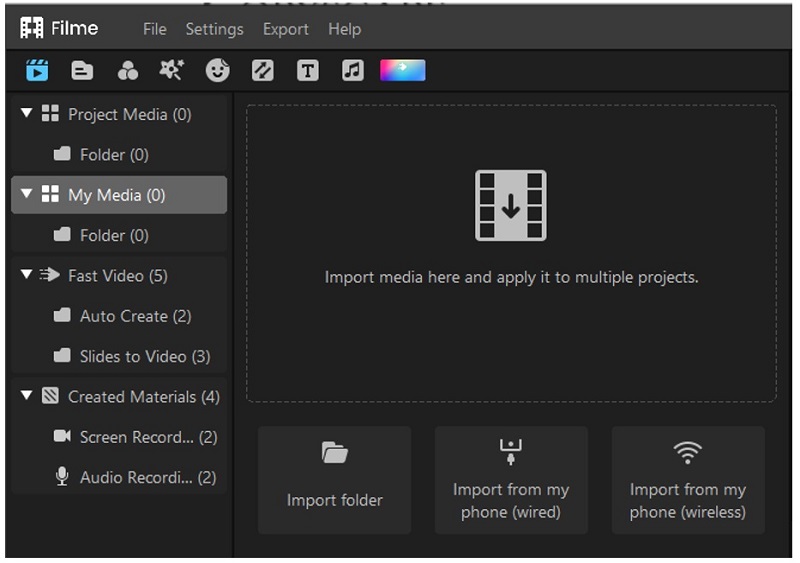 Step 4: Now, you can add the blur effect. Double-click on the video on the timeline. You will have a new panel on the right of the video. You will see the Blurriness setting. Adjust the blur effect by adjusting the percentage. You can drag the sphere or enter the value.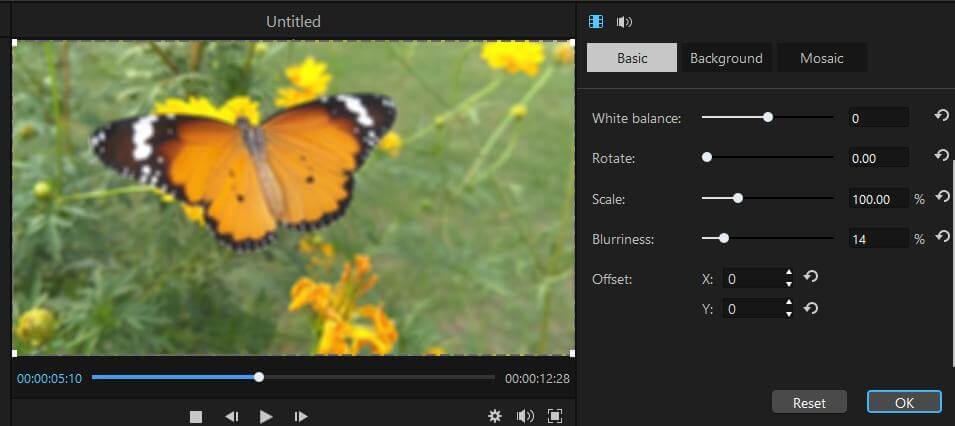 Step 5: For object or face blur, click on the Mosaic tab; you will find it on the panel that is on the right of the video. Click on Add Mosaic. You will see the mosaic in the video. Drag it to the position where you want it and adjust its size. Select a shape and style and click on OK.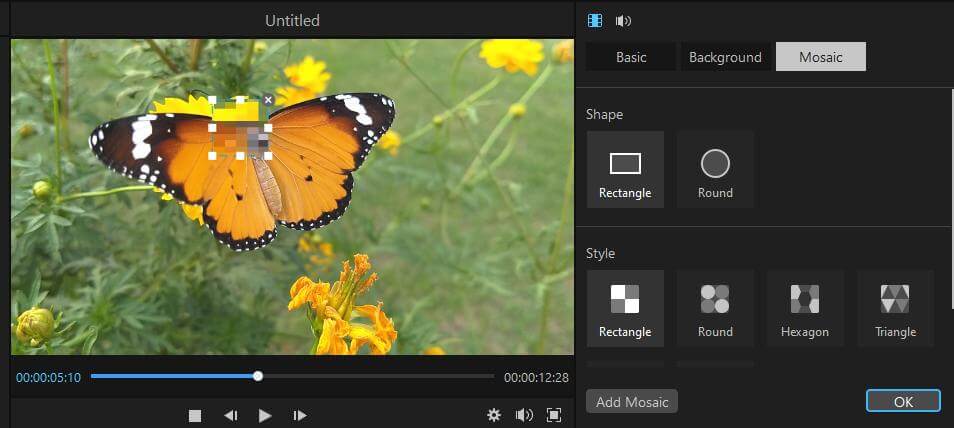 Step 6: Now, you can edit your videos. You can add effects, filters, transitions, text, images, stickers, or anything you like. You can do it from the menus at the top left corner. For instance, go to Filters. Select any filter and click on the "+" button to add it to the video. You can make your video more appealing.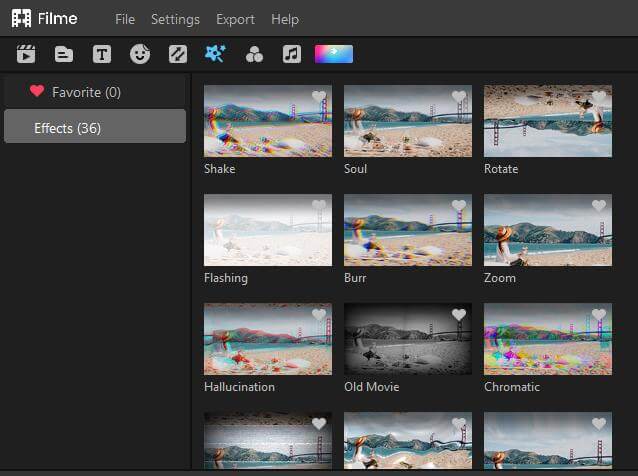 Step 7: You can add music, songs, and sound effects. Import any audio file and drag it to the timeline. You can also add music and sound effects from Filme's library. Moreover, you can record your own voiceover.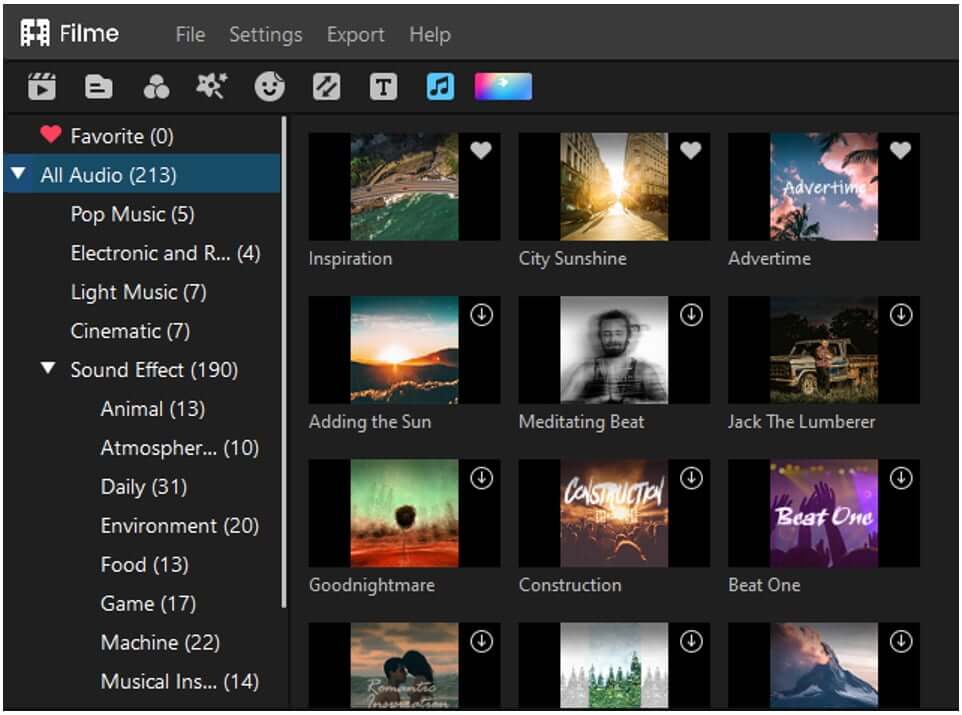 Step 8: Finally, you are ready to export the video. Click on the Export button above the timeline. Select the settings you need for your video. Click on the Export button.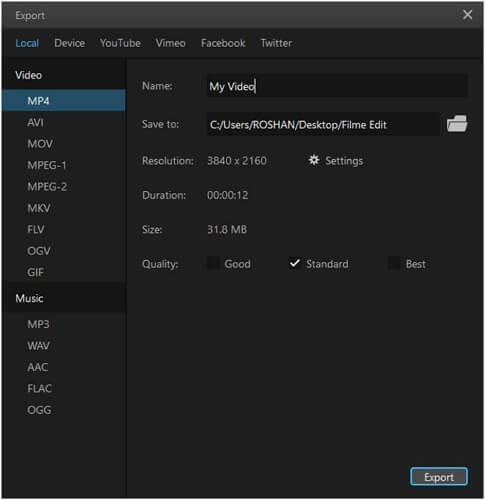 Part 4. Why Do You Need Blur Google Meet Background?
Google Meet is a popular video and audio communication tool. It is mostly used for professional and formal meetings. Thus, background blur is sometimes necessary.
Let's See the Two Common Reasons:
If you are in a professional meeting that requires everything formal, then your background should be appropriate. The background plays an important role, so even if you are formally dressed, you need a formal background as well. Unfortunately, not everyone has a suitable background that can be shared, especially if you are at home, so the best way is to blur it.

There can be anything in the background that you do not want to share. It could be images for your family, personal things, or anything that you do not want to reveal in the video. Therefore, you can blur the background.
Conclusion
Google Meet is commonly used for video communication, but most of the users are worried about their backgrounds. There is no need to worry about the background because you can blur or change it. We have explained how you can blur and change your background using the Google Meet web-based tool and mobile application. It is pretty simple; you just need to follow the steps. The web-based tool works on all commonly used browsers and blurs the video, but the blur feature does not work on every mobile; it works on selected Android versions and mobiles.
If you want to create a catchy video, presentation, video resume, or any type of video, you can use Filme. It is a user-friendly yet advanced video editing tool that can help your videos to stand out from the crowd. You can easily create a stunning video and share it on Google Meet or any platform.