The truth is, even though iMovie may be free to Apple users, there is a bit of learning that one needs to go through before they start using it. You see, if you don't know what is that you are doing, something that is as simple as adding music to your iMovie project can be challenging.
In line with this, we will tell you everything that you need to know about adding music to iMovie - step-by-step, and also provide information of iMyFone Filme, a easier way for you to add music to video.
3 Steps to Add Music to iMovie
Essentially, iMovie offers Apple users, and especially those interested in making videos, the greatest opportunities, as it allows one to cut clips, overlay titles, add transitions, and so much more.
However, for those who have used it, you may have noticed that there are only seven songs on its music library, which is honestly, quite underwhelming.
But do you know what the good news is? Well, it's that you can now add more music to iMovie, and here is how you can do so;
1. Download music you need for iMovie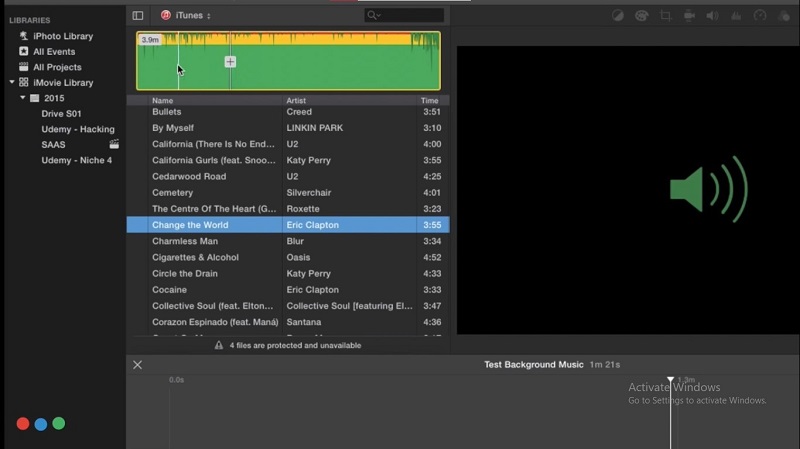 Adding a song to a video isn't that straightforward as there are several things you need to consider, such as copyright laws of all the major social media platforms that allow sharing of videos.
YouTube, for instance, is well known for its very strict copyright policy that is always enforced whenever violated, especially music. However, there are songs that are copyright-cleared, which means that you will be able to use the music without any problems.
There are several websites that offer these songs, and you can even get them from YouTube. However, it doesn't matter where you decide to source the songs, just ensure that once on your computer that you open them in iTunes. If you don't want to use iTunes, you can as well use iCloud Drive.
2. Upload music to iMovie
Once you have downloaded your songs, it is time now to upload them to iMovie. Now, since iMovie is compatible with both Mac and IOS, the upload process is different.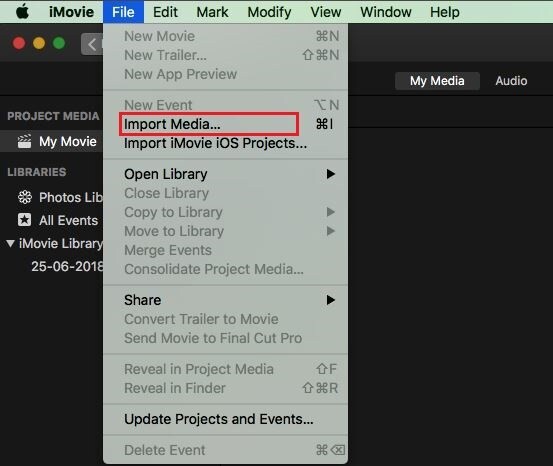 How to add music to iMovie on mac
On your Mac computer, open iMovie, and then click the Audio function found at the top of the screen. Ensure that iTunes is selected as well.
After that, once the iTunes library opens, you should see all the songs therein, including the ones you just added. It is also possible to drag-and-drop audio files into the platform's media folder.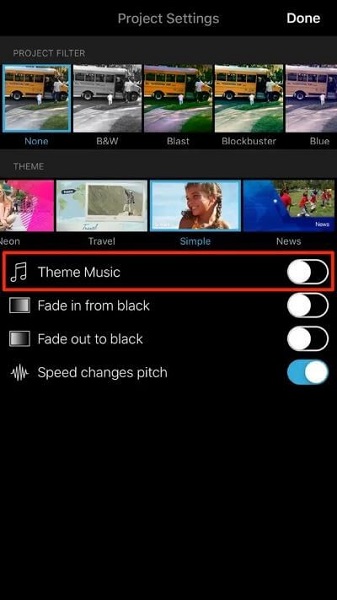 How to add music to iMovie on IOS
The first thing you do is to open iMovie, then tap the '+' function and then click Audio, then 'Songs' where you will add the songs that you would like to use.
In doing all this, you need to ensure that you have synced your iTunes library, and if the music is in your iCloud Drive, and not iTunes, then you need to select 'iCloud Drive' to navigate the music file.
3. Add music and do any other editing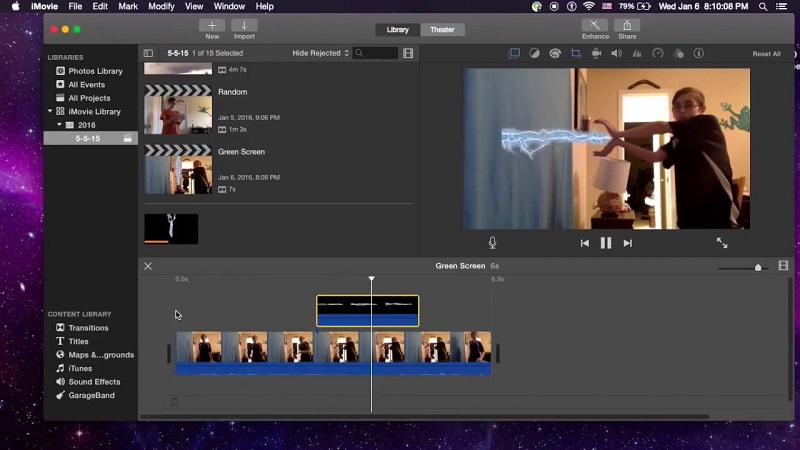 Now, once you've found your song and have already uploaded it to iMovie, then you will need to drag it to the timeline component, which is at the bottom of your screen. (If you are on your IOS device, you don't need to drag, just tap and the song will be added automatically).
By doing this, you will have anchored the song, which ensures that even as you make edits or cuts to other video or audio files, your song doesn't get affected.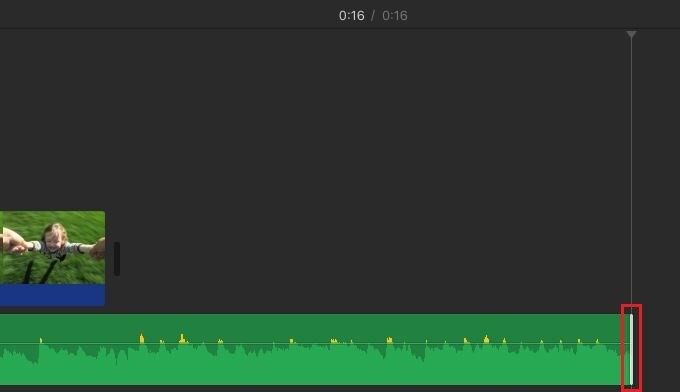 Something else, there is a possibility that the song you want to use isn't of the same size as your video, right? Now, here is what you can do, if the song is too long, then you can trim it from the right side to the left.
Then, take the fade handle and drag it to the left, in order to create a fade-out. If the song is too short, then you will have to loop it, which is to make the song longer. To do that, find a natural place to divide the arrangement which is the specific spot you split the track.
You then copy and paste the new loop as many times as you want, ensuring that the entire video is covered.
Bonus Tips for Adding Music to iMovie Project
1. Always Respect Copyright
Let's begin by saying that almost everything on the web is copyrighted, which means that for you to use it, you need to get some sort of permission from the owner. This mostly involves music or any other videos that the owner seeks to protect.
Now, never, ever ignore this fact when selecting music to add to your iMovie project. Nowadays, online platforms are very strict, and if they detect any form of copyright infringement, they act immediately.
They start by blocking the video that has violated copyright rules, and in the worst-case scenario, lawsuits may ensue. So, you need to be very careful with the music you include in your videos.
2. Pay Attention to Lyrics
Depending on the kind of video you are making, you ought to be very careful with the kind of lyrics you are going to use in the background. For instance, if the video is an explainer video, or it's a voice-over, it's recommended that you don't use songs with words.
This is because, lyrics are also text and that means, if you include them in such kinds of videos, the content becomes overloaded and quite difficult to consume.
So, unless your video serves some sort of an aesthetic purpose, more than it informs, you will need to be careful with the kind of lyrics you use. Also remember, the song's mood plus its content should never contradict what's being shown on the video.
3. Volume Adjustment
What you want is to create something that will be engaging and fun to watch, right? Well then, you need to correctly set the sound level. Never allow music to dominate the visual aspect of the video, and vice versa.
If your video is purely visual, then you can increase the volume of the music, but if it comprises a verbal aspect, then you need to reduce the volume so that you don't interrupt.
iMyFone Filme- Your Better Choice to Add Music to Video
Other than iMovie, the other tool you can use to add music to a video for free is iMyFone Filme, which is compatible with both Windows and Mac devices. Basically, the software allows you to craft videos even without professional video editing knowledge.
With a simple interface that allows you to drag and drop files easily, a music library with all your favorite copyright-free tracks to include in your videos, its ability to make videos much more beautiful and entertaining, and its user-friendliness to beginners, makes iMyFone Filme the best option.
Here are some top features in this regard:
Has a vast library of royalty-free tracks, video effects, and text captioning

Comes with a full suite of video editing features, which includes crop, speed control, trim, brightness, split, contrast, etc.

A commendable voice changer, which you can use to change your voice, either in real-time or in an already recorded audio

You are able to export the video in any desired format, based on what you want to do with it.
Now, let's look at how exactly you can take advantage of this wonderful software;
Step 1 - The first step is always to download the software if you don't have it on your device. And as we mentioned earlier, it is compatible with both Windows and Mac devices, which means that you don't have to worry about the device that you are using.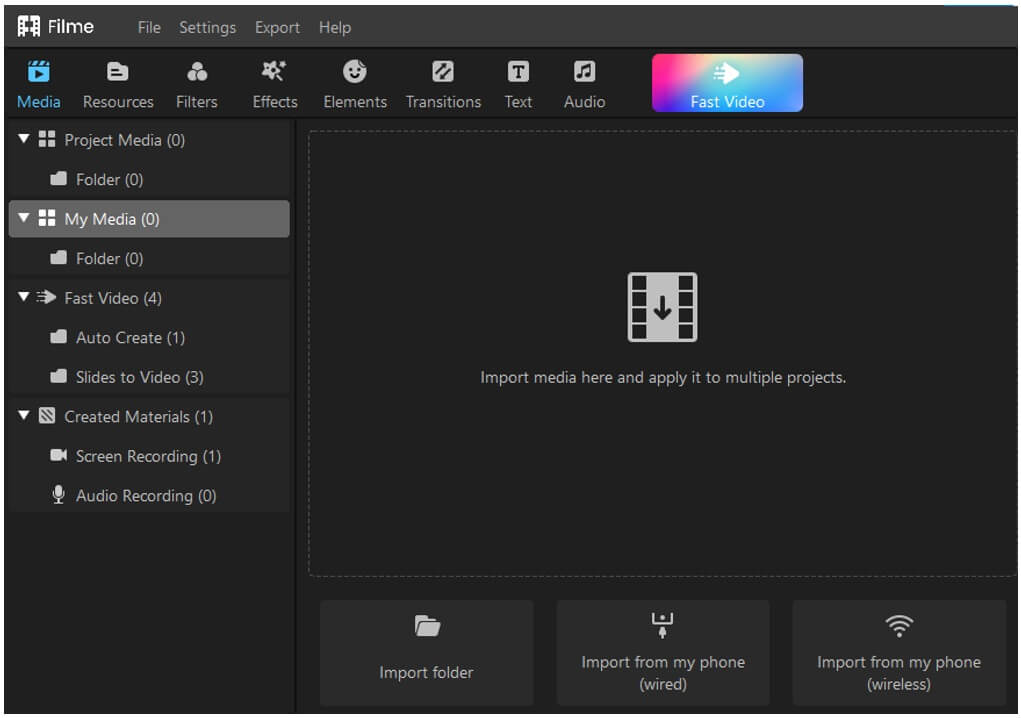 Step 2 - Open Filme and you will see the Import function, which you use to upload the video files onto the platform. Click Import, which will take you to the Media Library where you select the video you want to edit.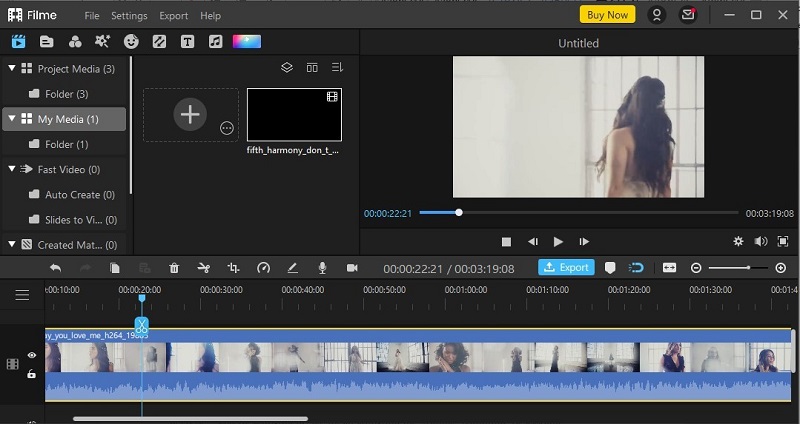 Step 3 - Once the video is on the platform, you can now add it to the timeline at the bottom of your screen, either by dragging the file to the timeline or by clicking the + symbol on the video. After that, the video will be ready for editing.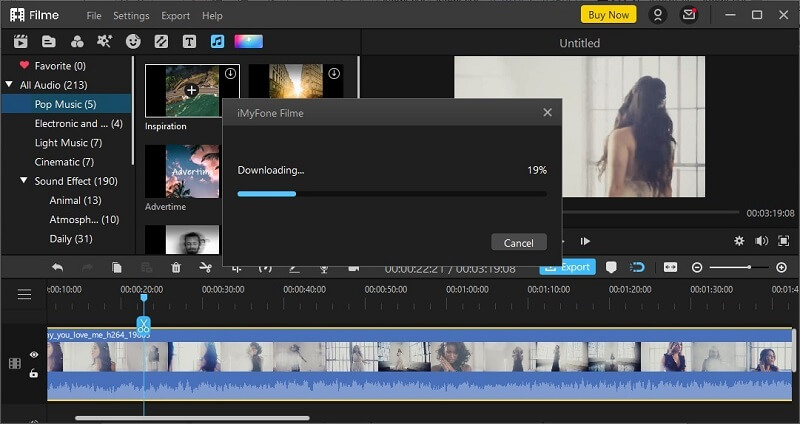 Step 4 - This is the step in which you will add the track you want to use to the platform. To do that, click the quaver symbol, or musical note, that's on the top left of the screen, which will take you to the audio library.
Then search for the song you want to use and then download it. After that, add the song to the media library, where you can make adjustments if need be - and by adjustment, we mean adjusting the volume, trimming, or looping.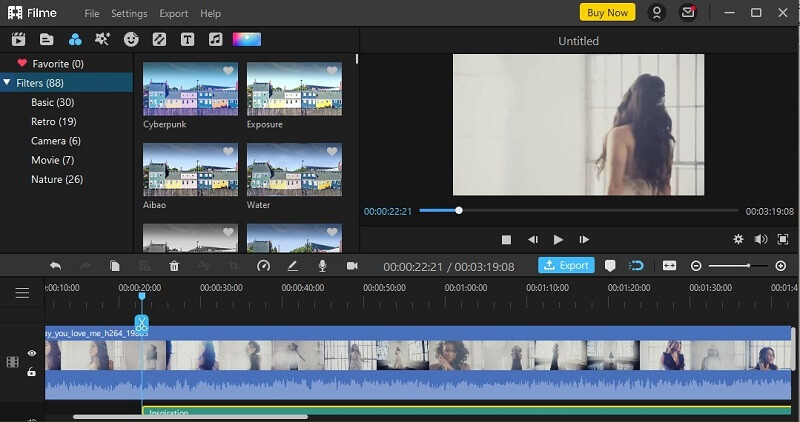 Step 5 - In this step, if you want to add effects or filters to the video to make it entertaining, this is where you do it.
Just click the Effects, Text, or Transition functions to have access to all the editing features. Add all the effects to the timeline, the way you did the audio file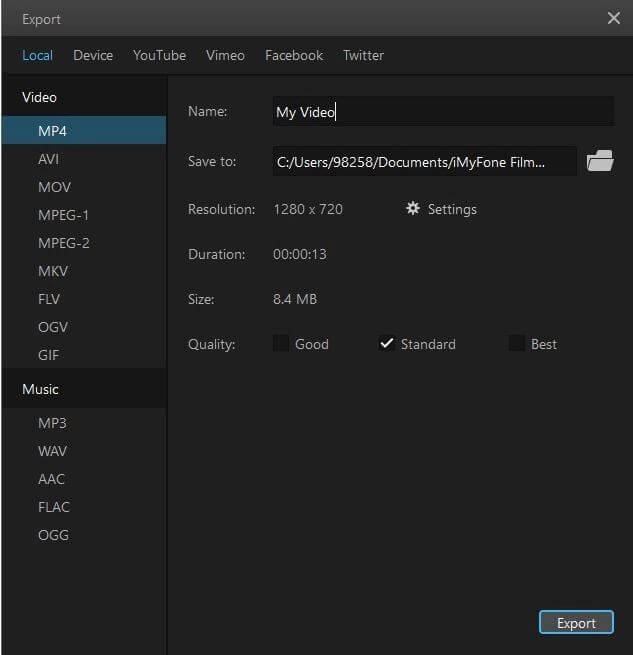 Step 6 - Make all the necessary edits to your video, and add all the 'effects' you desire. After that, you can now export the video and save it on your device.
FAQs
1. Do you have to have Apple music to add music to iMovie?
No, you don't! You can add music to iMovie from Spotify, YouTube, or even from iCloud Drive. You don't necessarily need to have Apple music in order to add music to iMovie, as you get the music from elsewhere. You just need to make sure that the music you plan on using is copyright-free.
2. How do you add music to iMovie on iPhone?
It's pretty simple actually! Once your iMovie is open on the timeline, you just need to tap Add Media function, then Audio, and then Soundtracks, where you browse all the songs available. Once you get the song you are looking for, download it. Then, tap Add Audio button to add the song to your project. The song will be automatically added and will fit the length of the video perfectly.
3. Why can't I add music to iMovie?
Could be you are not following the correct steps when adding the music, or that you are using approved audio sources including iTunes, the themes that come with iMovie, or songs that you created in other video editors such as iMyfone Filme, YouTube studio, and many others. Basically, if the song is protected by digital rights management, it can't be used on iMovie.
Final word
When it comes to adding music to a video, other than using iMovie, another great option would iMyFone Filme, which has been tested and has proved quite useful and easy to use especially for beginners. After all, for anyone with a Windows device, Filme will be the best choice for you, as its results have always been exceptional.