Creating realistic motion blur in Blender is a piece of cake, only if you know how to get to those excellent tools in the tricky layout. But if not, the video editing process can simply become nothing but hectic.
If that's the case, this is the guide you need to explore everything about how to add motion blur to videos in Blender. We have listed all the features you can use and a step-by-step guide to help you create the desired motion blue result. In the end, we have also mentioned Filme - a great Blender alternative for video editing!
Part 1. How to Add Motion Blur Effect to Video in Blender
Blender is an excellent video editor,but i would recommend iMyFone Filme , you can blur video in Filme with few clicks in 5 seconds.Filme is a much more comprehensive video editing tool. It supports a wide range of file types and offers all common editing tools, along with filters, transitions, animation, text, fast video mode, and much more, you can upload edited video to facebook,vimeo,youtube with single click. Filme has the best 4k HD support. Download iMyFone Filme below.
When it comes to motion graphics, you get plenty of options in Blender to create the effect. But before we move on, it's better to understand these options that you will find in the Render Properties tab in your Blender software.
Once you expand the motion Blender option, you will see:
1. Position
The position of the shutter in reference to the current frame determines when it opens. You can find further three sub-options in this category, and they are as follows:
Start on Frame: This option indicates that the shutter is beginning to open at the current frame.

Center on Frame: When it is "center" at the current frame, it means that the shutter is completely open and fully accessible. The center on frame option is widely applicable in most cases.

End on Frame: The "end" represents the closing of the shutter at the current frame.
2. Shutter
After the Position, there is the Shutter which you can adjust in relation to the frame. In simple words, it is time it takes for the shutter to open and close completely.
3. Background Separation
If you have blurred too much that the background and the object are inseparable, you can use background separation to lower the values.
4. Max Blur
You can control the Blur from here, either increasing or decreasing it (the distance between pixels) using the arrows on either side.
5. Step
It is the number of iterations and works in relation to the rendering time, that is, shutter.
Steps for Add Motion Blur Effect in Blender
Now, let's see how you can add motion blur to videos in Blender. Follow these steps:
Step 1: In your Blender window, go to the Render Properties and enable Motion Blur.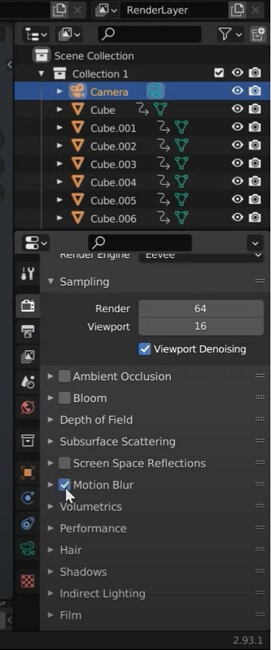 Step 2: Expand the feature to get access to the blur sub-options.

Step 3: Adjust the Position by selecting between start, center, or end. If you are unsure, try Center on Frame.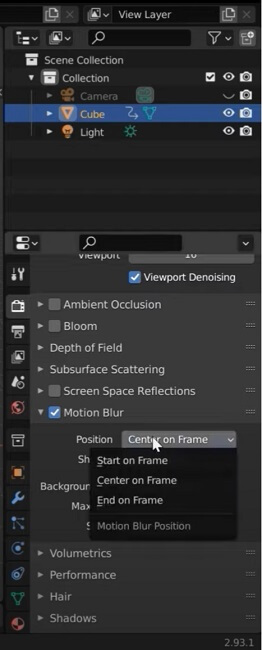 Step 4: If your objects are moving rapidly, reduce the Shutter value; otherwise, increase the value.

Step 5: Depending on how you want both the foreground or background to appear, adjust the Background Separation.

Step 6: Now, adjust how much blur you want in your video by increasing or decreasing the pixels value of Max Blur.

Step 7: If your object renders a complex topology, increase the number of Steps. If you do so, you should also increase the Shutter time. If not, keep the Step value to 1.

Step 8: Press F12 on your keyboard; the motion blur effect will be applied.
If the result is not what you want, or the blur is too much or too little, you can always play with the settings. Try changing the pixels' value, and align the Shutter with the Steps to add a fantastic blurring effect to your video.
Also Read:
How to Blur Video Background in Lightroom >>
Part 2. Better Alternative than Blender for Video Blur - iMyFone Filme
The Blender is an excellent option for those who want to bring their imagination to light. Not only can you create animation, modeling, simulation, rigging, but you also play with motion tracking, video editing, and create games. Also, it is free and comes with all the options you would need to create premium content.
However, just like there is an abundance of what you can do with Blender, only the experts can avail of all the features. Especially if you are a beginner, getting your hands on all the features can be tricky. It takes both time and extreme practice to get a fair knowledge of what the software offers.
When you are looking for an alternative, the best option to consider is iMyFone Filme editor. It is an excellent iOS editing software, and it comes with features that are simple and easy to use. You need not have any deep practice or experience to create or edit content, and since it is a newer product in the market, you can benefit from features that meet the modern requirements!
Steps for Blur Video in Filme

Step 1. Download and install iMyFone Filme.
Step 2. Import your video file.
Step 3. Once you've imported a video, you will need to drag it to your iMyFone Filme's timeline.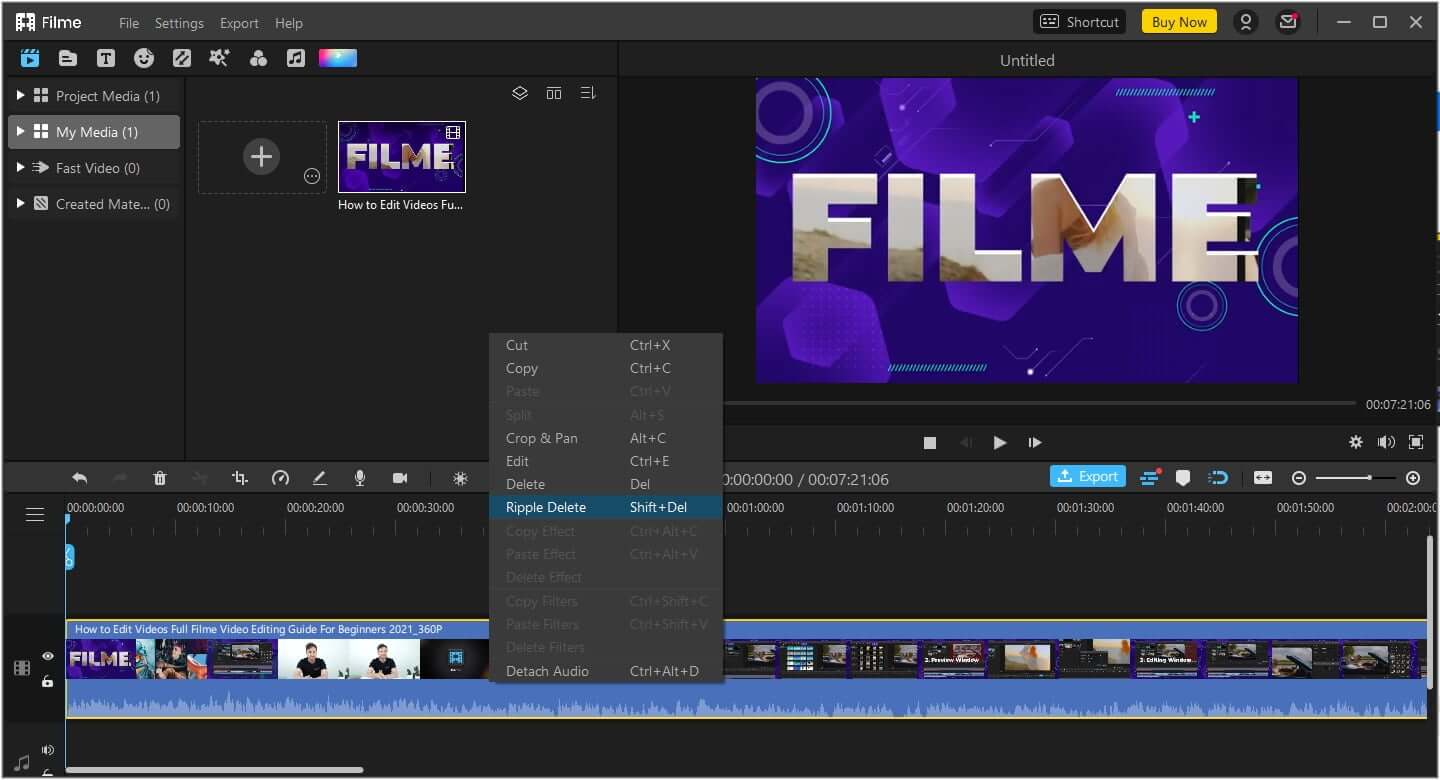 Step 4. Click edit and change blurriness properties.Now, after you click edit option,you can change blurriness properties.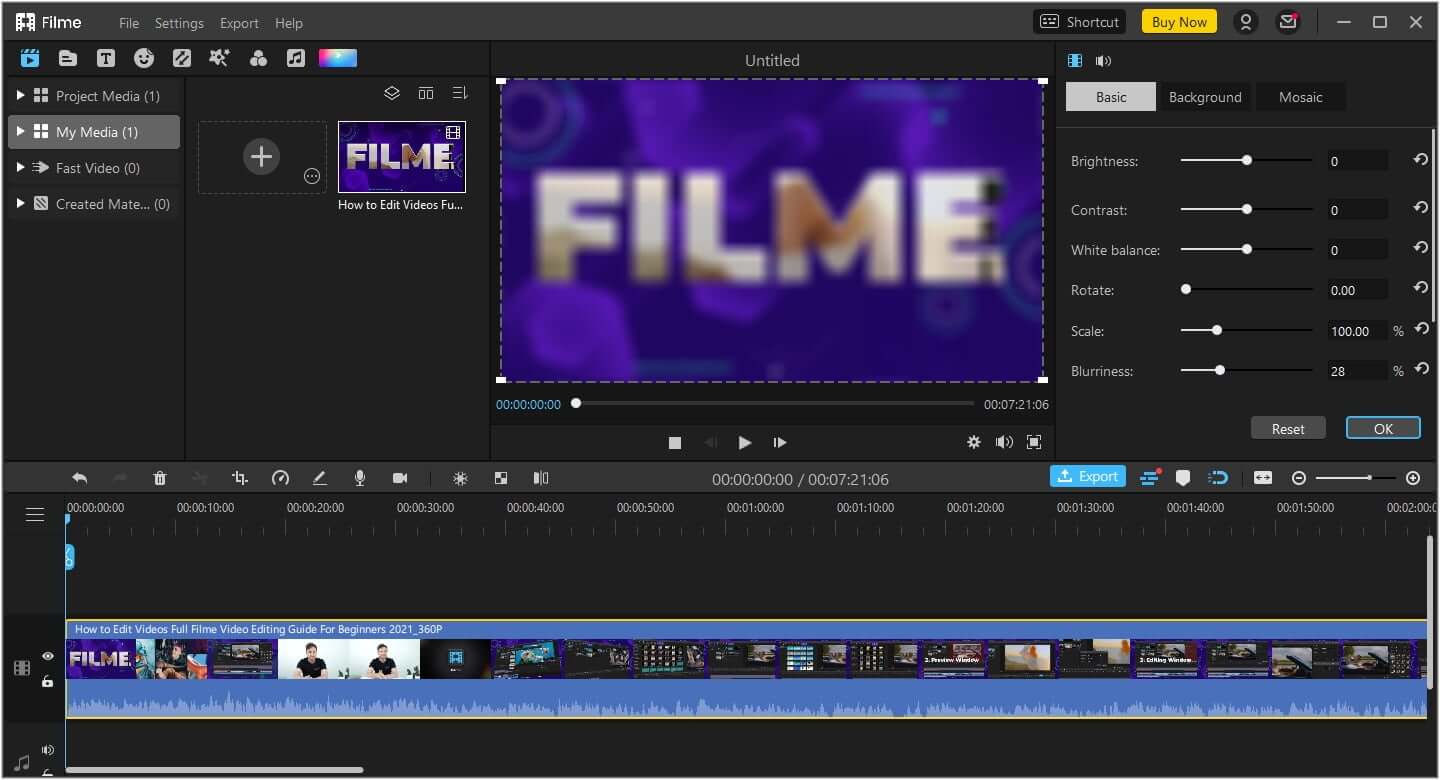 Step 5. Download the file
Part 3. Why Do You Choose Blender for Motion Blur Effect
Motion blur is the streaking or blurring of a moving object in a picture for visual impact. It's a fantastic way to capture activity in a still shot, and although motion blur can be achieved with a video camera, it is widely applied in video editing software.
Notably, the Blender is one of the most fantastic video editors in the market to add motion blur to videos. Once you learn everything about using the software, you can easily add the blur effect to your graphics. And if you don't get the desired results, you can adjust the settings as many times as you want!
Conclusion
As said previously, you can do a lot with Blender. But if you are looking for an alternative, consider no other than iMyFone Filme. It is similar to Blender in editing videos yet has a very simple layout, unlike Blender. You can use Filme like a pro, whether you are a beginner or expert since it is designed to offer features just a click away.
You cannot get enough of Filme; Either create your required content or choose from various pre-added templates. Filme is not just software to create pro content but also comes with essential video editing tools like crop, split, rotate, and more!
Filme also offers multiple effects, filters, and animations to let you top-notch your editing skills. You can add transitions, cinematic texts, play with fonts and colors, and change the audio/sound of your videos. Filme also supports a picture-in-picture video effect and lets you record on-screen presentations with screen recording.
What Else? With Filme You Can:
Edit the video using premium tools and get a live preview along with the editing.

Create fantastic videos with multi-layering features; create as many layers of videos, audios, or pictures.

Use the Detach tool to edit audio/sound independently from a video clip.

Make changes to the video's aesthetic or mood.

Lastly, Filme supports both Mac and Windows and comes in three great packages: monthly, yearly, and a lifetime package that is a one-time purchase and gives you access to all the features for as long as you want!