People flip an image for a variety of reasons. However, professionals purposefully flip an image to reflect it effectively. The experts apply this technique to improve results or to shift the attention in an image. Through an image flip technique, we can also create complicated and beautiful patterns.
In this article, we will show you how to flip the image in Photoshop. Moreover, we will also share how you can flip only layers or individual objects in an entire image.
Read the entire article to learn about the other brilliant image and video editing software that can effectively flip an image in just three minutes.
Flip an Image – Photoshop [Most Professional Tool]
Adobe Photoshop is a raster graphics editor for Windows and macOS developed and marketed by Adobe Inc. The software has been "the industry standard" in raster graphics editing and digital art since it was released in 1988.
The best photo editing software allows users to create, edit, and modify images and digital art. It also lets you generate and modify multi-layer raster pictures and import them in a variety of file formats. Let us have a look at numerous features of this fantastic image editor,
In this tutorial, you get to learn: how to flip an image on Photoshop; and how to flip an image layer Photoshop, making your editing experience more efficient. The same tutorial will tell you how to flip your image in Photoshop cs5.
Option#1: How to Flip an Entire Image or Canvas:
Following these steps, you can flip an entire image (canvas). In Photoshop, your canvas is just everything inside the dark-gray border that surrounds the image.
Step#1: Open Photoshop and Upload your Image:
In Photoshop, go to File Menu, and from there, open the image you want to flip. Alternatively, go to the image directlyright clickopen withPhotoshop.
Step#2: Go to the "Image" menu to flip an image horizontally: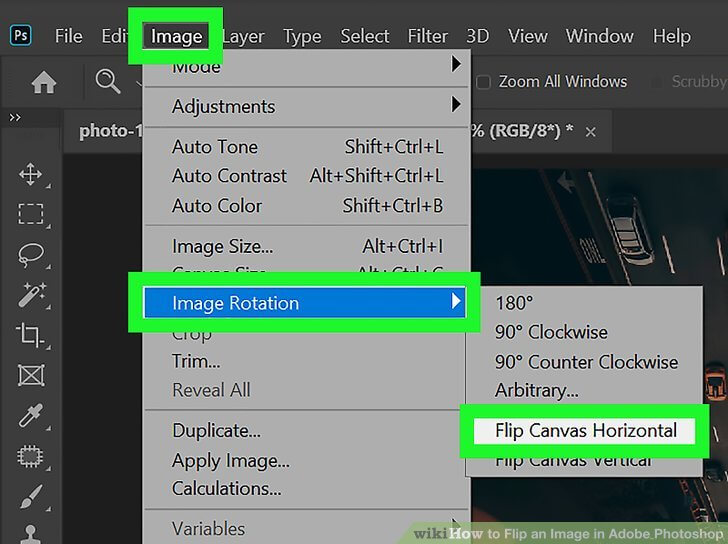 From the top menu bar, click the "Image" tab. Click "Image Rotation" in the drop-down menu, and then click "Flip Canvas Horizontal." 
Step#3: Go to the "Image" menu to flip an image vertically: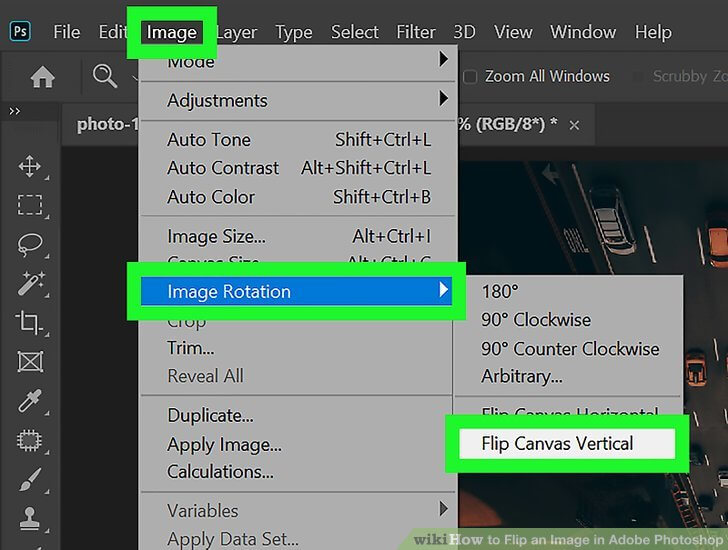 Follow the above steps until "Image Rotation," then click "Flip Canvas Vertically."

Note

Different versions of Photoshop uses different words for the same functions. For example, previous versions have "Rotate" rather than "Image Rotation."

After you flipped your images in Photoshop,if you want to make a slideshow for all your flipped photos, or if you want to add splendid filters to your images and share them to other website like facebook,vimeo,youtube with single click.You can download iMyFone Filme on PC to flip your images and edit them together, even create a video now, after you flip and edit your images,you can upload to Tik Tok, Youtube, Instagram and amaze your friends and fans.
Option#2: How to flip Part of an Image in Photoshop?
Photoshop gives you the option to flip lone objects in an entire image or only part of an image by isolating and flipping layers instead of the entire canvas.

Step#1: Choose the layer you want to flip:

Firstly, to flip an object, isolate it into its own layer. To do this, simply choose that particular layer in the layers panel.

Step#2: To alter the image, select "Free-Transform Mode":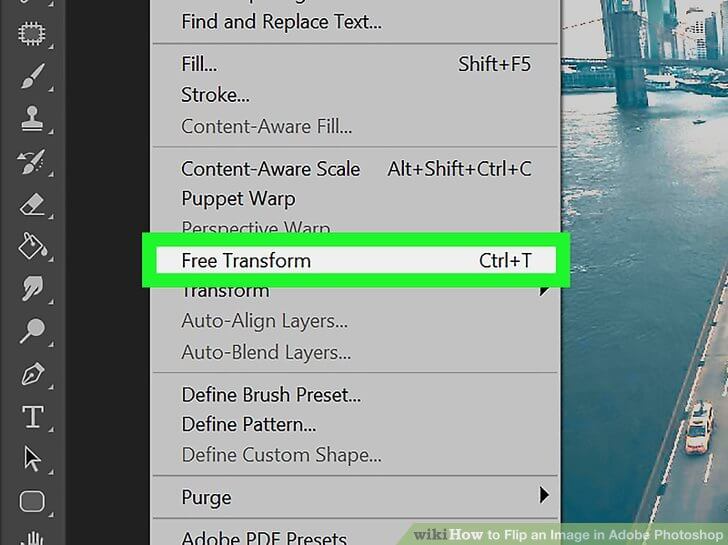 From the top bar, select "Edit," then "Free Transform." Alternatively, press Ctrl+T for PCs or Cmd+T for Macs with the correct layer selected.
Free transform creates a box around the element. Then you can rotate, stretch, shrink, or flip it quickly.
Step#3: To access the flip options, right-click on the Free-Transformed image: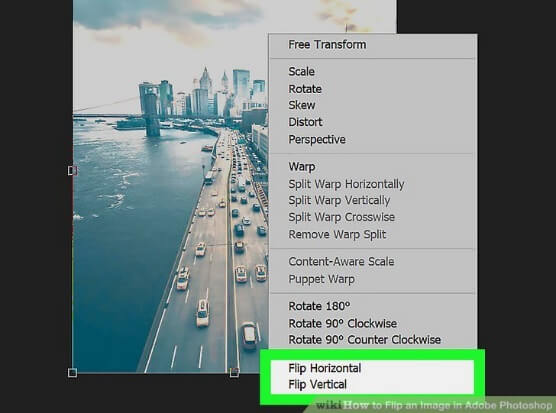 In the drop-down menu, the flip options are located at the bottom. Choose the "Flip Horizontally" option to switch the image's right or left sides or "Flip Vertically" to flip the image from top or bottom.
Step#4: To keep the free transformation, press "Enter."
Once you are satisfied with the transformation, press enter to save the image in the format you've chosen. You can also end the change by double-clicking inside the box.
Flip an Image – iMyFone Filme
iMyFone Filme is one of the most user-friendly video editing programs for your computer. It's excellent for generation Z and Millennials trying to save time, and it's available for both Windows and Mac.
The tool's user interface is straightforward; it operates without glitches and creates high-quality images and videos. Check out the below-mentioned features of Filme to learn the capacity of this fantastic software.
How to use iMyFone Filme to Flip an Image?
Step #1: Download the software
To begin editing like a pro, open, download, install, and execute the software.
Step #2: Select an image from the Media Library and upload it:
To add the image, click the "+" symbol or the "Import" button on the interface. Then drag and drop the image over the timeline.
Step #3: Click on the Mirror icon on the tool bar to flip your image with single 1 click!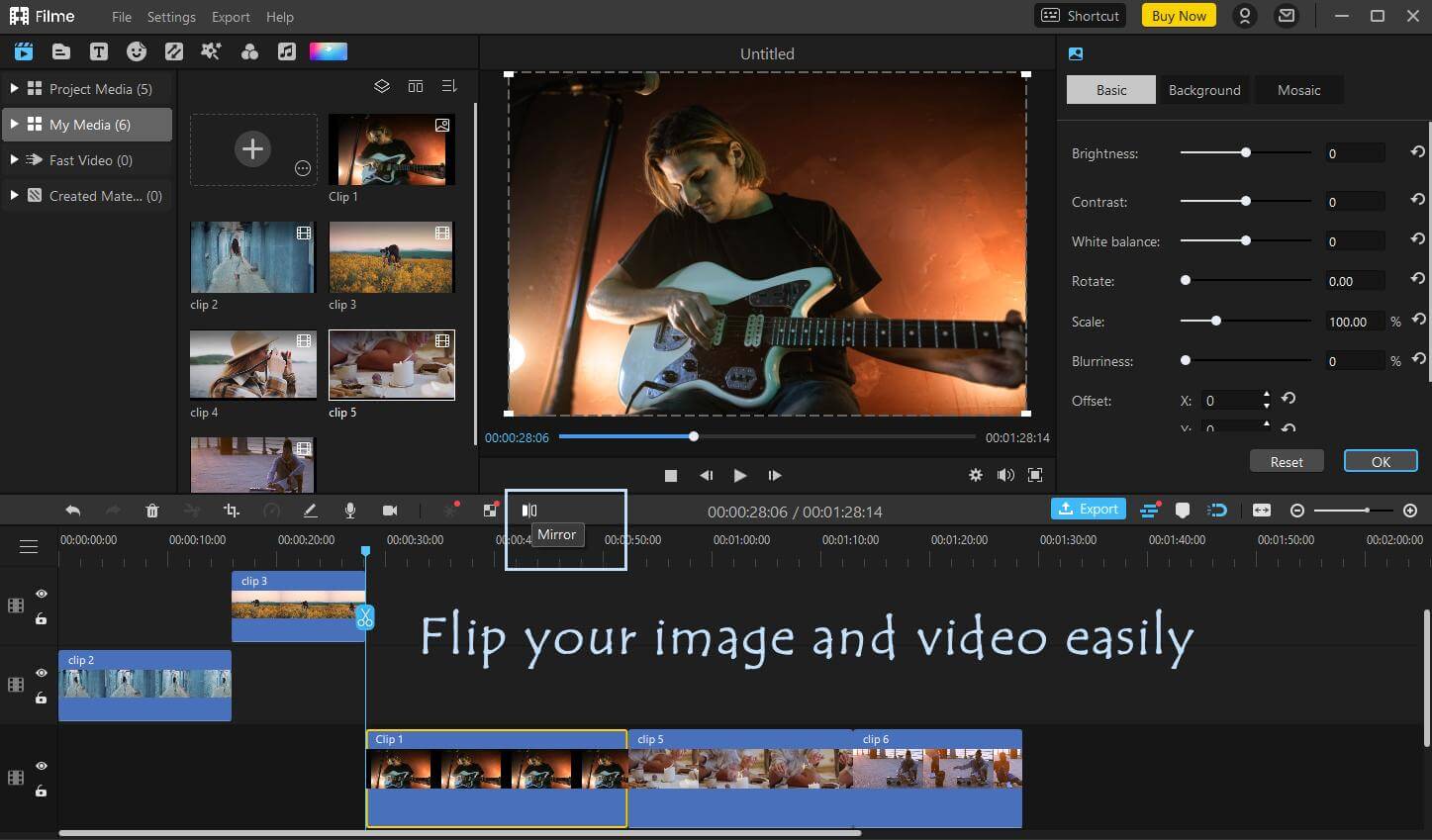 Step #4: Export your flipped image or video to social media!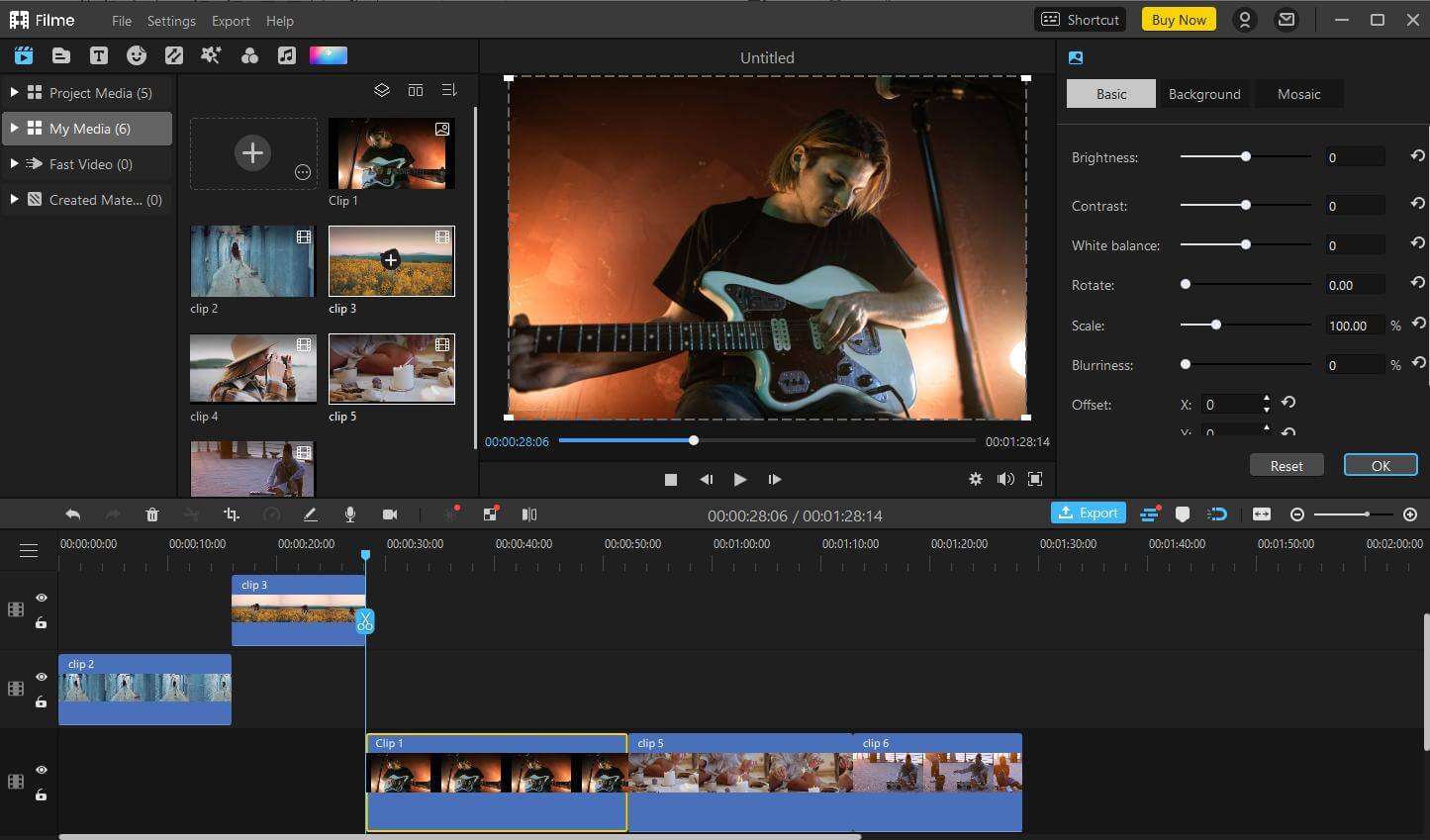 After flipping an image, you can do a screenshot to capture the flipped image.
Currently you cannot export images directly in Filme, yet Filme is a useful tool for you to flip images and then place them in a video. After you do so, you can export the video with your flipped images in it.
Features
Filme provides editing tools ranging from beginner to advance.

Its high-graded features include a Fast Video Mode and a Picture-in-Picture effect option.

It allows users to edit professional videos with built-in effects, templates, and slideshows.

Captions for photographs or videos can be added using a variety of cinematic text and titles.

It has 170+ built-in effects, 110 transitions as well as in-built 50+ music royalty free tracks.

It features amazing templates for all kinds of celebrations and events. It includes templates for Christmas, Homecoming, New Year, and other holidays.
People Who Liked this Content Also Liked
Learn How to Rotate/Flip Video in Adobe Premiere Pro >>
How to Rotate Video on Facebook & Video Rotating Tips >>
6 Easy Ways to Rotate Video on iPhone >>
5 Effective Tips to Flip an Image in Photoshop Easily
Things do not always go as expected when flipping an image and problems can occur in your flipped Photoshop image. Here is a simple troubleshooting guide to assist you in resolving them.
Tip#1: Find the Flip Option Easily:
If you can't find the flip option in Photoshop, it's possible that you have a different version of Photoshop installed. In such case, go to the top menu bar, click "Help" and type "flip" into the search box. Photoshop can assist you in locating this function.
Tip#2: Avoid flipping Text or Logo with Image:
When you flip an image, the logo, watermark, or text flips with it, rendering it unreadable. In this scenario, instead of flipping the entire canvas, you only need to flip a layer. The tutorials above will show you how to flip a layer in Photoshop.
Tip#3: Right Side is not Always Right:
Sometimes when you flip an image, it does not appear correct. In this case, you need to try flipping on another axis. The outcome varies depending on whether you flip the image along the vertical or horizontal axis.
Tip#4: Don't Confuse Flipping with Rotating:
It is simple to get these features mixed up, yet the outcomes are vastly different. Consider rotating the image as though you were tilting your head. It is as if you are staring in the mirror when you flip an image. If you still do not understand the difference, seek up how to rotate a layer in Photoshop.
Tip#5: Check Tutorials to Learn Better Editing:
We are accustomed to seeing people in specific ways, and flipping a snapshot might make them appear awkward or strange. You may learn more about how to Photoshop people's images to make them look more natural by reading tutorials.
How to Reflect an Image in iPhone?
With the increase in demand for creative and unique images, the demand for instant edit is also on the rise. Therefore, you should know how to flip an image in iPhone to apply a reflect effect on your images. The simplest solution is to flip your selfie using your iPhone's Photos app, which you undoubtedly already have and are familiar with. Here's how to quickly make a mirror image:
Step#1: On your iPhone, open the Photos app.
Step#2: Select the photo you want to edit and press the Edit button.
Step#3: At the bottom of your screen, select the crop symbol.
Step#4: In the top-left corner, tap the flip icon (a bisected triangle). This will make a mirror image of your photo.
Step#5: To save your mirror image, click Done.
Conclusion
If you are a graphic artist, designer, publisher, or photographer, you may find that you need to flip an image at some point. Whether you are flipping the entire image or just a layer of it, Photoshop can make it happen.
The flip function and other basic editing are possible using Photoshop. Still, it was developed primarily for professionals, and people find it hard to learn fast. Many beginners choose new softwares for editing because they are quick and user-friendly. Therefore, we recommend you to use iMyFone Filme instead of Photoshop to flip images efficiently without any expert knowledge.