HitFilm Express is an advanced tool that can be used to make professional-grade videos for free. Yes! It is a free tool that you can download and use its features. Along with advanced editing features, you can also make basic edits, including flipping a video. In this article, we will have a look at the complete method of flipping a video in HitFilm Express. For your ease, we will share a simple and user-friendly tool that beginners can use for flipping a video and basic to advanced video editing.
HitFilm Express: How to Flip a Video Clip Horizontally and Vertically
HitFilm Express is a professional-grade video editor that can help you create amazing and breathtaking videos. It has exceptional features to make your videos more than amazing. It supports VFX, 3D editing, motion tracking, and many other advanced editing features that can take your video editing to the next level.
There are professional video editing tools in the software. You can flip your videos within one click, whether horizontally or vertically. Let's have a look at the simple steps to flip a video in HitFilm Express.
Step 1: Create a New Project
Open HitFilm Express on your PC. On the top left corner, you will see New; click on it. It will open a new window. You can select resolution, frame rate, aspect ratio, sample rate, and other settings. Click on OK.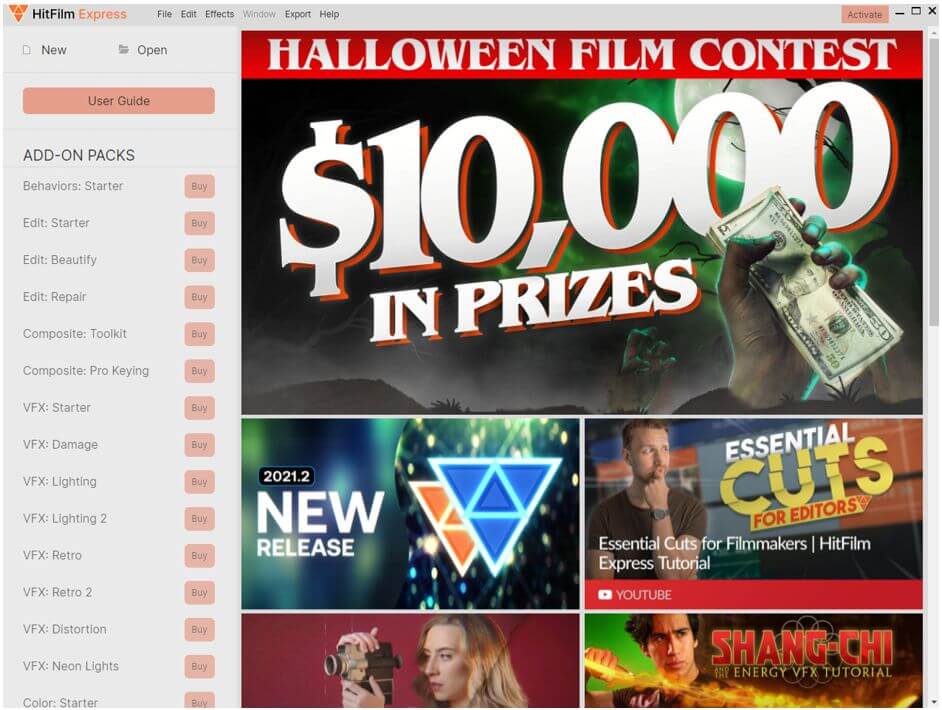 Step 2: Import Video
You will have the video editor screen. Now, you need to import the video. At the bottom left, you will see the Media tab. Click on Import. Select a video from your computer. The video will appear in the project media, and you need to drag it to the timeline.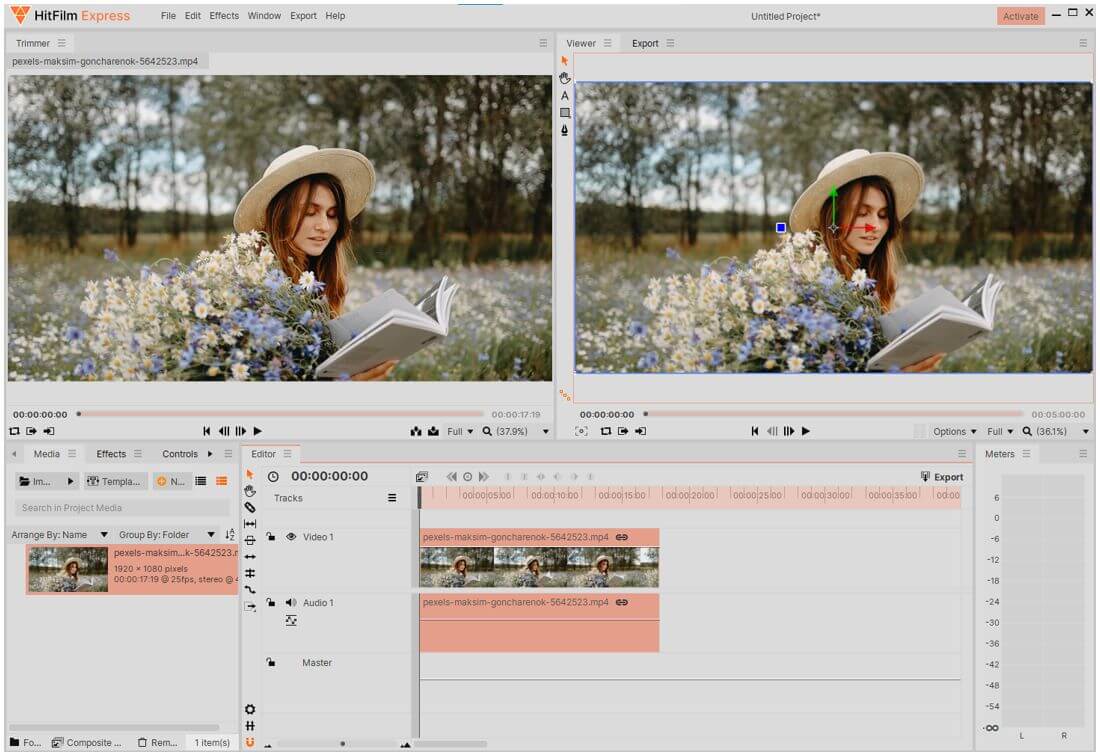 Step 3: Flip the Video
You are ready to flip the video. Go to the Controls tab on the bottom left of the screen. You will see the scale option, and there will be two values as 100%. The left value is for horizontal, and the right one is for vertical. You just need to change 100% to -100% to flip the video.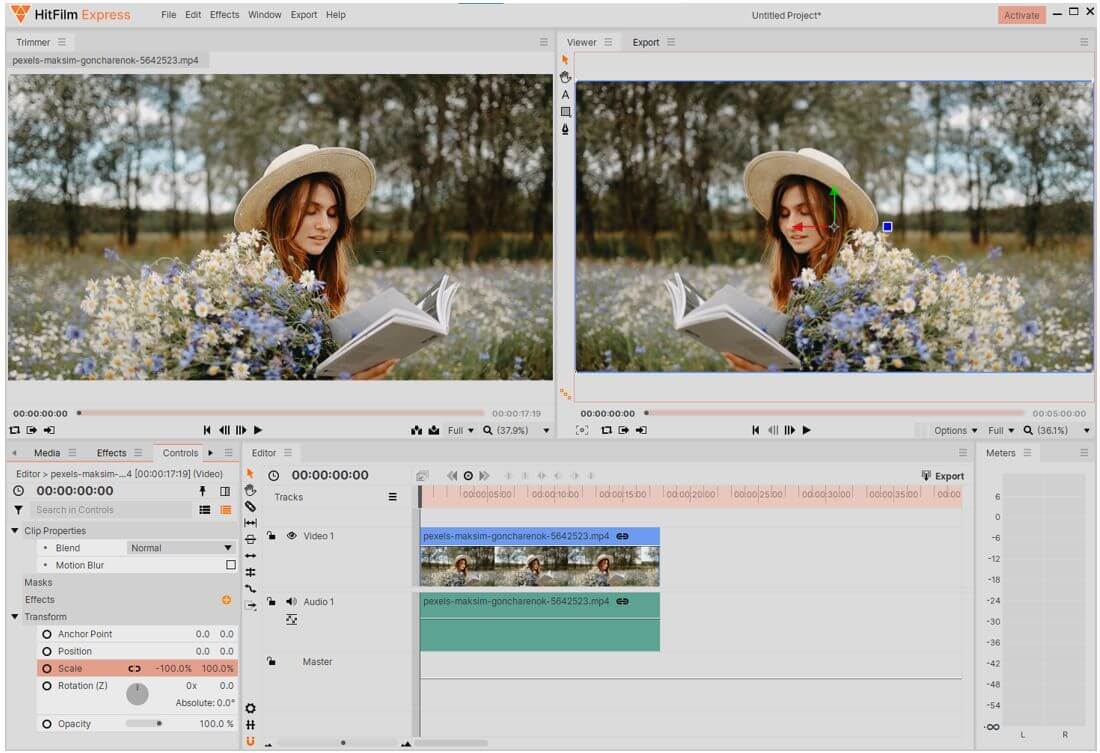 Note
Make sure that the values are not linked together; otherwise, they will change simultaneously. Click on the link button to unlink them.
Step 4: Export the Video
Click on the Export button above the timeline. Click on To File, select the destination, and save the video.

Pros:

HitFilm Express is available for both Windows and Mac.

It is a free video editor, so you can download it and use it for free. But there are some advanced features that you can buy if you want.

You will find almost every tool you need for video editing.

Flipping a video is easy and simple.
Cons:

It is an advanced tool, so it is not suitable for beginners.
Better and Popular Choice for Video Flipping and Editing: iMyFone Filme
iMyFone Filme is a beginner-friendly video editor that does not require prior experience or any knowledge of video editing. It is perfect for beginners and professionals for making high-quality and catchy videos.
Filme is a complete and versatile tool that has everything for basic and advanced editing. It is a combination of a video editor, audio editor, voice changer, screen recorder, slideshow maker, and presentation maker. You can make almost any kind of video for any purpose.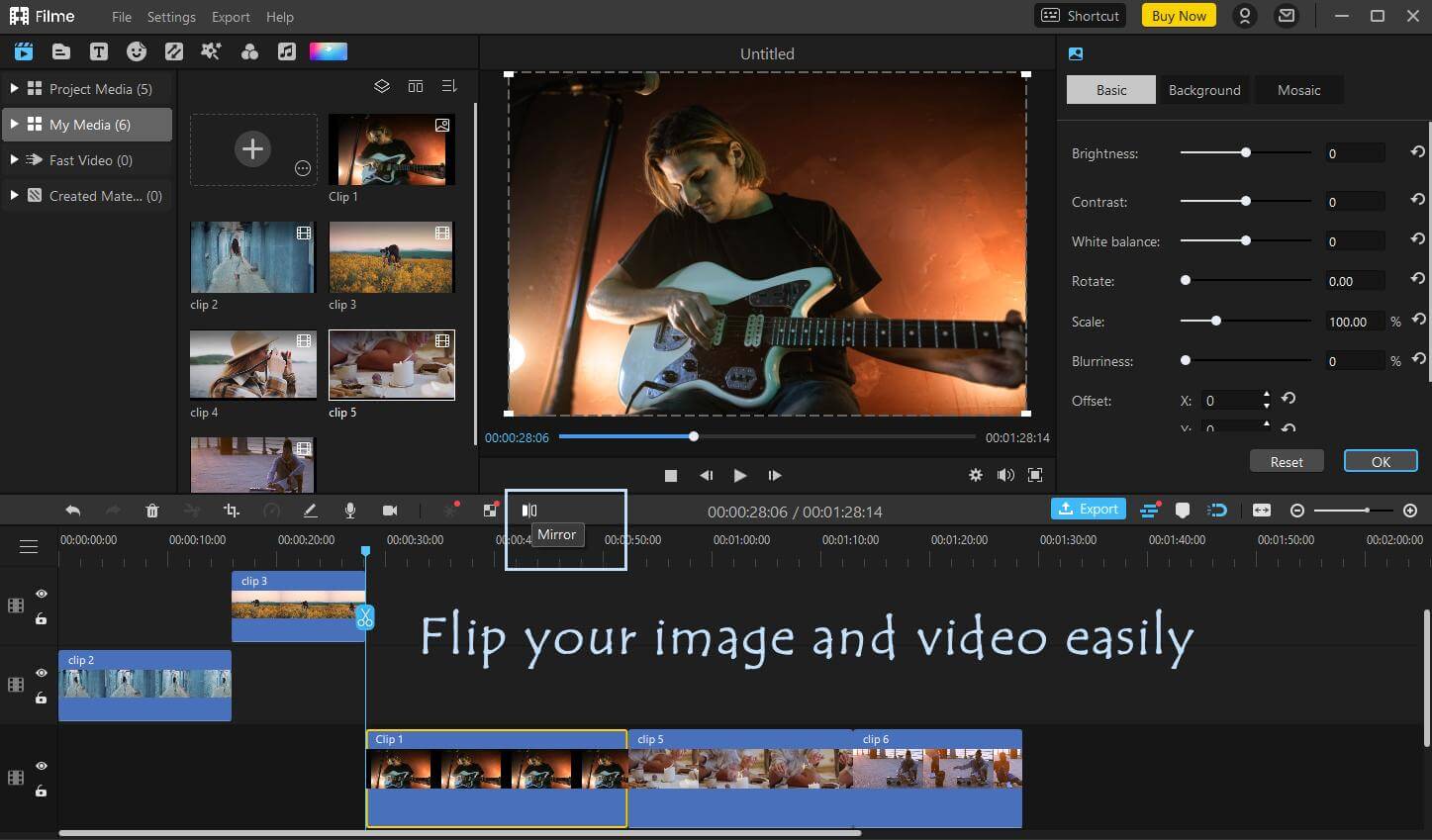 Key Features:
Filme can export high-quality videos up to 4K. You can adjust the resolution, frame rate, bit rate, and other settings.

There are libraries for transitions, filters, effects, backgrounds, sound effects, stickers, and text styles. You can easily pick the one you like and add it to the video instantly.

There are dozens of templates for creating amazing slideshows. You just need to pick a template and add images to it.

It is perfect for creating social media videos. You can adjust everything according to the requirements of the platform.
Step 1: Create a New Project
Open iMyFone Filme on your computer. Click on Editing Mode to open the video editor. Go to File>New Project and create a new project by selecting an aspect ratio.
Step 2: Import Media
From the media menu, you can import the video that you want to edit. You can also import other media. Click to import from your computer and select the files. After that, drag the video to the timeline.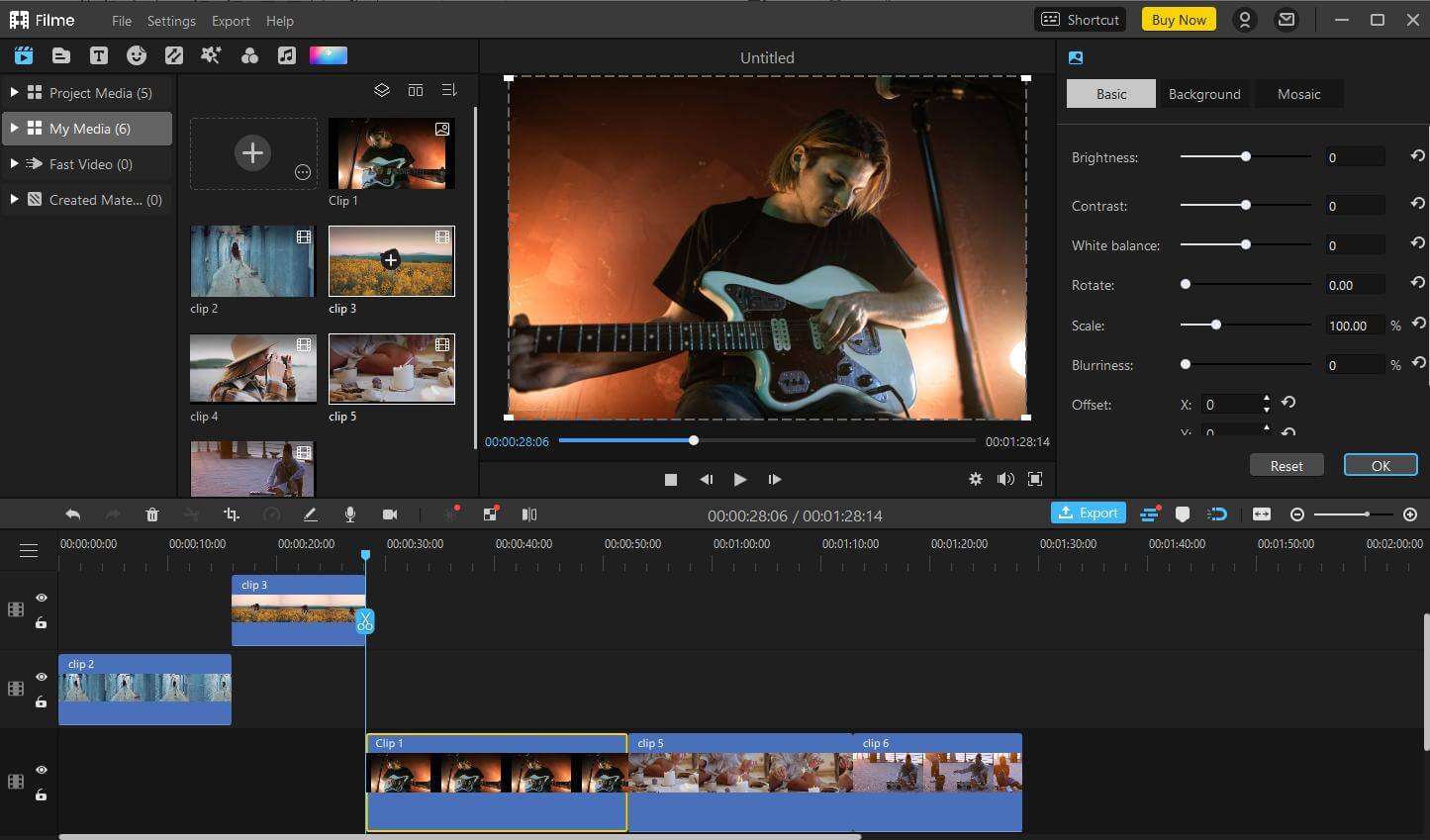 Step 3: Flip the Video
You are ready to flip the video. Above the timeline, you will see the Mirror button. Click on it, and your video will be flipped in no time. If you want to rotate the video, double-click on it on the timeline, and you will have editing options on the right of the video preview. Adjust the rotation.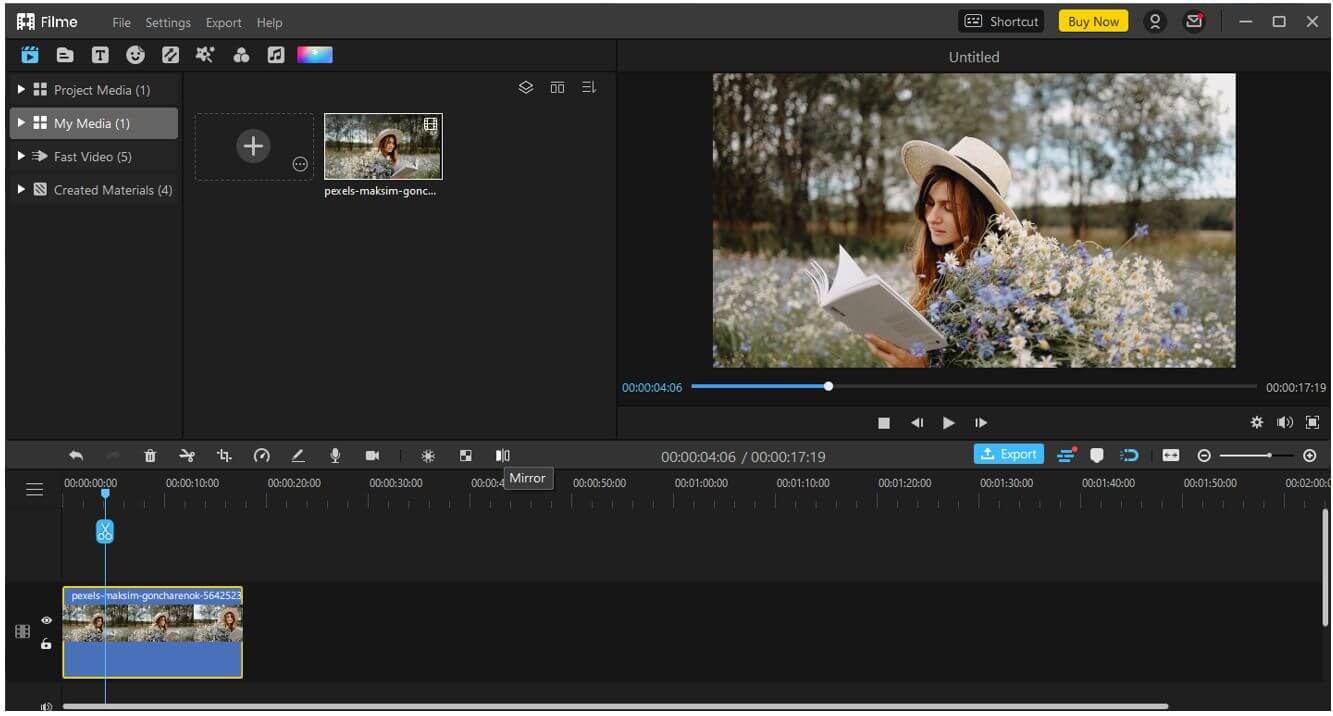 Step 4: Edit the Video
Now, you can edit the video to make it more appealing. You can add effects, transitions, music, sound effects, stickers, filters, and text. Go to the menu and select anything you like.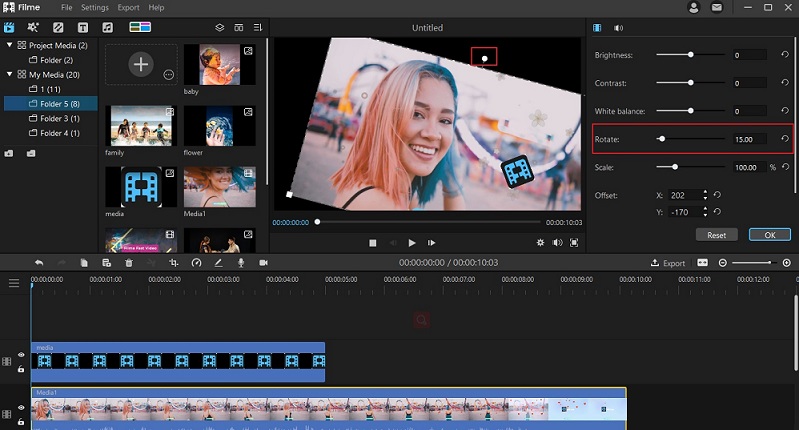 Step 5: Export the Video
Click on the Export button and export the video in the desired format.
People Who Liked this Content Also Liked
Top 5 Video Flippers to Flip a Video and Photo Online Fast in 2021 >>
How to Flip a Selfie Video? [Online/ Win/ Mac/ Android/ iPhone] >>
6 Easy Ways to Rotate Video on iPhone >>
[10 Things] Everything You Need to Know about HitFilm
1) Export High-Quality Videos for Free
You can download HitFilm Express for free from the official website. You don't need to pay anything, but if you want to buy a premium package, you can also buy any of their available plans. With the free version, you can export high-quality videos up to 4K resolution, and there won't be any watermark on the final video. However, you need to keep in mind that you need to get a free license; otherwise, there will be a watermark. After getting the license, you can use the exceptional feature for free and create awesome videos.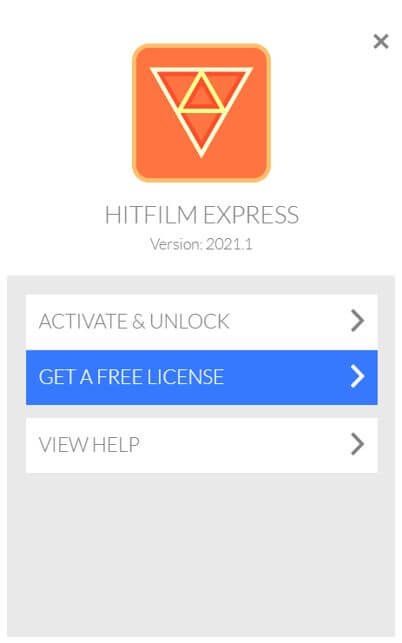 2) Project Settings
When you create a new project, HitFilm allows you to adjust the settings as you like. You can adjust the resolution, duration, frame rate, aspect ratio, sample rate, and rendering settings. Thus, you can make videos according to your needs and the requirements of social media platforms. The best part is that you can save the settings as a template to use them later.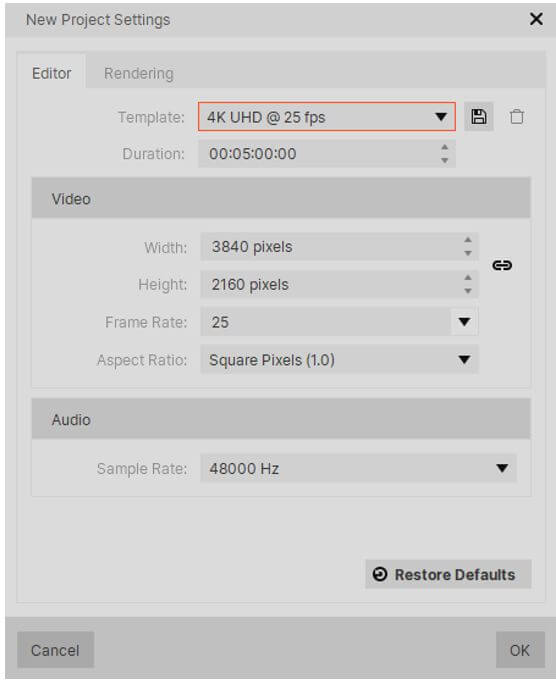 3) Proxies
Proxies make the experience of the user smoother than ever. You might have seen lags in the preview of the videos after editing them. It is because of the huge files and high-quality resolution. HitFilm has solved this problem. You can use proxies in HitFilm, and you can create high-performance and high-quality proxies. The proxy will create a lighter version of your video to offer a smooth editing experience.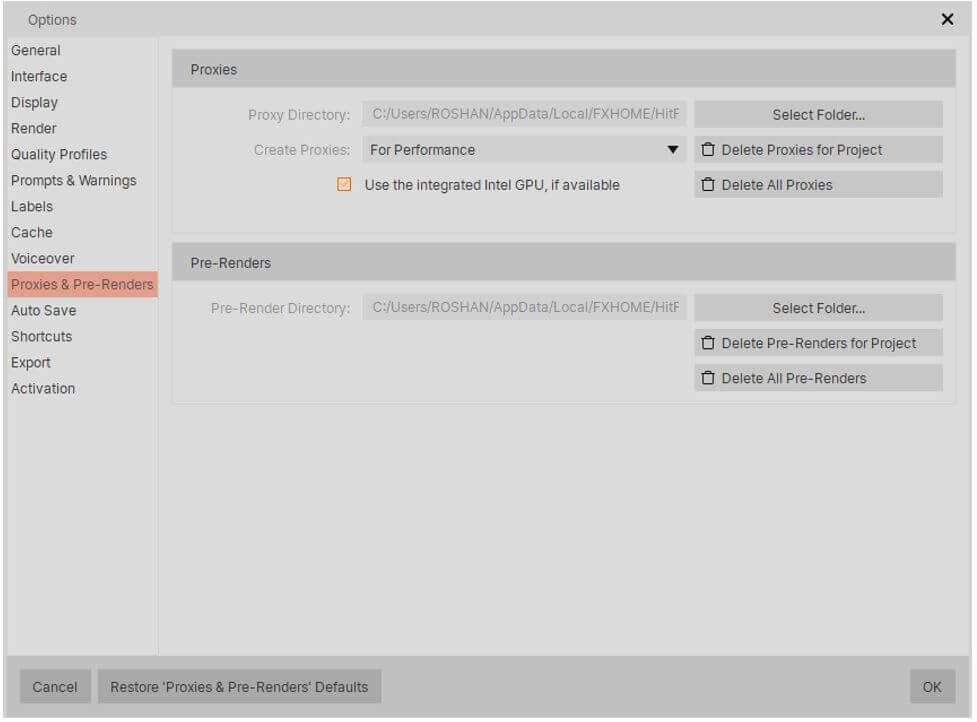 4) Timeline Cache
The latest version (2021.2) of HitFilm has a new feature, which is called Timeline Cache. You will see the option on the left of the export button. It offers a smooth real-time playback, and the cache is stored along with the project, or you can also save it whenever you want.
When a video editor renders every frame during editing, it lags and creates a problem for the user, but due to timeline cache, the computer displays the pre-rendered frame for a smoother experience. Thus, even if your hardware is not competent, the timeline cache will offer a smooth experience.
5) Open in Trimmer
This is also a new feature in the latest version. We know that the trimmer in HitFilm allows you to see the project videos separately, whether they are on the timeline or not.
With the help of this feature, you can open any video from the timeline in the trimmer, and the video will start from the frame where your playhead is.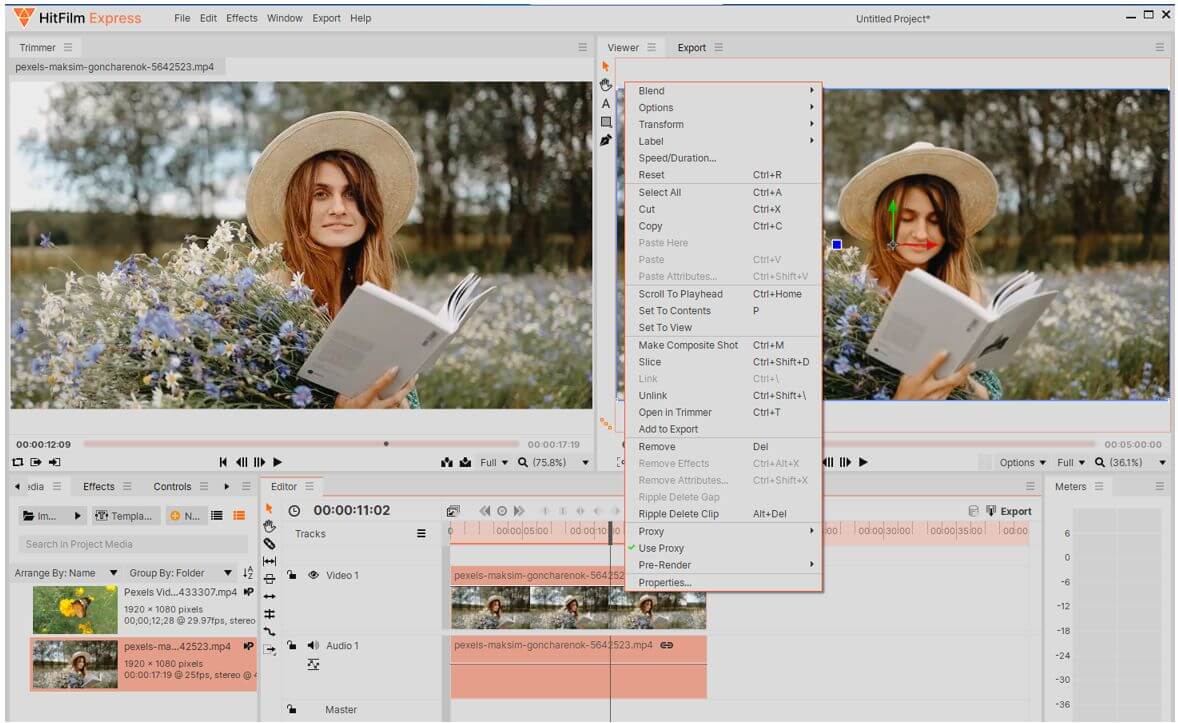 6) Keyboard Shortcuts
The keyboard shortcuts of HitFilm make the editing faster and easier. The user should look at the shortcuts to master them and use them while editing. There are many shortcuts available, and HitFilm updates and adds more in the new versions. If you want to look at the shortcuts, you can follow this link.
7) Multiple Tracks on the Timeline
The tracks on the timeline allow you to add and mix media at the same instant. HitFilm supports multiple audio and video tracks. You can also insert a new track whenever you want. You can rename tracks, lock them, mute them, or adjust other settings.
8) Audio Effects
The audio effects of HitFilm are advanced. You can change the whole audio according to your needs. The best thing is that you can add a doppler shift in the sound to create an effect of moving objects. The audio is adjusted along with the moving objects; thus, it mimics the real sound. It has all the parameters to calculate the doppler shift and implement it on the audio.
It also offers echo editing, equalizer, and noise reduction features. Moreover, you can also change the pitch of the audio to make it sound different.
9) Visual Effects
HitFilm is an advanced video editor, and it has its own library of visual effects. You can make your simple videos cinematic and eye-catching. There are 350+ effects available, and you just need to pick a suitable one for your video. After selecting, you just need to drag and drop the effect to the timeline. The best part is that you can also tweak the effects and make them as you like.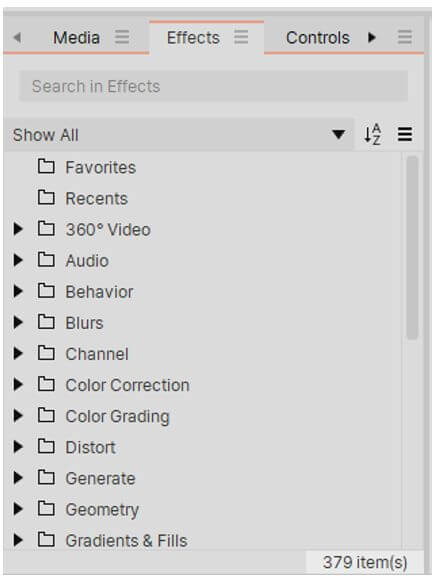 10) Compositing
HitFilm has powerful tools for video compositing. It supports 2D and 3D video compositing along with 3D object rendering. It has every tool for compositing, but you need to learn everything before you implement it. It is a bit complex.
Conclusion
With just a few simple steps, you can effectively utilize HitFilm Express video rotation function and adjust the orientation of your video in a matter of seconds.
However, I suggest giving iMyFone Filme a try if you're looking for the best and easiest video editing software that can handle all of your editing needs. Filme is a full-featured video editing programme that allows you to accomplish your goals with little effort. It can quickly rotate all of your Social Media videos, as well as a variety of other clips.
By using Filme, you can also edit images. You can turn dull and plain images into vibrant and artistic canvases from Filme's various essential to advanced pro-editing tools.