As you introduce new video productions, companies, and techniques, you'll likely discover yourself wanting to use camera shaking in your video. Using the "shaky camera" concept is more complicated than simply moving your camera around. In reality, to truly pull it off successfully in respect to focus, positioning, and so on, requires a lot of patience and coordination.
If you've chosen to film from a tripod and therefore are searching for a technique to apply a camera shake effect to your movie, you've come to the right spot.
Part 1. [Eaiest Way]Apply Camera Shake Effects using iMyFone Filme
iMyFone Filme is indeed a powerful free video editing application for Mac and Windows that enables you to make videos and slideshows without need the for expert video editing experience.
It can also be used to fake the camera shake effect in a video. The program includes a simple interface enabling people to quickly drag and drop the whole clip or portions of it to link them & make a single fascinating film. Designed for both novice and experienced people, iMyFone Filme is a user-friendly video editing application.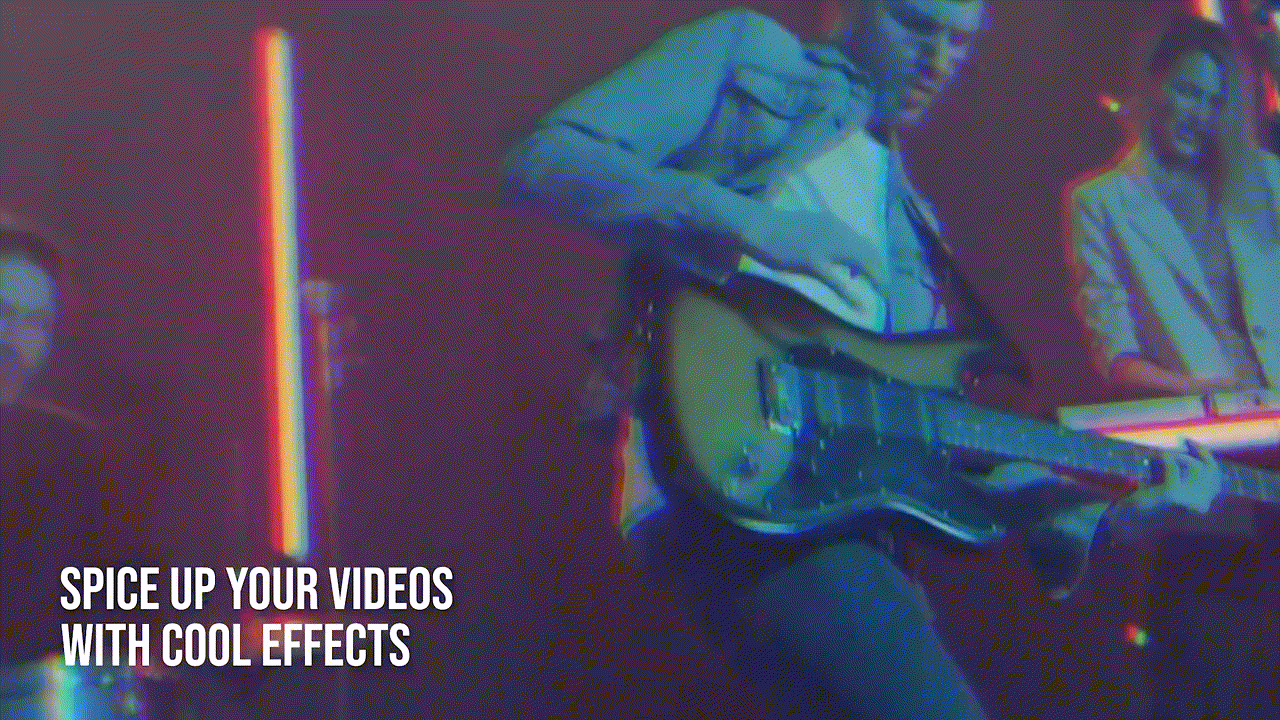 How to apply camera shake effect with Filme
# Step 1: Download and install Filme on your device.

Get 1-Month FREE License (Limited Time) >>

# Step 2: Run it and click on File from the main toolbar to upload the video.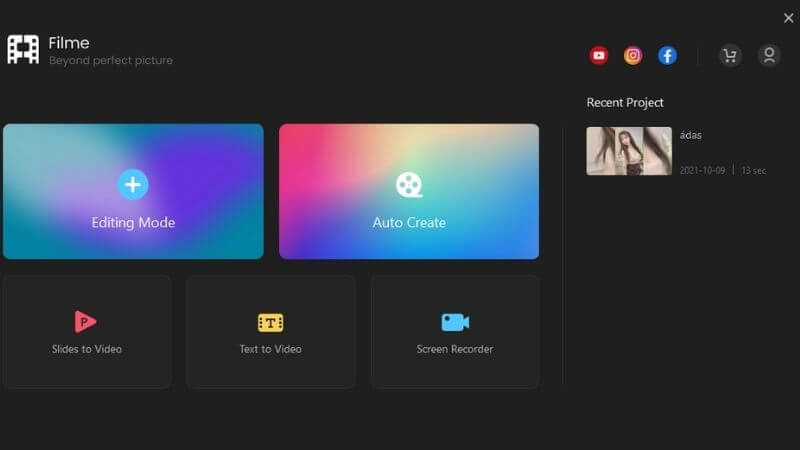 # Step 3: Click on "Effects" and scroll down to locate the "Shake" effect. Click on the "+" sign to apply it.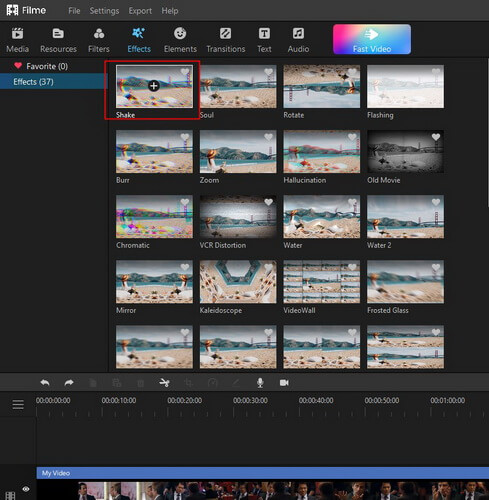 # Step 4: The fake camera shake effect will be applied instantly. Then you can export the video.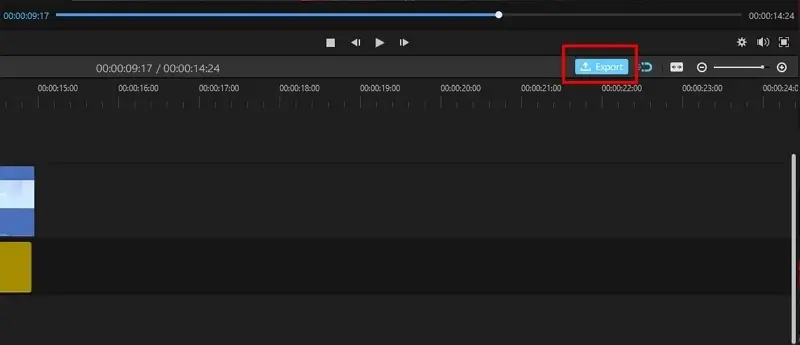 Also Read:
Features of iMyFone Filme
Tons of effects are available
The software has a number of useful effects which can be applied to the movie as required. It can make them more intriguing and visually appealing. Select from dozens of different effects, such as VHS effect, old movie effect, etc. Add them to the entire or a portion of the footage, and enjoy the results.
Elements
It has around 100 elements that you may use in your films and photos. The elements are classified under Holidays, Movies, Emotions, Symbols, Overlays, Trips, and Badges.
Editing Features
Filme offers some editing tools and features like Cut/trim, crop, divide, rotate, change frame rate, create picture-in-picture effects, as well as other features. It allows you to make anything you want.
You could apply transitions, make dramatic text elements, and integrate music to the videos to make the best video.
Fast Video Mode
Using fast video format, you can make great videos quickly without bothering to do any substantial processing. You have to choose a template, upload files, and you're ready to start. There are layouts for weddings, birthdays, holidays, travel, education, and businesses, among other things.
Part 2. Add Camera Shake Effects in Premiere Pro
Watch this video to learn how to use Premiere to fake camera shake effect:
Initially, utilize the video to construct a clip in Premiere where you want to apply the camera shaking.
After that, put a little camera shaky video and an online shaken video or any section of your original video that isn't stabilized. Overlay this shaky clip on top of the tripod shot.
Now, cut all the shaking and sequential videos to equal duration, select them, and nest them by right-clicking and selecting "nest" from the menu. Head to the Effects section once your sequence is complete.
It will go to the VFX warping stabilizer. It should be dragged over the nested series.
Choose the size, orientation, and rotational technique from the Warp Stabilizer menu in Effects Settings.
Double-click on the nested film to view both portions of the video series.
Search for eyes in the timeline's left section.
You can start making the video hidden and leave only the tripod video, select the eyeball that corresponds to the camera shake clip. Returning to the nested shot, you'll notice that the warp stabilizer has been added to your tripod shot.
Part 3. Fake Camera Shake Effects with After Effects
Watch this video to learn how to use After Effect to fake camera shake effect:
1. Use the Wiggle Expression
To utilize any kind of expression, you must first select that parameter and keep the timer for that parameter displayed. Now, while holding alt, hit the parameter's timer. You'll notice a message box emerge all along with the timeframe for that particular parameter. This is where you will enter a phrase and numeric expression. Since you'll be telling the location variable to wiggle, the expression you'll be entering is termed a wiggle expression.
Using an open bracket, divide what comes ahead from the wiggling phrase. You'll insert two integers divided by a comma and no space within the open bracket. The parameter tells After Effects how often you would like the wobble to occur as well as how much actual region, in pixels, you need the location to wiggle in.
2. Getting Rid of Scaling Problems
However, there is a minor issue. The video's borders are apparent, and you can tell that it's only a synthetic wobble as a result. The answer is to just scale up your video to prevent the edges from invading our shot's screen.
3. Several Parameters with Wiggle Expressions
First, select the dropdown and then below transform to access your rotational option. Alternatively, just choose your video and press the R key. Now that rotation is active, hit alt and hit the timer to return to your wiggle expression. So you will try to accomplish the same thing you did before, but this time you will be much more subtle.
4. Scaling with a Particular Wiggle
This is OK, however, you would like to include a modicum of scaling wiggle to make it appear as though somebody has a full 3D range of motion. Ensure that the horizontal and vertical scaling is consistent. Take the wiggling expression you need and leave it, but just before it, we'll put w (space) = (space). Then you will include a semicolon as well as insert one extra line.
FAQS
How to create a fake camera shake effect on a video?
IMyFone Filme is one of the best tools to add a camera shake effect to a video. This is an easy-to-use tool that can also be used for advanced video editing tasks.
How to add fake camera shake effect on a video?
You can use different video editors to add a fake camera shake effect. Some of these tools are available for free and offer a simple user interface.
Conclusion
Creating videos seems to be a professional activity, and special elements like Camera Shake may help you express your vision. If you're looking for an excellent video editor to create a camera shake effect, Filme is the right choice.
iMyFone Filme would allow you to express yourself and make incredible videos. It is a user-friendly tool that can be used to add amazing effects. Users with no experience in editing can use Filme to create beautiful videos for their social networking sites or personal use.