For those of you who are unfamiliar with the concept of VHS, here it is in a nutshell: The Video Home System or VHS is a controversial video format that disrupted the motion picture and television industry in the 1970s by giving users control over their TV-viewing experience. Rather than rely on program producers or television networks to schedule their watching sessions, users could now choose to watch whatever they wanted - and whenever they wanted.
How to Create the VHS Effect on Desktop
Any new video can be used to get a textured and slightly distorted VHS effect, and we'll show you how to do this on iMyFone Filme, a full-fledged video editing tool for desktop computers.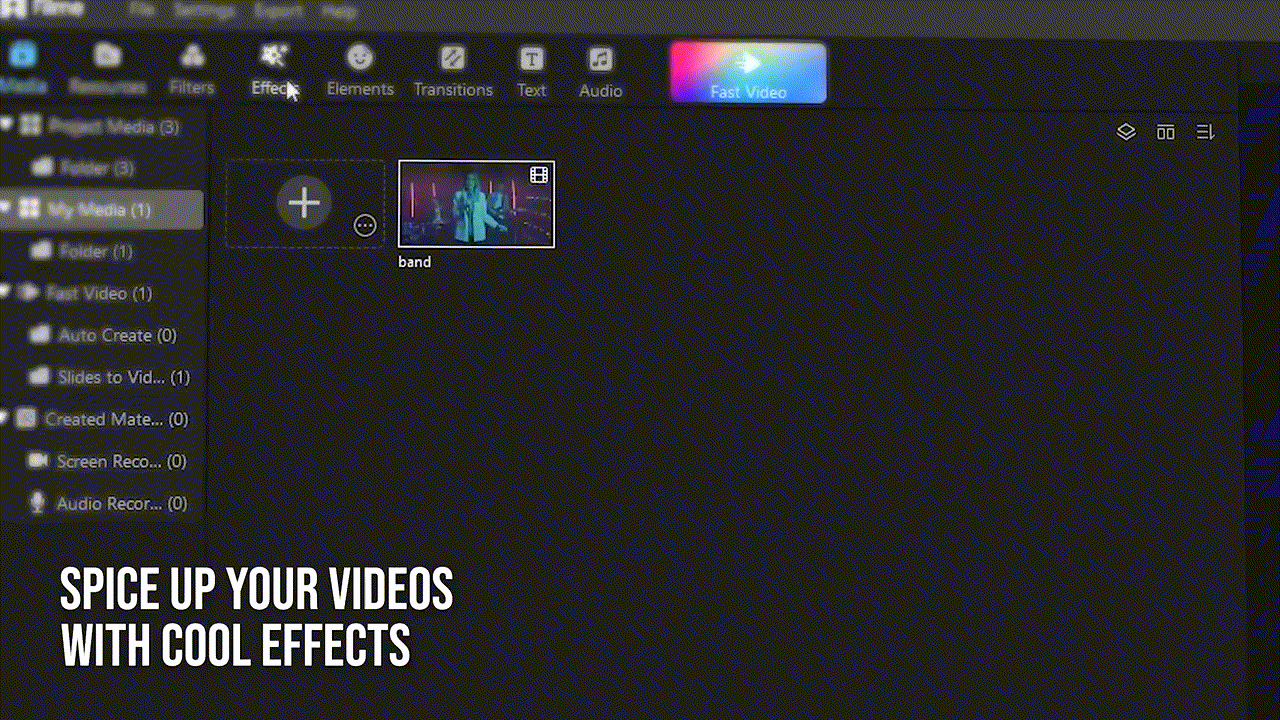 Download and Launch iMyFone Filme and import a video by dragging and dropping it into the Media Library section.

From there, double-click the video thumbnail or click the + symbol to add it to the timeline as a video track.

The next step has a couple of options:
a. Click the Filters tab at the top, as shown in this screenshot, and select one of the VHS filters to apply. It should appear as an effects track in the timeline.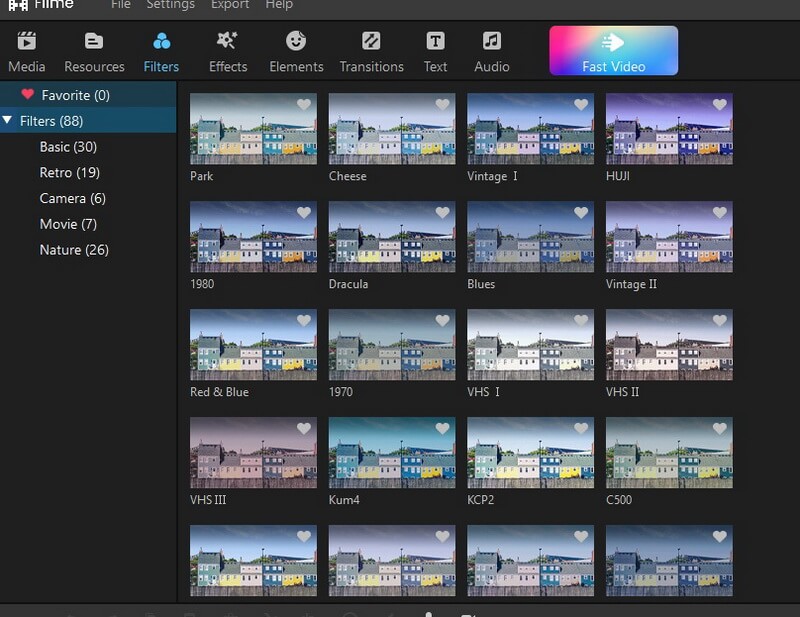 b. Alternatively, you can use the VHS Distortion pre-built effect from the Effects section, as shown below: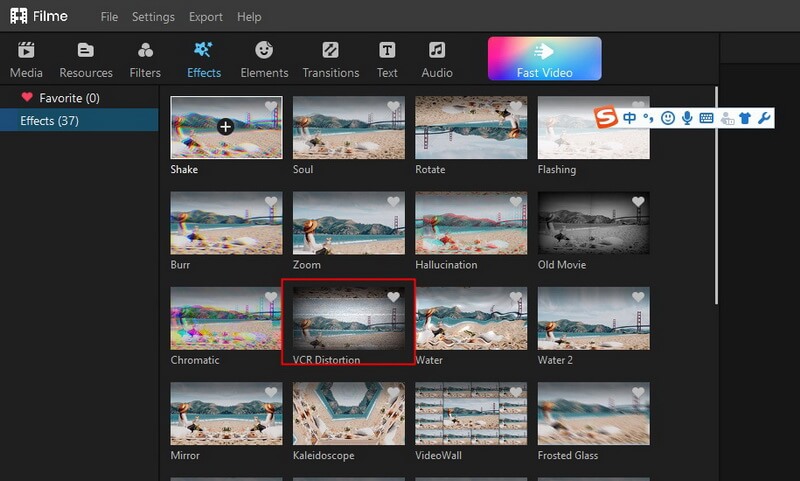 Once the filter or effect has been applied, you can continue to edit the video using the tools provided above the timeline, which include cropping, splitting, speed control, etc.

For further editing options, double-click the video track to see the editing pane on the top right, where you can adjust brightness, color, and contrast to make the VHS effect look even more realistic.

Finally, export the file in the format you want by clicking on Export, setting the export parameters, and clicking Export again in the small dialog window.
iMyFone Filme allows you to use the VHS effect on any video in just a couple of clicks, making it a handy tool for social media users and other video creators. But Filme does a lot more than that.
More about iMyFone Filme
Filme is not just great at effects and filters. Although you'll see an impressive collection of those, you'll also see text effects, video transitions, royalty-free audio files, etc. in their own dedicated libraries. As a video editor for beginners and amateurs, it exceeds expectations on every front.
Key Features:
Large libraries of royalty-free songs, music, and sounds

Diverse selection of special effects and filters

Stunning transitions to create professional-looking videos

All basic editing tools - trim,crop, split, merge, speed control, rotation, offset, etc.

Video enhancement tools - contrast, brightness, and color saturation adjustments

Fast Video Mode - instantly create a video slideshow from existing clips, photos, and images

Dedicated 'Resources' tab to access third-party repositories
Why Choose Filme
Apart from the great feature set, iMyFone Filme offers several intangible benefits:
Fast response for small to medium projects

Slick and user-friendly UI - clear labeling to identify features and other controls

Clean and crisp iconography for easy navigation

All the tools you need at your fingertips - zero learning curve
In addition to the classic VHS look, Filme offers a rich palette of retro filters and effects such as Vintage, Old Movie, the 1970s look, and lots more. The collection keeps increasing with each iteration of iMyFone Filme, which receives frequent updates to add new features and capabilities. Newly added features include voice and screen recording, voice-changer effects, and a brand new UI design to bring it all together. For the best and most authentic VHS effect, you can consider adding other forms of distortion, color aberrations,
Create a Free VHS Effect in After Effects
After Effects is a powerful compositing, motion graphics, and visual effects application developed by Adobe nearly 30 years ago. It's evolved a lot during that time, as you can imagine. Unfortunately, getting a VHS effect is not that simple if you need to do it manually; however, if you use a free VHS effect preset, the job is much easier, as you'll see.
Download and unpack the ZIP file for the VHS effect preset(direct download).

Extract the 'VHS Effect' file and move it to Documents → Adobe → After Effects CC (your version) → User Presets.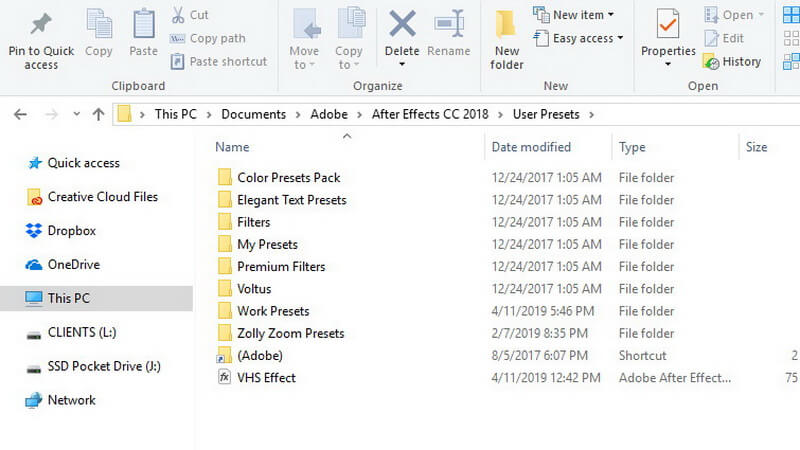 Applying this effect is now a simple matter. Simply go to the Effects & Presets panel in After Effects and select the VHS Effect option to apply to your video.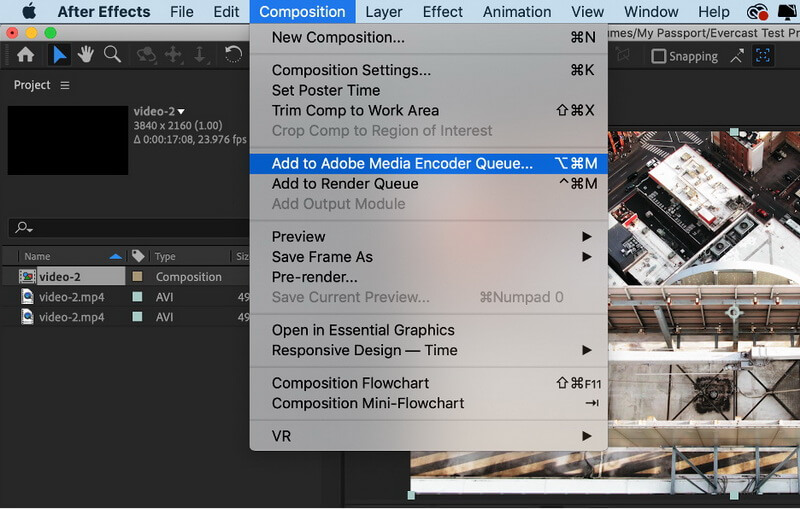 Export the transformed video in MP4. For this, go to 'Composition' in the top menu and click on 'Add to Adobe Media Encoder Queue…'

Find and select H.264 under 'Format' and click the 'Play' button to being exporting the file.
Note
We recommend MP4 over MOV because the high compression level yields a smaller file size and the format is a universal one suitable for any type of web use. If you prefer MOV, use the 'Add to Render Queue' option instead of the Media Encoder. In the Output To section, choose the target folder and click the Render button on the extreme right.
Filmora VHS Effect Download Free
Another versatile video editor is Filmora, which offers three different VHS effects that you can use along with other overlays to create a realistic VHS effect for your videos. The process is a little tedious but you can download a free version of the software and try it out for a professional-looking effect.
Open your project in Filmora and click the Media tab on the top left, then select Sample Colors in the left sidebar panel.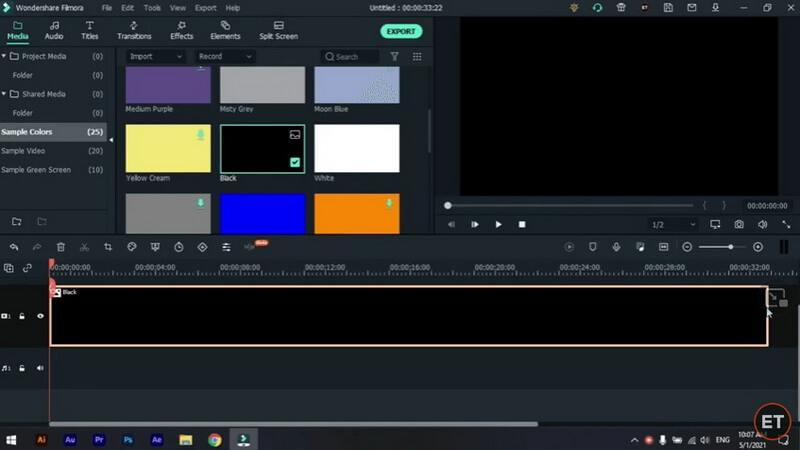 Drag and drop the black image to a track on the timeline and adjust the trim handles to change the duration to match the section of the video to be transformed.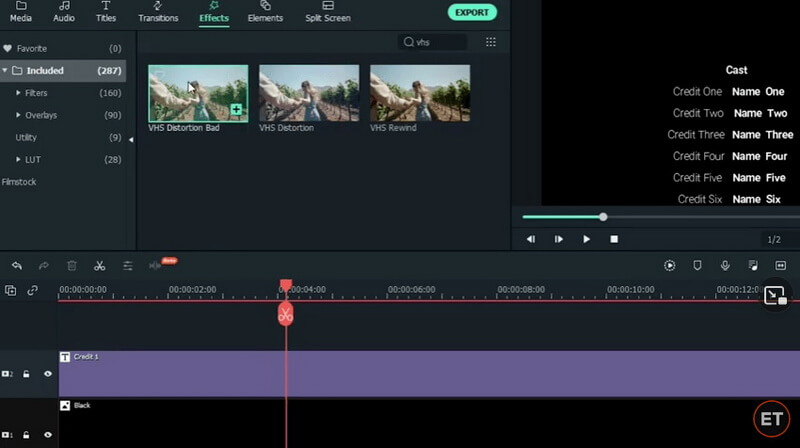 In sequence, add these three overlays by dragging them from the Effects panel at the top to their own individual tracks on the timeline: VHS Distortion Bad (alpha = 25), VHS Distortion (alpha = 35), and VHS Rewind (alpha = 10).

Additionally, you can add the Strong Glitch, Chromatic Aberration, Glitch Distortion, Distort, and other effects to enhance the vintage look.

When you're done, click Export and choose the format and target folder to save the processed file with VHS effects added.
Additional Tips When Creating the VHS Effect
You should also keep in mind that the aspect ratio used at the time was 4:3 horizontal. To replicate this effect, you can either save your project in that format or use an overlay if you have your footage in a standard horizontal 16:9 format. 1440×1080 would be the recommended frame size for such projects. This way, you get a more authentic-looking VHS video.

Another great tip would be to add a film grain overlay, which looks something like this: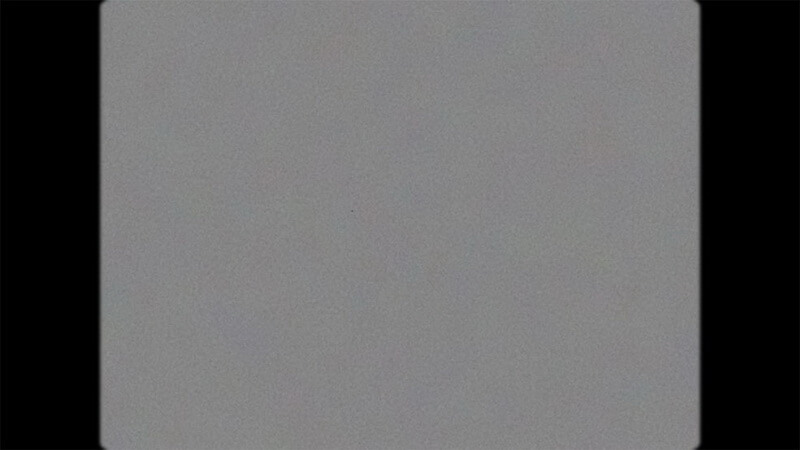 Also consider using a shake effect and a tape wrinkle effect for every greater authenticity. This mimics how videos were captured and stored on magnetic tape, which sometimes had wrinkles on it that gave the video a unique effect.
Final Thoughts on the VHS Effect
Although all three software applications showcased here do a great job with the VHS effect, we saw that iMyFone Filme was the simplest to use. This dedication to keeping things simple is at the heart of iMyFone Filme, which you'll see in nearly every aspect of this robust video editor. To make it even more realistic, you can add distortions to text titles, end credits, subtitles, etc. from the Text tab. This will ensure authenticity when recreating a retro scene or an entire retro clip using high-definition footage combined with the VHS effect.