Have you ever found yourself shooting vertical videos yet needing a horizontal show effect? We believe that this scenario has affected the majority of individuals. To address this issue, we must rotate the video 90 degrees to see them.
Fortunately, with the correct portrait to landscape video converter, this is no longer an issue. Here, we'll show you the most used portrait to landscape converters that will let you convert portrait video to landscape without sacrificing quality. Let's have a look at them right now!
Part 1: The Best Choice for Video Flipping [Win / Mac] – iMyFone Filme
Filme, a product of iMyFone software, is the best video editor out there. The software is available for download on Windows and Mac PC. Due to its various functions and ease of use, it is considered one of the best video editors available.
Its user interface is far superior to that of the other applications. Both beginners and experts to edit videos and give them a unique appearance may use Filme's modern features.
Furthermore, it generally supports all audio and video formats. Let's have a look at some of Filme's other functionalities that set it apart from other video editors.
Step#1: Add or import a media file.
Click the "+" tab to add a video, or simply drag the video file into Filme's browser.
Step#2: Send the video to the Timeline.
Manually drag and drop your YouTube video into the Timeline, or utilize the "+" tab on the Timeline to do so.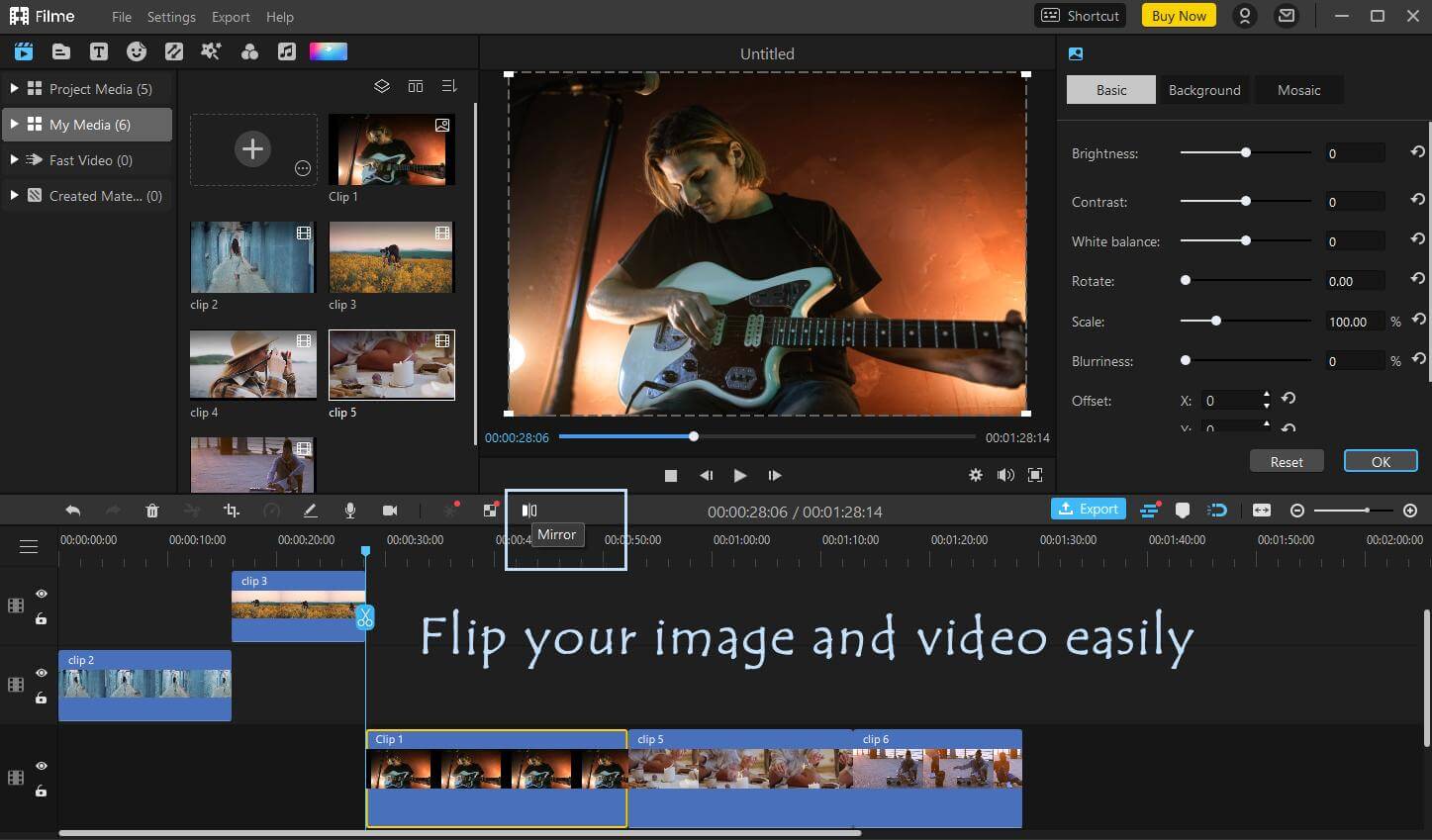 Step 3: Flip the video using the Editing Window.
The editing window appears when you right-click on the video or click the "Edit" icon on the toolbar.
Select "Rotate/Scale" from the drop-down option. You can rotate the movie to change it from portrait to landscape orientation by moving the slider.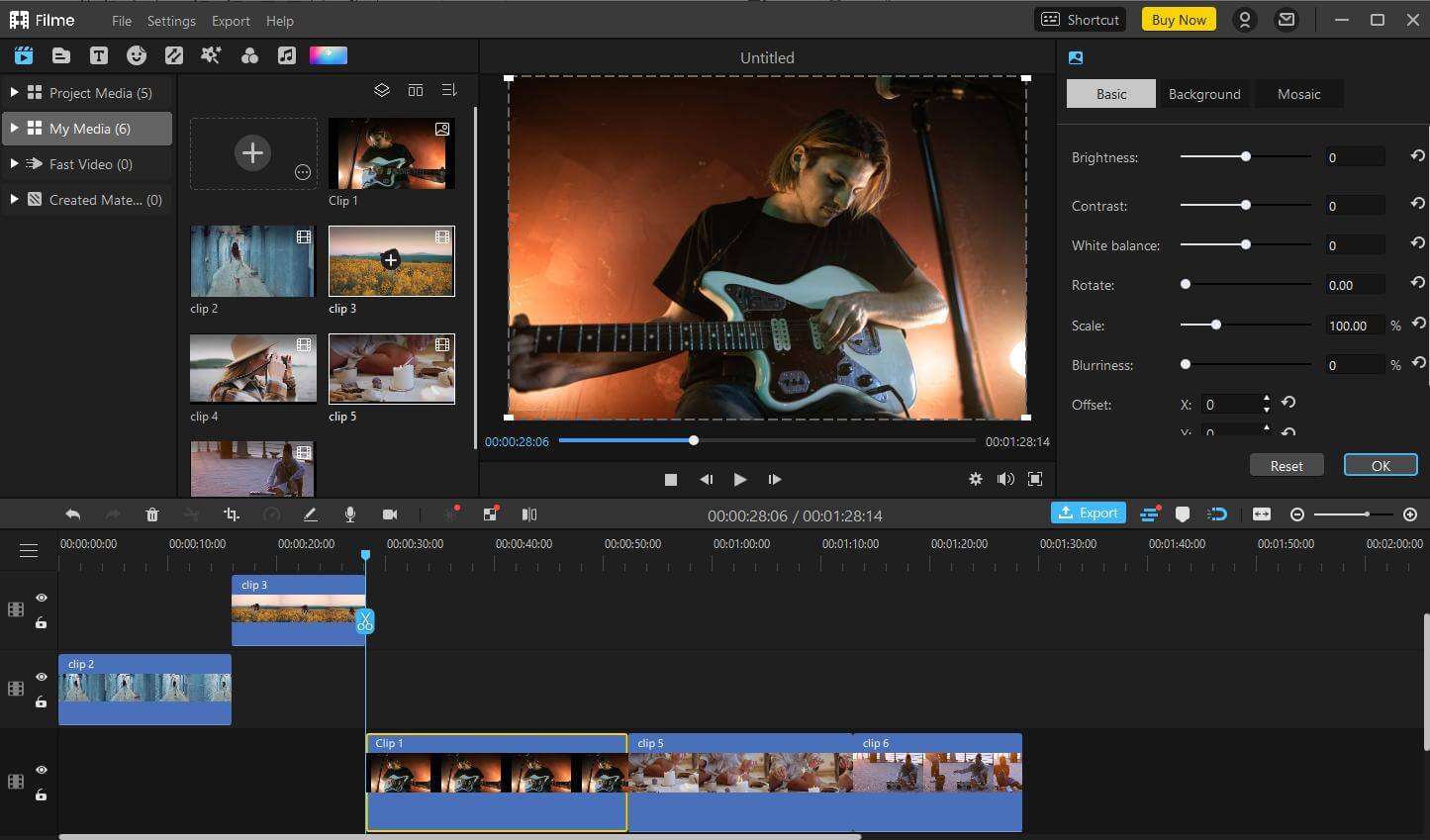 Step 4: Save the File after Making Necessary Changes.
Click the "Export" option to configure the details of the altered video, then save it to your PC.
Noteworthy Functions of Filme:
Cut/Trim: Select any two segments of the video to trim them down while eliminating the bits that you don't want.

Split: Divide a video into several short segments.

Merge: merge several video segments into a single film.

Crop: Crop a video to get rid of any unwanted pixels.

Adjust the speed: This function allows you to produce spectacular slow-motion videos.

Use the Picture-in-Picture effect to display multiple videos/photos on the same screen.

Animations and Effects: There are many high-quality filters and animations available to enrich your digital story truly.

Text Options: Choose from a variety of colors and fonts to create attractive text and headings.

Replace/Add Audio: Replace or add audio to any video. You can even add voiceover to your video to make it truly unique.

Fast Video Mode: With just one click, you may create a high-quality video slideshow.
People Who Liked this Content Also Liked
How Do You Flip a Video on TikTok? >>
4 Amazing Tools to Flip MP4 Video Fast and Easily in 2021 >>
5 Best Effective Methods to Flip Your Video on PC [Windows/ Mac/ Online] >>
Part 2: An App for Rotating Videos [Online] – Flexclip.com
PearlMountain created FlexClip, a simple internet video application. Its simple and user-friendly tools make professional video creation capabilities available to anyone. It is now used and appreciated by millions of people worldwide to quickly generate videos for commercial and personal usage.
FlexClip is a sophisticated video creator that comes with many templates and tools to help you generate videos in a matter of minutes. It may also be used as a free online portrait to landscape converter, allowing you to convert your portrait video to landscape in a matter of seconds.
Using FlexClip's online portrait to landscape converter, follow the simple steps below to convert your portrait video to the landscape.
Step#1: Go to FlexClip.com.
Launch the application on your PC and or Open the Video Rotator Directly.
Step#2: Go to the Media option to upload your video from a local folder.
Click the Media option or the Orange Plus sign to add the video that you need to rotate.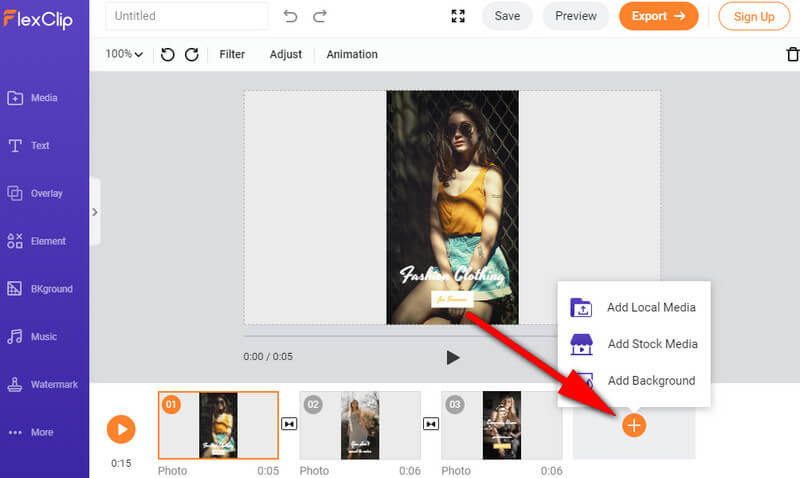 Step#3: Set the ratio, orientation, and zoom to fit the screen.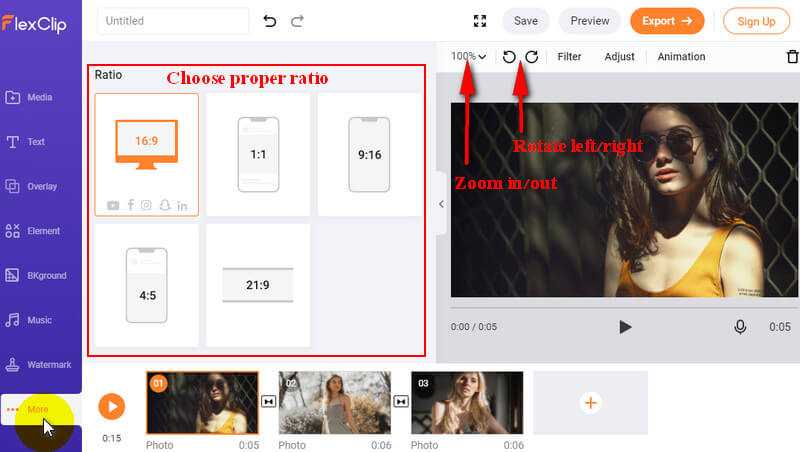 To select the correct ratio, click the Setting button and focus on the Ratio option. To fix the orientation, you may also use the rotate feature. Remember to zoom in or drag the video to fill the entire screen after that.
Step#4: Export the Video.
Once done with your task, click on the Orange Export tab to save your file at your desired location.
Part 3: The In-Built App for Windows [Win] – Windows Movie Maker
For users with operating systems older than Windows 10, Windows Movie Maker comes pre-installed. If you have Windows 10 installed on your computer, you will need to download the Windows Essential 2012 software bundle. Using Windows Movie Maker, you may straightforwardly flip your video from portrait to landscape mode. Let's have a look.
Step 1: Launch the in-built Video Maker.
Open Windows Movie Maker and drag the movie you want to rotate into the Movie Maker workspace or click the "Add videos and photos" icon to import it.
Step 2: Upload your Video and Flip it to change Orientation.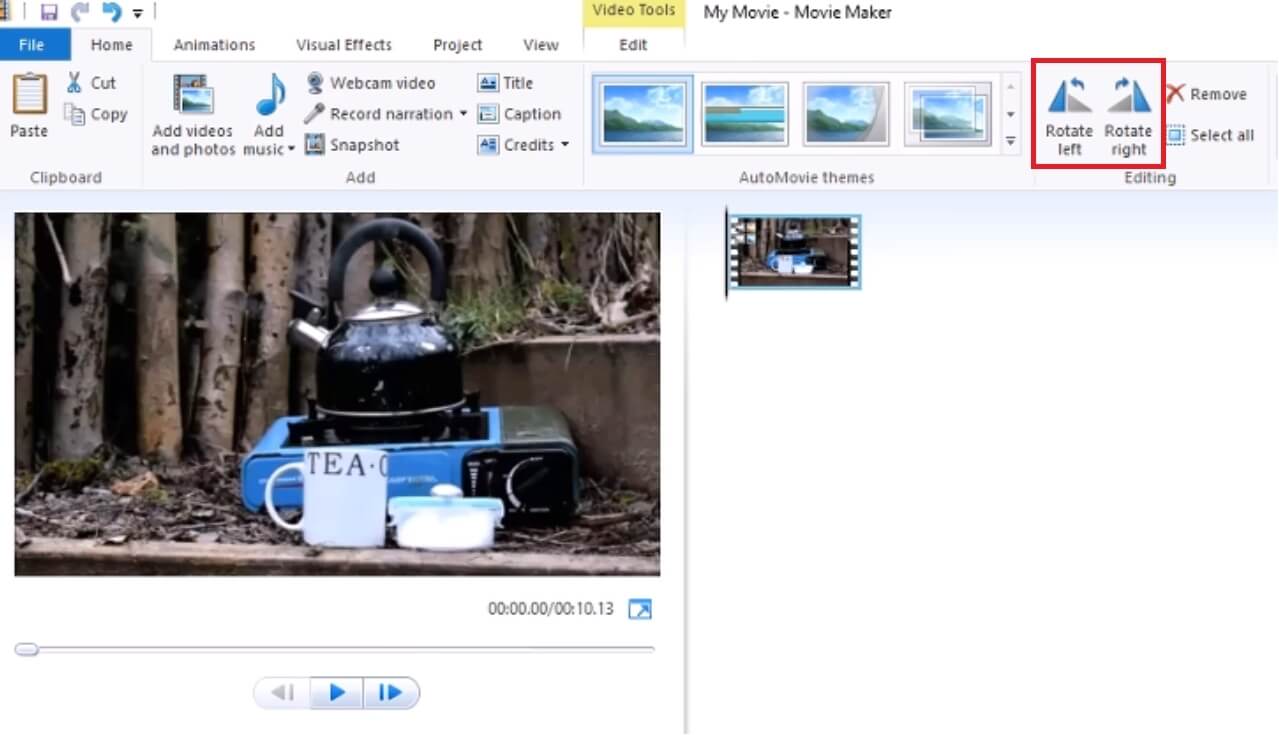 Windows Movie Maker may take some time to process your video. When it's ready, click the "Rotate right" or "Rotate left" icon, depending on how your video is now oriented.
Step 3: Save your Edited Video.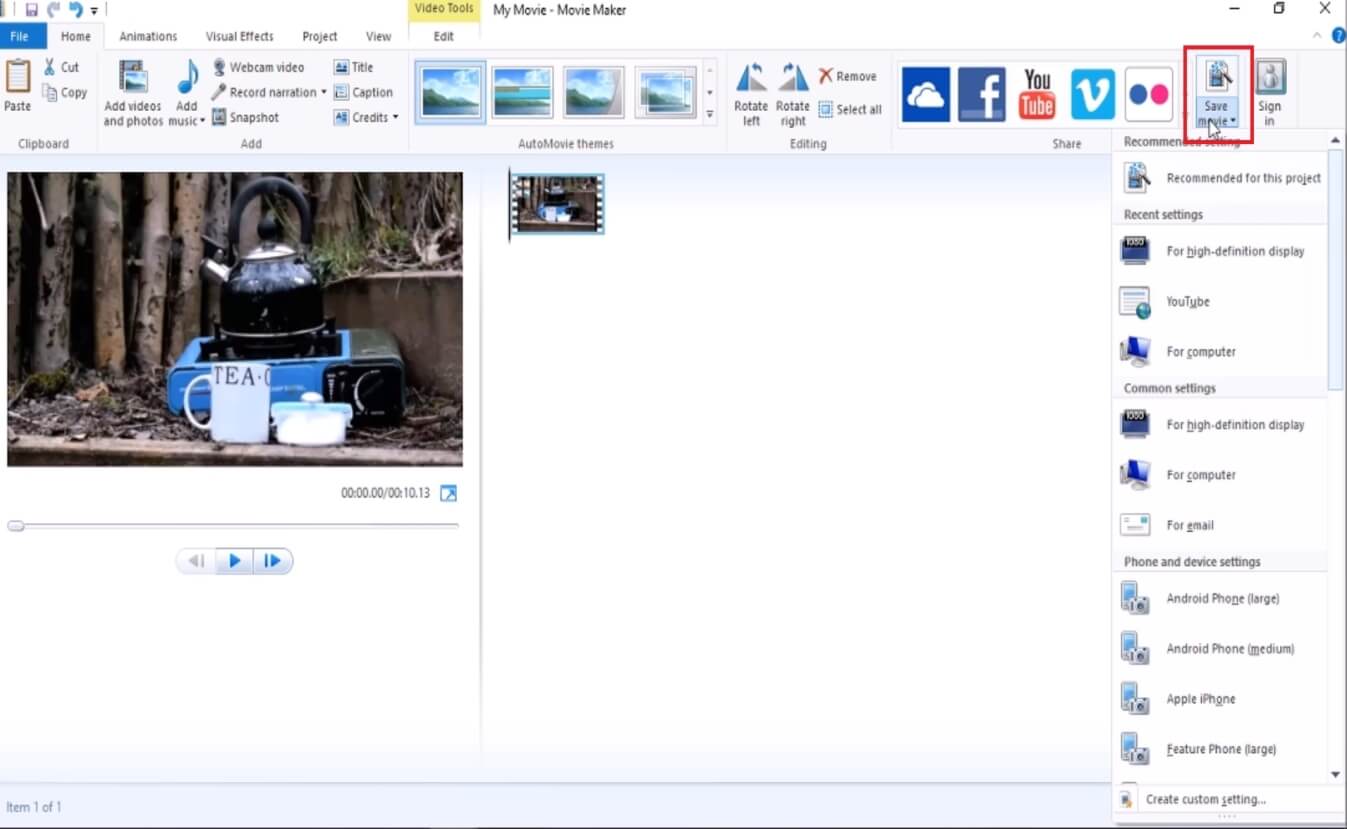 That's all there is to it! Your video has now been rotated. However, you must save your video to make this alteration permanent. To do so, go to the "Save movie" icon and select the best choice for you. That's all there is to it.
Part 4: The In-Built App for Mac PC [Mac] – QuickTime Player
Do you need to edit a movie quickly? You can use QuickTime Player to trim, rearrange, and rotate your movies. A movie can also be split into many clips, each of which can be edited separately.
On a Mac, you can effortlessly rotate your films using the built-in QuickTime Player. Let's have a look at how it's done.
Step 1: Launch QuickTime and open the video.
The videos created by most cameras and phones can be opened using this application. Right-click the video and select "Open With>QuickTime Player" from the drop-down menu.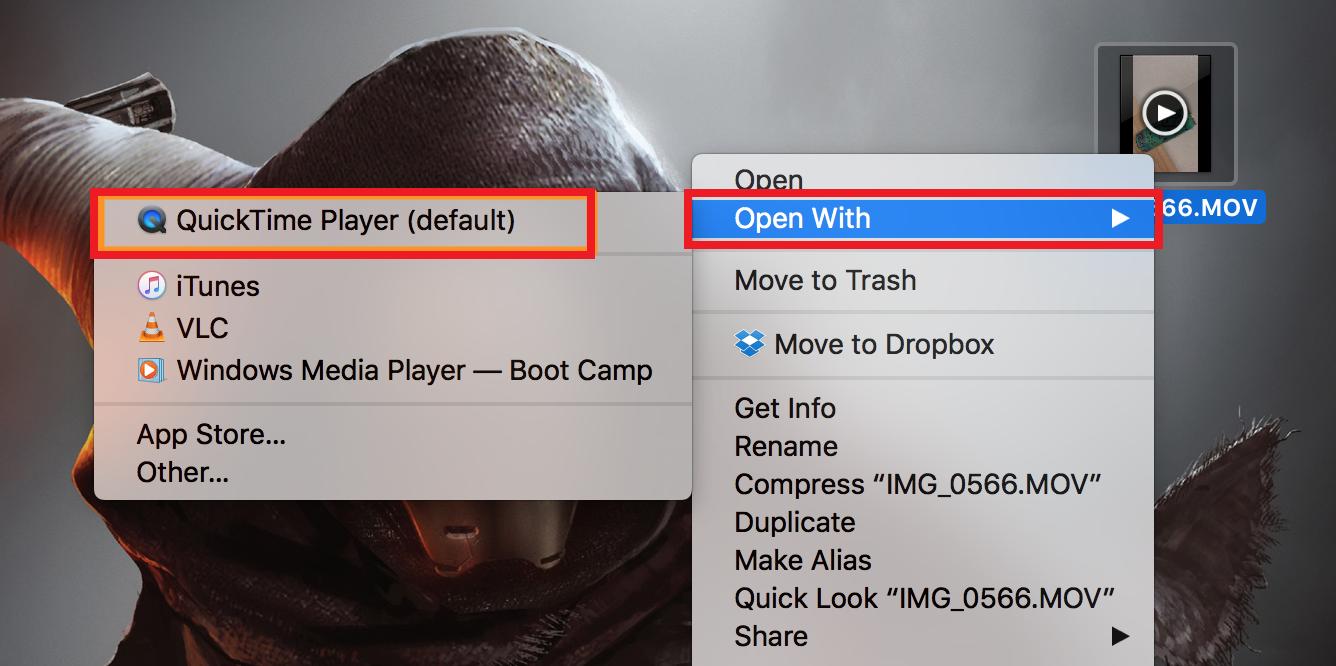 Step 2: Select Edit and Flip your Video.
Next, go to the menu bar and select "Edit," then flip or rotate, whichever rotation you need and flip image from portrait to landscape mode.
Step 3: Save and Export the Video.
When you're finished, the video will be orientated the way you want it. You must now save it by going to File > Export in the menu bar.
Step 4: Deal with the Details.
Give your file a name, select a location for it to be saved, and click the "Save" button. Because QuickTime does not overwrite your original video, you can save the new version wherever you like. That concludes the discussion.
Part 5: How to Convert iPhone Videos that Got Recorded in Portrait Mode by Accident?
Have you ever started filming a video on your iPhone in portrait mode, only to switch to landscape mode after discovering your error immediately? When you start recording a video in portrait mode, it stays in that orientation for the duration of the video, and vice versa.
Fortunately, using the rotation option in iMovie on iOS, inadvertently vertical recordings may be swiftly corrected. Let us see How to use iMovie to adjust vertical films on iOS.
Step 1: Open iMovie first.
Step 2: Select the clip you want to modify from the Videos menu.
Step 3: Select Create Movie Create New Movie from the Share menu.
Step 4: Rotate the movie to the correct orientation using a rotate gesture on the viewer.
Step 5: In the upper left-hand corner, tap Done.
Step 6: To save the corrected video back to the photo library, tap the Share icon and then Save Video.
Conclusion
To summarize, resolving a video's incorrect orientation is possible, and numerous tools are available to assist you. You can flip the video from portrait to landscape mode using the above-mentioned web tool.
If you are using Windows lesser than 10, you do not need to download any third-party software because you can rotate your video using the built-in Video Editor. Similarly, for Mac users, the in-built QuickTime Player is available for instant editing.
If nothing else seems to be working, you should try iMyFone Filme. It not only excels in changing video orientation, but it also has a slew of other editing tools that you will appreciate.