Have you ever seen the interesting blur faces on the iPhone video? Here comes the role of the blur video app in the picture. The best part is that by using this app you can easily proceed with censoring faces without even previous expertise. So if you're looking for an app to blur faces in videos you should proceed with the blurred background video app.
Today we have compiled a list of the 10 best blur video apps for you to choose from. And we will also recommend another desktop tool - iMyFone Filme to blur a video easily. You can directly skip to the "blur video on desktop" part if you are interested in.
1. Blur Video [For Android]
It is one of the great video editing apps that provides you with easy blur video options that you can use for creating videos for social media platforms such as Facebook and Instagram.
It is designed for social networks. For this reason, you can find various features such as Instagram crop options and other fun blur options.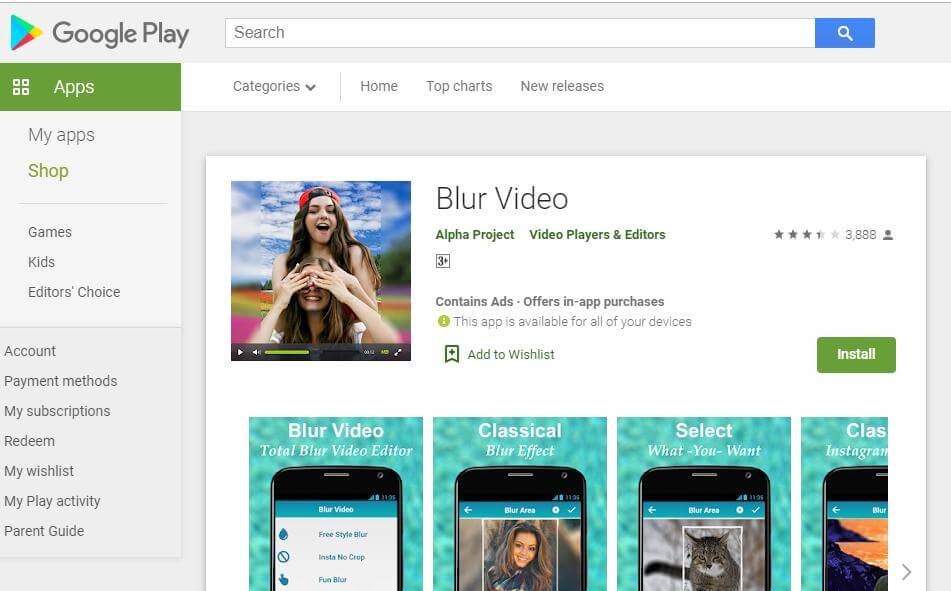 Pros:

Comes up with a wide variety of blur features such as fun blur, freestyle plan, and Instagram crop blur feature.

Various blur features are free,such as the freestyle feature which is often available only in the premium versions of other apps.

You can also enjoy the free trial version to check whether this works for you or not.

Allows you to edit videos of different formats including MP4 3GP and WMV for Instagram and other social media platforms.
Cons:

Not good for any other device except Android.
2. Square Video [For Android]
It is another easy-to-use blur video app for Android. By using this app you can also get access to tons of free music that you can integrate into your blur background video. This app also has various options to change the color of the background and customize it in a variety of ways.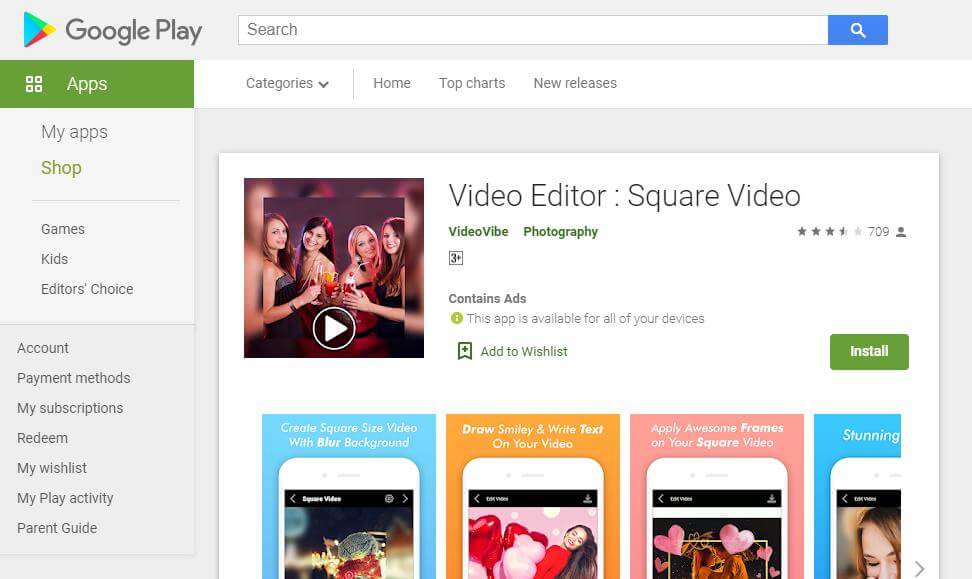 Pros:

Very simple and easy-to-use interface.

Well equipped with various cutting tools.

Allows live video editing.

Allows you to export the music from your device and use it in the video.

Comes up with background customization options.
3. Blur Video & Image [For Android]
If you are looking for an all-in-one app that allows you to proceed with blur effect videos and images, you should immediately download this app which makes it possible for you to blur multiple areas of the video.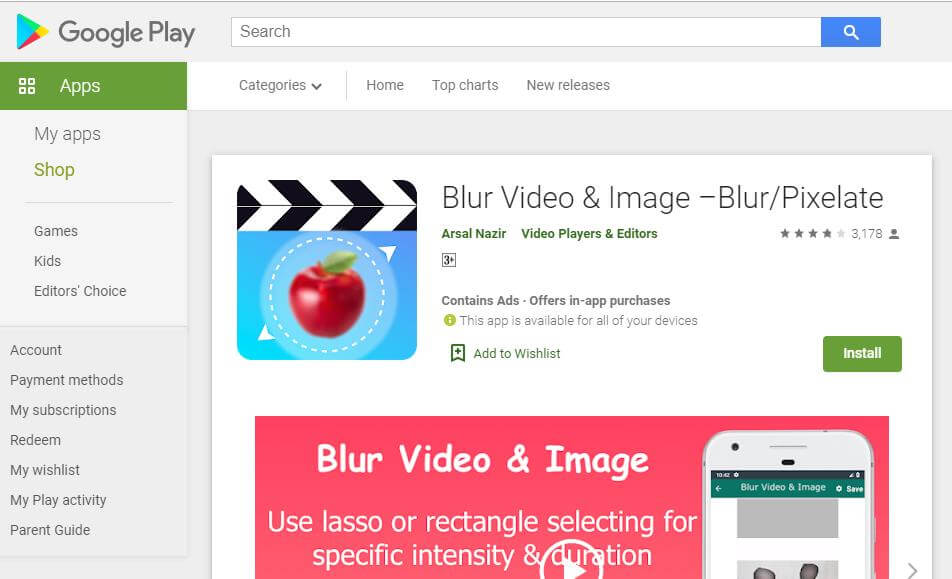 Pros:

Allows you to modify and customize the video background.

Comes up with various blur mode adjustments and intensity settings.

Availability of various freeform, fun, circular, and rectangular shapes.

The best feature of this app is that you can proceed with variable blurring or blur multiple areas of video differently and also set the duration of each blurring.
Cons:

The videos take much longer to save.
4. MegoVideo [For Android]
This app allows you to create blur GIF videos. it would be right to say that this app comes up with multiple features that can make you a more professional and attractive video maker. So if you are looking for a tool that contains a huge variety of features you should proceed with Megavideo. The best part is that no prior experience is required and you can easily become proficient in blur video making.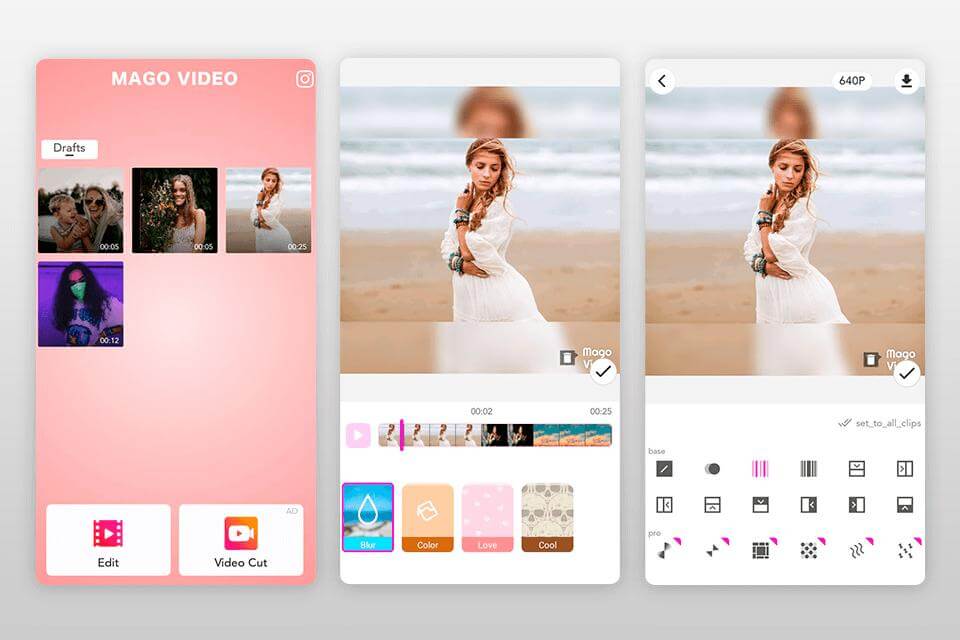 Pros:

Makes it possible for you to add music to the slide shows.

Come up with various options such as effects magic touch with your friend's stickers and text.

Also has various video editing tools including trimming and cutting tools.

Comes up with fantastic background options for blur videos.

Perfect for preparing GIF stickers and videos with various effects for social media apps.
5. Video Toolbox Movie Maker [For iOS]
If you have ever used this application, you must know that you can combine various videos to create a single clip along with the blur video background. You can also use this application to cut the long video into short clips and attach the different clips in the way you want.
Pros:

Allows quick cutting and trimming of the videos.

The reverse video option is also available which means that you can play video in the reverse direction.

The videos that you can create with this app come up not only with the blur features but you can also use cut-out coloured pixels.

It is an advanced video editor which is suitable for static blurring.

Can be regarded as one of the most powerful green screen apps.
Cons:

Does not allow you to save the videos for free.

Not suitable for blurring the moving objects.
6. MovStash [For iOS]
This is an amazing app that is perfectly designed for iOS where you can access different types of blur options. iOS users can perfectly take advantage of this app which is used to create mosaics as well as videos with blurred backgrounds.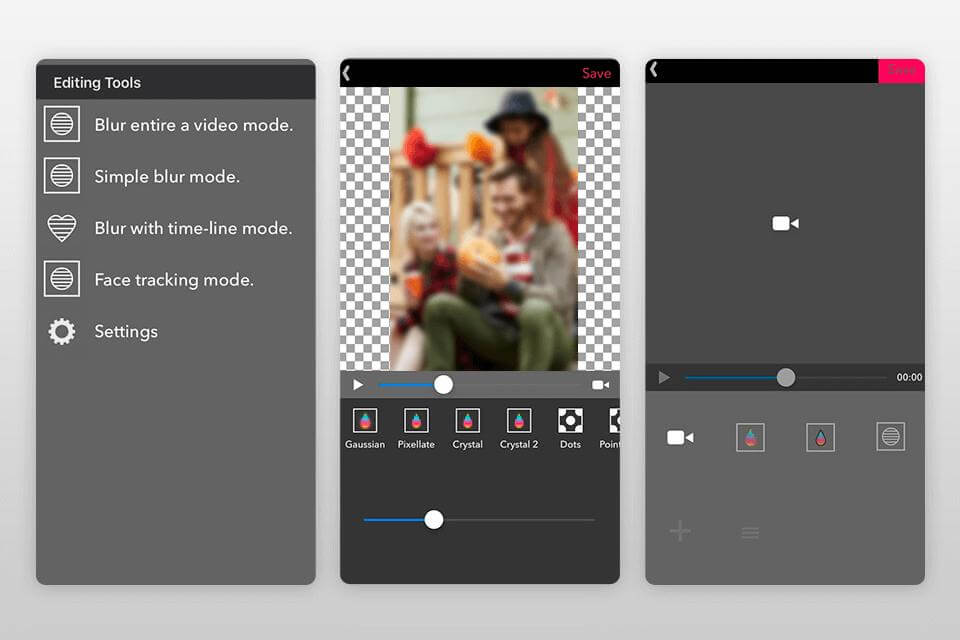 Pros:

Come up with a customizable blur level option so you can set your desired one.

Makes it possible for you to create a video mosaic.

Availability of a huge variety of types of video blur.

Come up with a Timeline and Simple modes for detailed experimentation.

makes it possible for you to choose the blur area manually and make the adjustments accordingly.

availability of a slider that allows you to adjust the blur intensity.

Can perfectly blur different parts of the image as well as multiple faces in the videos.
Cons:

Has very limited video editing options.
7. Video Mosaic App [For iOS]
If you are an iPhone user and looking for a specialized app to help you with the blur effect video creation, you should confidently download this app. It allows you to create videos and record them using a variety of editing options from choosing shapes for the blur effects to utilizing the video frames.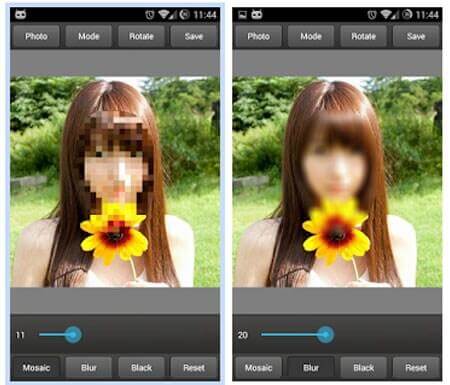 Pros:

Easy to use with a simple interface.

The quality of the blurred video that you receive is extraordinary and stunningly amazing.

Along with the blur effect, it comes up in various shapes such as geometric shapes, abstract and hearts.

Allows you to add video frames to faces, objects, and even to the whole video.
Cons:

In-app purchases can distract you a lot while using this application.
8. VideoShow [For iOS | Android]
VideoShow is a very professional video editing tool that has various toolkit options and features. With this app, you can use a variety of applications and various features. It not only makes it possible to take selfies and adorn videos with stickers, effects, and text but also allows you to proceed with slow-motion effects and much more.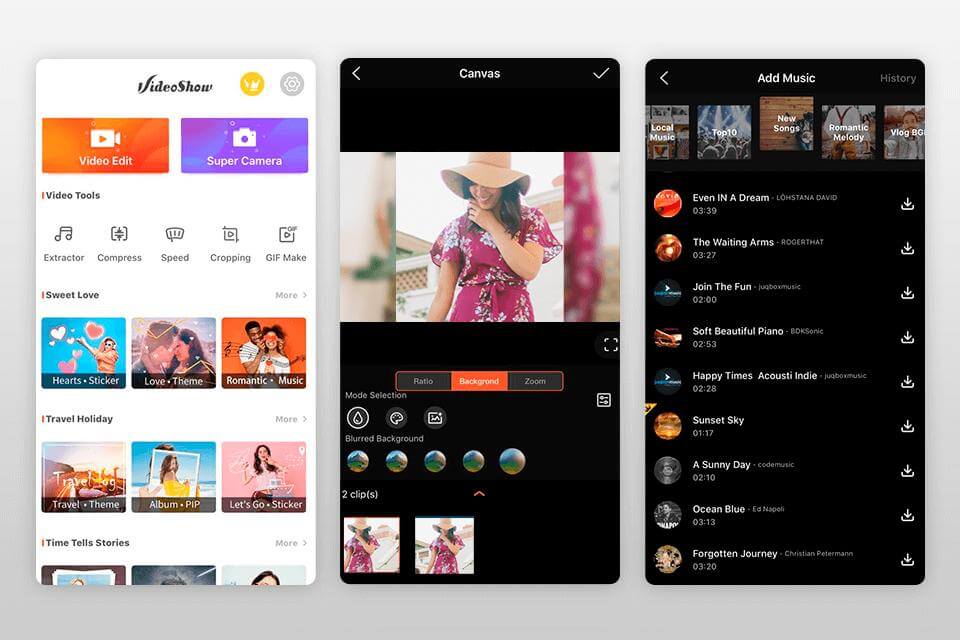 Pros:

Has facial recognition function.

Allows using various face effects and motion stickers.

After making a video with this app, you can easily share it on social media platforms.

Availability of the video dubbing picture.

Allows you to create slideshows, motion stickers, face effects, and videos with pictures.

Extremely easy to use the app with a simple and convenient interface.
Cons:

Lots of in-app purchases distract you during the video creation process.
9. Video Mosaic [For iOS | Android]
Video mosaic is another important tool that allows you to add mosaic to your videos. If you want to add music to your video then this app is perfect for you. This is an amazing app that allows you to blur the video even during the shooting. although it will take a bit of time to download the video you can perfectly proceed with creating automatic face mosaics.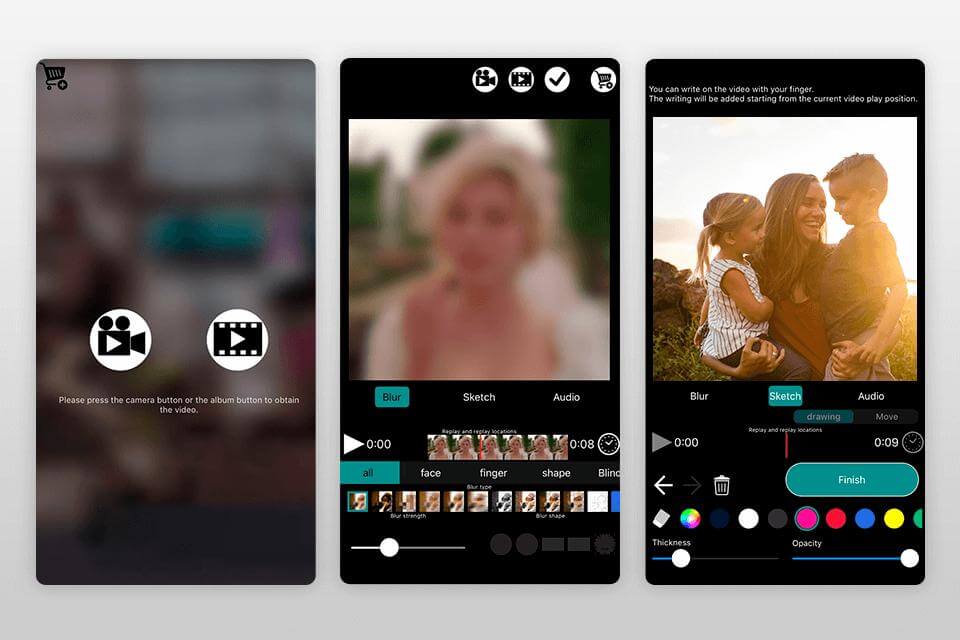 Pros:

Come up with a wide variety of types of video blur options.

Allows using the blur option during the shooting process.

The videos that you create with this app are sharable to social media platforms and can easily be downloaded as well.

Has various customization options so that you can easily proceed with the blurring of a specific part of the image, the entire image, some portion of the video, or the complete video.

Has various beautiful mosaics.
Cons:

It takes longer to save the videos to your phone.

The free version has various advertisements and in-app purchases that may disturb you.
10. Snapseed [For iOS | Android]
Last but not least it is a recognized tool that Google has created to make it possible for the users to proceed with blur faces and objects. This application was perfect both for images as well as videos and is frequently used to utilize special effects to enhance the videos. more about the addition of integers is also possible. Here it is worth mentioning that this app is not suitable for newbies and beginners and it requires some good background knowledge of photography.
Pros:

Suitable for professional users who are looking for an awesome app with professional video and photo editing tools.

Allows various filter special effects and video enhancement options.

comes up without advertisements.
Cons:

Not suitable for beginners.

Requires good background knowledge of photography.
You May ALso Like:
How to Add Square Blur Effect to Video
How to Blur Moving Objects/Faces in Video
How to Blur Background in Video for TikTok & YouTube Videos
[Bonus Recommendation] Filme Video Editor - Blur A Video within Simple Clicks
iMyFone Filme is a great video editing tool that comes up with a video blurring function as well. Let's have a look at some of the key features of video blurring.
Notable video blurring features of iMyFone Filme
Effectively blur faces, copyrighted text and other unwanted elements from recorded videos.

Blur an object of a video in just simple clicks.

A plethora of blur effects can be easily applied to blur a video.

You don't need a considerable amount of video editing skills for using this tool.

In addition to blur effects, this program can also apply over 200+ video effects, transitions, and special filters to help users create the perfect video.

Super easy and convenient video editing tool for beginners.

Availability of Mosaic effect for the static videos

Perfectly compatible with various photo, audio and video formats including GIF, WMV, AVI, MP3, and MP4.
Practical steps to blur a video using iMyFone Filme
Step 1:
First of all, we have to download and install the iMyFone Filme and open the main editing interface. After successful installation of this application, its icon in your device will be shown.
Step 2:
After opening the editing interface you will see the option to Import the videos to your Media library. So let the file load to the app. Any video format is suitable because this application supports all kinds of video and audio formats.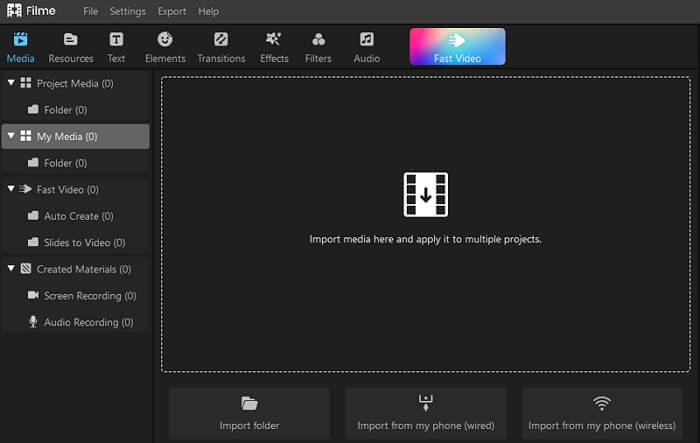 Step 3:
Then click Edit option on the menu bar and change blurriness properties of your video like the picture below. You can change blurriness properties with ease.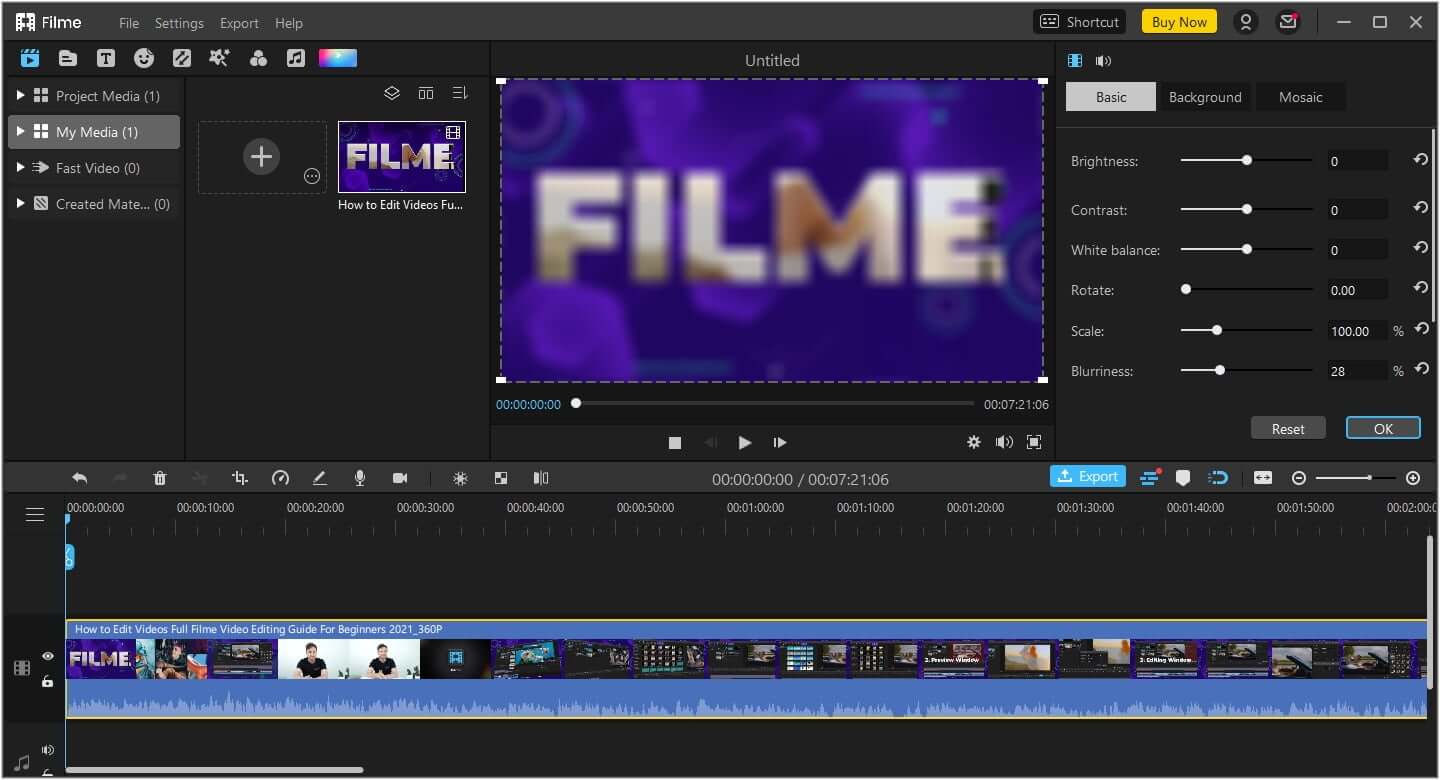 Step 4:
After successfully blurring the video and saving it to your application, it is time to export the finished video. By utilizing the export option you can not only save this video to the desktop but also share it to social media and video sharing platforms such as Vimeo, Facebook, Instagram, or YouTube.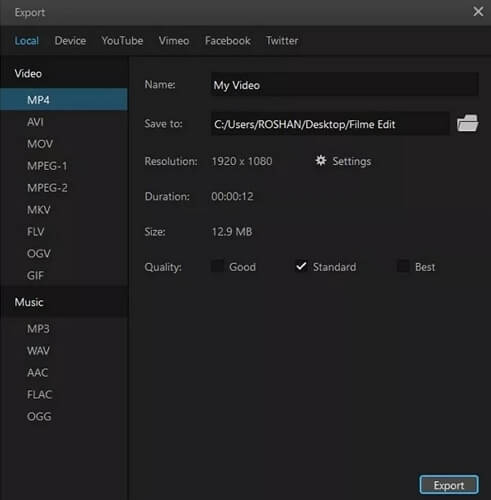 Conclusion
All of us have seen various videos with blur effects. Whenever someone sees the blur images and videos, he immediately starts thinking about the right blur video app to blur faces in the video using Android devices, iPhone or Windows devices.
After the detailed research we have come to know that iMyFone Filme is the best tool for video editing and blurring. We can confidently call it the best tool for video blurring because it comes up with various background customisation, photo editing as well as video blurring options. The best part about this tool is that it does not demand you to be very proficient in video editing. Even if you do not have any previous knowledge of photography, you can still proceed with this tool.