Have you ever noticed how a news report always manages to add motion blur to the pictures or YouTubers blur things in videos before sharing them on social media? You may also want to blur certain parts of your video or picture before posting it on your Facebook account for privacy, ethical or legal reasons.
Well, all this becomes possible with the help of mosaic maker software. Simply put, a mosaic maker blurs out certain parts of a picture or a video quickly and effectively.
But do you know the best and free photo or video mosaic makers for your PC or an easy-to-use mobile app to get the job done? Have you tried to blur face in Filme? This post brings together some of the best mosaic maker software for Windows and Mac OS and free apps you can use on your Android or your iPhone, along with the top online tools.
So, let's get started without any further ado.
Part 1. Best Video Mosaic Maker Software on Windows/Mac
Adding motion blur effect to videos is a cinematic effort. iMyFone Filme makes it extremely simple to add this cinematic effect to your videos. It's a free video editor with many more video editing capabilities.
iMyFone Filme has been designed carefully to allow even the most naive users to edit videos and pictures and create masterpieces. Despite its simplicity to operate, iMyFone offers some of the most sophisticated features that any video must-have.
Never-ending List of Filme Benefits and Functionalities.
You can cut, split, and edit images and videos.

You can add motion blurto images and videos as well as add Gaussian blur.

Special effects and transitions can also be incorporated into the videos to make them look more attractive.

It also has an edge over other video editing platforms by offering to change the environments of the video.

Blurring parts of images or videos is n easy task with iMyFone Filme. Parts of videos or images can be blurred using the software. The moving objects and faces can also be blurred in a video. The platform also allows you to add Gaussian blurwhich is one of the best blur options.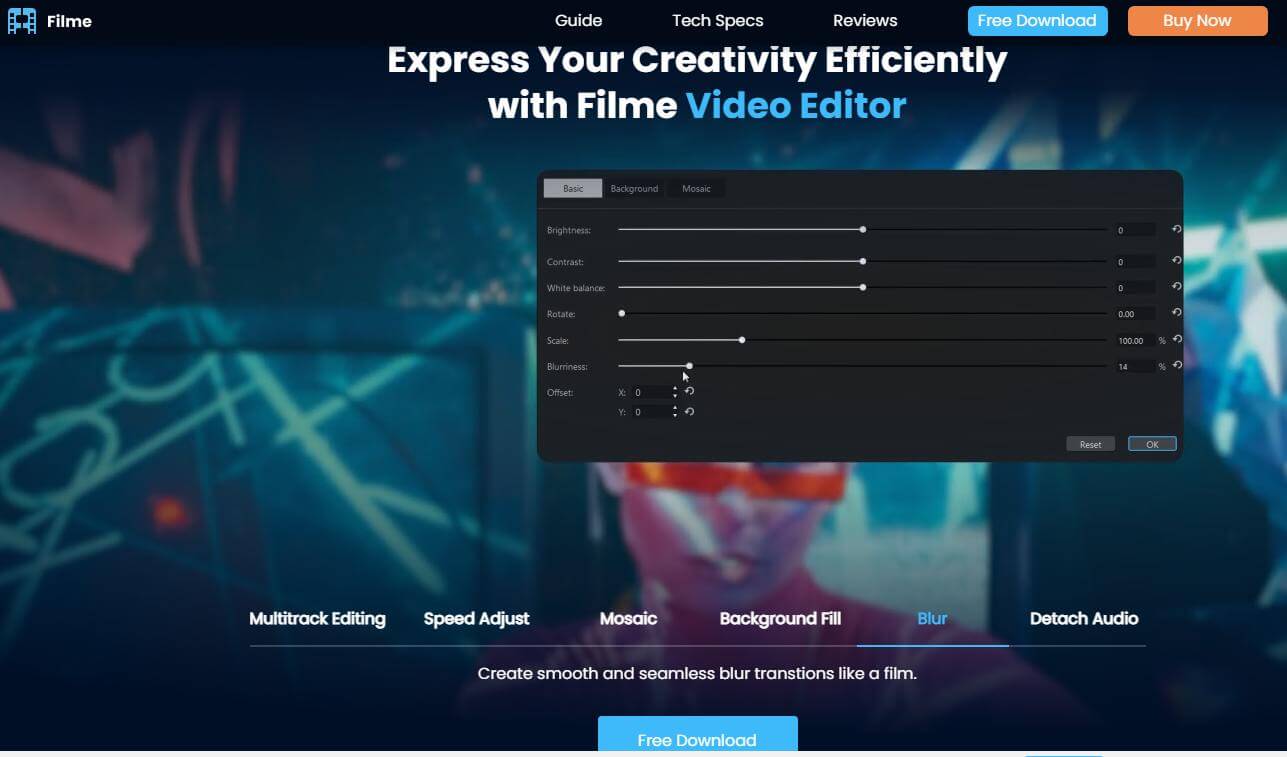 iMyFone Filme Features
It allows you to add a transition in between two video clips or images. The same transition can be added to all images and videos of the project.

The platform supports a wide range of video formats. Depending on your needs, any project can be saved as an MP4, AVI, MOV, MPEG-1, MPEG-2, MKV, and OGV file.

The platform supports a wide range of audio file formats. Any project can be saved as MP3, WAV, AAC, FLAC, OGG files, depending on your need.

Depending on your system's hardware and your requirement, pictures can be downloaded in three options: "good," "standard," or "best."

A project can be exported to your computer or any other device such as a Smartphone, Smart TV, PlayStation, iPad, iPhone, and an Apple TV.

The basic effectsallow you to add animations and filters to make videos more appealing.

The best part is the Filme's fast video mode. With this, creating a video is just a click away.

Most video makers prefer to add a little text to their videos. There are pre-set fonts or you can even customize them.
How to Add Mosaic Blur in iMyFone Filme?
Step 1: Download the application called iMyFone Video Editor from the official website.
Step 2: Install the app. Click on the file option and select videos. Whichever video you want to edit, drag it to the timeline.
Step 3: Select the area of the video you want to blur. You can select from a square, guardian, and many more blur options. The blur options will be available in the effects sections.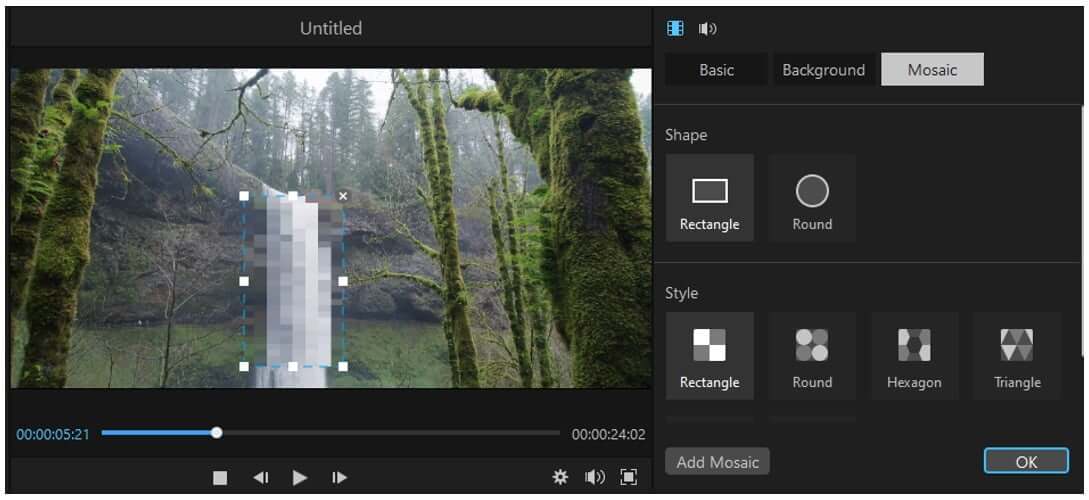 Step 4: Once you have decided on the blur option, click on it and drag it onto the video.
Step 5: That's all it takes! Now save the video on your system by clicking on the export button.
Also Read
Remove Mosaic Censored Part from Video or Photo>>

Remove Filmora Watermark without Paying>>
Download TikTok/ Ins Video without watermark
Part 2. Top 5 Photo/Video Mosaic Maker App on iPhone/Android
Blurring out people's identities in your images and videos is just the tip of the iceberg because the apps featured below allow you to manipulate images and videos in any way you like.
So, let's take a look at some of the best apps available for adding mosaic to your pictures and videos.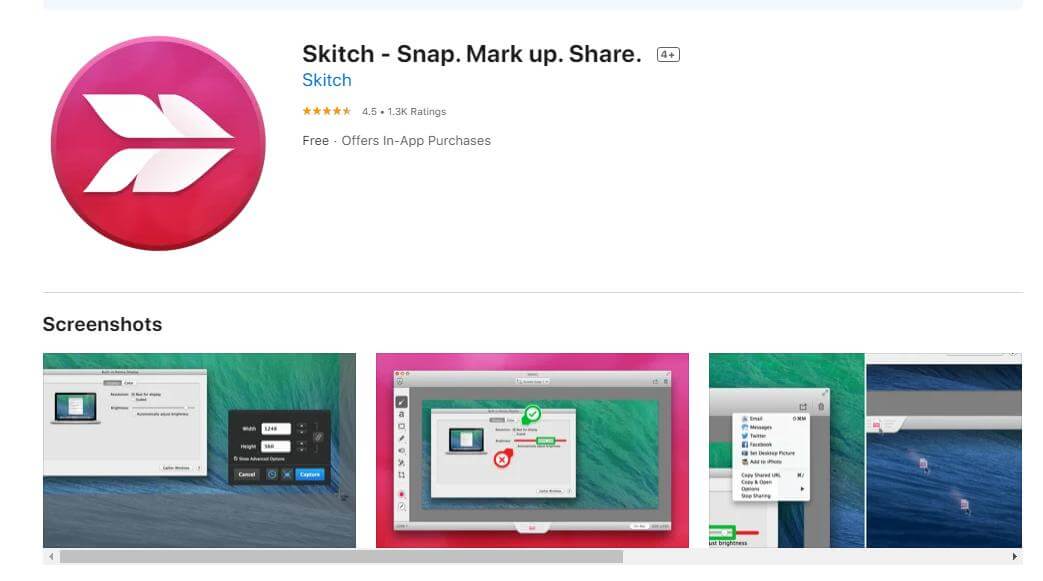 1. Skitch
The app is designed for iPhone users to quickly snap and edit images with just a few taps. The application can be used to enhance the color of each photo and can also post your creations directly on social media platforms without having to download them on your phone.
Use the following steps to blur out images on Skitch:
Step 1: Open the app and choose the image you want to add mosaic to.
Step 2: Using the PIXELATE button and highlight those parts of images that you want to blur.
Step 3: Keep highlighting the parts of an image to increase the intensity of the mosaic.
Step 4: You can find a lot of pre-set editing tools on the app to add more changes to the image.
2. Video Mosaic
It is one of the best apps for blurring out faces or parts of pictures/videos. The app allows the users to directly start recording videos with a blurring effect and edit them easily. It's simple to use, and you can pick from an array of layouts.
Follow the steps below to add mosaic to videos/images:
Step 1: Select the picture you want to add mosaic to.
Step 2: From the layouts, choose one of the three options: "All," "face," "trace with your finger," and "shape." Each one is self-explanatory.
Step 3: Increase or decrease the intensity of mosaic.
Step 4: Export the project to your phone or your social media account.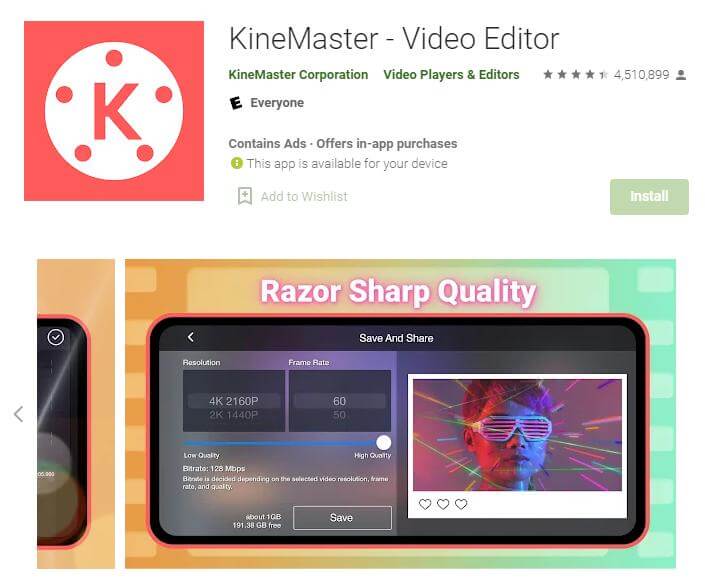 3. KineMaster Pro Video Editor
KineMaster is available for both Android and iOS devices. Even the free version offers enough tools to edit any video to convert it into a masterpiece. The platform supports multiple formats of audio, videos, and images.
Follow the following steps to add Gaussian blur to videos/images using KineMaster:
Step 1: Open the app and import the desired video from your phone.
Step 2: From the effects option, select basic effects.
Step 3: Select Gaussian blur or mosaic and apply it to your video.
Step 4: From the cropping option, select 'mask.' This allows you to blur image areas using a particular shape.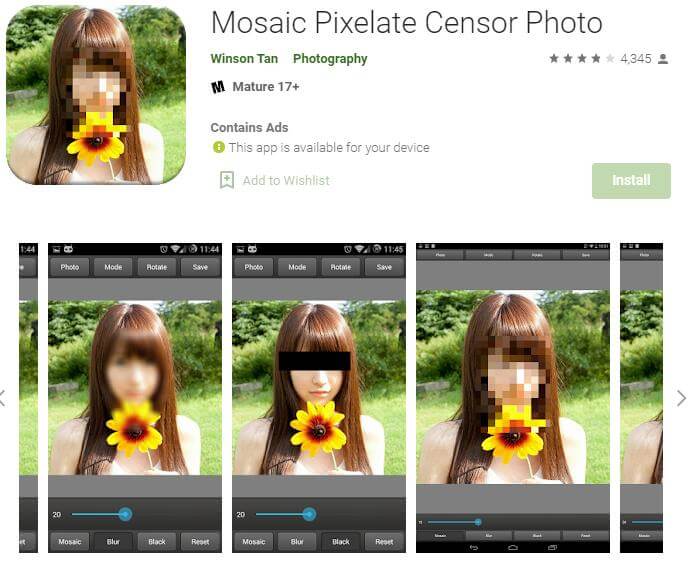 4. Mosaic Pixelate Censor Photo
The Mosaic Pixelate Censor Photo is designed solely for the purpose of adding mosaic to your images. It does not offer other image editing tools. The app is almost self-explanatory in how to blur out parts of images.
Step 1: Open the app and import the image from your smartphone.
Step 2: Choose from the available options: Mosaic, Pixelate, Blur, or Colour.
Step 3: Designate the area you want to add motion blur The app will take care of the rest.
5. Blur&Mosaic
Blurring out faces in photos and videos is extremely easy with Blur&Mosaic. Use the following steps:
Step 1: Use your finger to mark the area you want to blur.
Step 2: Choose from 9 available mosaic styles.
Step 3: There are 4 thickness and strength options. Adjust them according to your need.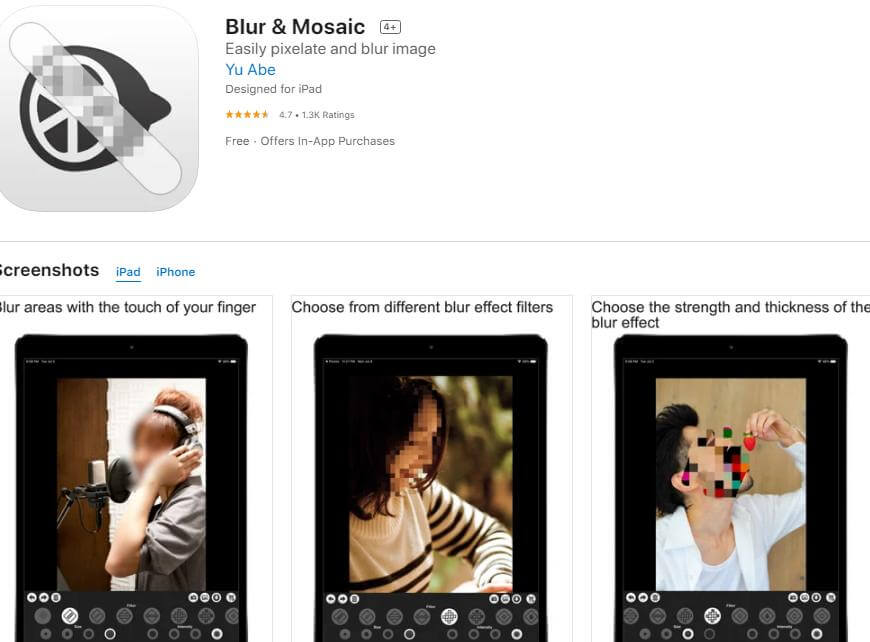 Part 3. Top 5 Photo/Video Mosaic Maker Online Tools
1. Mozaiq
The online mosaic creator will give you stunning mosaics in just a swish! It allows you to blur out parts of an image or message that you don't want to show your audience. It is a straightforward yet effective tool for adding mosaic to your videos and images.
Follow the steps below to get the job done:
Step 1: Upload the photo/video on the online platform.
Step 2: Select part of the image/video you want to conceal.
Step 3: Click on 'create mosaic'. Your mosaic is ready.
Step 4: The encrypt app allows you to share your blurred images.

2. PicArtia
Once you open this online platform, you will realize it is self-explanatory. The quality of the mosaic formed via PicArtia is exceptionally high. The platform allows users to download the images in JPG photo format, promising the highest quality of an image.
Follow the given steps to create your mosaic:
Step 1: Open the website and upload the image.
Step 2: Select the Flickr gallery that must be used to create the mosaic.
Step 3: Select the output resolution.
Step 4: Click 'Create mosaic.'
You will receive an email with the download code.
3. Easymoza
Easymoza is brilliant online mosaic maker software. It is best suited for conditions when you want to personalize an image.
Steps to create a mosaic are:
Step 1: Go to the website.
Step 2: Upload your main photo.
Step 3: Upload the small photos.
Step 4: Click on 'create mosaic.'
Step 5: Download the final image.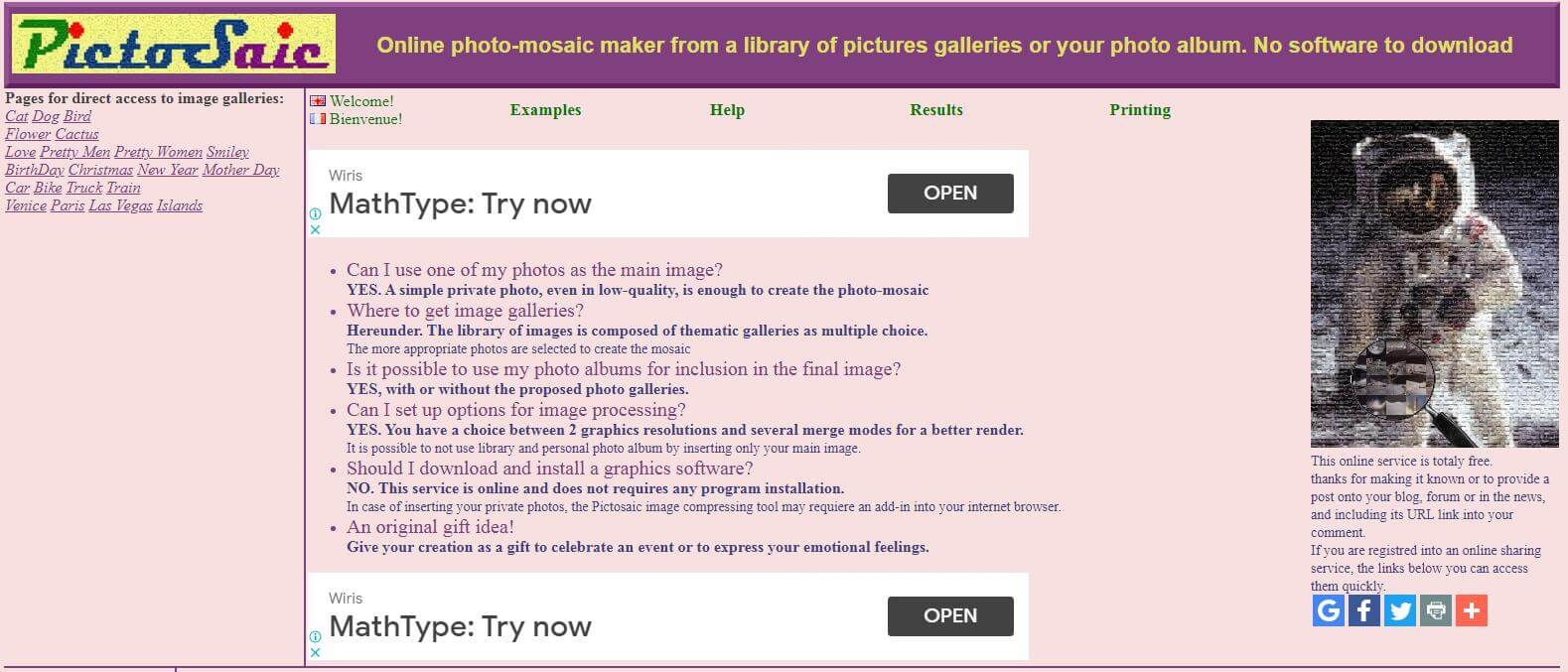 4. PictoSaic
This is another popular option. A minor setback for the platform is that it does not produce high-quality images. Setting up the image processing options is pretty straightforward.
Step 1: Upload an image.
Step 2: Select the creation type.
Step 3: Select the number of tiny images your mosaic will have.
Step 4: Select the type of merge you want with the main image.
Step 5: Click on the 'Go' button.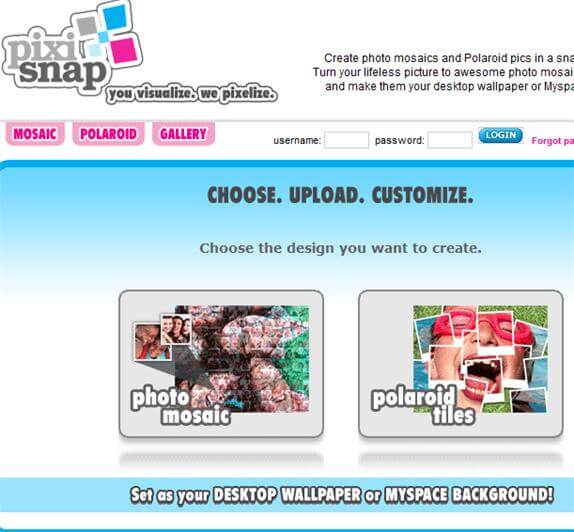 5. PixiSnap
PixiSnap is also a widely used online platform to create the mosaic. It will only take a couple of seconds for the mosaic to get ready with PixiSnap.
Step 1: Open the website.
Step 2: Click on 'Photo Mosaic'.
Step 3: Upload the image you want to create a mosaic for.
Step 4: Click on 'create'.
Your mosaic is ready!
Conclusion
The list of mosaic makers is never-ending, but our best recommendation is iMyFone Filme. It brings the most advanced video editing tools together in a single product while being super straightforward, even for newbies. The software allows people to create and edit high-quality videos quickly and offers a variety of templates, graphics, effects, and filters.
iMyFone Filme is a picture/video editing tool that can be used by both beginners and professionals alike. The platform offers a wide range of resources to create powerful videos and images.
Recently, the company has introduced a completely free version of the video editing software. Just a few clicks, and you will have downloaded one of the best video editing software available for now!