Movie editing software are really useful at both beginner and professional levels as they can help you stand out from your competition. You can use a movie editor to produce high-quality videos to share on platforms like YouTube, Facebook, Instagram, etc. and keep your targeted audience engaged.
The best thing is, you don't have to worry about the costs because there are many free options available and you can surely find a best free movie editing software for your specific needs. Read on to learn about the various free movie editing software windows that you can use to take your movie editing to the next level.
Best 7 Free Movie Editing Software Windows 2020

You don't really need to use a paid software in order to produce a high-quality video or movie. There are several free alternatives available. Following are some recommendations:
A movie editing software for everyone - make your story telling easy!
If you are looking for the best free movie editing software, then you simply cannot go wrong by choosing Filme. Despite being a free movie editing software, iMyFone Filme has much to offer. It comes with numerous free effects, transitions and music to spice up your movie editing experience. You can make high-quality videos, premium music videos, and much more with the help of the software's built-in editing tools.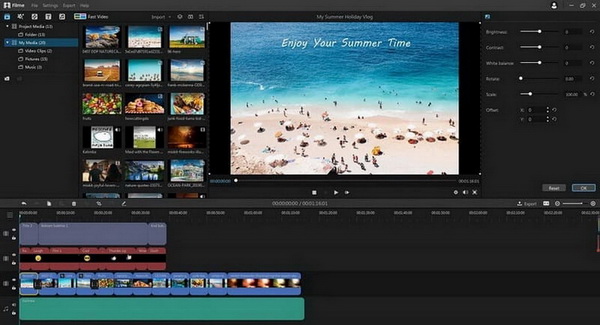 It's Fast Video mode is excellent for anyone looking to edit a movie quickly as it allows you to use the software's built-in, refined templates in real-time to complete your video editing project in a timely manner. There are many other features of this software and they are all easy to understand and use.
Following are the key features of Filme:
Several premium-quality templates to create stunning slideshows, videos, or movies.

Wide range of vivid and attractive effects to choose from, e.g. filters, transitions, titles, animations, and more.

All the basic and advanced movie editing tools are available, e.g. add text, adjust speed, crop, rotate, split, picture-in-picture effect, and more.

Instant preview feature that allows you to edit and view your progress in real-time.

Fast Video mode makes creating stunning slideshow videos or movie a breeze.
So, how to make a movie video easily?
Watch this video to make your own video today using Filme!
---
02

OpenShot

An easy to use, quick to learn, and surprisingly powerful video editor.
OpenShot is another best free movie editing software that makes it easy to create and edit movies even if you are beginner. Paid movie editing softwares often come with complex tools that make the entire movie editing experience overwhelming. This is not the case with OpenShot.
This software has a minimal design and intuitive interface that is ideal for beginner-friendly movie editing. While there are many features of this software, it is best suitable for rotating, snapping, trimming, scaling, and resizing videos. Apart from these, if you invest a little time, you can easily learn to utilize its more advanced features, such as audio editing, time mapping, frame stepping, credit scrolling, etc.
Following are the key features of OpenShot:
Add variety of digital effects to your movie, e.g. chroma key compositing, greyscale, hue, gamma, brightness, etc.

Add as much layers of audio tracks, background videos, or watermarks when editing a movie. There are no limitations.

You can load all types of media easily into the software thanks to its compatibility with drag-and-drop feature.

Create high-quality animated videos by using several key-frame animation features of the software.

Customizable title-card templates.
Supported Platform: Windows, Mac, and Linux
---
03

HitFilm Express

Free video editing software with professional-grade VFX tools and everything you need.
HitFilm Express is a powerful free movie editing software windows however, it is a little advanced as compared to other tools. So, you might struggle a bit if you are new to movie editing. But once you take your time to learn it, you can do some pretty amazing things with this tool.
HitFilm Express specializes in producing Hollywood-style movies. It has several powerful animation tools that you can use to edit and create video and audio transitions without creating composite shots, which most other tools require. As a result, you can complete your movie editing project relatively quickly without compromising the quality.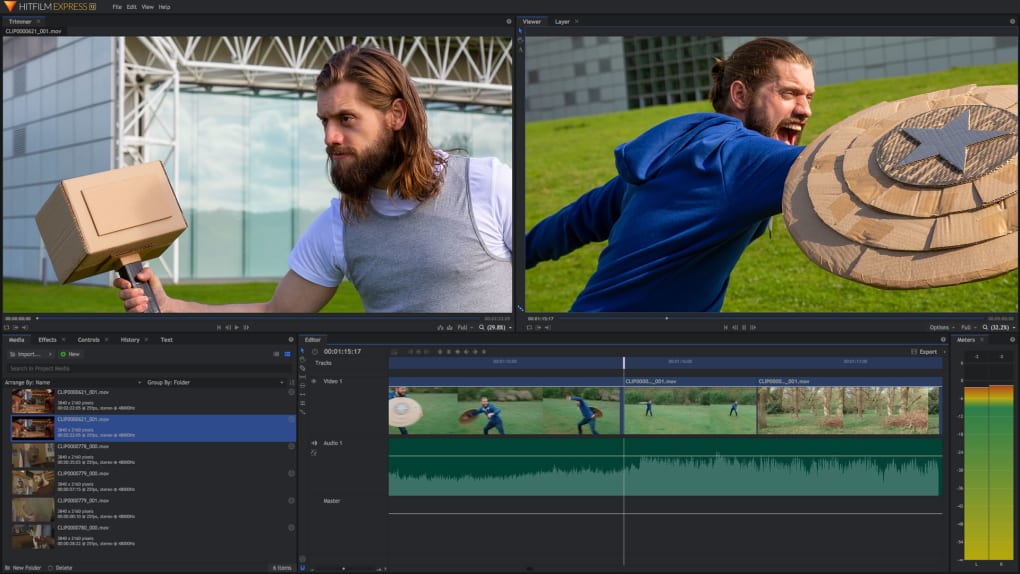 Following are the key features of HitFilm Express:
Hollywood-style movie editing capabilities.

Numerous transition effects available, e.g. dissolve, zoom, push, etc.

Adaptive trim feature that allows you to trim/re-trim your movies in real-time after they are added to the timeline.

Create unlimited audio and video timeline tracks.

Create premium quality surreal video effects by animating two separate clips via composite shot enhancement feature.

Fine tune sound of any movie or video with a professional-grade audio mixer.

You can copy a group of attributes from one video editing project to another.
Supported Platform: Windows and Mac
---
04

DaVinci Resolve

A color correction and non-linear video editing application.
DaVinci Resolve is a top choice for many professional movie editors of commercials, television shows, and films. It is an all-in-one tool that combines professional 8K editing, audio post-production, visual effects, and color correction to allow to you create, edit, or improve any project. You can use this tool for both online and offline editing.
It is a high-performance software that saves you time when editing and trimming videos. It is also capable of handling CPU-intensive video formats like RAW, H.264, etc. quite efficiently. While it is quite powerful, keep in mind that this best free movie editing software may be too complex for new users due to its extensive features.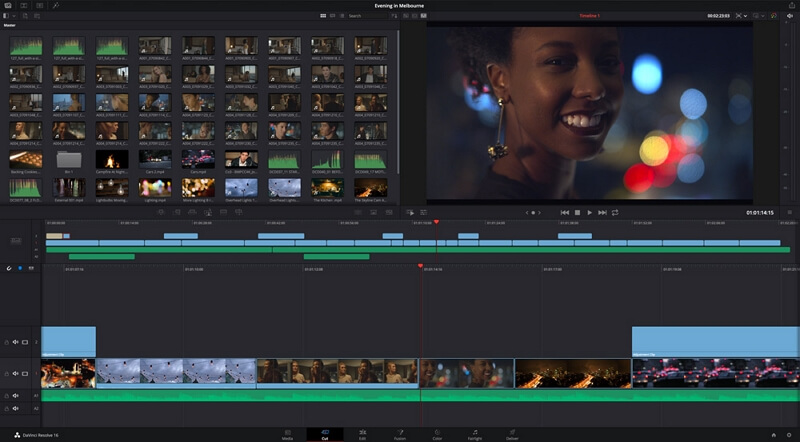 Following are the key features of DaVinci Resolve:
Powerful built-in tools for audio, text, dynamic zoom, stabilization, retiming, and picture-in-picture effect.

Dedicated trim interface that allows you to edit your movies efficiently.

Dual timeline for quick navigation, trimming, and cutting.

Intelligent audio-editing which you can use to perfectly sync visual clips and audio.

High-quality frame rate conversions and motion estimation speed change features to realistically slow-down or speed up clips.

Detect faces in the movies via facial recognition feature. This is useful for creating bins based on the people in each clip.
Supported Platform: Windows, Mac, and Linux
---
05

Lightworks

A non-linear editing system for editing and mastering digital video.
Lightworks is an easy-to-use free movie editing software that features a simple, intuitive interface. If you are new to video editing, then it is recommended that you check out the collection of detailed video tutorials offered by the software. This makes Lightworks an easy-to-learn and accessible movie editing tool that is suitable for everyone, even the non-tech-savvy users.
This software comes with a variety of original stock music clips and videos that you can use in your movie when editing them. This feature makes the tool ideal for creating marketing videos and movies with premium, polished look.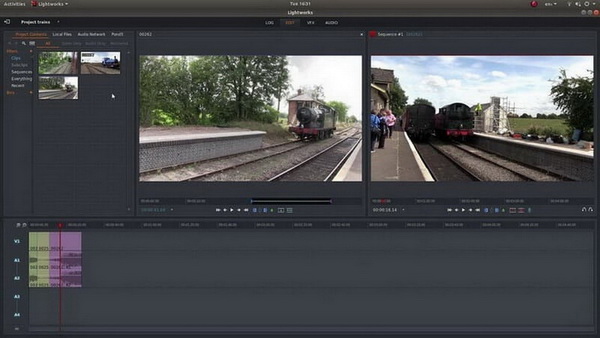 Following are the key features of Lightworks:
Fast and precise video trimming thanks to the advanced trim feature.

Sync movies or clips from multiple cameras via multicam editing support.

Share your movie editing project with others via real-time project sharing feature.

You can specify which user has access to editing capabilities.

Optimized for speed. You can continue editing your movie while importing new media.

Share your edited movies to Facebook, YouTube, Vimeo, and Instagram directly from the software.

Compatible with a wide range of popular video formats.
Supported Platform: Windows, Mac, and Linux
---
06

VSDC

Free video software: audio and video editing tool.
VSDC is a popular movie editing software that has both free and paid versions available. Even though the free version offers limited functionality, it is still equipped with a variety of powerful tools to enhance and simplify your movie editing experience, e.g. chroma key functionality for green-screen effects, mask tool, and more.
There are many transitions effects as well that you can use to beautify your movies. The full version of the software offers additional features, such as direct social media publishing, 3D diagram templates, presentation/slideshow capabilities, robust post-production effects, video stabilization, and more.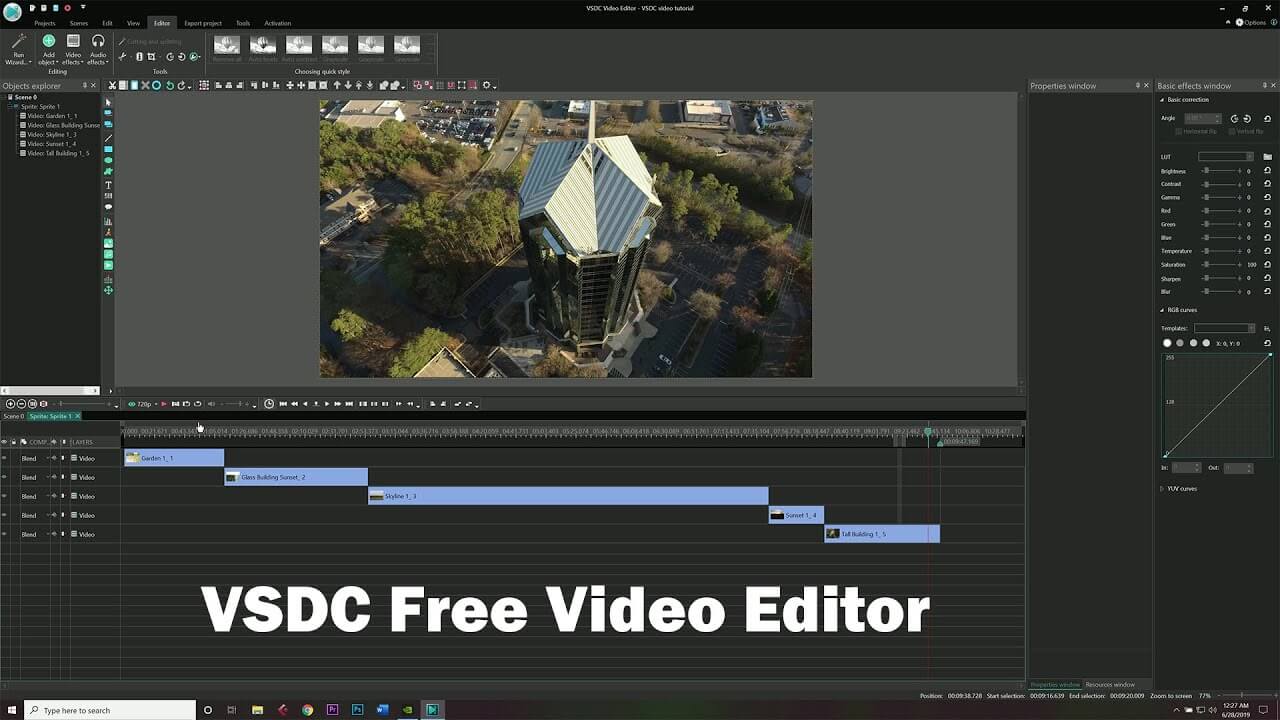 Following are the key features of VSDC:
Mask tool for highlighting, blurring, or hiding specific elements in the movie.

Easy-to-use image filters to enhance the quality of the video.

Wide variety of transitional effects.

Create professional looking movies/videos via color-correction tools.

Directly share edited movies on YouTube, Facebook, Vimeo, Twitter, and Instagram from the software.

Compatible with H.265/HEVC video format, to produce premium quality videos at a reduced size. This makes VSDC an ideal tool for processing HD and 4K files.
Supported Platform: Windows
---
07

Shotcut

A free, open source, cross-platform video editor for Windows, Mac and Linux.
Shotcut is another easy-to-use free movie editing software. It is a cross-platform tool which means you can share its projects from one platform to another without hassles. This is great for team projects that span across different platforms. Just like Lightworks, Shotcut also has a huge collection of tutorial videos that allows you to quickly learn how to use the software according to your needs.
It is compatible with a variety of popular formats, such as ProRes, 4K, FFmpeg, and DNxHD. Furthermore, it also offers variety of audio editing options, that are great for audio enthusiasts. You can adjust and edit various aspects of audio and video via this tool.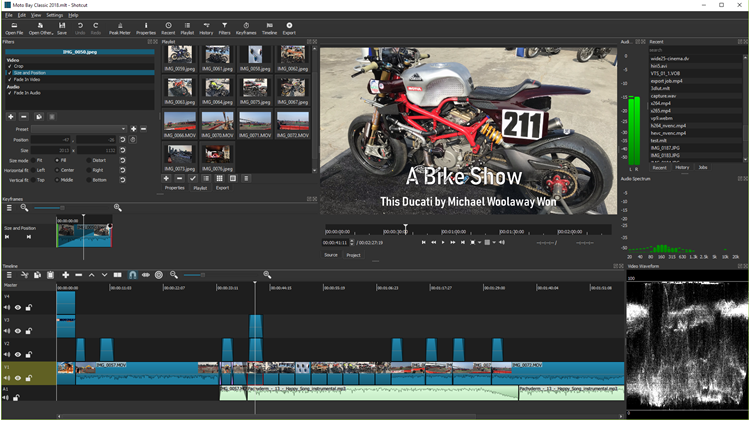 Following are the key features of Shotcut:
Multi-format timeline allows you to mix and match frame rates and resolutions within a project.

Native timeline editing is great for importing video files directly into your project instead of a media library.

Advanced audio editing and fine-tuning tools, such as compressor, bandpass filters, treble and bass adjustment, balance, and more.

Compatible with wide range of video and audio formats.
Supported Platform: Windows, Mac, and Linux
FAQs about Video Editing Software You Can't Miss

There are many video editing software that cater to new users. These include:
iMyFone Filme
Openshot
HitFilm Express
2

What is the Best Free Video Editing Software with No Watermark?
Most free video editing softwars come with watermark. However, there are some tools that have no watermark. These include:
VSDC
DaVinci Resolve
Lightworks
OpenShot
Shotcut
3

Does Windows 10 Have a Free Video Editor?
Yes. Just like Apple iMovie on Mac or Windows Movie Maker on Windows 7/8, Windows 10 has a free video editing software. However, it is not a standalone tool. Instead, it is incorporated in the Photos app of Windows 10. Still, it is very useful as it allows you to easily trim videos or create your own slideshows and home movies. To access it, open a video file in the Photos app. Then click on the 'Edit & Create' option. Now you will see the various options provided by the video editing software, e.g. create a video with text, add 3D effects, trim, etc.
4

Is Free Video Editing Software Actually Free?

Yes. While there are many video editors that claim to be free but have certain advanced features locked behind a paywall, some free video editing software are actually free and they offer access to all of their features without any cost.
Conclusion

In conclusion, it is possible to edit and create high-quality movies and videos without paying any money. There are a number of free movie editing software that can help you achieve that. From the above list of best free movie editing software, you can choose the one that suits your preferences and start editing your videos. If you are not sure which software to choose, then it is recommended that you give iMyFone Filme a try. It is a reliable free video editor that is capable of covering all your movie editing needs.