We often get a random dose of inspiration and want to venture out into the world of filmmaking. Whether you need to showcase your creative side or are trying to finish a project, video transitions play a major part. People often use Windows Movie Maker to add and video transition however, they don't seem to be the easiest way.
The much easier way to add transition to video is using iMyFone Filme. It is a all-in-one video editor that really helps. And it comes with 100+ transitions for you to choose from. You can download it for free now and have a try first.
How to Add Transitions with Windows Movie Maker
With the help of Windows Movie Maker, you can now spice up your video by adding animated transitions in between. It makes the clip more entertaining and can gain more attention. You can achieve this in 3 simple steps however, there isn't a vast variety of effects that can make things a little boring especially with all these new and different effects being used everywhere. Now, let's find out how to put video transitions in the Windows Movie Maker, the best way possible!
Step 1
The first step is to open the windows movie editing program and choose the video you need to make these edits to. You can simply import the video by clicking on the + button.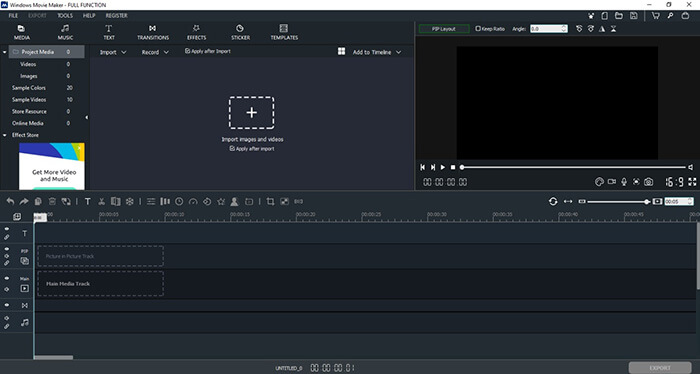 Step 2
Then, click on the video tools and select the option "Transitions". When you click on it, a variety of different Windows Movie Maker video effects and transitions will be displayed in front of you, and you can choose whichever one you like.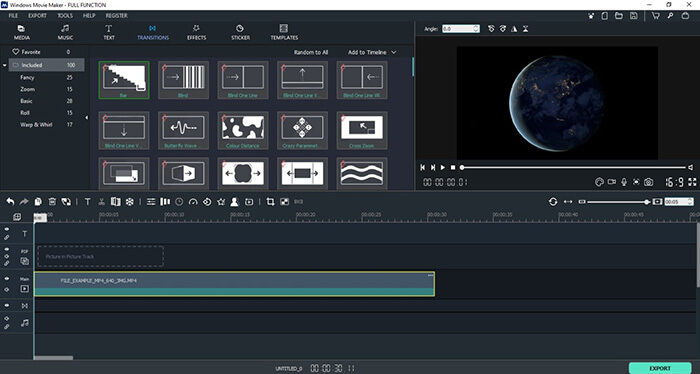 Step 3
Now that you have selected your transition effect, the test is to figure out how to put the video transition in the window movie maker to your selected clip. You can decide the point where you want to add the transition. After you have decided the placement of your transition, simply pick the transition you had previously selected and drag it on the timeline. You can change the place if you want to.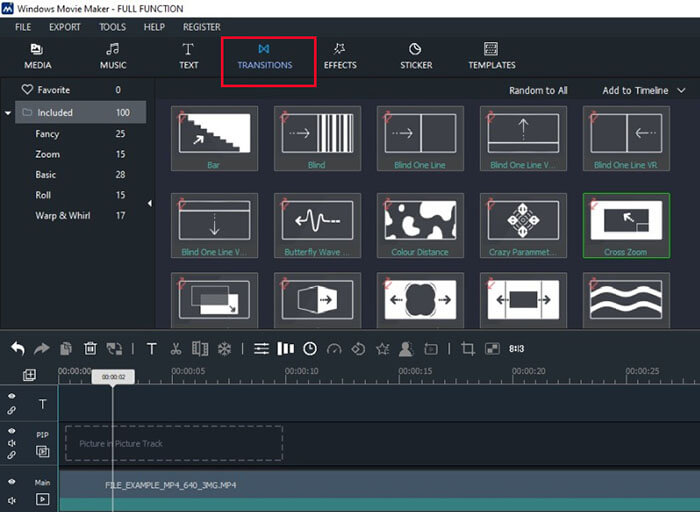 Now, for instance, if you don't like the transition or are not sure about it, you can always preview it before applying. This saves you from removing and repeating the whole process from square one. You can preview how the added transition would look by clicking on the play button below the video.
Often the transition ends too soon for our liking or stays for too long. This can affect our video greatly. Transitions need to be the perfect length for the video to look put together and neat. You can play around with various transition durations and figure out what you like best. You can change the duration according to your liking by simply clicking the option that says "duration" and setting the time per your personal preference.
That's it. Your video is now ready to be exported.
Additional step
After adding the transition, you mustn't lose your progress. For this, you must save your project after adding any transition. We recommend you save your progress after adding every transition so that even if you close the program by mistake or something goes wrong, you have your project safe and sound for you to work with. This saves you from frustration and stress when something does go wrong.
Why We Don't Recommend Using Windows Movie Maker to Add Transitions
As mentioned earlier, most editors or even people who edit videos frequently will advise you to steer clear from Windows Movie Makers. It's not the most effective platform to edit your videos. Its cons exceed its pros and are not capable of competing with newer and better editing platforms such as Filme.
The many disadvantages of Windows Movie Maker include:
Outdated and old style

Limited transitions

Common styles, nothing unique

Fewer video editing effects

Bugs, glitches, and frequent crashes

Only one video or audio track is available
Filme on the other hand is a new editor that can offer you many benefits along with its outstanding services.
We Recommend Another Comprehensive Video Editor to Add Transitions - iMyFone Filme
Attention! There's a new editing platform in town that has a wide variety of transitions and effects to choose from. It provides you with a smooth and easy editing process without any hindrance. iMyFone Filme is editing software that contains 118 different types of transition styles which will leave your project looking all polished.
This wide variety of editing styles will help you choose what you truly like and what speaks to you. we must have a wide collection to select from, as many people use video editing to express themselves and showcase the creativity inside them.
Here are the steps you must follow to add transitions to your videos:
Step 1
Filme now provides a smooth editing experience allowing you to add as many transitions as you like! The first step after installing the Filme app is to run it. Once Filme is opened, a "+" sign (Editing Mode) will appear on the interface. Click on it to start your project.
This makes it easy for you to get right into the editing process.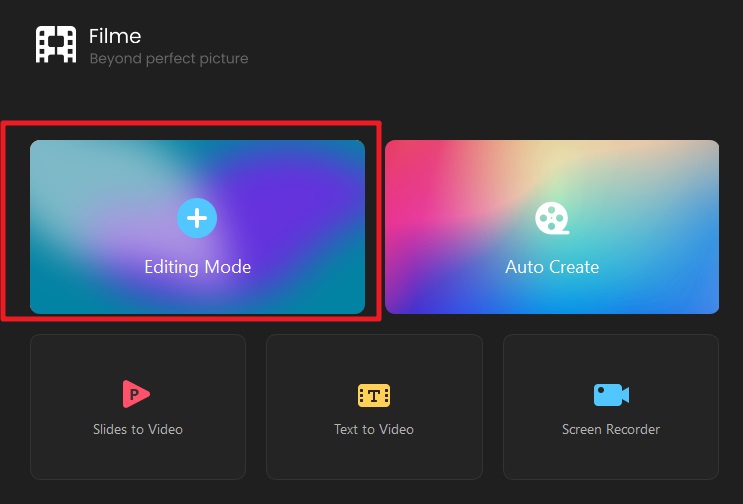 Step 2
Import the media by clicking on the import button.
Step 3
Now, pick and drag the video on the timeline.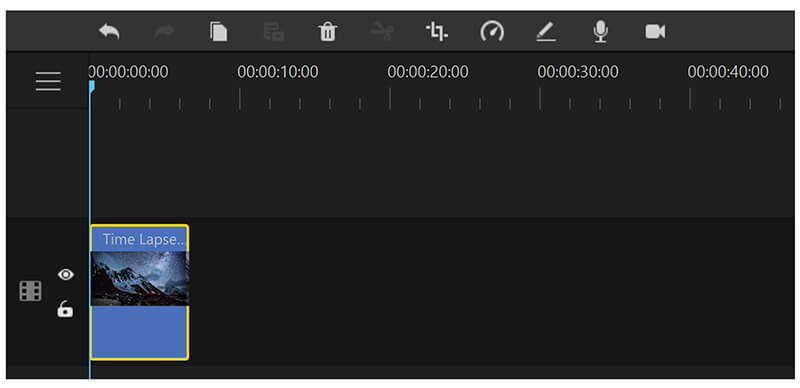 Step 4
Click on the transitions option from the menu and select the transition you want. Pick the transition and drag it over the video.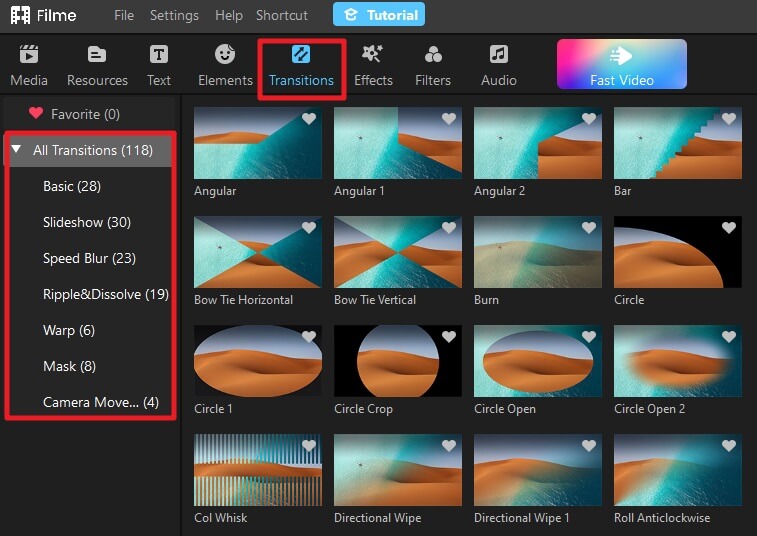 Step 5
That's it. Now you can preview the video and export it in your desired extention.
Why Should You Use Filme?
There are many benefits of using Filme as your editor, it's high-quality software that is tested for any bugs or crashes. The amount of transition templates available is impressive. Filme has more effects than any other editing platform of this sort.
This ensures that you end up with the most unique videos and gain admirers through them. It is a breeze to use and contains a free trial so that you can check whether it is suitable for you or not before purchasing it. It's compatible with both windows and mac, making it a feasible option for many.
It comes with other amazing video editing features that are just as easy to use as this one. Filme has proven to be the number one choice of many. For instance, if you find that you are spending an excruciatingly long time editing your videos, even longer than your peers then this is not normal. You need to change your editing software.
Filme has helped many gain substantial speed in editing and get shocking results. It is easier than ever now to meet deadlines.
Conclusion
Lastly, we think that instead of wasting your time and effort with Windows Movie Maker video transitions only to get mediocre results, it is better to invest in Filme. Its amazing features and large varieties of effects make the process more creative and help find that wildness hidden inside you.
It's always good to experiment first before you truly decide it is your cup of tea and therefore, we advise you to first try out the free trial Filme offers its users before you make your final decision. Filme is the editor to choose if you want to mark a professional impression over your audience and get results you are proud of showcasing.