If you are a music lover, you might have come across many situations where you want to listen to your favorite music tracks offline. For instance, while going on a long road trip, you may not have enough data to stream music online. In such cases, you can convert your favorite Youtube videos to MP3 and listen to them offline.There are many ways to convert Youtube videos to MP3. In this blog, we will discuss the three most effective ways to do so.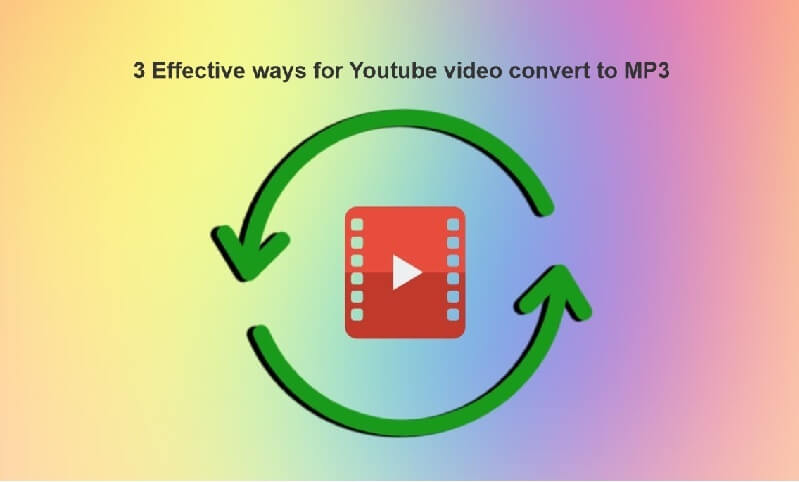 Part 1. Why people want to need the tool- video converter?
There are many reasons people might want to use a video converter. Perhaps they have a video file that is in a format that is not compatible with their media player. Maybe they want to convert a video from one format to another to make it smaller or larger. Or they could be looking to download a video from the internet and convert it to a format that is compatible with their device. Whatever the reason, a video converter can be a helpful tool for many people. can help people save time and money.
Part 2. 3 Methods of Youtube Video Convert to MP3
It's a really cool video converter that can convert your video to MP3 for PC. It supports converting from YouTube, Vimeo, Facebook, and other sites. It also has the option to convert in the background so you can watch your videos while the conversion is happening.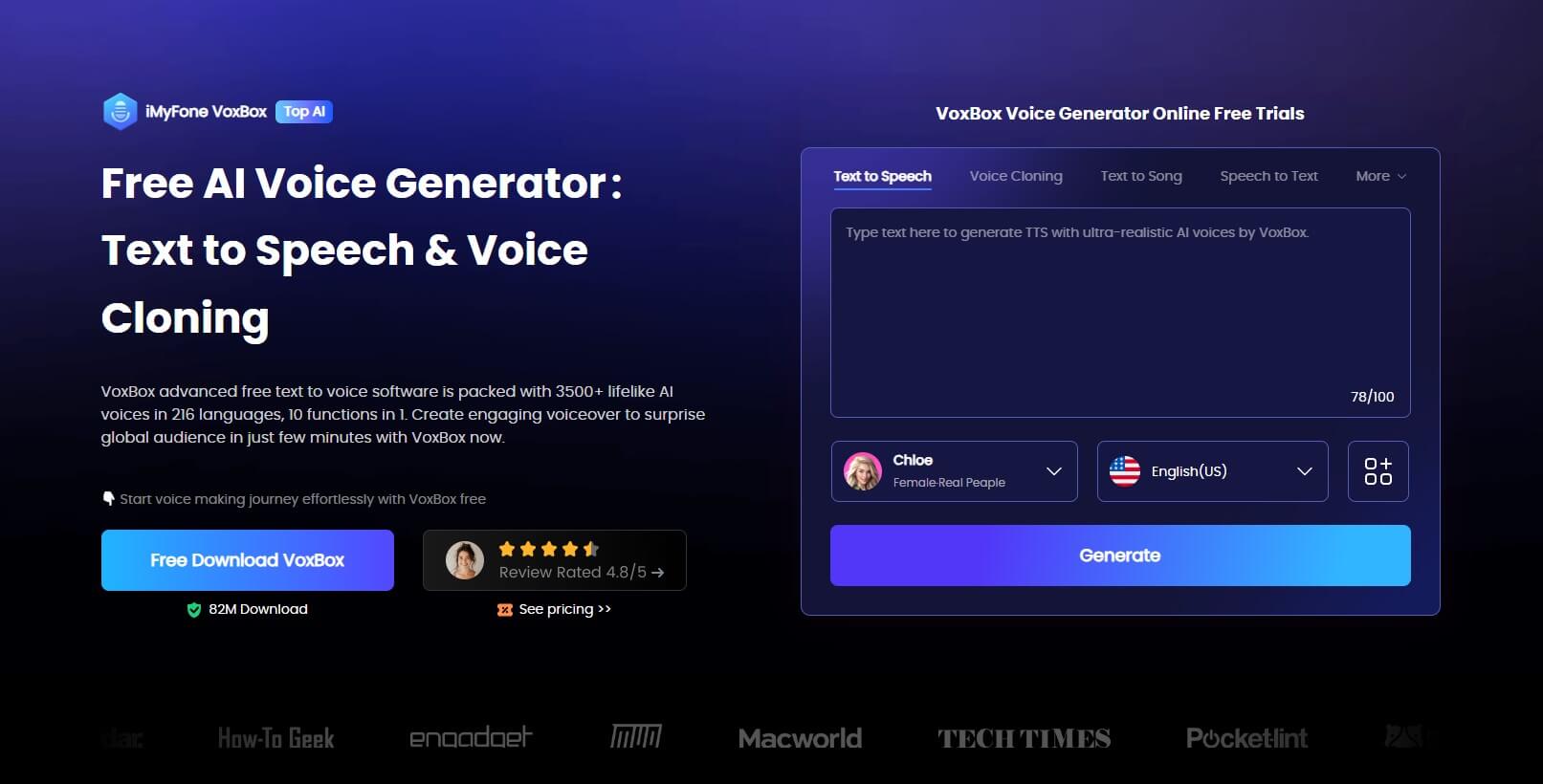 Features:
3000+ voices like rappers, YouTubers, cartoons, celebrities, etc.

20+ global languages like Spanish, Japanese, British.

25+ Country accents like a British accent and a Hindin accent, etc.

4-in-1 software of voice record, generate, convert, and edit.

Supported videos from various platforms.

Support large file (No file size limits).

Supported bulk convert.

Clean and intuitive interface.

Retains 100% original quality.
Pros:

Easy-to-use and free

Supporetd only select the audio you care about.

Supported 30+ input formats.

With high speed to convert
Cons:

Only supprted Win. Mac coming soon.
How it works?
Step 1. Download and install.
Step 2. Choose "convert", Then click on "Add Files" or drag the Youtubevideos that you want to convert.

Step 3. Choose the MP3 format and also the quality of output from the bottom, trim the file if you want.

Step 4. Click on "Convert"
Nearly anyone, with or without experience, can create an excellent video using modern video editing tools. Although there are many excellent video editing programs that may give you the resources you need to edit and share your films with the world, you should identify and download the best video editor because it can better fulfill your demands. Here, we heartily urge you to get the Filmora video editor and give it a shot for free.
Features:
Supported OS (Windows 11 and below)

Supported edit, Split Screen, aduio trim, video effects

Support SRT file and HDR.
Pros:

It is an excellent alternative for video editing because it is simple to use and contains a lot of visual effects.

Compared to other video editing software, it offers more presets and effects that are also pretty simple to use.

Supported customize the output audio settings
Cons:

Filmora might frequently lag while editing 4K videos that were on the longer side and even crash.

Only supported MP4 input format.
How it works?
Step 1. Download and install,Open Filmora, then go to File-Import-Media to load the converted mp4 video to the Media Library.

Step 2. Add or drag the video to the timeline.

Step 3. Then hit the 'Export' button and select 'MP3' format from the expanded list.
You may convert any video link or file to a variety of formats with an Online video converter, a free online media conversion web program, without having to install any software on your computer. FLVto has been hailed online as the best online video conversion tool because it offers high-quality and incredibly quick conversions to many audio and video formats. FLVto is fully compatible with all modern browsers. Numerous internet video portals, such as YouTube, Dailymotion, and Vimeo, are supported.
Features:
Supported URL to convert.

Supported download video, then watch it offline

Supported various languages.
Pros:

Free and no registering

Intuitive user interface
Cons:

Short storage time.

Only supported 2 media formats.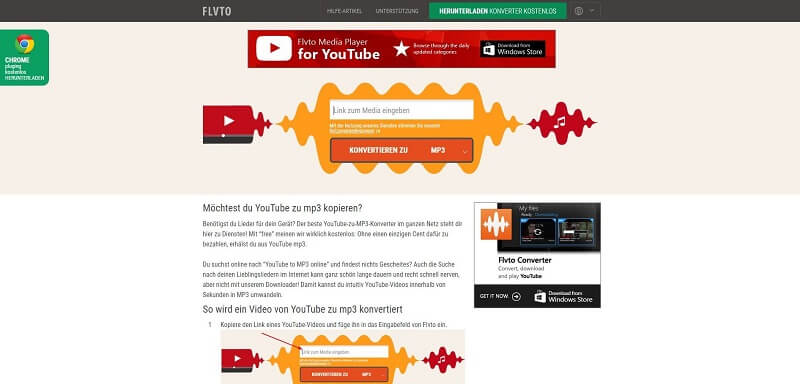 Part 3. Hot FAQs?
1. Is converting YouTube video to MP3 secure?
When you download a video from YouTube, you are essentially downloading a file from someone else's computer.
Fortunately, there are a few things you can do to make sure that converting YouTube video to MP3 is secure. First of all, you should only convert videos from sources that you trust.
There are many websites that allow you to convert YouTube videos, but not all of them are created equal. Some websites may contain malware or spyware, which could infect your computer.
2. Can I use youtube video convert to other audio format?
Yes, you can convert YouTube videos to other audio formats using a number of different online converters. Simply search for "YouTube to MP3 converter" in your favorite search engine or find a converter that suits your needs like Filmora, VoxBox.
3. Can I convert the video from other platform to mp3?
Yes, you can convert video from other platforms to mp3. You can use a variety of different software programs to do this, and these are guides that can show you how to do it.
Conclusion
To convert your favorite YouTube videos into MP3 files, there are a few different ways that you can do it. One of the easiest methods is to use a YouTube to MP3 converter website. There are plenty of different websites that offer this service, and they're all pretty straightforward to use.
Voxbox is the best choice for anyone looking for a reliable and affordable product. It is easy to use and comes with a wide range of features that make it the perfect choice for anyone. Provides users with all the features they need.
Watch this video to learn more about the Best 4-in-1 video converter Tool iMyFone VoxBox: