While scrolling on Facebook, you might come across a video having a piece of appealing music or background sound. If you would like to download it, then you do that using a video downloader. but if you just want the music, don't worry, we will tell you how you can do facebook to mp3 without any hassle.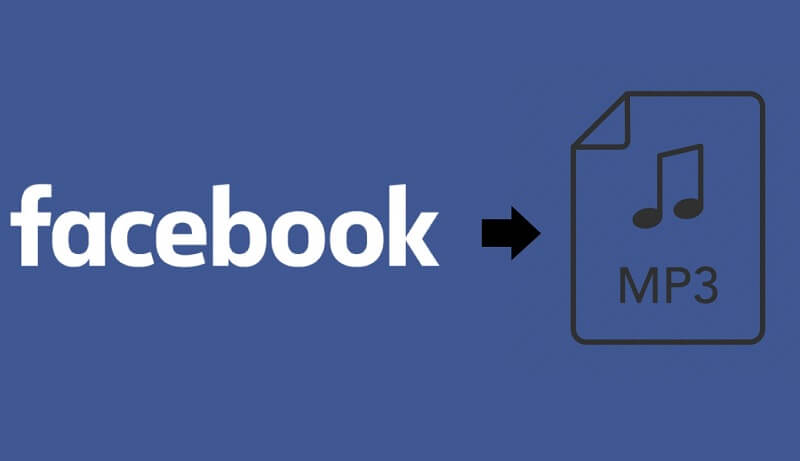 Part 1. How to Download Facebook Videos?
Online website- F2mp to download
F2mp is an online website that allows the user to download a Facebook video by pasting the URL of the video. It allows the user to download an unlimited number of Facebook videos. It is a free tool and requires no signup or registration. Moreover, it downloads videos or different formats. Let us see how we can download Facebook videos with the help of F2mp.
How it work?
Step 1. Go to the F2mp website, and you will see an option of pasting the Facebook video URL. Paste the video link or URL here.

Step 2. Then click on "Start". The tool will then process the video to download.
Step 3.Click on "Download" to save it on your computer.
Part 2. How to Convert Facebook to Mp3?
There are two ways in which one can convert Facebook video to MP3. The first technique is a little lengthy but simple. The user will need to use a tool to download the video from Facebook first and then use a video-to MP3 conversion tool. In this way, the quality of the music will not be downgraded, and the user can enjoy the MP3 easily. The second method is using an online conversion tool that can directly convert the Facebook video to MP3 and generate a downloadable link.
1) Effective Ways of Facebook to MP3 by VoxBox
VoxBox is a desktop application that enables the user to convert any Facebook video to MP3. It supports different formats of video and can easily convert any video to the desired audio format. However, Voxbox cannot download Facebook video directly from a link; the user will have to download the Facebook video first using an online tool like F2mp.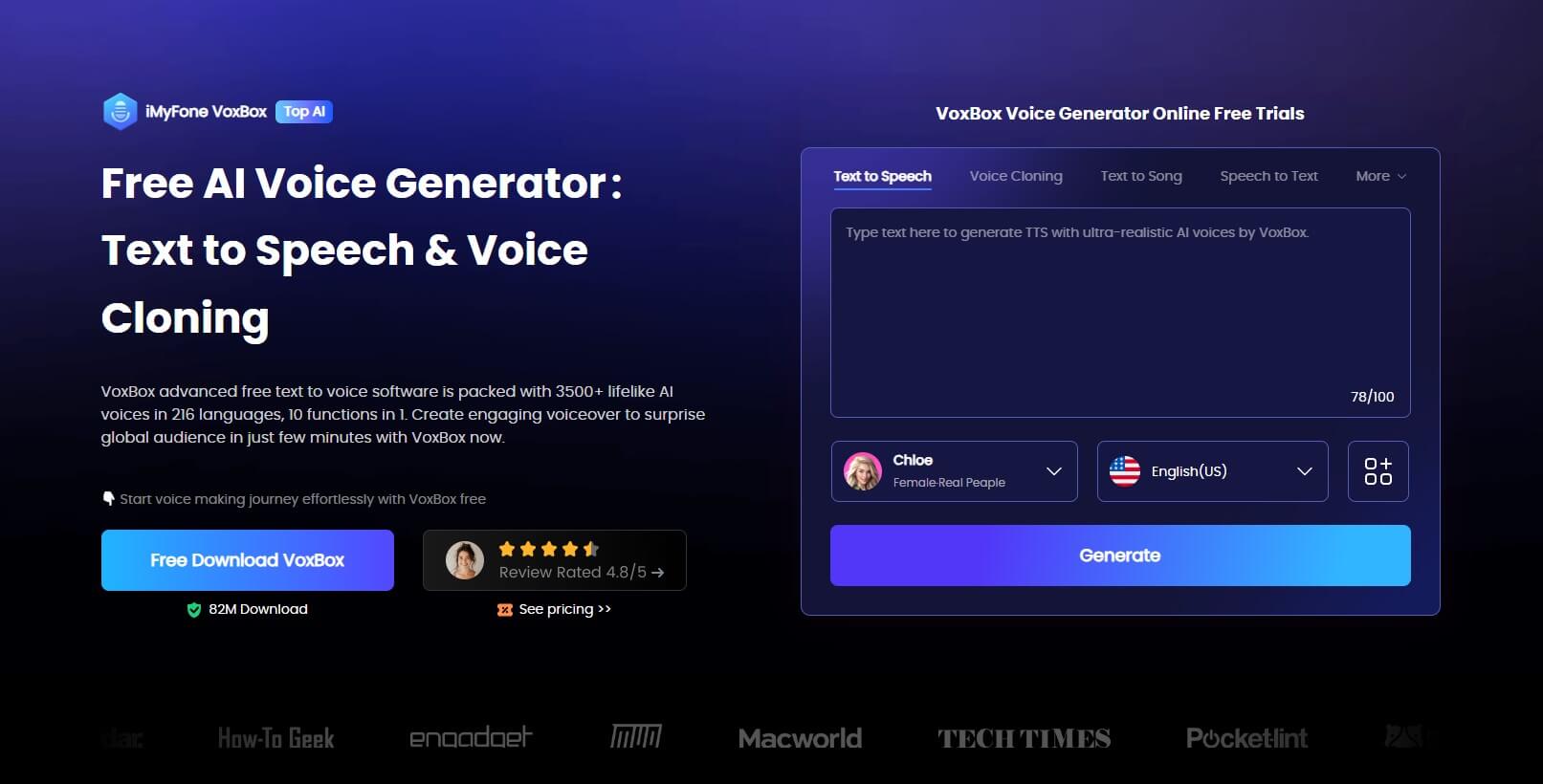 User rating:
It is a very effective and fast conversion tool. There are more than 1 million users of Voxbox and have rated this app 4.8/5.
Features:
Voxbox offers 20+ formats to convert the final audio.

The conversion algorithm is commendable, so your files are processed quickly.

3000+ voices like rappers, YouTubers, cartoons, celebrities, etc.

20+ global languages like Spanish, Japanese, British.

25+ Country accents like a British accent and a Hindin accent, etc.

4-in-1 software of voice record, generate, convert, and edit.

You can export the file in different audio formats, like MP3, WAV, etc.

You can cut, trim, clip, and delete the audio file.

It has an intuitive and straightforward interface.

Supported videos from various platforms.

Support large file (No file size limits).

Supported bulk convert.

Support reserve original quality.
How it work?
Step 1. Download and install.
Step 2.You can click "add files" or drag the file directly .

Step 3. Now, the user can either cut the video or choose the output audio format. Then click on "Convert"
Pros:

Converts video into MP3 with ultra-fast speed.

It supports different formats.

Easy to use as it has an interactive user interface.
Cons:

Unable convert video using a URL.
2) Easily Ways of Facebook Video to MP3 by Fbsearch
If you don't want to use a desktop application as it acquires storage in a computer, you can use an online conversion tool as well. Fbsearch is an online conversion tool that can convert any Facebook video into MP3 or other formats without any trouble.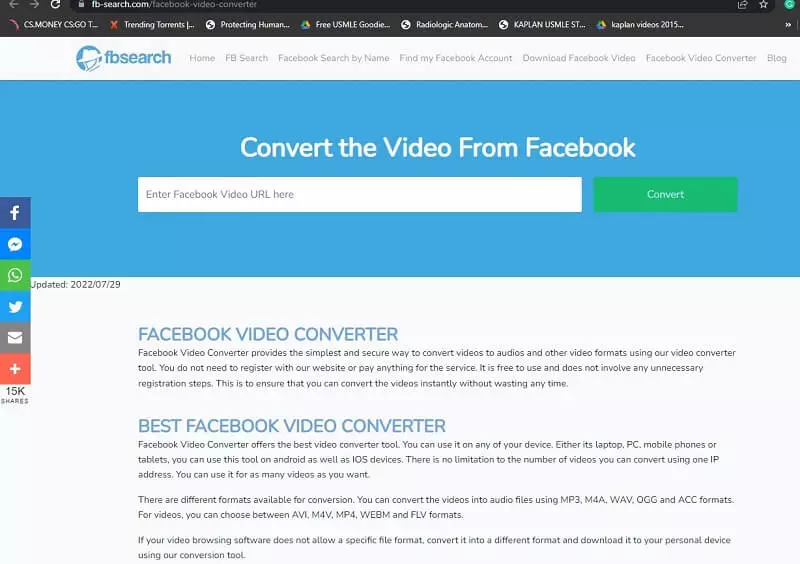 User Rating:
As it is a free tool and works flawlessly, the users have rated this online website 4.5/5.
Pros:

Fbsearch is a completely free-to-use online conversion website.

The user just needs to paste the URL and choose the output format; the rest will be done by the tool.

No need to download and install the tool as it is an online tool.

Supports different audio and video formats.

The users can use this tool on mobile phones as well.

No limitation to converting and downloading the files. Use this tool as many times as you want.
Cons:

Requires high-speed and stable internet connectivity

Does not work offline

It has a certain limit on file size upload.
Conclusion
In this article, we have thoroughly discussed a few of the tools that users can use to convert Facebook videos to MP3. There are online tools as well as offline tools. The quality of offline tools like VoxBox is much better than online tools. Moreover, Voxbox has no file size limitation like online tools. However, both types of tools have their pros and cons, but being users of all the tools, we can say that Voxbox is the best of all. It is because this tool is simple and easy to use. Users can download this tool for free and enjoy free conversion as well.
Watch this video to learn more about the Best 4-in-1 video converter Tool iMyFone VoxBox: