The EAS voice generator is meticulously crafted to emit comforting tones during crucial times, delivering vital alerts to the populace of the United States in the face of significant or natural disasters, with the aim of pacifying the public.
The core mission of EAS Maker has consistently been to forewarn individuals, offering guidance without inducing panic. If you're in search of a reliable EAS voice generator, read this article for the best one.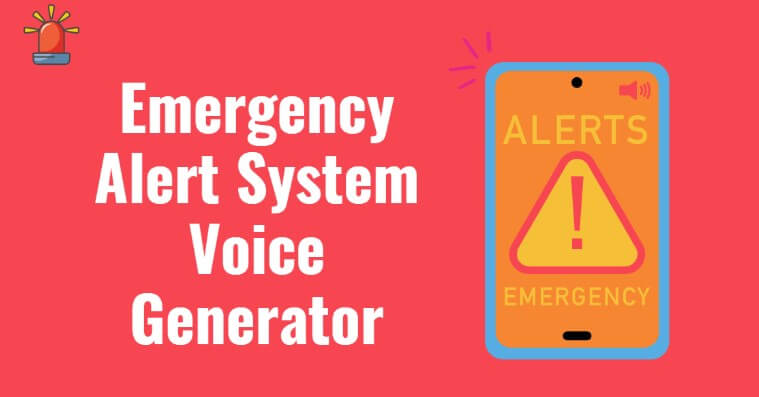 Part 1: What is EAS Maker and Where to Apply it?
Info of EAS Maker
EAS (Emergency Alert System) Maker typically refers to a software or tool used to create or generate emergency alert messages for broadcasting over various communication channels.
The Emergency Alert System is a national public warning system in the United States designed to disseminate emergency alerts to the public during various emergencies, including natural disasters, severe weather events, AMBER alerts, and other critical situations.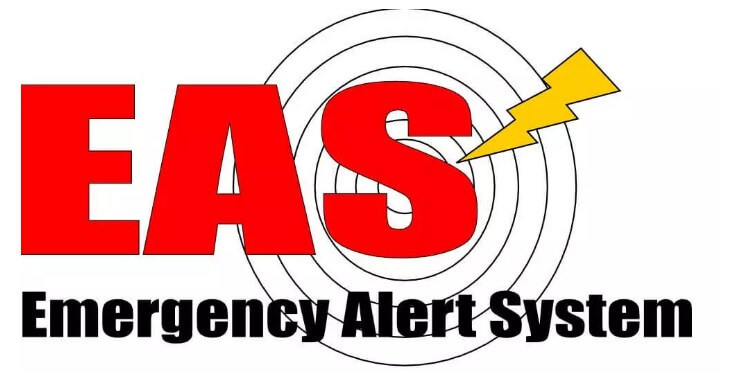 EAS Maker Applications
EAS (Emergency Alert System) Maker applications are crucial for disseminating timely and critical information to the public during emergencies, natural disasters, or other urgent situations. Here are some common applications and uses of EAS Maker:
Emergency Management Centers: Emergency management centers use EAS Maker applications to compose and distribute alerts regarding weather alerts, public safety warnings, evacuation notices, and other emergency information.
Broadcasting Stations: Television and radio stations utilize EAS Maker applications to quickly draft and broadcast emergency alerts to inform the public about severe weather conditions, AMBER alerts, local incidents, or national emergencies.
Government Agencies: Government agencies at different levels (local, state, federal) use EAS Maker applications to send out alerts related to public health, national security, and other critical matters that require immediate public attention and action.
Weather Services: Weather services and meteorological agencies employ EAS Maker applications to issue weather warnings, watches, and advisories to inform the public about incoming severe weather events like storms, hurricanes, tornadoes, etc.
Part 2: What is an EAS Voice Generator?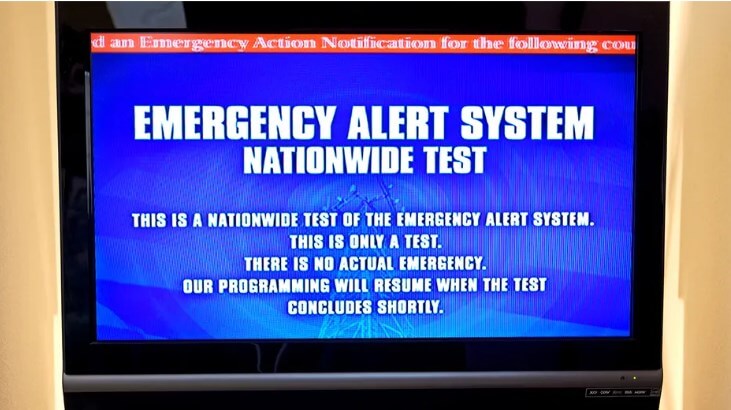 Emergency alert system(EAS) voice generator is a generator that converts either text to speech into EAS voice or converts your voice in real-time into a speaker or narrator from the EAS system.
Many voices were announcing the EAS system in the early years. They used DECTalk Software to generate the first voice of Paul from the text. They kept using the EAS voice generator until 2016 when it was replaced by Tom and was often used with Paul. Paul returned in late 2016 using VoiceText Paul, a new EAS maker.
Part 3: How to Use EAS Voice Generator For Text-to-Speech?
You can use online eas maker for generating an EAS AI voice and play it on your stream or where you work and use that announcer. Let's look at one of the best options in this section.
If you want a professional EAS text to speech voice generator, then nothing comes close to VoxBox, as it is a helpful app you can use to convert and edit thousands of voiceovers to best-sounding EAS text to speech output. Let's look at some of the great features of VoxBox.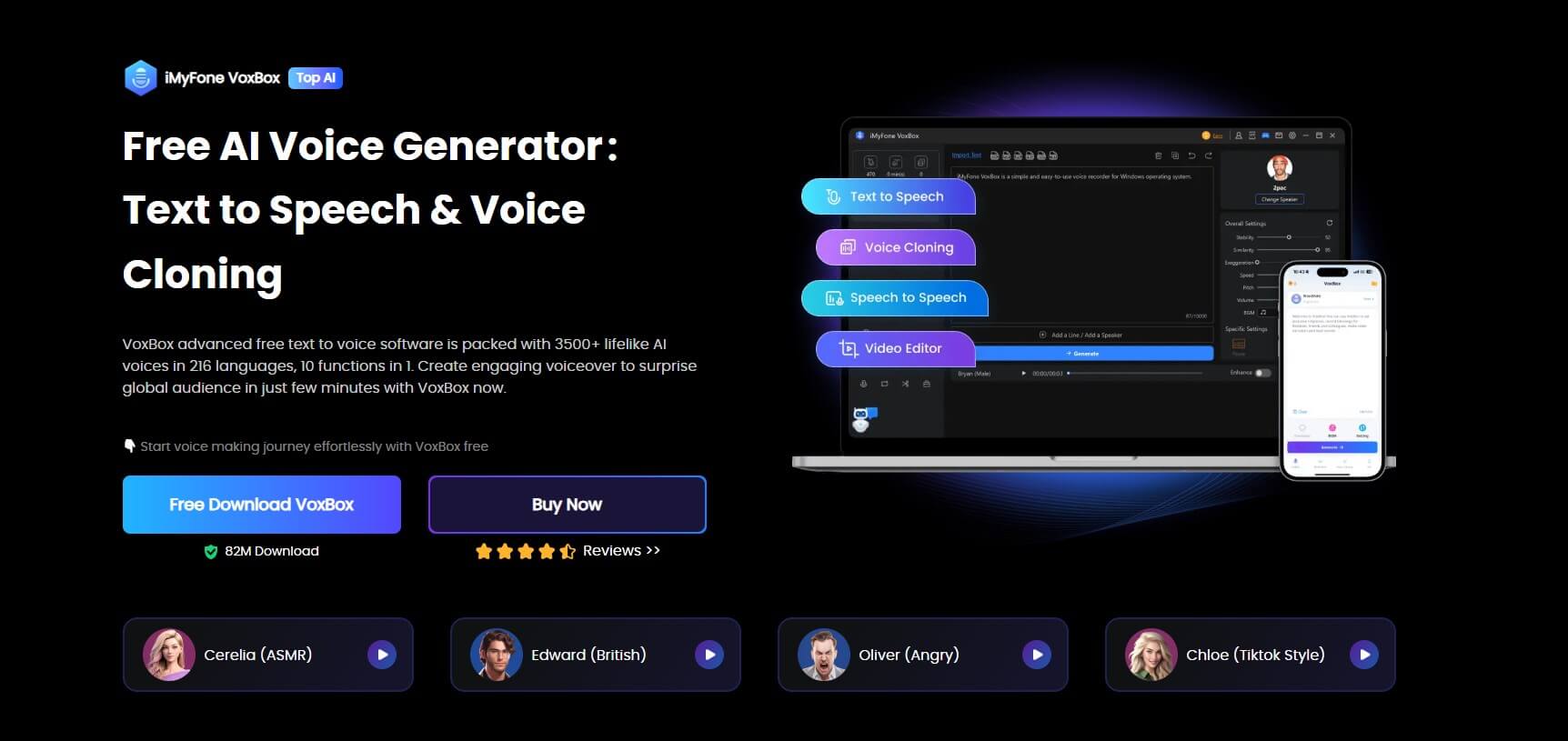 Key Features:
Customize the voice settings like pitch, speed to align with the intended audience.

Clear and easily understandable speech for audience to comprehend.

77+ languages and 100+ accents to cater to diverse populations and regions.

A rapid EAS tts convertion for users.

Natural and human-like voices to enhance the credibility and urgency of the emergency message.
Steps To Use EAS Maker:
Step #1:Install VoxBox and you will go to the Text to Speech section.
Step #2: Click on "change voice", select any collection of "Real People" from the Voice Type.
Step #3: Type the text into the interface, and hit "Convert"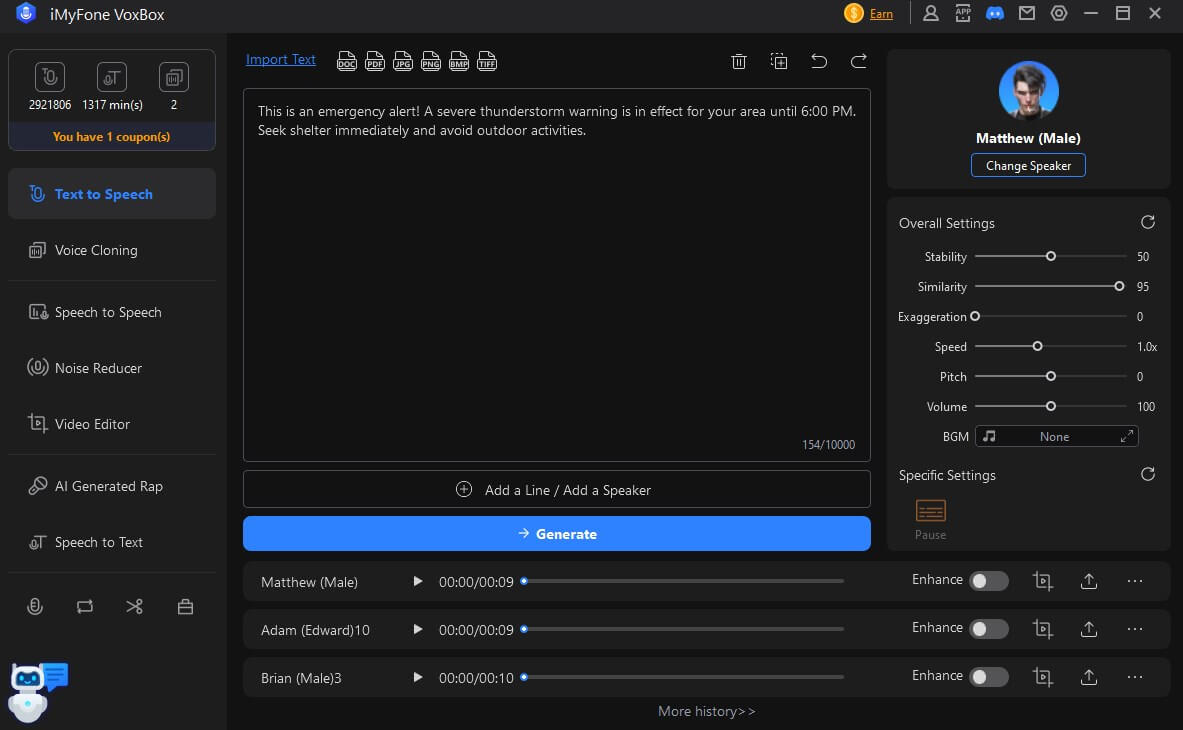 Step #4: If the sound isn't like a proper EAS narrator, change it from the list of options available.
Pros:

A vast library of sounds and languages.

All-on-one tool also make stt, voice cloning, recording, conversion and more.

4-Terminal support.
Cons:

Voice cloning doesn't have a trial version.
Part 4: FAQs about EAS Maker & EAS Voice Generator
Let's look at some vital FAQs regarding EAS(emergency alert system) voice generator that people ask for online.
1.How to Make Text to Speech Voice for EAS?
The older EAS voice generator is available online for you to test and listen to, and many voice generator tools are out there that can help you with that. Most of these voices are generic and have too much robotic voice that might not be used as a narrator or announcer if you need it.
You should better employ authentic voice EAS text to speech voiceovers and change them using advanced tools of pitch and tone to make them as authentic as possible with the best quality.
2. Is there any EAS Voice Generator software?
You can find some authentic TTS voice generators online, like TTSDemo, but you won't find many sound voices like the original Paul or Tom. You can use online emergency alert system voice generator tools to make their sound as near to them as possible.
Even VoxBox doesn't have EAS voice generator voices, but as there are fantastic tools and authentic voices, you can convert them to the nearest possible option.
3. What are the key features of EAS Maker?
Key features of EAS Maker may include easy-to-use interface, template options, customization, multi-channel broadcasting, and integration with various communication systems to ensure effective alert dissemination.
4. How does an EAS Voice Generator enhance emergency alerts?
An EAS Voice Generator makes alerts more accessible by converting them into speech, ensuring that people with visual impairments or those in situations where reading is not feasible can receive critical information.
5. Can EAS AI Voice Generators mimic natural human speech?
Yes, advanced EAS Voice Generators utilize AI and natural language processing to mimic human speech patterns and intonations, making alerts sound more natural and easier to understand.
Conclusion
Now that you know the best EAS maker in the market, you can easily convert EAS text to speech in your school, workplace, at events, etc., for announcing important information.
You can install VoxBox in these systems and use any of their incredible voices from a selection of 3,200+ voiceovers as an emergency alert system voice generator whenever you need to make an announcement.