Would you like to know how to separate audio from video from Lightworks? Or how to remove audio from video in Lightworks editor? There have been questions several people would like to have answers to, and in today's article, I will be answering every question you may have concerning Lightworks. I will introduce you to Lightworks 14 and how to separate audio from video files. In this step-by-step guide, I will also show you how to edit your video, audio and how to upload it to any social media platform of your choice using iMyFone Filme editor. Stick to the end.
How To Separate Audio From Video Using Lightworks 14?
Lightworks is a non-linear editing system for editing and mastering digital video. Lightworks offered both a paid and free version. The paid version comes with different options- there is a lifetime payment of $389.99 per user, a yearly payment of $239.99 per user, and $23.99 a month for newbies. They also have special discounts for educational institutes and non-profit organizations. You can start with the free version, but note: there are some restrictions. Since we have cleared it, let's learn how to use Lightwork to edit our video.
Step 1: Download and launch Lightworks on your Mac OSX, Windows, or Linux RPM to activate your account
Step 2: Import your media file to the Lightworks editor timeline. And the video file will display two lines, as you will see in the image below. The first is displayed beside the V1 menu on the left side, while the second is displayed beside the A1 menu also on the left side.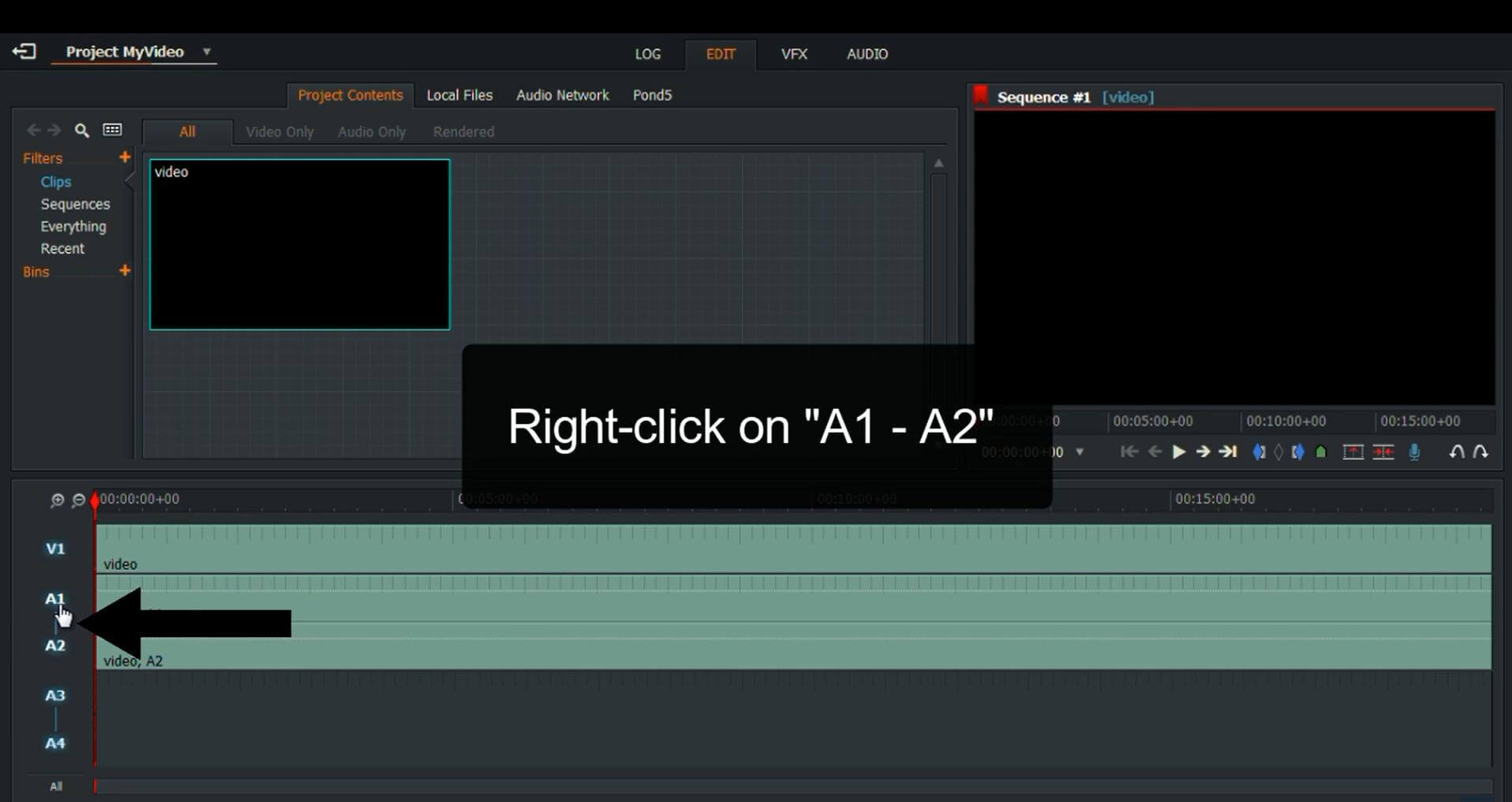 Step 3: Click on the A1(audio) menu to turn off/on the audio from your video clip, or you can click the V1(video) to turn it off from the timeline while you right-click on your audio to delete it. See image below;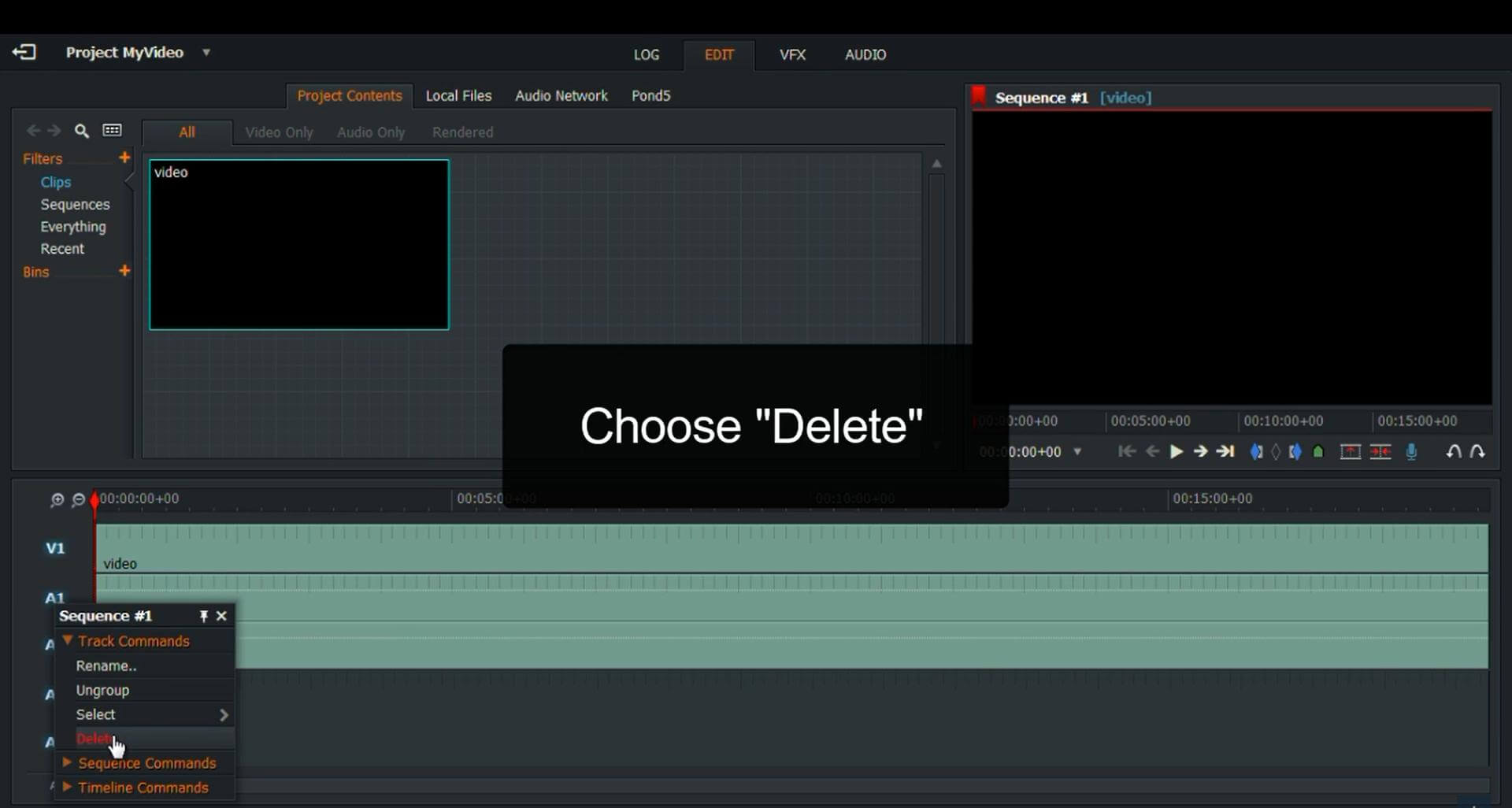 Step 4: After separating the audio from your video, you can then add any sound effect of your choice inside Lightworks. Then save it to your computer for upload.
Why Do We Like It?
User-friendly interface

Can separate audio from video file with 2clicks of the mouse

Can add royal free audio and images

Free to start
Cons:

High price. Lifetime payment of $389.99 per user, a yearly payment of $239.99 per user, and $23.99 a month for newbies.

You can download Lightworks using this link.
Before you go ahead to download Lightworks, I have some info to share with you. I want to introduce you to the iMyFone Filme editor. The best and new editing software in the market. iMyFone has been delivering software to marketers since 2015. Due to their knack for emerging technology have developed software that start-out in the digital environment. See for yourself how the Filme editor will help you edit your video in minutes.
How To Edit Your Video Using Filme Editor?
Before we dive into how to use the Filme editor for our video editing, I will like to shine a light on the features and benefits of this powerful tool. The iMyFone Filme editor is the best tool every video editor should be proud to use. This powerful software is for YouTubers, affiliate marketers, eCommerce owners, and anyone into digital marketing. It's a new video editing tool that has all the features video creators need. From adding sound effects to filters and transitions, editing video has never been this easy.
Key Features Of iMyFone Filme Editor
Effects: You can add several animations, filters, sound to your videos or slideshows, which helps define digital slideshows.

Transitions: Attract your audience's attention and keep them engaged on social media by creating fast videos and slideshows using the transition feature. Filme offers lots of transition components that you can use when editing videos for your social media channels.

Text Options: Use the text menu to add text to your video. You have options to change text font and color.

Speed Adjustment: With the Filme speed menu, you can choose to slow your video or speed it up to your choice. The feature helps you entertain your friends and family the way you want. Adjust your video speed setting the way you like.

Audio: iMyFone likes making things easy and friendly for their customers. That is why they offer Filme users the option to add audio to their videos. Inside the Filme timeline, you can import audio of your choice or select the copyright-free audio from the audio library inside the software.
Step #1: Download Filme editor to your computer using this link. Run the exe file to finish the installation.
Step #2: Launch Filme editor, then import your media file to the media folder.
Step #3: To edit your video, add the media file to the editor timeline by hitting the + icon or right-clicking on the video to select from the displayed options.
Step #4: Detach your audio by right-clicking the video in the timeline.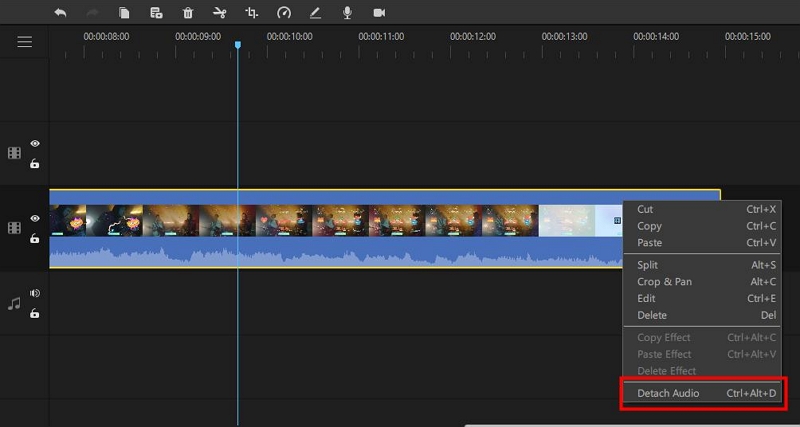 Step #5: Would you like to add transitions to your video? Filme editore has this feature on the menu. You can add transitions to your video like filters.
Step #6: With the speed adjustment menu, you can adjust the speed of your video to make it more engaging. Also, you can add sound effects, text, images, and stickers to beautify your video and make it look professional.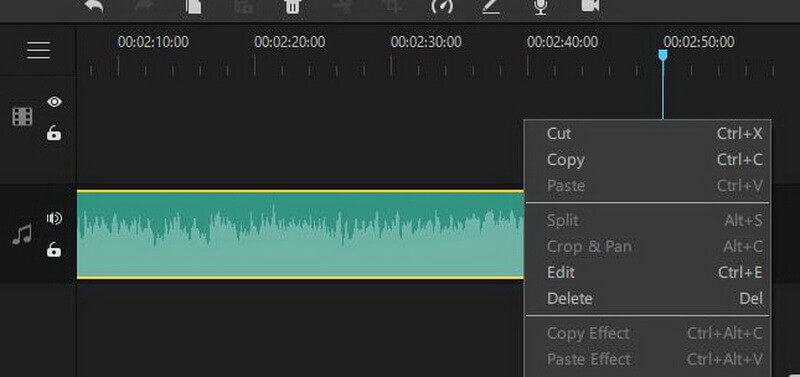 Step #7: If you are satisfied with the outcome of your video, you can save it to your device using the export icon on the toolbar.
Why Should You Use The iMyFone Filme?
Filme is the new power video editing tool available in the market. It is a supporting power given to video-makers to help you bring your imagination into existence. This assortment tool comes with a highly valued feature that turns a newbie into a professional editor. You can select from pre-made templates, royal-stock photos library, copyright-free audio library to make your video entertaining and engaging for your audience. And you can access all these features for a free trial period. The success Filme editor offers is why you should use it for your next video project.
Why Do We Like It?
Affordable price at $25.95 for a premium package

Can add effects, audio, etc.

User-friendly interface

Free to download to Windows,

Can adjust your video speed

Can create slideshows and publish them to your social media channels from the Filme editing dashboard

Have access to the audio library, pre-made themes, royal-free images library, and audio library
Pros:

Exceptionally lenient to use dashboard. No tech knowledge is needed.

Create any video mode of your choice. From slow to normal and fast with the click of a mouse.

Publish your video to your social media platform directly from the editor interface.

Highly resourceful effects and templates to produce professional-looking videos.

Instantly preview your video as you edit, making the process streamlined.
Cons:

Only available for download on Windows, Mac, and iOS devices.
People Who Liked this Content Also Liked
How to Remove Audio from Video – 8 Methods You Should Know >>
[2021 Newest] How to Detach Audio from a Clip In DaVinci Resolve 16/17 >>
Frequently Asked Questions about How to Separate Audio from Video Using Lightworks
Q.1: How do I add a video to Lightworks?
Open the Lightworks dashboard at the top-left menu. You will see the local files tab, then hit the places tab to move the folder after choosing the import mode you like to use on the drop-down list. Now select the video file you want to import, and it will upload instantly. To add a file to the timeline, drag and drop it on the timeline.
Q.2: Is Lightworks good for Youtube videos?
The best answer here is the goal you intend to achieve. If you want to jump in and start making a Youtube video right away, then Lightworks is not the best tool for that. You can try other tools like Filme.
Q.3: What is the best video editor for free?
There are several completely free video editing tools, but the problem is the setbacks you may experience. Most of these free software's impediments are the irritating ads they display. Apart from the ads, they contain a PUP virus that can damage your system's general performance. You can start a free trial with Filme editor and pay $25.95 for the premium package. You can also try these free video editing tools that have free plans;
InVideo

Blender

Shotcut

Filme

DaVinci

Openshot

Avidemux
Q.4: How to make a fast video for social media?
I will be using Filme editor in this example;
Download, install and launch Filme editor on your computer.

Import your media file (refer to part 2 of this article)

Add effects and audio, and emoji to your video.

Use the speed setting icon to make your fast video.

Once you are satisfied with the video outcome, export it to your computer or publish it directly to your social media platform. By using the export menu on the dashboard.
Q.5 What are the best video editing tools in 2021?
Adobe Premiere Pro / Elements

Cyberlink PowerDirector

Corel VideoStudio Ultimate

iMyFone Filme

Lightworks

Magix

Apple Final Cut Pro

Nero Video
Q.6: Is Google editor free?
You can try it for free without watermarks. But there are restrictions. You can only download 7minutes long videos at once and publish 3hours a month. If you want to go for the pay version, it is $17 per month billed annually.
Summary
There you have it. You can separate audio from video using Lightworks. Although the free version has some limitations, you can start using it for your video creation. To make things easy and cheap, I recommend you go with the iMyFone Filme editor. It is affordable when compared to Lightworks, and you can download and start for free. You can get the Filme premium package for $25.95. Always invest in tools as a content creator because that is where your content engagement starts.