Explore how to remove white background from image Gimp, Pixlr?
Background remover allows you to create transparent cutout backgrounds, highlighting the subject of your photo. You are free to place your new image into a variety of new designs and destinations.
Tips
Hunting for a tool to create a transparent background even for feathery hair, without making an image look weird or jagged? Why not try a professional watermark remover called
iMyFone MarkGo
? MarkGo helps you remove backgrounds
100% Auto with AI-powered Technology
within 5 secs in 1 click.
Juts try it out free below!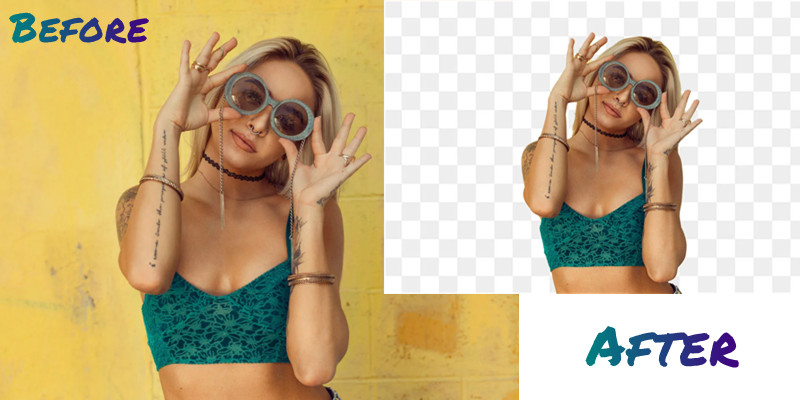 Part 1. How to Remove Background from Image with Gimp
Gimp is a very popular open-source photo editing tool. It wouldn't be wrong to say that there is a lot that you can do with the software. Gimp remove white background, colored backgrounds, image rendering, online batch processing, photo retouching, doodle, and paint. In short, it is a complete package.
When we talk about photo editing, Gimp is best at doing the following four editing processes:
Rotation of images or selection around an arbitrary point

Converting picture shape from rectangle to trapezoid

Enlarging or reducing the image/ scaling

Changing or modifying image background

Since we are trying to answer how to remove the white background from image Gimp, we will discuss the process of removing the background from your images.
Tips
Although you can use this method to remove image background, it's still risky because it crashes from time to time and terribly complicated. If you don't want to deal with the image background removal without any technical process, you may turn to iMyFone MarkGo, which offers a surprisingly easy solution to create a transparent background even for feathery hair, without making an image look weird or jagged.
Step 1: Launch Gimp
Gimp can be downloaded from the official website in torrent form or directly. Once you've downloaded the setup, install it on your desktop or laptop and launch it.
Step 2: Add Transparency Layer To The Frame
Add the image you want to edit, as shown in the picture below. Since you want to remove the background, adding a transparency layer is mandatory.
You will right-click on the image layer, and a menu will be open for doing so. Choose 'Add Alpha Channel' to add transparency at this layer.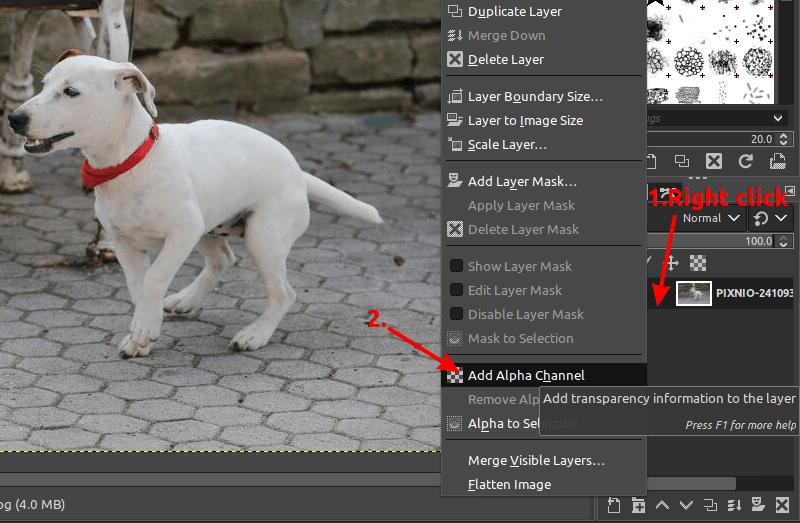 Step 3: Select The Subject With Foreground Select Tool
We want to isolate the image subjects from the background. Therefore, you will have to select the subject. It can be done easily by using Foreground Select Tool, as shown in the picture. Once you've checked the foreground select tool, you will start drawing an outline of the subject you want to isolate from the background.
Draw a rough outline of the object and press Enter key. You must not go into nitty-gritty details at this point. It can be cleaned in the coming steps. You can draw the outline by simply 'draw and drag' function of your mouse. Imagine it as drawing with a brush. Once done, release your mouse.
Step 4: Clean Up Your Selection For Sharp Edges
As you've already selected the area you want to isolate from the background, it's time to clean up the edges. Process of fine-tuning the selected area can be done with the 'Draw Background' option. Switch in between draw foreground and draw the background to get the most accurate selection of the subject. Once you feel that it is looking good, hit the Enter key.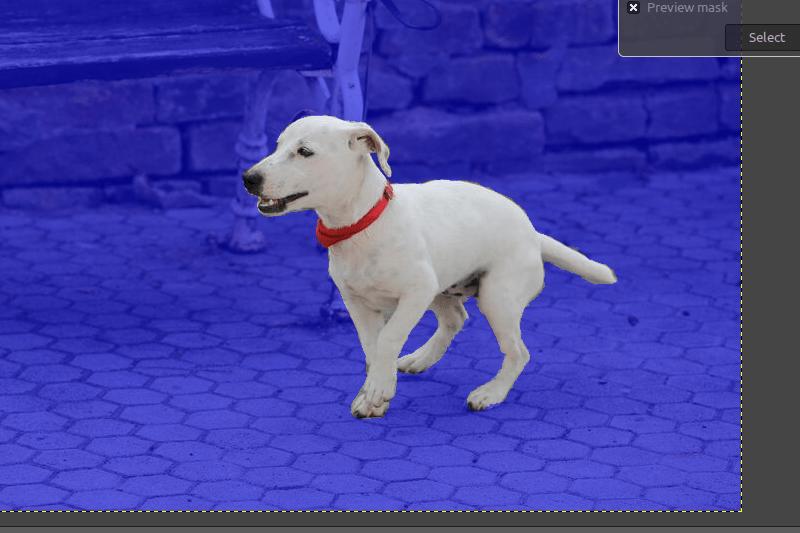 Step 5: Layer Mask
You tidy up the selection, and it is time to make some final strokes before you can export an image with transparent background. The second last step is adding a layer mask to highlight the image's transparency.
Add a layer mask by right-clicking on the current layer and choosing 'Selection,' and adding a layer. Ta-da, you can now see the transparent background of the image.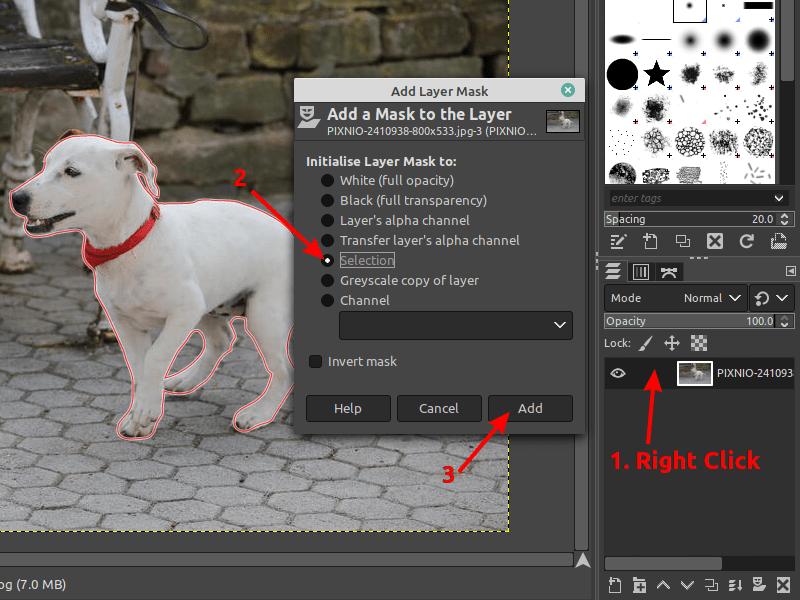 Step 6: Export Image
Now, you're free to download the image as a vector, add another background of your choice, add a solid color background, or whatsoever.
Part 2. How to Remove Background from Image with Pixlr
Pixlr is another popular online photo editor that lets you perform a lot of photo editing and modifying functions. Pixlr remove background, add text, doodle, cropping image, etc. In other words, you can use it beyond Pixlr background remover.
You can edit your photos online with the free version of this platform or explore the premium features to bring your inner creative artist out. There is a dedicated background remover of Pixlr as well that you can use. It is very easy to remove background with it.
Besides, you can choose to remove the background manually. We will discuss the manual background removing process on Pixlr as well as the dedicated Pixlr background remover.
Here is what you need to do for removing the backgrounds of your images:
Log onto Pixlr Background Remover and upload the image from which you want to remove the background.
The file will process automatically, and you will get a vector image of the original picture.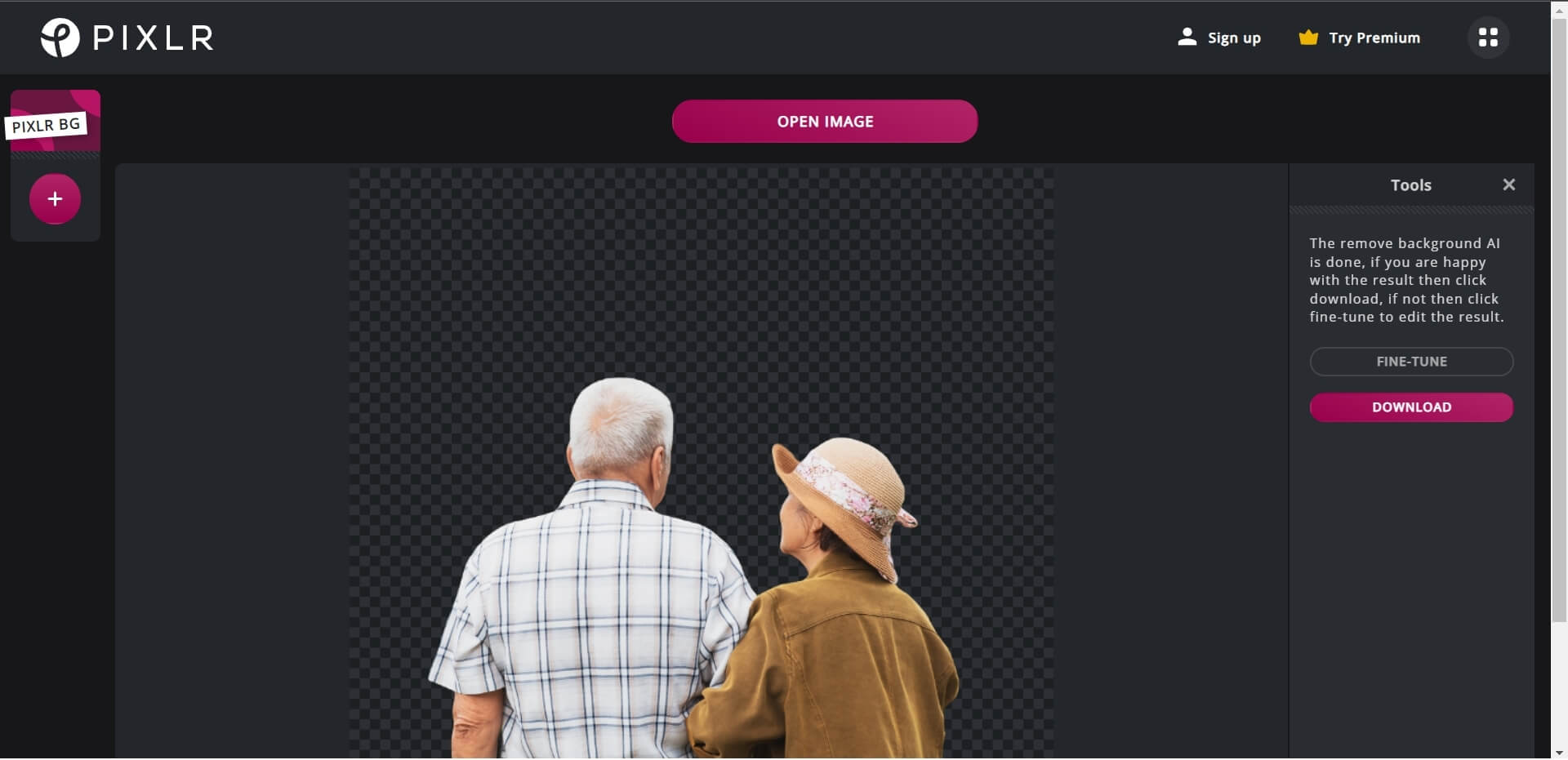 The manual method of editing with Pixlr is as follow:
Step 1: Log onto Website and Upload the Image
Log on to the Pixlr website and upload your image by choosing 'Start New Project.'
Step 2: Choose The Wand Tool And Select Area
Now you've added your image to the frame. Start editing by choosing the wand tool, as shown in the picture below. Hold the Shift key and start selecting the area by clicking with the wand on it.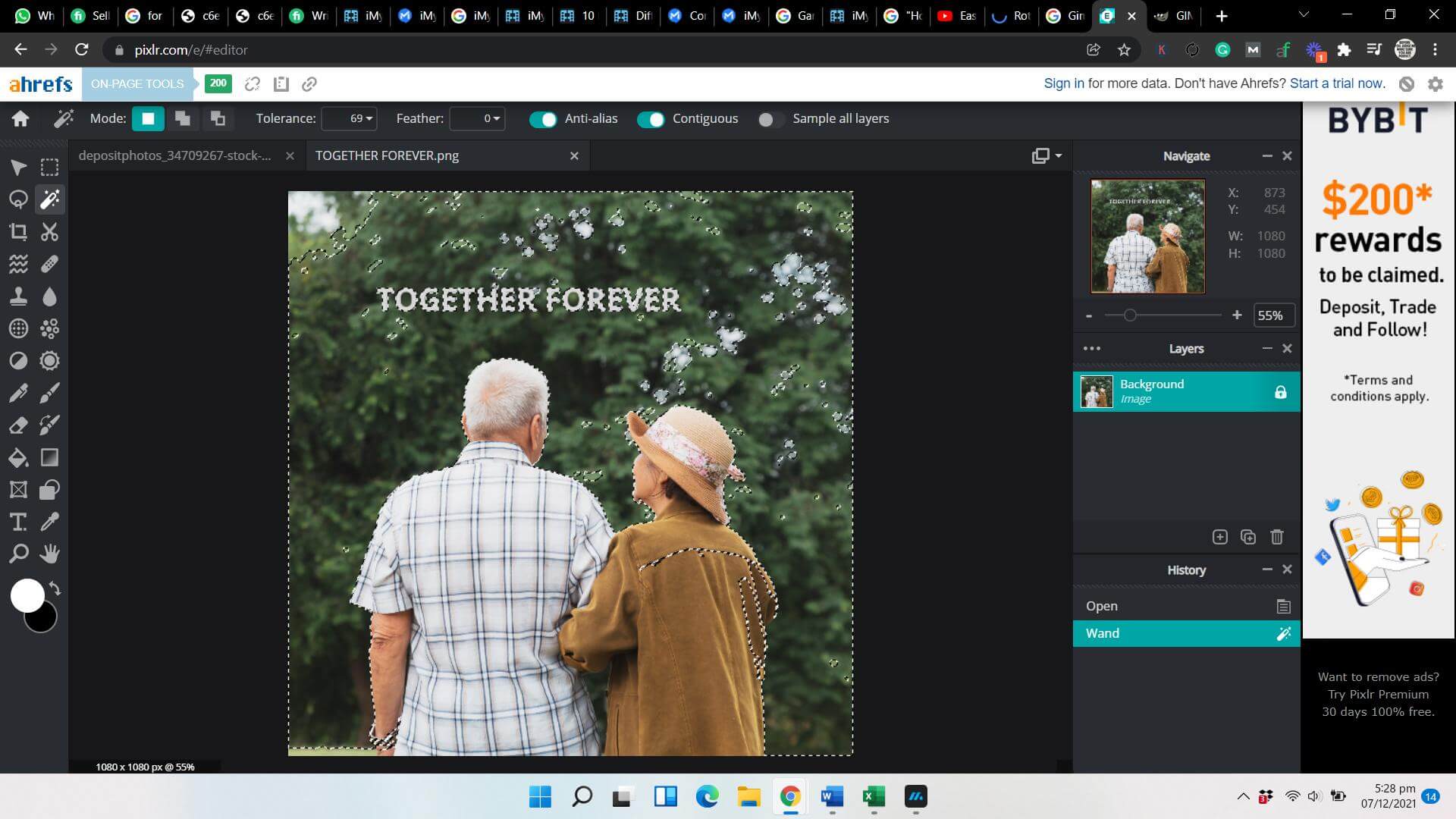 Step 3: Invert Selection And Copy It
Once you've selected the background, you want to remove from the image, Right-click on the picture and choose Invert Selection. Now hit Ctrl + C to copy the foreground subject.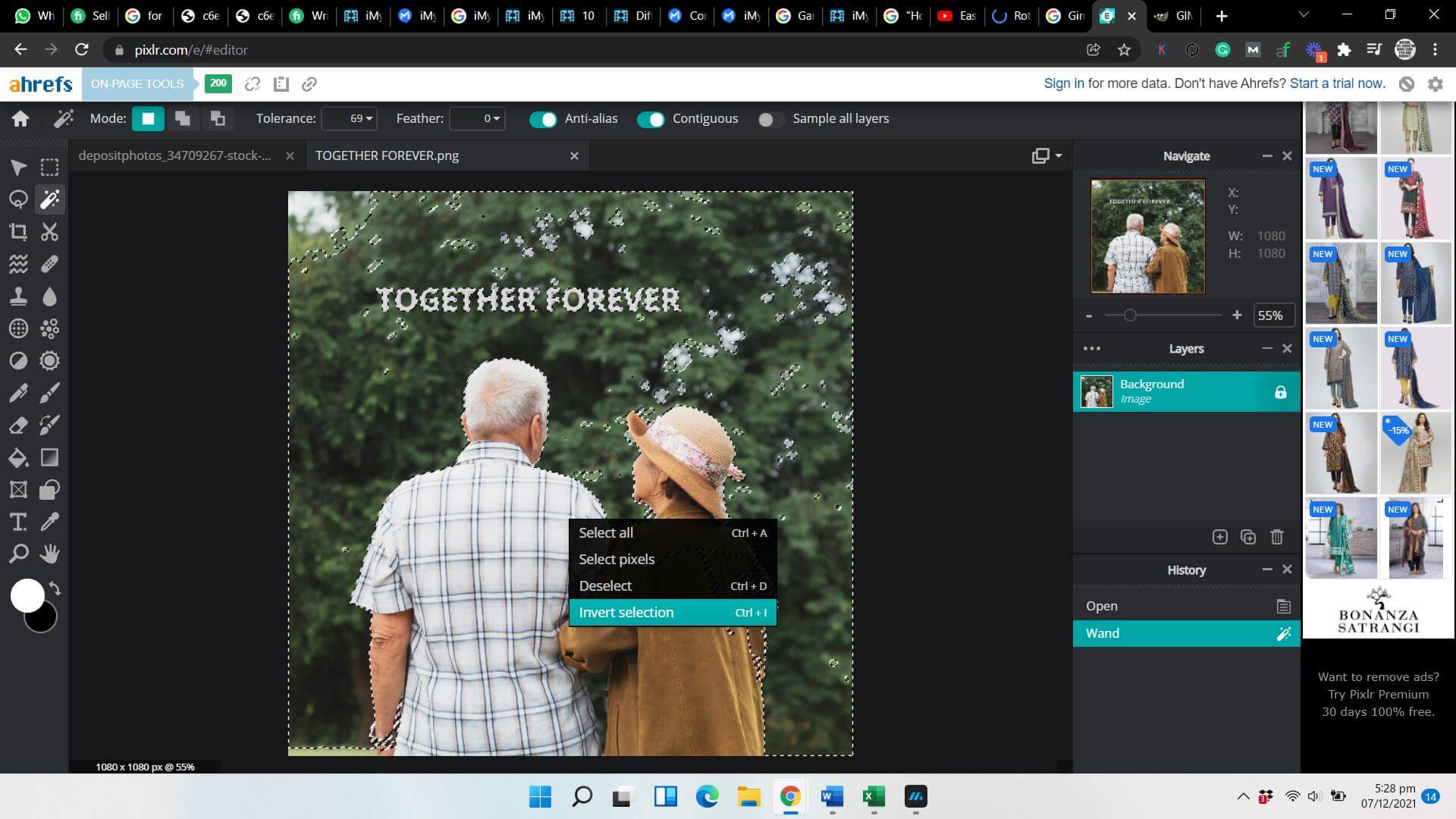 Step 4: Open New Image
From Menu at the top of the window, click on the file, and a drop-down menu will open. Choose 'New Image.' You can also hit Ctrl + N to open a new image. From the selection option, choose 'Clipboard.'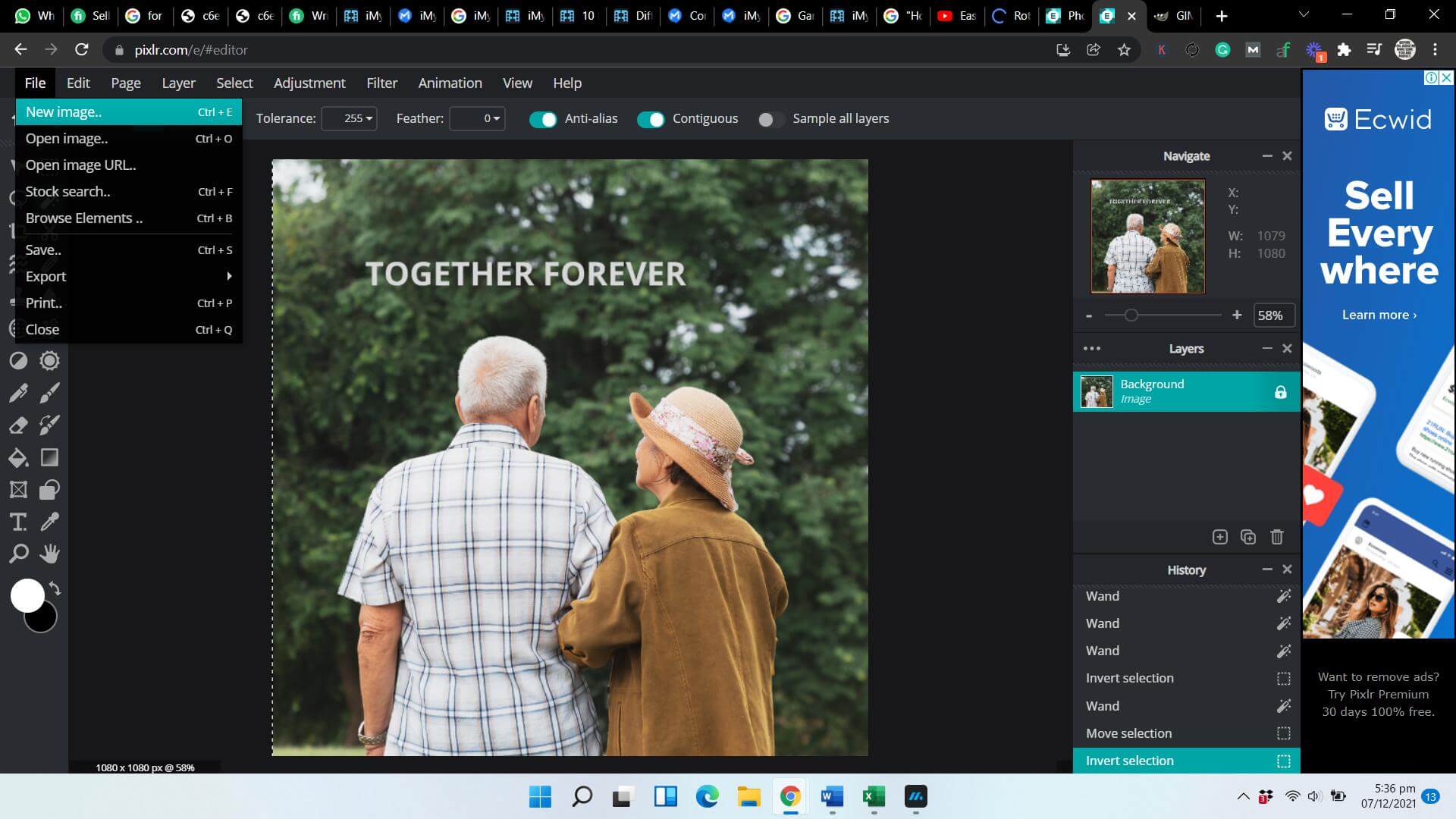 Step 5: Choose Clipboard And Paste The Image
A transparent layer of a new image will open up. All you've to do is hit Ctrl+V, and you're right there. Add a new background to your picture by adding new layers or saving it as a vector image.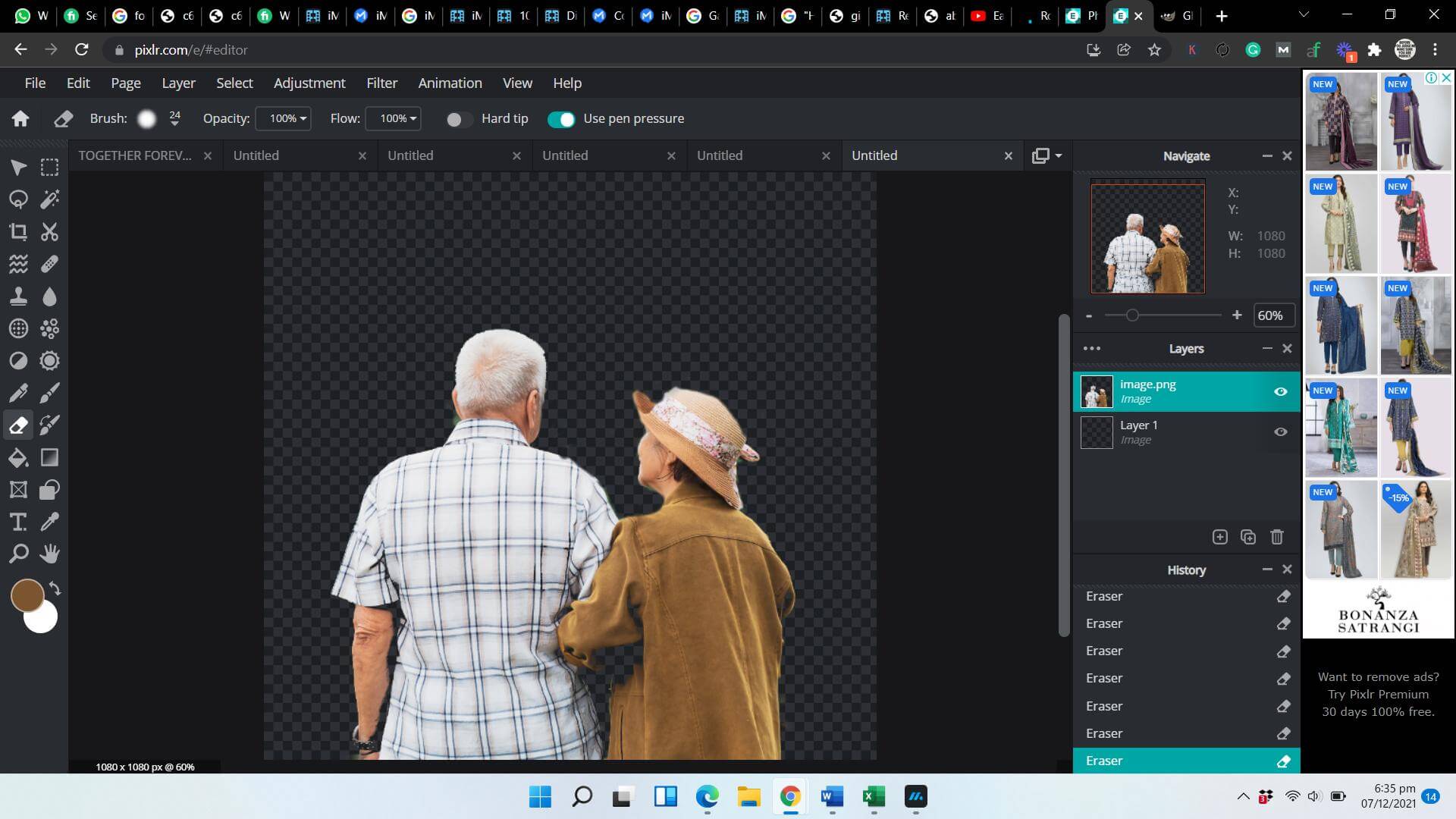 Part 3. How to Remove Background from Image with iMyFone MarkGo - Easy Cutting out of Complex Objects [Editor's Choice]
As we promised you that we will share a convenient and sustainable editing tool. We are presenting you iMyFone MarkGo, an all-in-one tool for removing watermarks, backgrounds, objects, filling the background, or texture correction. You can choose to get the free version of the software or subscribe to the premium one.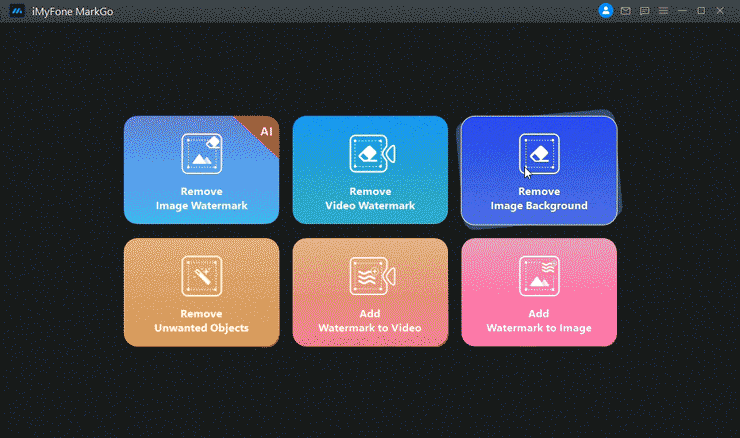 Wonderful Features of iMyFone MarkGo
User-friendly, without any technical knowledge required to remove image background in just one single click.

Remove backgrounds 100% AI-powered Auto in 5 secs with 1 clicks.

Free to try the remover, during which you can check the compatibility.

Equipped with AI- powered technology, MarkGo is leaps and bounds ahead of the competition.
iMyFone MarkGo is packed with some amazing features that you will love when doing the photo editing process. the most enticing features of the tool are:
Step 1: Install and Launch MarkGo
If you already don't have iMyFone MarkGo, you can download the free setup from the website. Launch iMyFone MarkGo on your desktop and select 'Remove Image Watermark.' A new window will open with editing options, etc.
Step 2: Upload Your Image
At the bottom of the window, there will be an option to import the image you want to edit. Choose the image from folders on your desktop and import it for editing.
Step 3: Hit The Selection Tool
Since the software empowers you to remove unwanted objects and areas in images, you will choose the brush tool and select the area. Alternatively, you can also use a lasso or magic tool.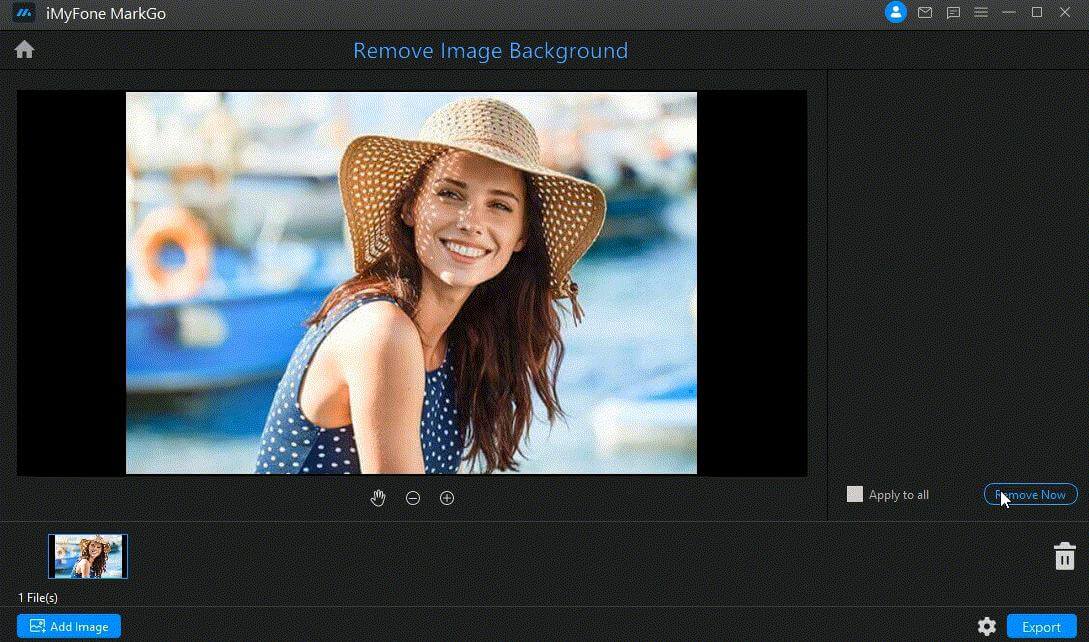 Step 4: Remove The Background
When you've selected the background you want to remove, all you have to do is hit the remove button given at the right bottom of the window. Once you click it, you will get a transparent image background, as shown in the picture below.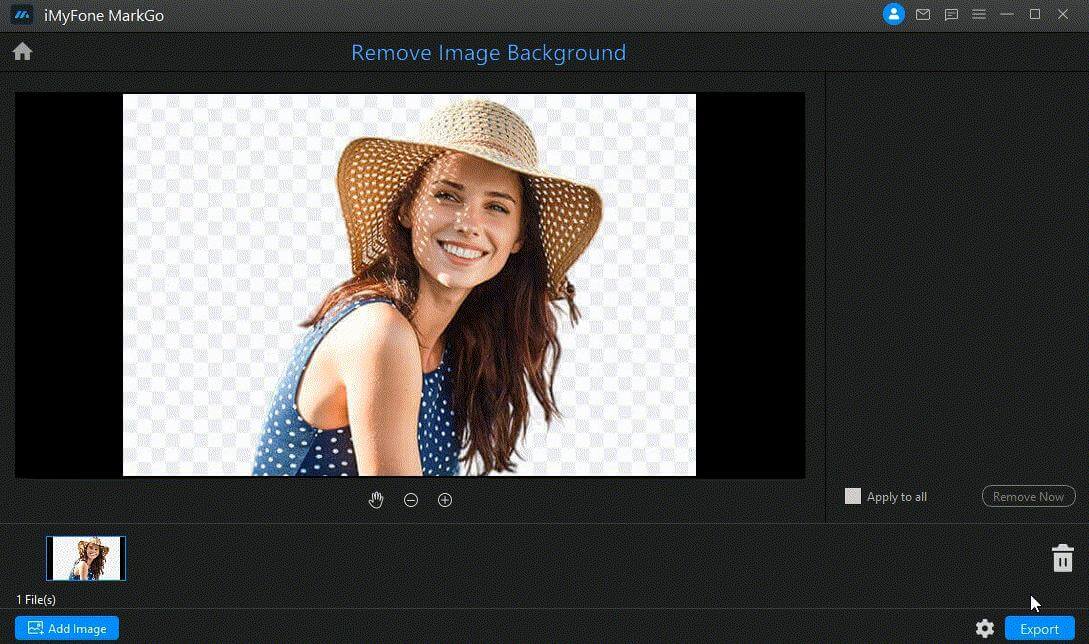 Step 5: Export Your Image
You can save the file on your desktop or Macbook by clicking on the Export button at the extreme bottom of the window. Choose where you want to save the file and use it as you desire.
Part 4. FAQs- How to Remove White Background from Image with Gimp/Pixlr
How do I change a white background to transparent in Pixlr?
You can change the white background to transparent in Pixlr by choosing one of the two methods discussed above. You can either choose a dedicated Pixlr Background Remover or do it manually.
How do I remove a background in Pixlr 2021?
Pixlr is a very popular online platform in 2021 that lets you edit photos, replace the background, remove it completely, add text, images, etc. You can remove the background of photos in Pixlr by using the dedicated Pixlr Background Remover.
How do you use the magic wand in Pixlr?
In this blog post, we have discussed how you can use the magic wand in Pixlr and get rid of any unwanted object, background, etc.
How do I remove the white background from a PNG image?
It is very easy to remove white background from a PNG image. You can choose any of the methods discussed above to get rid of the white background from image Gimp, Pixlr. However, MarkGo by iMyFone is a very popular and convenient way of doing it.
How do I make an image have a transparent background?
Removing an image background is a common task we perform when editing images. There are many ways to edit and make image backgrounds transparent. We have discussed the most popular ways of making image backgrounds transparent.
Conclusion
To conclude, we hope that you have easily learned how to remove the white background from images Pixlr/Gimp and MarkGo. iMyFone MarkGo is a new tool offering enough room for you to make your images and videos more attractive and professional. You can easily download the software on your laptop or Apple device.