Instagram itself offers a trimming tool now, and you can use it to trim your videos that are longer than one minute to adjust it on your feed. Do you know how to trim video on Instagram? If not, then we have prepared this article with all the necessary information that you'llneed while performing this task.
Part 1: How to Trim Video on Instagram
Trimming a video on Instagram is not a tough job because you already have your pre-recorded videos on your phone, and you only have to upload it into multiple smaller clips. Follow the steps given below to learn how to it.
Step 1: Tap on the + sign on your homepage.
Step 2: Now tap on the library and choose the video that you want to upload. Swipe Next.
Step 3: Now click on trim and get the size or length that you want to. Click on Done after doing so.
Step 4: You can do the same for other clips too and when you're done, click on share to let your friends watch your videos.
Step 5: Also, you can edit or add filters to each of these clips as per your choice.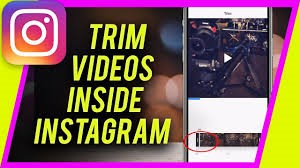 Also Read:
Best Ways to Cut/Trim Video on iPhone >>
Part 2: How to Trim Video for Instagram
With a built-in feature of video editing, editing your clips is easy on Samsung. No matter you have shot a film on your phone or your friend send it to you, you can easily trim the file. If you wish to know how to trim video on Samsung, then check the list of steps stated below to learn the technique quickly:
1

Best Tool to Trim Video for Instagram - iMyFone Filme (Windows)
To learn how to trim long videos on Instagram, you need to choose the best tool for trimming it. iMyFone Filme is one of such tools available easily on Windows that can make trimming videos a lot easier for you. It as a user-friendly editor and beginners can use it comfortably without any need for training.
Here is a list of feature that makes Filme standout in the market amongst all other editors:

Fast Video Mode. 1 click to create your stunning video with music.

Multiple Editing Modes. Add other pictures, gifs, and videos in your original video to make it look more creative and attractive to the viewers.

Professional slideshow maker. FIlme has made it important for the users. It allows the users to make slideshows easily without downloading any additional app for this function.

Advanced editing features. You can add multiple layers and tracks to make your projects more professional.
How to use iMyFone Filme to trim Instagram videos:
Step 1: Download and launch Filme in your Windows device.
Step 2: Add the video that you want to edit or trim in the software. You can click the plus icon in the middle of it.
Step 3: If you want to trim the clip from the beginning or end, pull the clip shorter to the point from where you want to start trimming it.

Step 4: When you have finished the trimming and you want to save the file, click on the "Export" option in the upper left corner of the software interface or the one in the Toolbar at the top of the screen.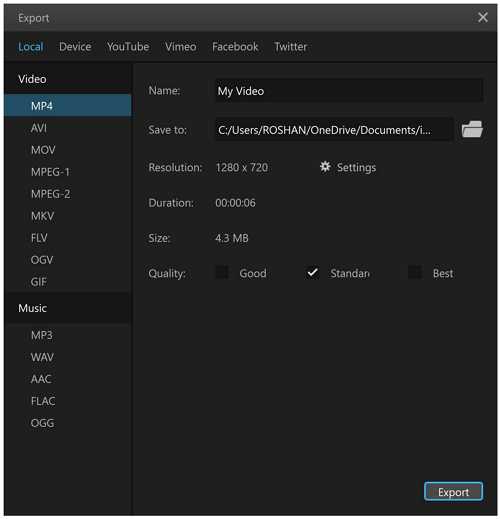 Watch this video to see how to use Filme to trim video:
2

Trim video for Instagram on Mac
You can easily trim your video for Instagram on your Mac by using the iMovie app. It is one of the easiest apps for iOS users. You can follow the steps given below to trim your videos:
Step 1: Skim to the beginning or end of the clip and extend the bar according to your choice to shorten or extend the length.
Step 2: To extend, drag the edge of the clip far away from the center.
Step 3: To shorten the video, drag the edge of the clip towards the center.
Step 4: Watch the preview and finalize your clip.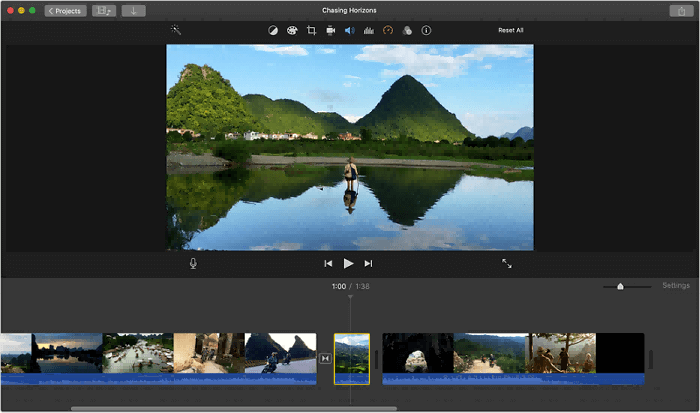 The QuickTime App is available in the menu bar on your Mac, and you can use it easily for trimming your videos for the Instagram story.
Step 1: Open the video in the app by click on Open File in the QuickTime Player.
Step 2: Click on Trim or edit in the bar, and it will display the video in editing mode.
Step 3: Isolate the part that you want to trim and save by dragging the handle to the exact position.
Step 4: Click on Trim, and you'll see the preview of your video.
Step 5: Now save it and enjoy watching your trimmed video.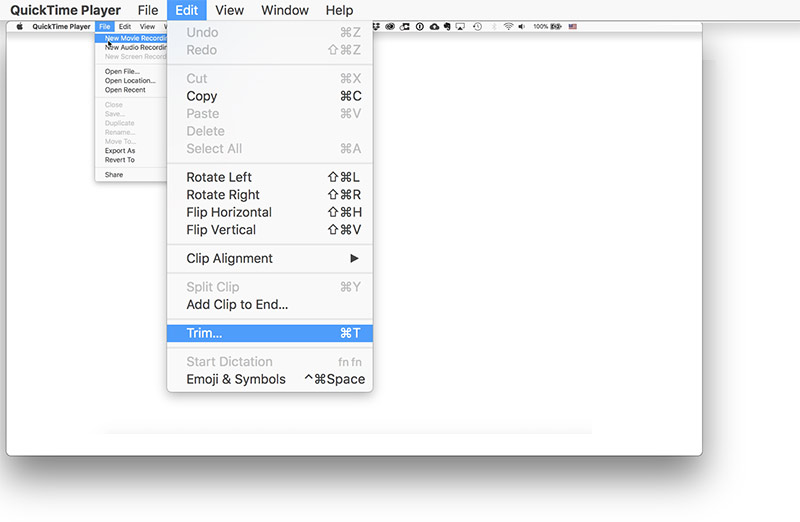 3

Trim video for Instagram Online
If you don'twant to download any particular software for editing or trimming your videos, then you can use any online platform to trim your videos for Instagram. It would save you a lot of space on your device.
You can use this online platform for trimming your videos to any particular length. Follow the steps given below to attain your required results.
Step 1: Open the online video cutter on your device and select the video that needs to be trimmed.
Step 2: Now, cut the video by selecting the part that you want to keep and continue moving the green marker.
Step 3: When you've acquired your desired length, then you can finish or proceed to add different transitional effects.
Step 4: Convert your video into MP4 or MOV format because Instagram doesn't accept all formats.
Step 5: Now, download the video by click on the green button.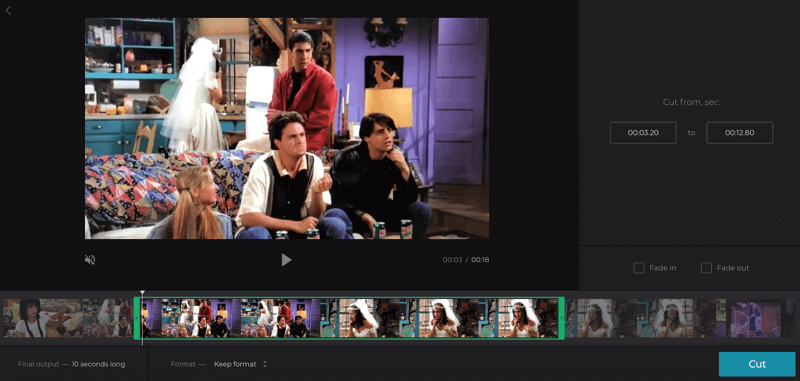 It is also a direct online video cutter. Follow the steps given below to trim your video.
Step 1: Open the online video editor.
Step 2: Upload the file that needs to be edited.
Step 3: Adjust the quality and format of the final output.
Step 4: When you're done with it, download your file with a simple click.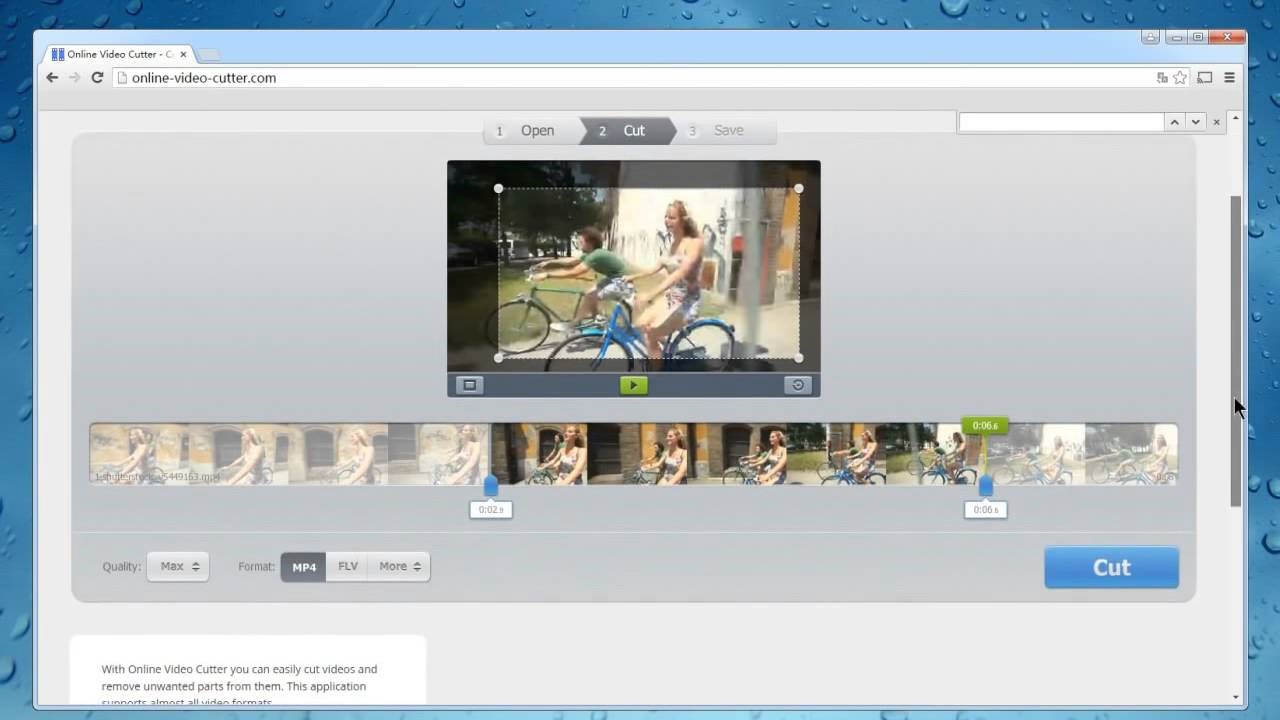 Part 3: Tips for Trimming a Nice Video for/on Instagram
1

Select the desired length.
Make sure to include the best part of the video content while trimming it. You need to entertain your audience with your content to grab more attention from the Instagram community.
2

Resize your videos accurately.
Based on your trimmed video, you can resize your Instagram videos to emphasize the video focus.
3

Choose quality wisely.
Video quality matters a lot for social media posts. Bad quality videos may be left poor if you haven't save the trimmed file in a right way.
4

Use filters to enhance the color.
Filters add beauty to your videos and make it look more good to the viewers. This based on your video theme after you have trimmed it.
5

Add transitional effects.
To give your trimmed video more magic, you can add transition effects or other features to make your video look more appealing and interesting to the audience.