Making PowerPoint presentations is a part of our everyday lives, whether you are a student or a professional. To present our work or findings in a better way, you make a presentation to show to your colleagues or employers. But simply putting words on a slide isn't enough; you need to present your ideas in a creative way to keep the audience interested.
This brought up the idea of adding animations, which held the attention of the viewers to some extent, but adding sound effects is a much better method to keep them from zoning out. But how do I add sound effects to a PowerPoint presentation, you ask? It's a very simple process that requires just a couple of clicks.
Below is a stepwise tutorial on how to put sound effects in PowerPoint.
Part 1: How to Add Sound Effects to PowerPoint
Do you want to make your PowerPoint presentations more interesting? Want to add some sound effect to it? Here's a step-by-step tutorial on how to put sound effects in PowerPoint.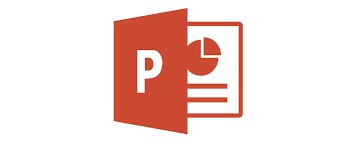 Step 1: To add a sound effect in PowerPoint, first, you need to add an animation to the text or object on the slide. Select the text/object, click on "Animations" and choose the desired effect.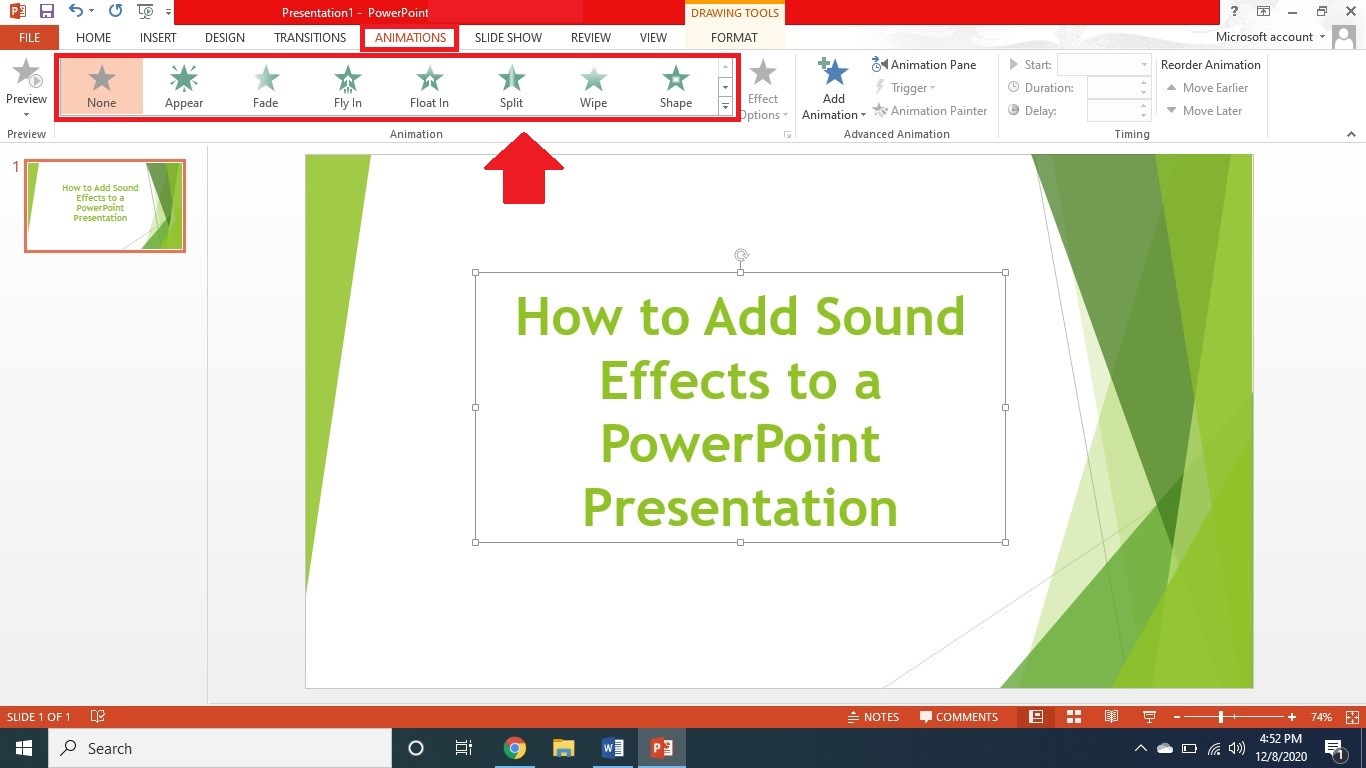 Step 2: Now, to add a sound effect to the animation, go to "Animation Pane". Click on the down arrow in the menu on the right and select "Effect Options".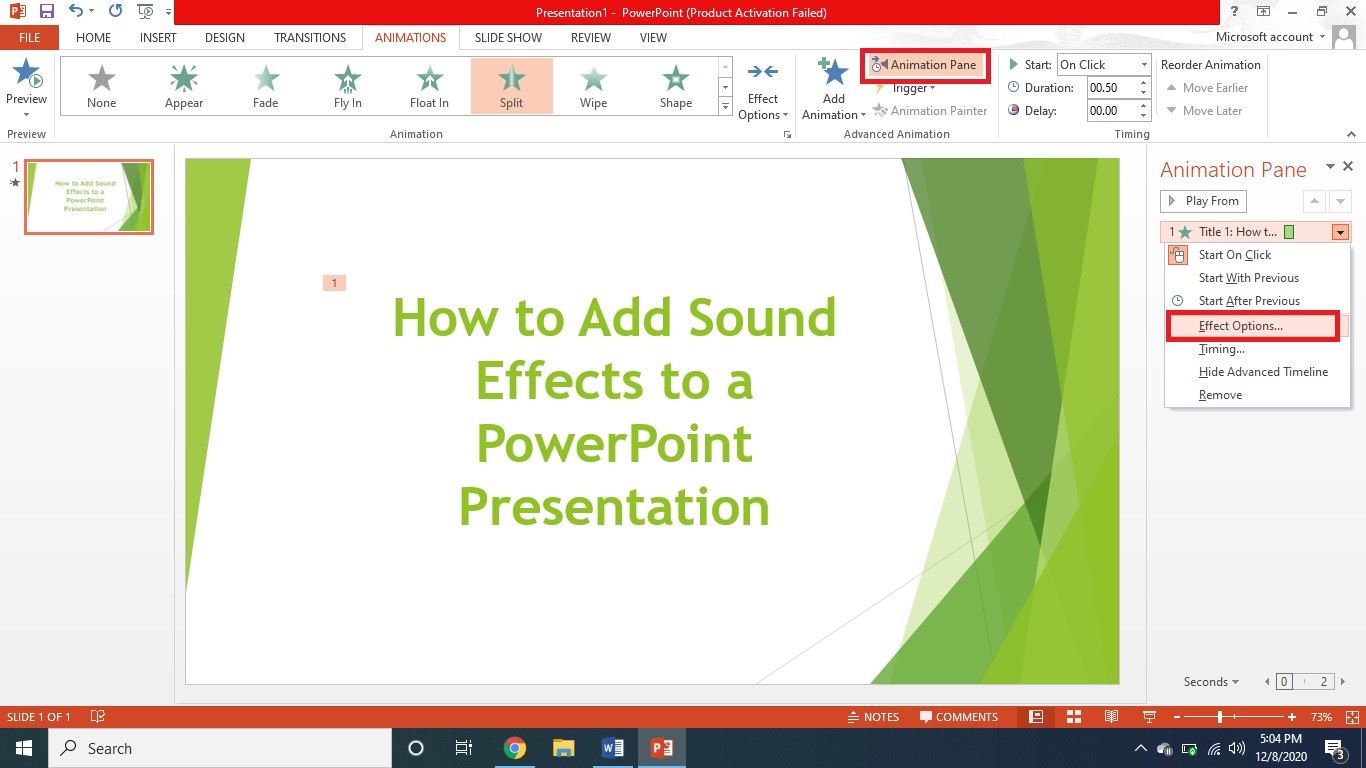 Step 3: A pop-up box will appear, from where you can select the built-in sound effects to add to your animated text/object, the timing, and other settings.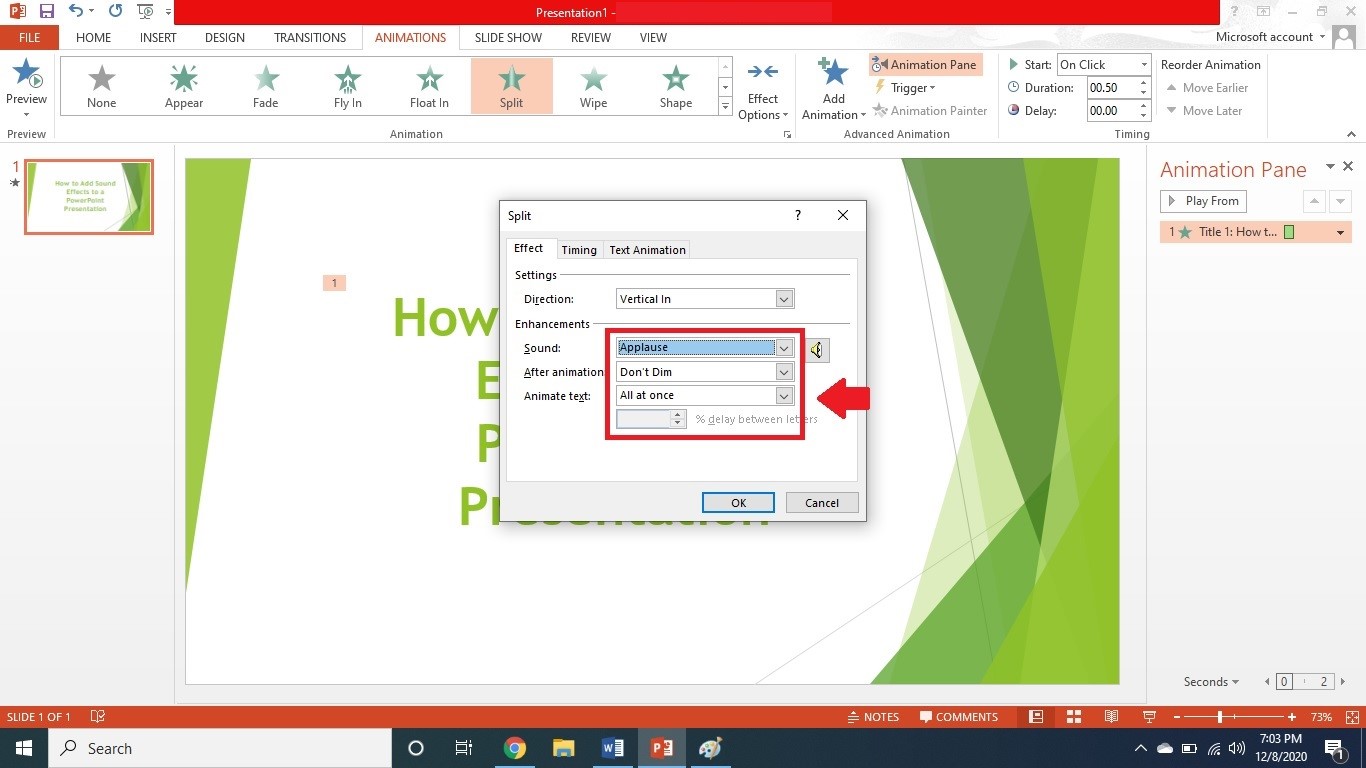 Step 4: If you want to use a sound effect other than the ones listed, click on "Other Sound" in the drop-down menu and select the sound file from your computer.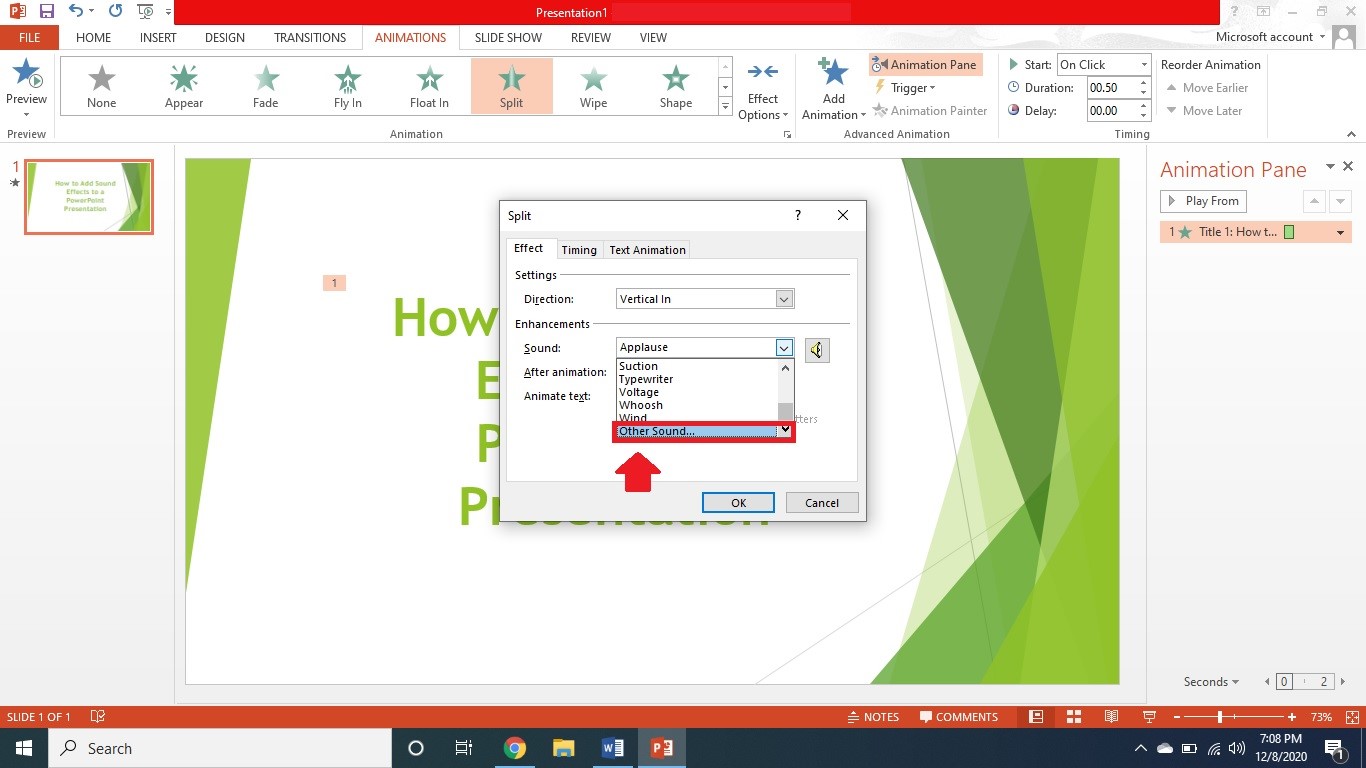 And that is how you put sound effects in PowerPoint.
However, using PowerPoint to add sound effects to your presentations is too mainstream. If you want to use software that gives a professional touch to your videos, we would recommend giving iMyFone Filme a try.
Part 2: Better Way to Add Creative Sound Effects - iMyFone Filme
If you want to make your life easier, you need simple and easy software to edit your videos. And nothing is better than iMyFone Filme for this purpose. The Windows and Mac version of iMyFone Filme is a very user-friendly software, which allows you to perform basic editing on your videos to make them attractive and worth watching.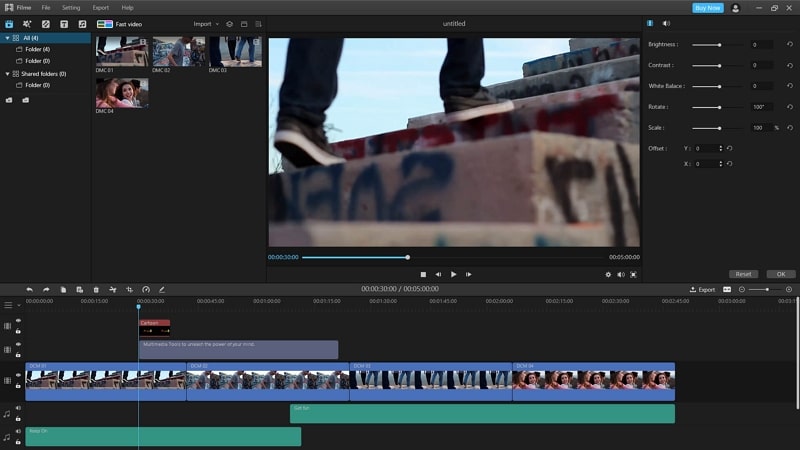 Let's have a look at some other amazing features of iMyFone Filme:
Advanced Editing Options - By using iMyFone Filme, you can crop, trim, adjust speed, add effects, and use transitions in your videos to turn them into something that will mesmerize the viewers. All these options can be carried out with a simple click.

Adding Text - To give out additional information to your audience, you can add text to your video. There is a variety of fonts, colors, and styles available to make the text eye-catching.

Fast Video Mode - If you're in no mood to edit your videos or add effects individually, you can use the Fast Video Mode to turn your video into something extraordinary with the help of amazing templates. You can also create fascinating slideshows with this feature.

Sound Effects - Sound adds a wow factor to videos. With iMyFone Filme, you can add sound effects with just a few clicks. Moreover, you can also add multiple sounds and merge them to make a medley.
How to Add Sound Effects Using iMyFone Filme
Step 1: Launch iMyFone Filme and start a new project. Then click on "Import > Import Files" to add the video you want to edit, to the timeline.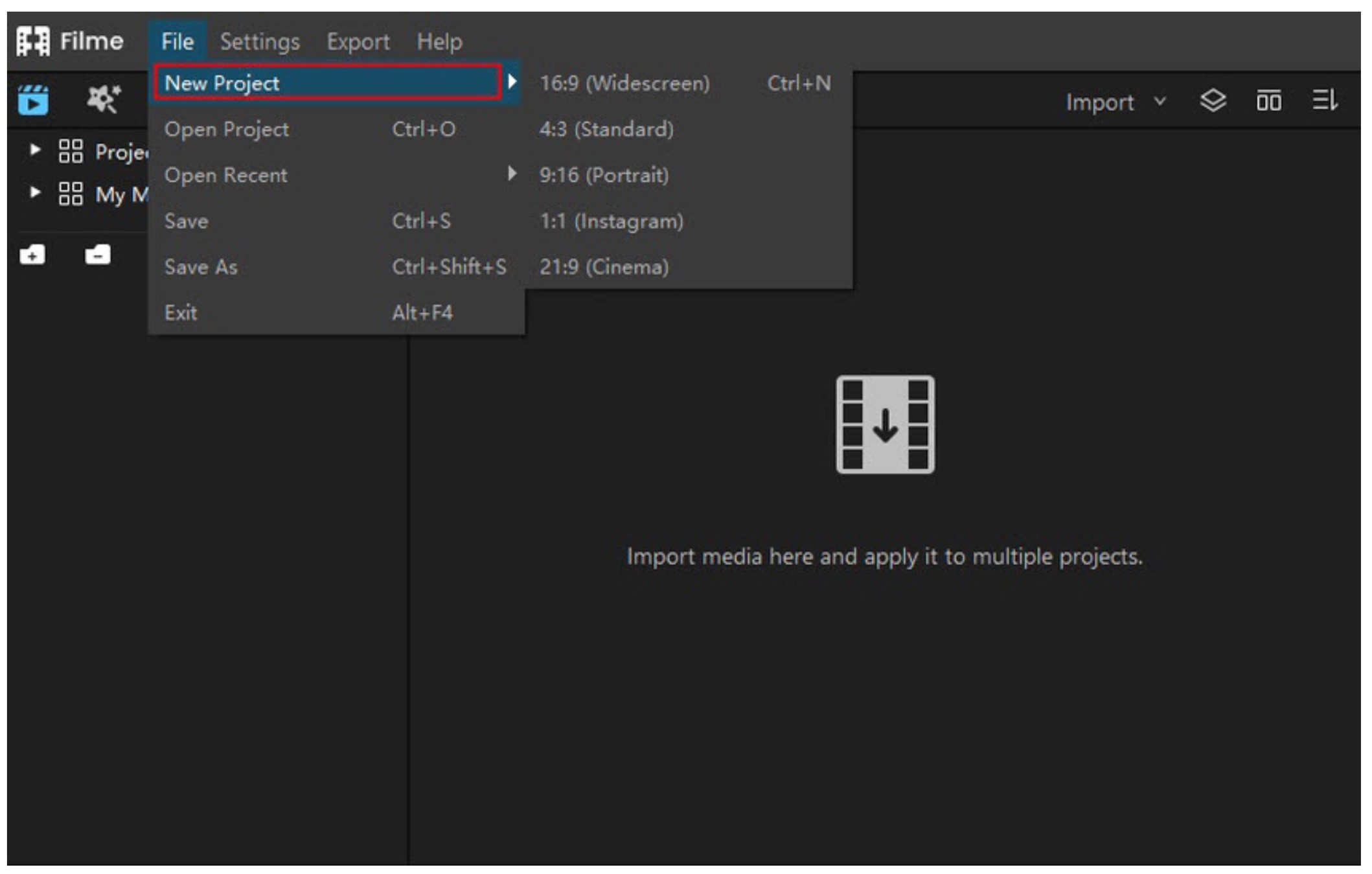 Step 2: Once again click on "Import > Import Files" but this time import the sound effect that you want to add to the video. Add it to "My Media" and drag it to the timeline. You can add more than one sound effect in the same way.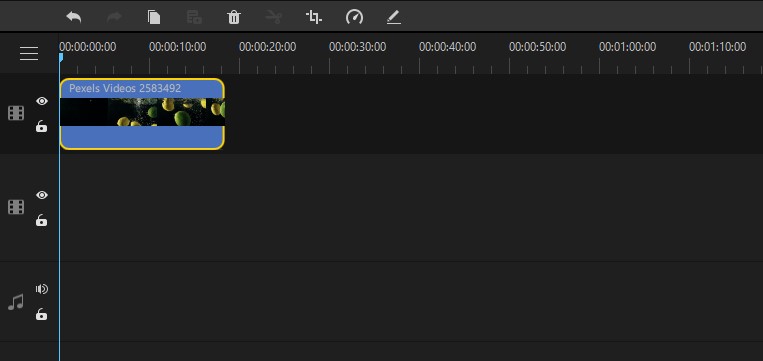 Step 3: Once you have added the desired sound effect to the timeline, you can make changes to it as per your liking. You can adjust the duration of each track, you can drag the ends to make it shorter, or vice versa.
Step 4: You can also split a sound effect by placing the playhead at the precise point and clicking on the scissor tool.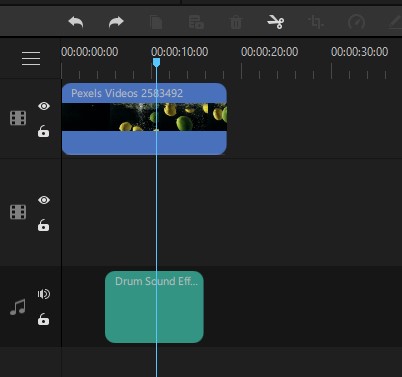 Step 5: Preview the edits before clicking on "Export > Export Video" to save and share the video
Part 3: Frequently Asked Questions (FAQs)
Q. How do you add special effects to PowerPoint?
You can add special effects to the text or objects in your presentation to make it interesting. All you have to do is to click on "Animations > Add Animation" and choose the special effect you want to apply to your slide.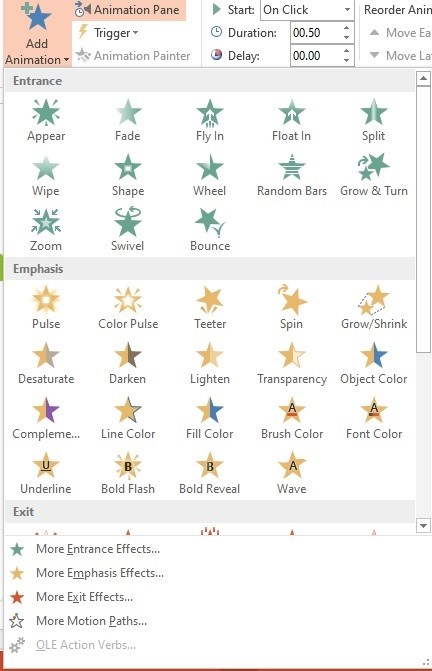 Furthermore, you can also set the direction of the effect by clicking on "Animations > Effect Options".

Q. How do you transition a song in PowerPoint?
If you want to add a song to your PowerPoint presentation to keep the audience alert and interested, go to "Transitions" and click on the sound option, to select existing sounds. If you want to add a song of your choice, click on "Other Sounds" and choose the desired song from your laptop. You can also decide the duration of the song. Click on "Apply to All" to add the song to all the slides of your presentation.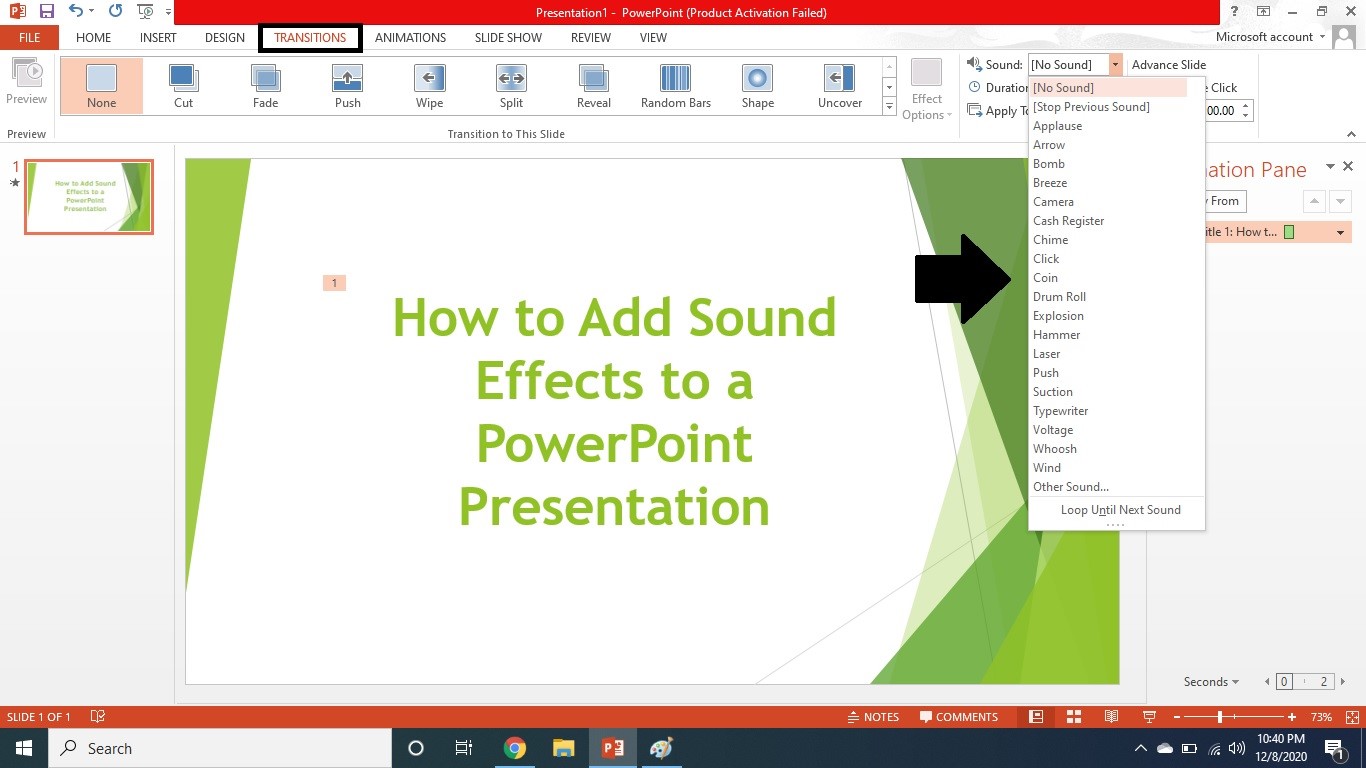 Q. Can you add animations to PowerPoint?
Yes, you can certainly add animations to PowerPoint by clicking on "Animations > Add Animation" and choose from a variety of built-in animation effects.
Q. What is Transition in PowerPoint?
In PowerPoint, when you go to the Transition tab and select an effect, it shows how one slide goes off the screen and the new slide appears. There are many different options for transitioning slides, to hold the attention of the audience and add an entertainment factor to the presentation.
Conclusion
Without animations and sound effects, a presentation can end up being very dull and monotonous. Therefore, if you want to keep the audience interested, it is recommended to create a presentation using entertaining and fun effects.
PowerPoint has a variety of sounds, but if you're looking for more creative options, you can use iMyFone Filme and make amazingly compelling videos.
So, head over to Filme page and download the trial version now!