Making PowerPoint presentations is a part of our everyday lives, whether you are a student or a professional. Adding sound effects is a much better method to keep them from zoning out. But how do I add sound effects to a PowerPoint presentation, you ask? It's a very simple process that requires just a couple of clicks.
Below is a stepwise tutorial on how to add sound effects to PowerPoint.Download Filme and try it now!
Part 1: How to Add Sound Effects to PowerPoint
Do you want to make your PowerPoint presentations more interesting? Want to add some sound effect to it? Here's a step-by-step tutorial on how to add sound to PowerPoint.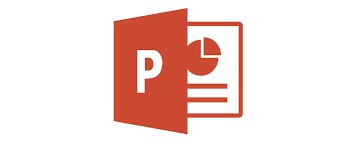 Step 1: To add a sound effect in PowerPoint, first, you need to add an animation to the text or object on the slide. Select the text/object, click on "Animations" and choose the desired effect.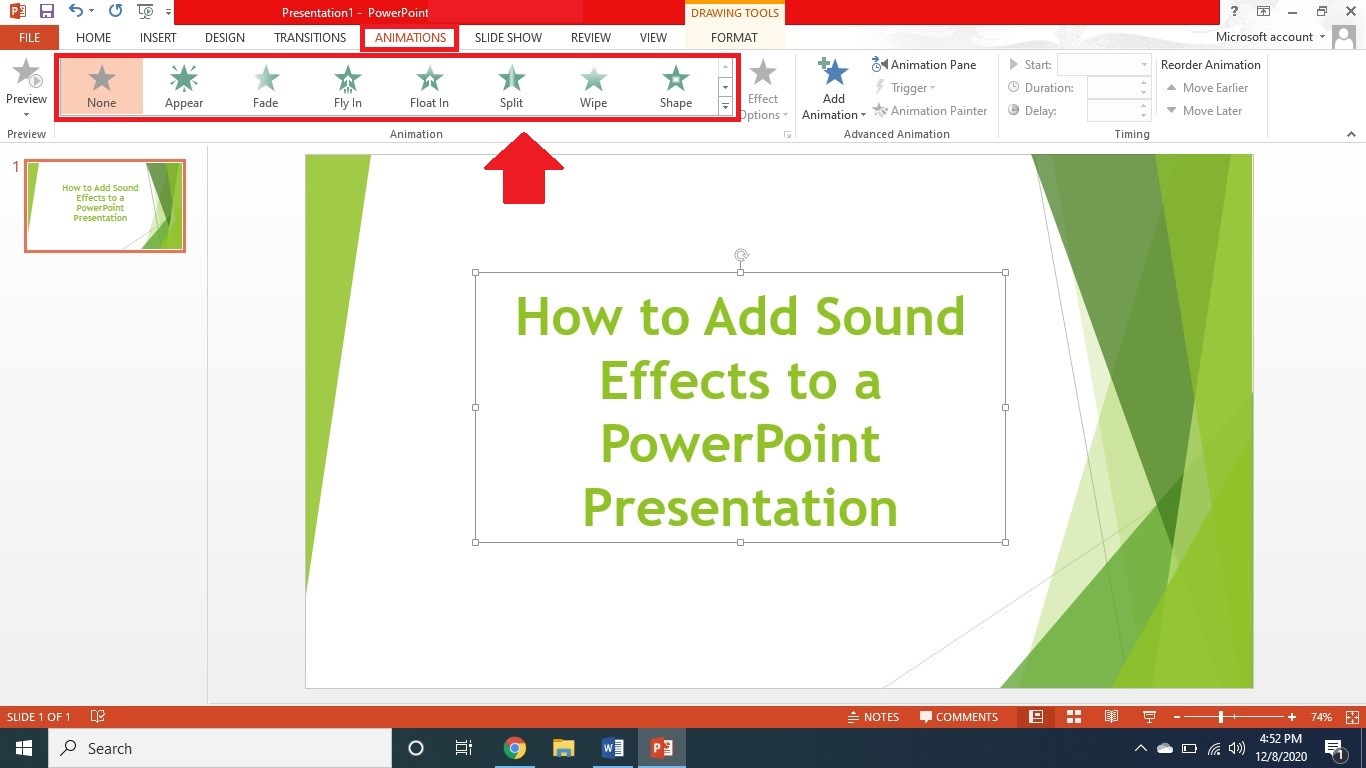 Step 2: Now, to add a sound effect to the animation, go to "Animation Pane". Click on the down arrow in the menu on the right and select "Effect Options".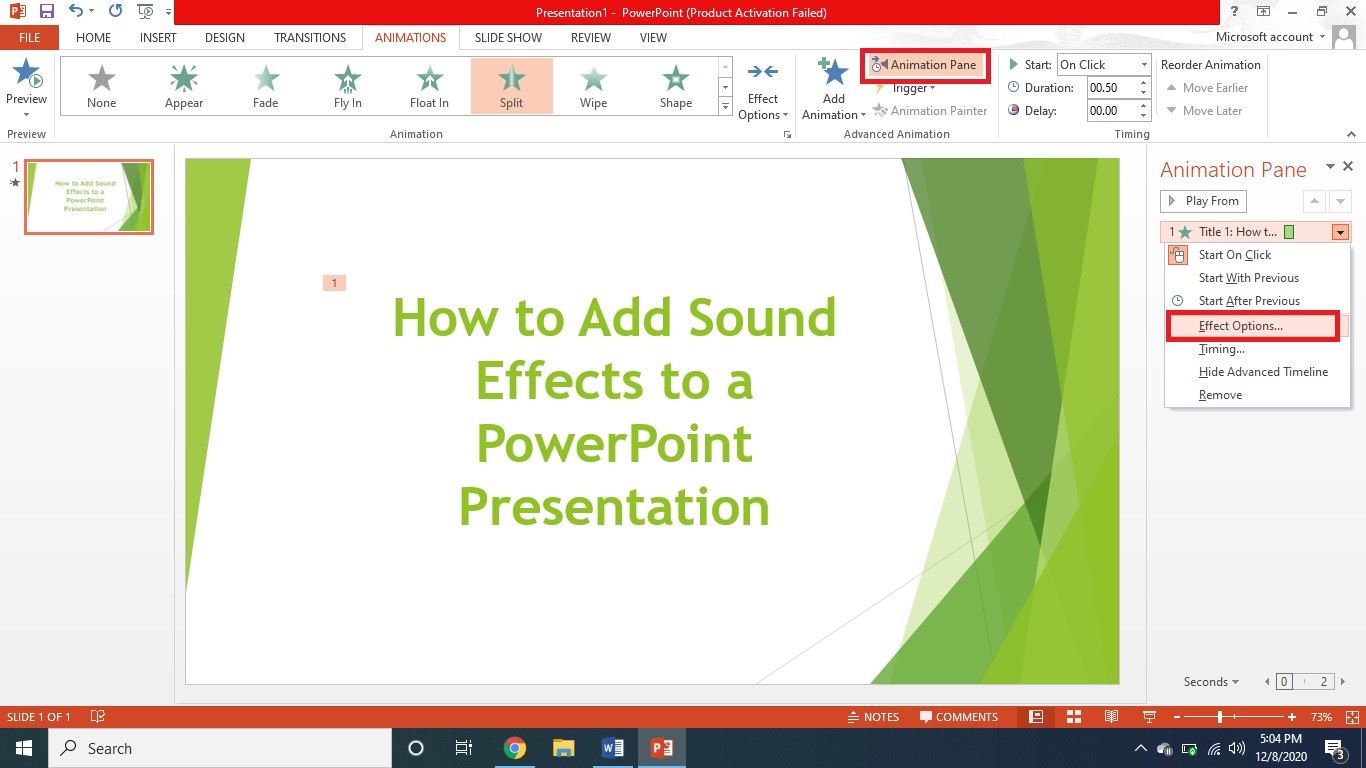 Step 3: A pop-up box will appear, from where you can select the built-in sound effects to add to your animated text/object, the timing, and other settings.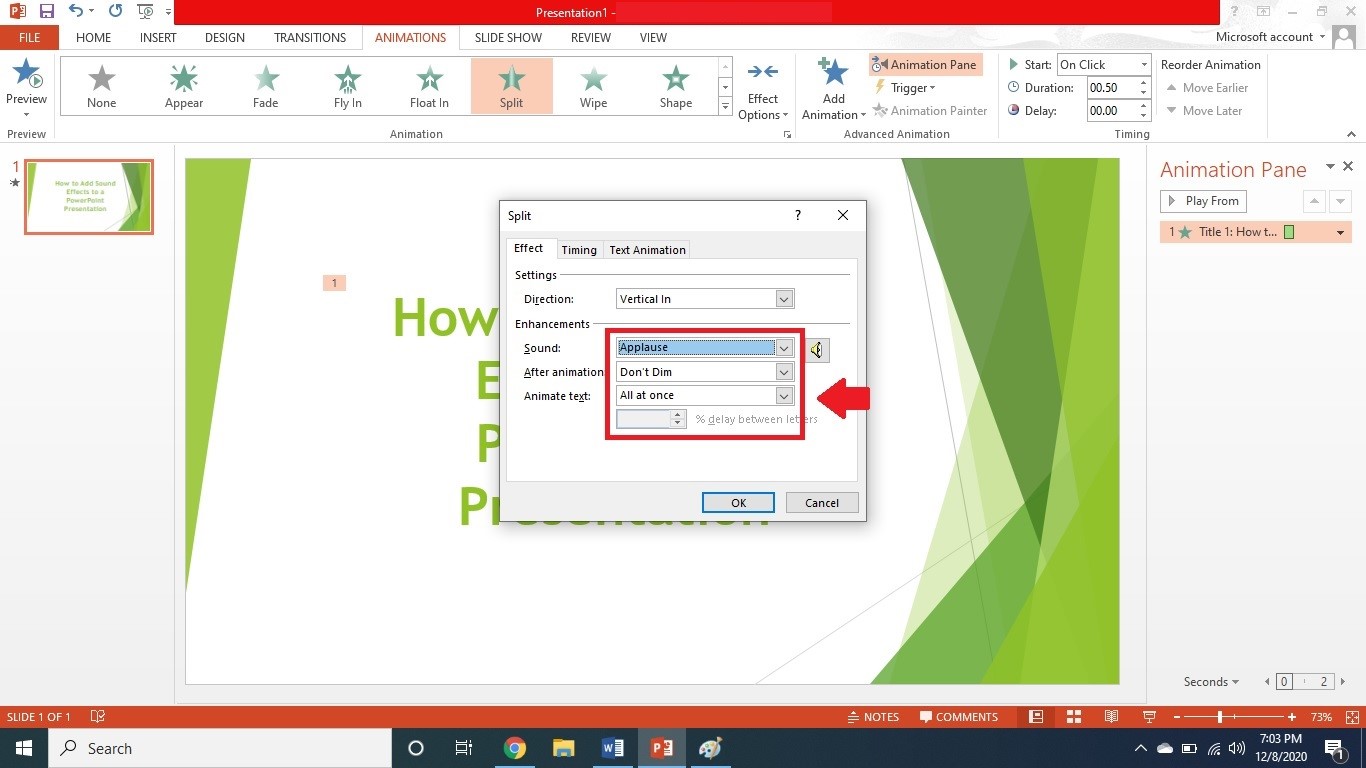 Step 4: If you want to use a sound effect other than the ones listed, click on "Other Sound" in the drop-down menu and select the sound file from your computer.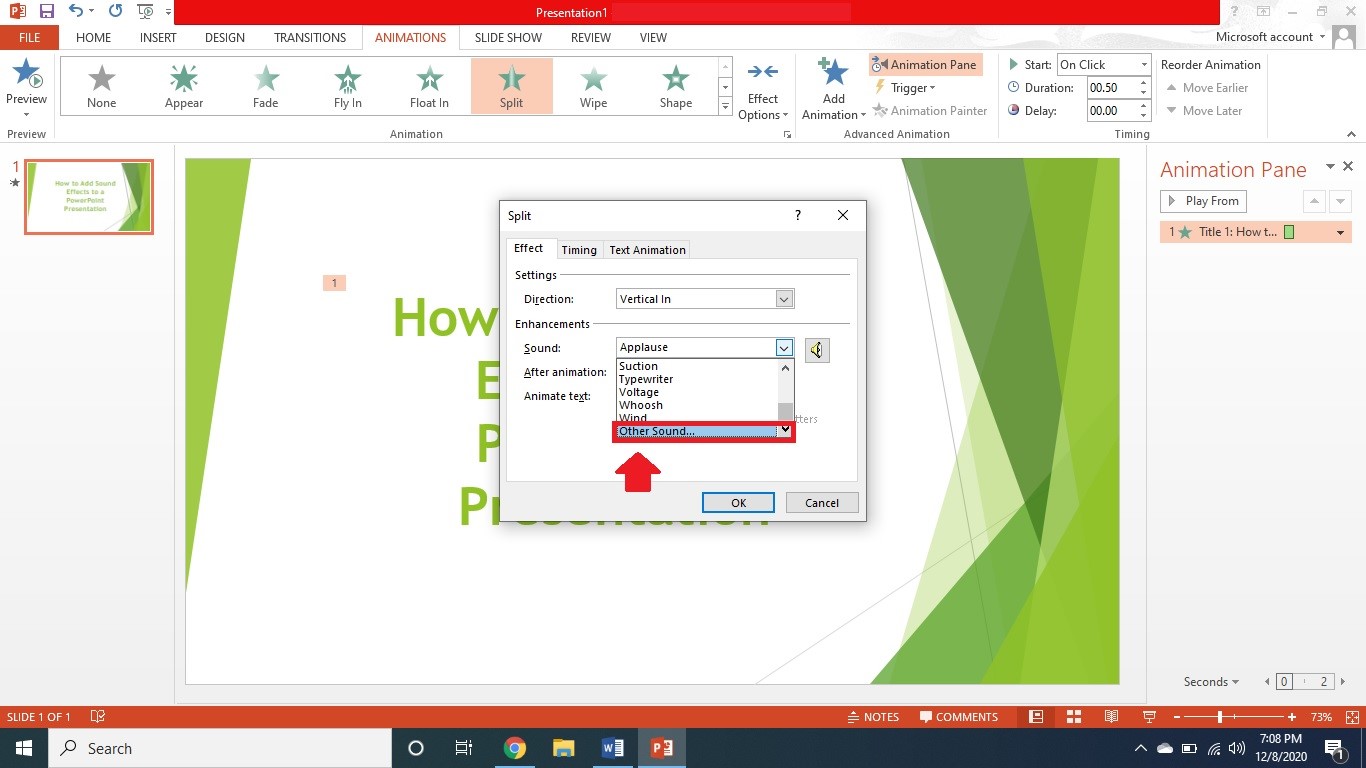 And that is how to add sound effects to PowerPoint.
However, using PowerPoint to add sound effects to your presentations is too mainstream. If you want to use software that gives a professional touch to your videos, we would recommend giving iMyFone Filme a try.
Part 2: Better Way to Add Creative Sound Effects - iMyFone Filme
Although you can use methods above to add sound effect to PPT, you are not likely to amaze your leader, teacher or your students for it's terribly tradtional and less creative. For the demonstration class or presentation, it' s always better for you to make a vivid video with sound other than your PPT. If you don't want to look average, you may turn to iMyFone Filme, which offers a surprisingly easy solution to make a video with sound fast.
Wonderful Features of iMyFone Filme
User-friendly, without any technical knowedge required to edit your videos.

Easy to get multiple resources, with no extra fee at all.

Free to try the editor, during which you can check the compability.

Able to convert PPT to video with sound fast and easily.
How to Add Sound Effects Using iMyFone Filme
Step 1. Open Filme on your PC. For PPT to video conversion, you need to click on Slides to Video.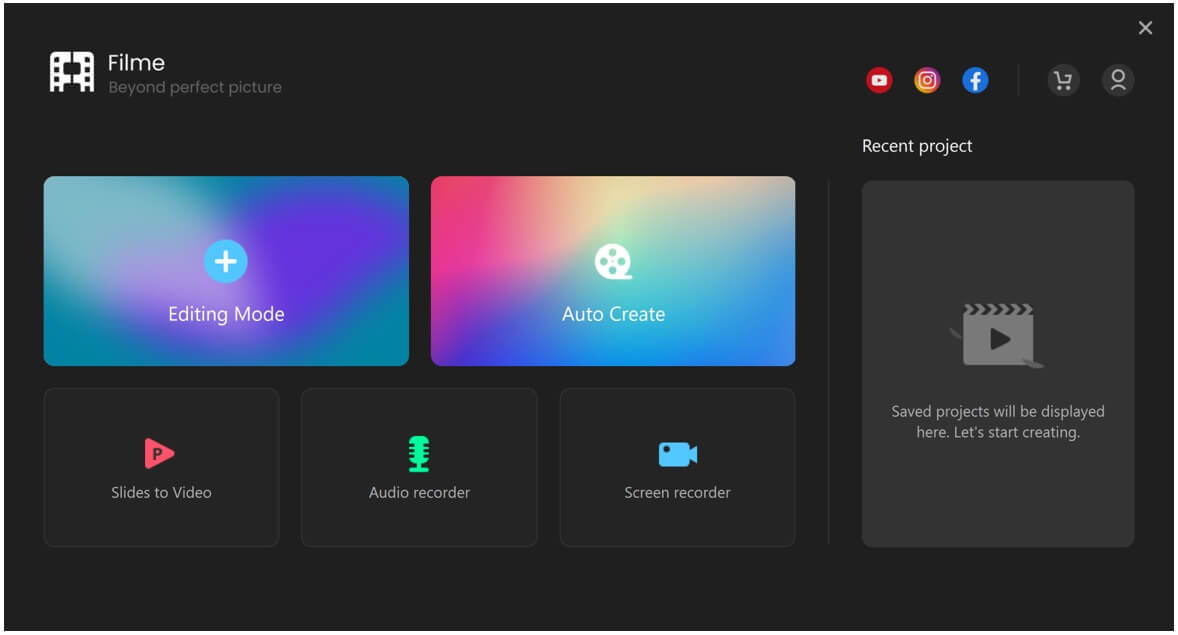 Step 2. Click on the "+" button to import PPTs.
Step 3. Click on the Settings button. Here, you can set the duration of slides, video quality, frame rate. Click on Convert.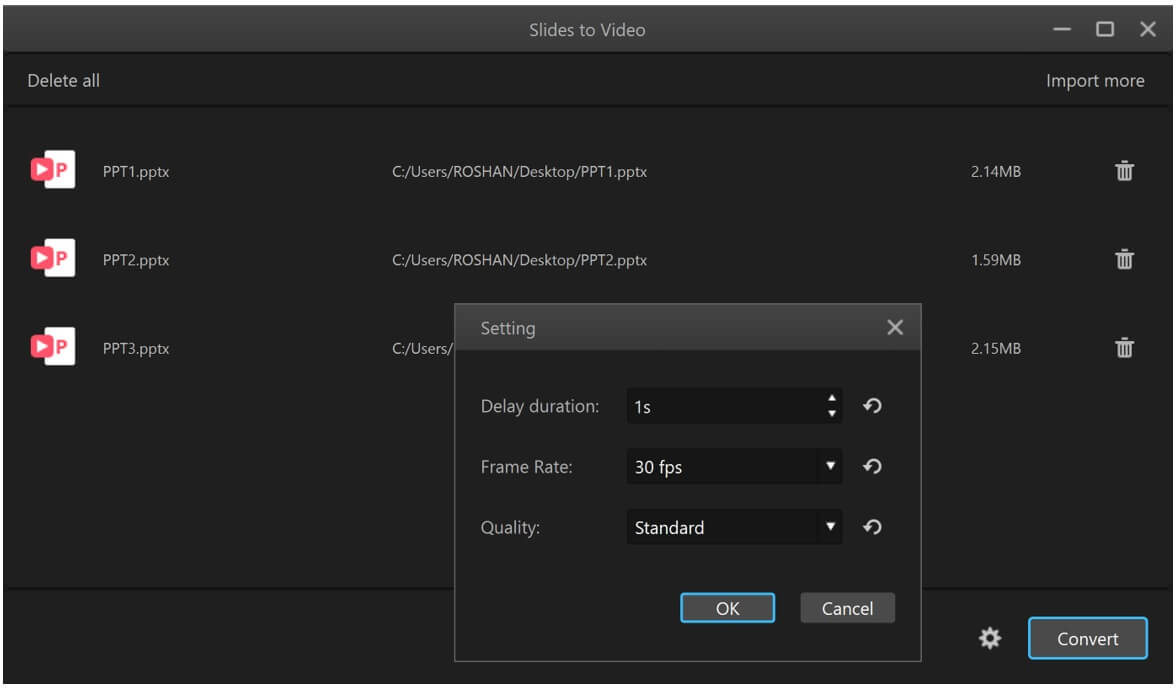 Step 4. You will see your converted PPTs in the video editor. All videos will be in the Media menu. You can click on the "+" button over the video to add it to the timeline.
Step 5. After adding all videos to the timeline, you can edit them. You can select the desired effect, transition, sticker, filter, or anything you need from the top menus.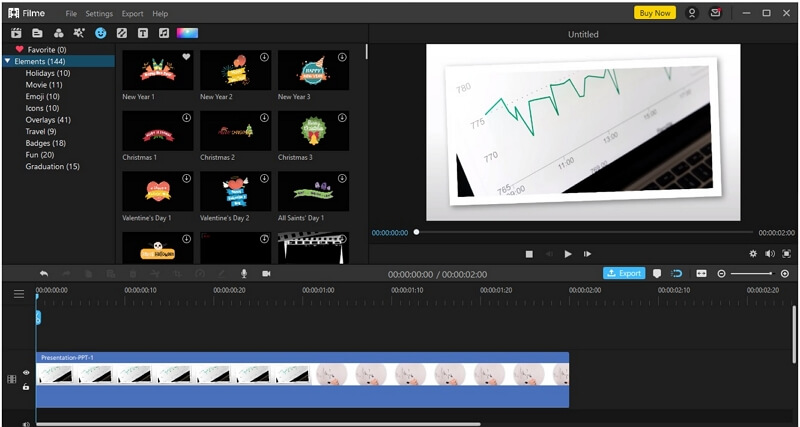 Step 6. You can also add music and sound effects from the library. If you want to add a voiceover, click on the microphone button over the timeline. Your voice will be recorded, and a voice changer can also be applied.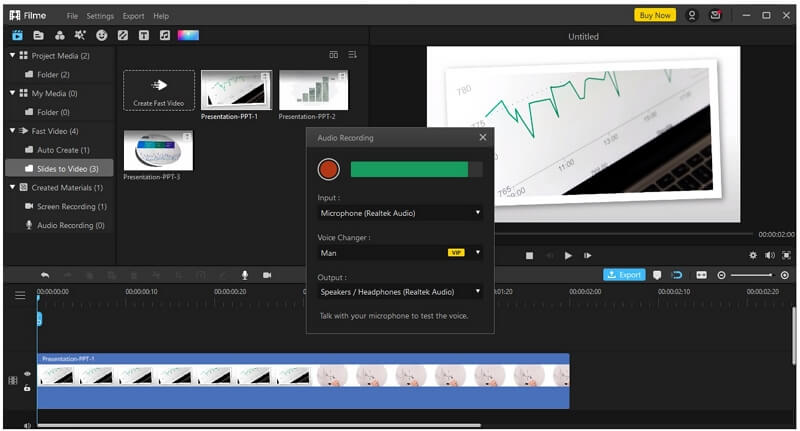 Step 7. After making all changes and creating a video of your choice, click on the Export button. You can select the file container, resolution, codecs, frame rate, audio settings, and many other things. The video can be imported according to your needs. Moreover, you can also upload the video on YouTube, Vimeo, Facebook, and Twitter.
Part 3: Frequently Asked Questions (FAQs)
Q 1. How do you add special effects to PowerPoint?
You can add special effects to the text or objects in your presentation to make it interesting. All you have to do is to click on "Animations > Add Animation" and choose the special effect you want to apply to your slide.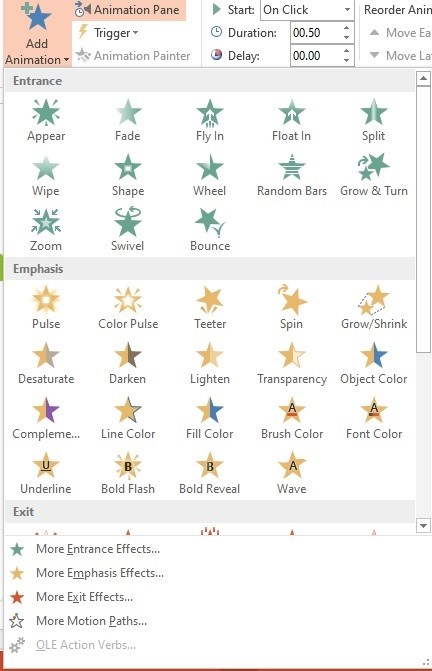 Furthermore, you can also set the direction of the effect by clicking on "Animations > Effect Options".

Q 2. How do you transition a song in PowerPoint?
If you want to add a song to your PowerPoint presentation to keep the audience alert and interested, go to "Transitions" and click on the sound option, to select existing sounds. If you want to add a song of your choice, click on "Other Sounds" and choose the desired song from your laptop. You can also decide the duration of the song. Click on "Apply to All" to add the song to all the slides of your presentation.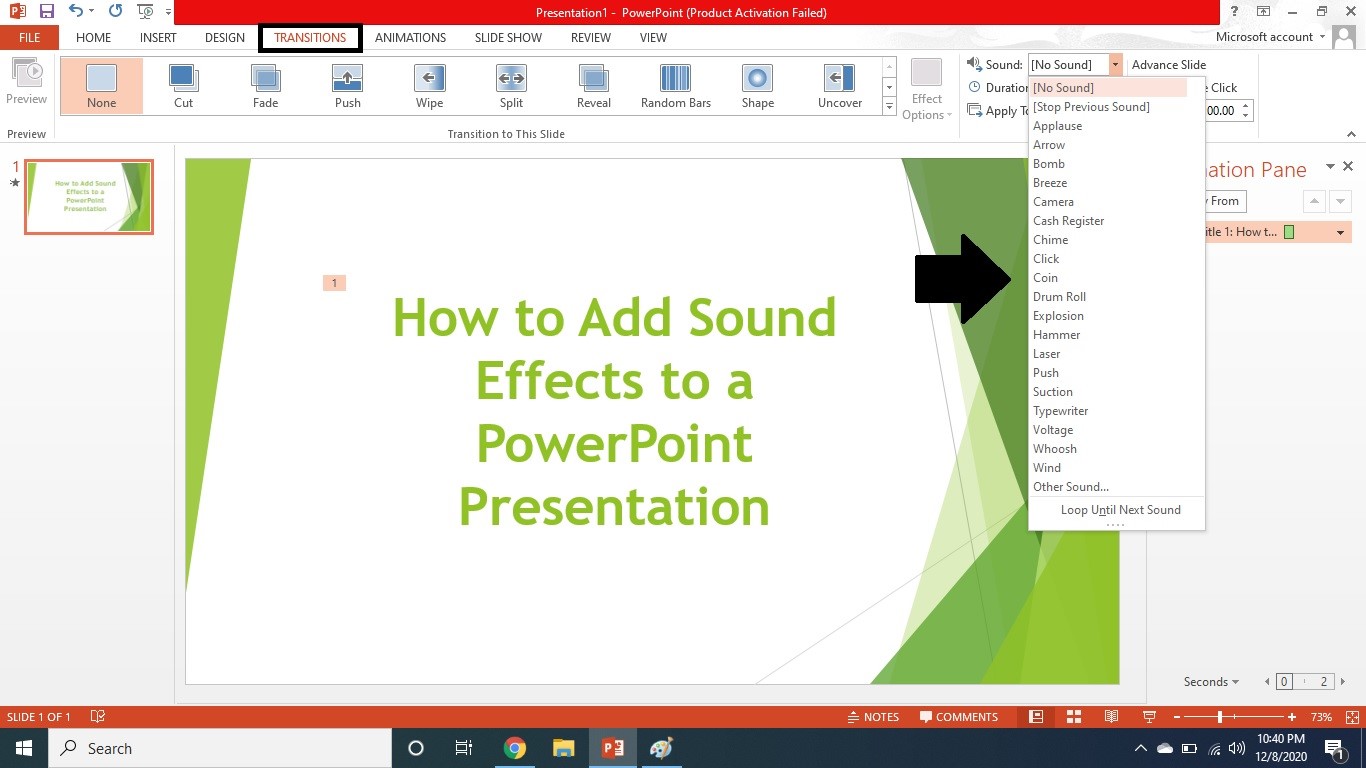 Q 3. Can you add animations to PowerPoint?
Yes, you can certainly add animations to PowerPoint by clicking on "Animations > Add Animation" and choose from a variety of built-in animation effects.
Q 4. What is Transition in PowerPoint?
In PowerPoint, when you go to the Transition tab and select an effect, it shows how one slide goes off the screen and the new slide appears. There are many different options for transitioning slides, to hold the attention of the audience and add an entertainment factor to the presentation.
Conclusion
Without animations and sound effects, a presentation can end up being very dull and monotonous. Therefore, if you want to keep the audience interested, it is recommended to create a presentation using entertaining and fun effects.
PowerPoint has a variety of sounds, but if you're looking for more creative options, you can use iMyFone Filme and make amazingly compelling videos.
So, head over to Filme Page and download the trial version now!