When it comes to YouTube, users can only watch and view stream videos on the website. You've probably seen instances of a Youtuber's video which get thousands of views, right? Along with making video clips shareable with friends, downloading and cropping YouTube videos are basic and important ways that many viral influencers use.
Downloading and cropping a video like YouTube wouldn't be a big deal as long as you can use a third-party service, install software, or get a YouTube subscription service.
Keep scrolling down and learn about how to download and crop a YouTube video and save it in easy and simple steps.
Download a YouTube Video using Keepvid
Keepvid lets you download your favorite videos from YouTube. It is super easy and free to use that enables you to download your video in just one click using the Keepvid extension. Make sure to download your video first using Keepvid and then use the following recommended method to crop it.


4 Methods To Crop A Video
1.iMyFone Filme
Filme is a multifunctional video editor that allows users to create and edit videos with ease. It has a full pack of basic and high-level editing features and it's super beginner-friendly. You can also use it to crop videos for YouTube for several different video modes and create imaginable and amazing content for your followers.
If you're curious about how to crop a YouTube video that's not yours, then you can simply follow these 3 easy steps to make it possible.
Download and launch Filme on your computer.

Import your media by clicking on "Import"; then click on the clip you want to crop by the "+" icon to add it to your timeline.

Select the clip you want to crop in the timeline, and open the toolbar where you can click on the Crop icon.

By moving the corner of the rectangle, crop the video screen and adjust the frame ratio. Moreover, you can even select ratio options at the left of the screen.

 

Select "OK"; after cropping to confirm and close the window. Undo the change by clicking on the "Cancel"; button.
Key Functions:

Cropping Feature: Filme Video Editor provides a simple and easy-to-use platform where you can crop a YouTube video. Choose your desired aspect ratioS (4:3, 1:1, 16:9, etc) or it can be your custom input.

Effects: Add a wow factor to your videos with the help of filters and animations. For business, animations play a vital role in engaging with potential clients. Filme provides you a wide range of special effects that can make your videos realistic and classy.

Fast Video Mode: This amazing feature gives it an edge over other editors. With a single click, you can create captivating slideshow videos.

Transitions: Transition refers to what the author shows between two clips by joining them. By adding various transitions in your video, you can amaze your audience using Filme Video Editor.

Picture-in-Picture Effects: With this special feature, two images or videos can be shown at the same time with one smaller video on top of a larger one. To use this effect in Filme Video Editor, you just need to add another video upper to the already added video in the timeline.
2.Biteable
Biteable is a browser-based video maker that's easy to use and designed to help you create jaw-dropping videos in minutes. Streamlined and packed with handy tools such as cropping videos, Biteable's feature-rich app will empower you to make stunning and effective videos in minutes — regardless of whether you're a first-time video maker or a bonafide marketing mastermind.
1.Upload your video footage to Biteable
2.Select the clip and start cropping your videos
3.Download your cropped video
It's that easy.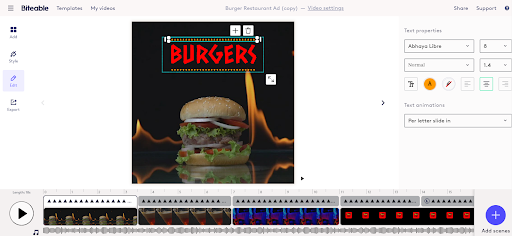 Pros:

Browser-based video editor no need to download and install the program

Super easy to use

Collaborative editing

HD 1080p resolution
Cons:

It will have a watermark unless you pay for the upgrade
3.YT Cutter
It is a YouTube online video cutter that can help you to crop a part of your video and then download it.
1. Go to YouTube Cutter, enter the YouTube video's URL, and click "Start Cutter".
2. Set the start and end time manually and you can even set the YouTube video length. Click "download" to download the cropping part of your video.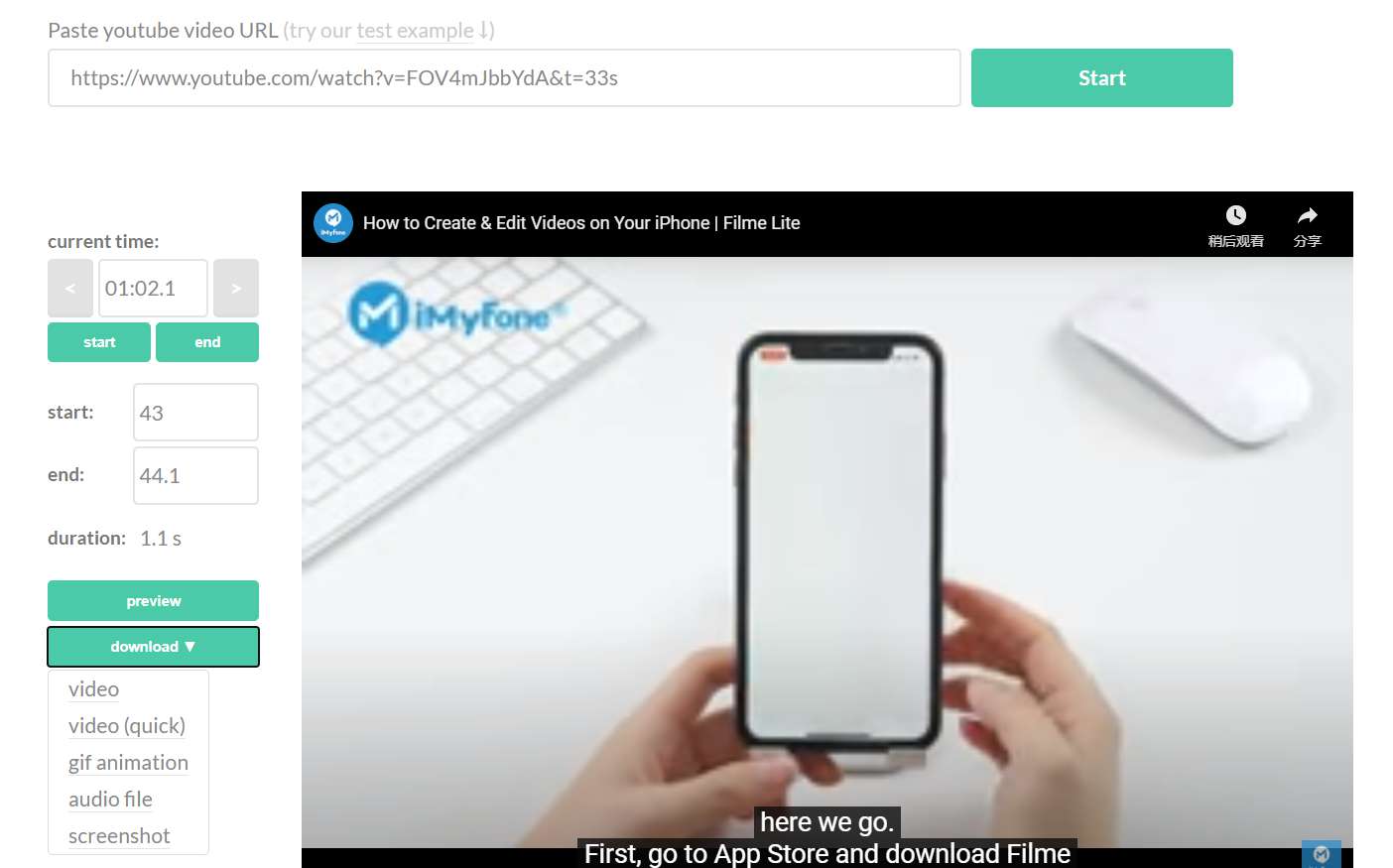 Pros:

Fast trimming

Exports video or GIFs

No Sign-up process
Cons:

No MP3 or 4K
4.YT Cropper
It functions differently as compared to YT Cutter, but it is an excellent alternative for cropping a video online.  Let's take a look at how to crop a YouTube video and save it in 3 simple steps
1.Start by pasting the link of a YouTube video you want to crop and download and click the"Crop" button.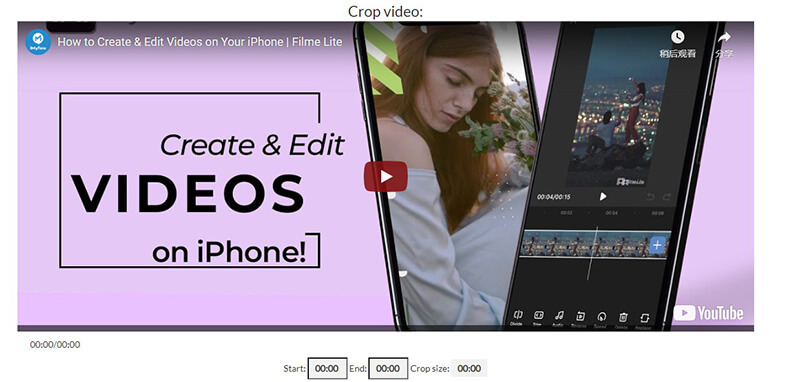 2.Set the start and stop time by clicking and dragging the slider along the bar once you've chosen your video to crop.
3.After cropping your video, you will be provided with embedded code and a direct it. Use a direct link to share your cropped video on social media, email, text messages, or other applications.
Pros:

Drag the slider to set start and end time

No registration

Embedded code and direct link
Cons:

Doesn't support a fraction of seconds (less precise clip)
5.Clideo
It is a platform to edit your video files, images, and GIFs most simply. It supports online video cropper and provides you the set sizes that are default in some social media channels.
1.Go to Clideo and choose a file from Google Drive, Dropbox or you can even paste your video's link.
2.A preview page will open where you can select the defaulted size or you can drag the corners of the rectangle to crop a custom-sized video. Moreover, you can enter the exact size in the box as well. After selecting a size, click on the "Crop" button.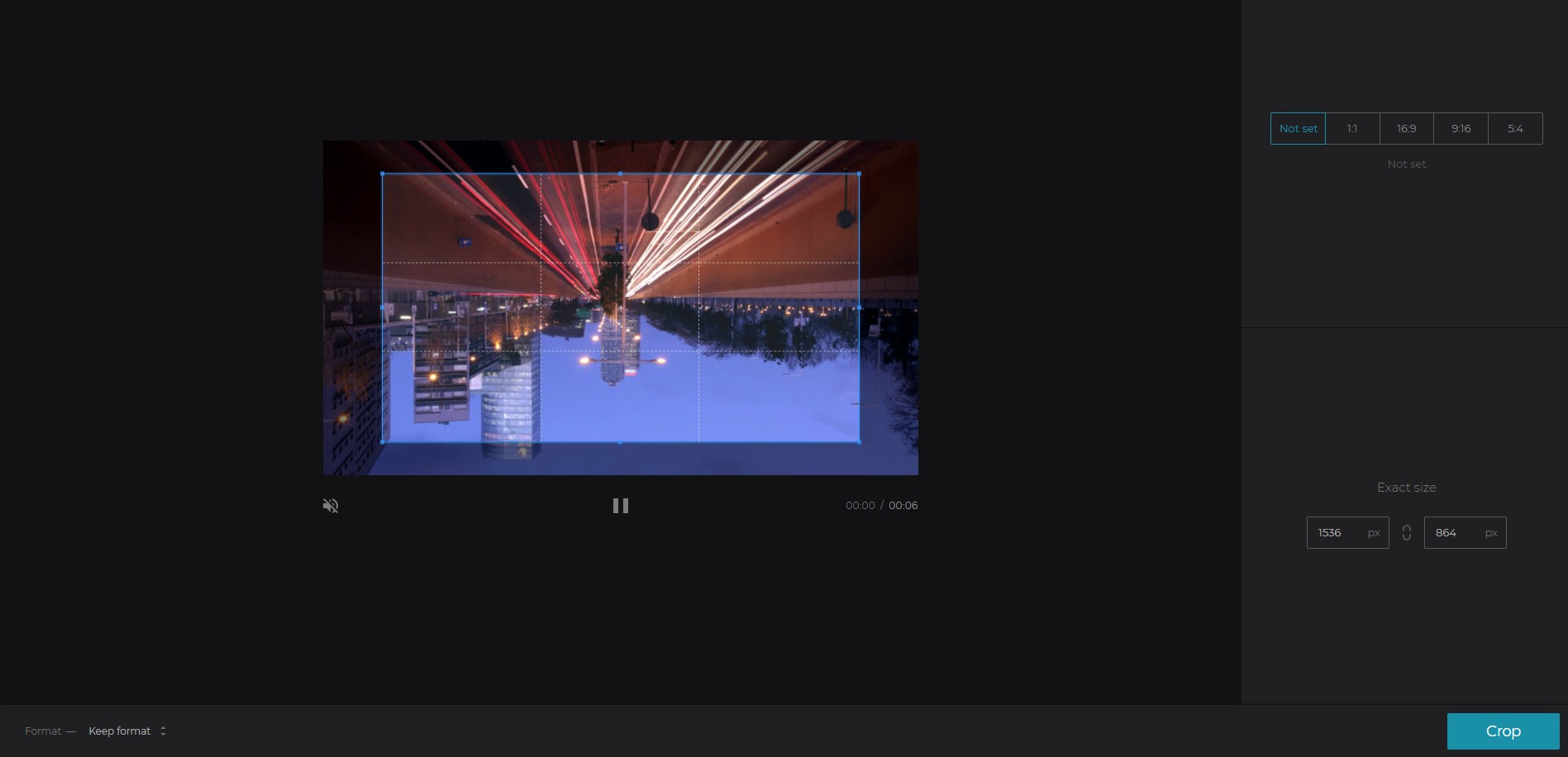 3.Click the "download" button to save your cropped video.
Pros:

A wide range of video formats such as MP4, MOV, AVI, etc.

Convert video before saving it.

Default crop sizes for your ease.
Cons:

A limitation of 500 Mb (then you need to get a subscription).
Conclusion
Filme Video Editor is the perfect choice for you when it comes to crop a YouTube video that's not yours. It provides special features including fast video mode, transitions, picture-in-picture effects, and many more. With such features, you can make your audience captivate in no time. Cropping a video using Filme Video Editor is the simplest and easiest for your comfort.
Also Read: