Instagram is portraying its never-ending creativity by introducing new features after regular intervals. Recently, they added the feature of Instagram T.V or commonly known as IGTV. This feature allows users to upload a video of an increased duration as the simple Instagram video has a maximum run time of 59 seconds and a story is of 10 seconds. Many consider that this feature has been launched to compete with the vertical video style of Tik Tok.
But the tricky part is that every video can not be uploaded on IGTV. The video has to be in a special format to be uploaded as an IGTV video. We will guide you to convert your content video into IGTV video.
IGTV Aspect Ratio and Other Instagram TV Dimensions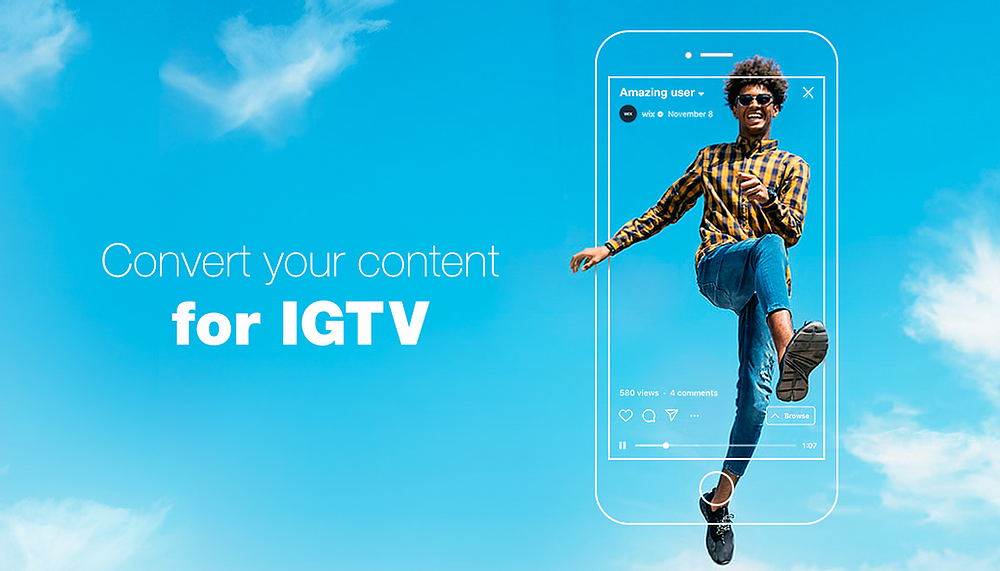 Before going ahead, some things must be known before converting your video. Knowing the aspect ratio that IGTV supports for a video is necessary.
Minimum aspect ratio: 4:5
Maximum aspect ratio: 9:16.
Format: MP4
Screen resolution: 1080*1350
Maximum running time: 10 minutes
The file size ranges: from 650MB to 5.4GB
The running time depends on the number of your followers. If your account has less than 10,000 followers, the maximum run time of a video will be 10 minutes. But for an account with more than 10,000 followers, you can upload a video with a duration of up to 60 minutes.
How Do You Change the Format of a Video on Instagram with Editing Tools?
iMyFone Filme- Best All-in-one IGTV Video Converter
Filme is one of the most recommended video converters by professionals to convert videos in IGTV format. It will help you in making IGTV videos without any inconvenience. It possesses all types of modern tools and techniques for video editing. Following are the steps that you should be following if you are using Filme:
I. Add Files and Import the Source Video
After creating a new project on the software, you have to import the desired media files to the project from the source destination. In the media menu tab, the import option will be visible. You just have to import files from the destination by clicking on this option. Arrange the files according to your desire on the timeline.
II. Trim the Clip
Trimming of the video can be done by dragging the extreme points appearing on the video. This can be done after dragging the video on the timeline. Trimming is done to eliminate the undesired part from the video.
III. Crop the Clip
Some editing tools will appear on the screen when you will select the video on the timeline. The video file can be reduced to the desired duration by using the crop tool. This is mainly used to delete the undesired part of the appearing from the video.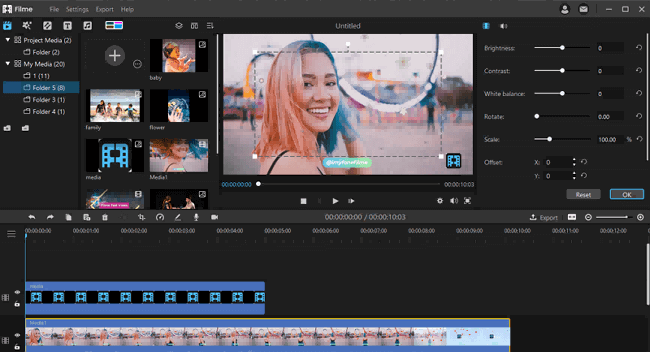 From the editing tools appearing on the screen, you can also add text, effects, stickers, or any other thing of your choice.
IV. Export the Clip
After the required edits, click the Export button on the toolbar. You will have the export window. You will see different video and audio formats on the left, but you need to click on MP4, which is IGTV format. Go to Settings, and here you will see video codec, resolution, frame rate, bit rate, audio codec, and other settings. After changing the settings, click Export.
Features
20+ Fast video mode

110+ Transitions

170+ Filters

50+ Background Audios

120+ Elements

1080*1350 Screen Resolution

Supports almost all operating systems

Perform multi-layering of videos
Filme comes with many eye-catching features. Due to its attractive features, it is attracting Instagrammers and millennials. It is becoming generation Z's cup of tea. Filme can also help to convert video in IGTV format online. It helps you to edit your precious memories or stories in a very creative way so that you can stun your friends, family, or fans.
The fast video mode of Filme helps you to edit in just one click. Considered the best video editing tool to create graceful videos for birthdays, weddings, travel, fitness videos, festivals, social media ads, and more. With graceful and diverse templates, you can make stunning slideshows. Filme has hundreds of different effects and resources like filters, titles, animations, transitions, music, and more that will make your videos look professional and delightful.
How to Optimize Your Videos for IGTV
There are several ways by which you can optimize your IGTV video. The following steps should be followed to optimize the IGTV video:
Fine-tune the Details of Your Video
One important thing is that you should know how to convert vertical video for IGTV. If you have not shot your video vertically, the content video can still be made to work on this platform. To create the most professional videos, you should primarily focus on the aspect ratio of your video. All of this can be done with some advanced editing tools. Some of the best tools available for this purpose are iMovie, Movavie, etc. Fine-tuning of the video follows the given steps:
I. Create an Image Cover for Your Channel
The cover image is commonly known as the thumbnail. Thumbnail is considered as the identity of the IGTV channel so it should be designed carefully. For this purpose, an image is chosen carefully and it is edited to finally appear in our desired form.
Many obstacles overlap or all vertical posts crop the dimensions of your chosen image. To avoid these issues hampering your performance, avoid using text and choose an image that can work in multiple dimensions. The image you choose should also be a JPEG file. iMyFone Filme can help you to create an attractive IGTV thumbnail.
II. Add a title and captions
A suitable title is a necessary thing for any video. Any additional captions can also help the viewer to understand the theme of the video. You can place your title or subtitles on top of your images, or just plain backgrounds to lengthen your videos and add more exciting content.
III. Accept that You Can't Win it All
When you start optimizing your video for IGTV, some background objects have to be cropped out somehow. You might need to unwillingly sacrifice something important from the video to repurpose your video for a new platform.
IV. Zoom in when Necessary
Another trick to crop out the unnecessary shots from the video is to focus on the targeted subject. In this way, only the important shots will be appearing on the full screen.
V. Avoid Bad Recutting Solutions
Bad recutting should be avoided to optimize the video in a good way. The following step should be followed for this purpose:
Blur the Background

Triplicate the Frame

Cut of the Text

Rotate the Video Horizontally
Shoot Vertical Video
As mentioned earlier, you should know how to shoot a vertical video. IGTV supports vertical video. So, it will be easy for the viewer to view your video if it is shot vertically. It is also the target of Instagram to promote the original raw content.
Best Online IGTV Video Converters You should Try
There are many forums available that can help to convert video for IGTV online. Each of them has its unique features. Some of them are paid but most of them offer to convert video for IGTV online free. We will be discussing some of them below to help you to convert your video for IGTV.
Convertio is also a very reliable software to convert video's format into IGTV format.
How to use Convertio:
Place file on WebPage

Select Desired Output Format

Press Convert Button
You can further get the video tutorial on how to use Convertio by clicking on
Pros and Cons:
Pros:

Easy to Use

Good Customer Care

Excellent Features
Cons:

Do not work with transparent background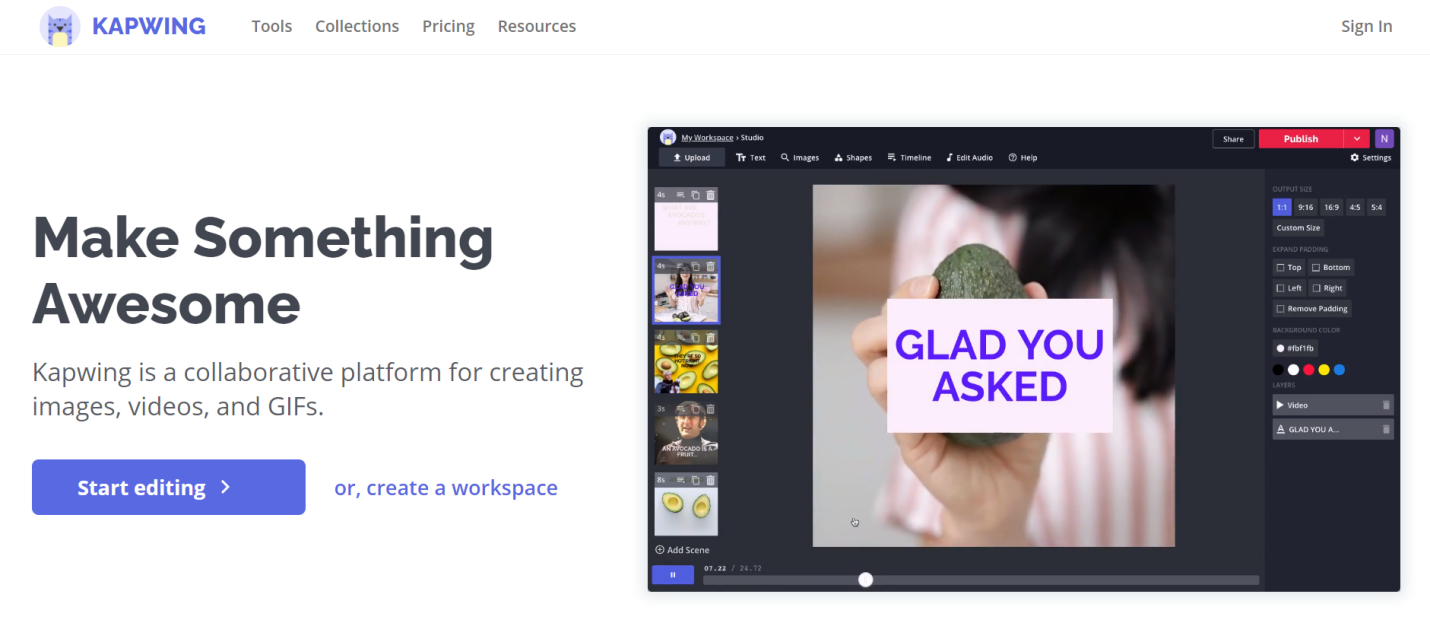 Kapwing is an online video editing platform. It can be used to crop, rotate, add text and effects to video, convert video to vertical video for IGTV online and adjust them according to the requirements of IGTV. Apart from its video editing capabilities, this IGTV converter can convert mp4 to any other desired or popular formats online. Moreover, this tool is easy to use and can be used for free.
How to use Kapwing:
The use of Kapwing is very easy. You just have to follow the given three steps to convert video into an IGTV video format.
Upload Desired Video

Choose the Desired Size (Aspect Ratio)

Upload it as IGTV
Pros:

Excellent Editing Tools

Easy to Use

Multi-language Support

Highly Creative
Cons:

Only Creates Long Videos

Only Useable on Web

Some Glitches in Subtitles
How Do I Stop Instagram from Cropping Videos?
In Instagram, all vertical posts are reduced to the aspect ratio of 4:5. This means that it is impossible to embed a full 9:16 a.m. video in an Instagram post. If you take a screenshot, shoot a video clip on your phone, TikTok, or Snap, or if you want to post a story to your feed, Instagram makes you crop part of it unless you resize it first. But, we are here to protect you from the cropping done by Instagram. You just have to use Kapwing and follow the given instructions.
I. Resize the File
Upload the file in the resizer of the software. It will resize the image without any shoot being missed.
II. Add a Background
For Instagram use, choose the 1:1 aspect ratio in resize. The background of the file can be changed to any color. After this, export the image by clicking on the "Export Image" option.
III. Share after Downloading
You will notice that the watermark of the logo will be present at the bottom. This can be removed by simply signing in with an account. As mentioned above that the aspect ratio will be reduced to 1:1, you can upload your file on Instagram without any cropping after you download it from Kapwing.
How to Change Facebook Live to IGTV Video?
If you have hosted a successful Facebook live session and want it to publish it on Instagram, we will guide you through it. You just have to follow the below-given steps:
I. Download Facebook Live Video
At the end of the live session, Facebook gives an option to download the video. So, you first have to download the video.
II. Editing
Now, you have to edit the downloaded video according to the requirements of the IGTV video. For this purpose, you can take help from online software like iMovie, Movavi, etc. The main target is to adjust the aspect ratio.
III. Download
Now you have to download the edited video. Simply click on the download button appearing on the screen.
After that, your video will be completely converted into the IGTV format. You can upload your Facebook live session on IGTV.