People usually make a comparison between Nuance vs Amazon Polly vs google text to speech. In fact, These voice generators are more suitable for enterprises. in this article, we'd discuss these three and then suggest a voice generator software that is the best for personal (in the end).
Part 2: Another Text-to-Speech Generator for Personal-VoxBox

Part 1:The Full Informaion of Text-to-Speech for Enterprise
1) Google Cloud Text-to-Speech
Google offers a top-notch Text to speech tool that generates lifelike voices with just a few clicks. It is powered by API, which is why it is quick and effective.

Vendor Details:
Cloud Text to speech is Google's product. The company has also called it one of its best AI tools.
Features:
It has a user-friendly interface that lets you put the text and generates the audio within seconds.

The voice Google Cloud produces is real and feels authentic.

More than 200 voices are listed there.

It uses API and other latest technologies for a better user experience.

You can choose from 40+ languages for TTS

Google Cloud also allows you to edit the voice (like pitch adjustment, speed change, etc.).

You can also create a new voice using your own recording.
Price:
| Plan | Price |
| --- | --- |
| Standard voices | $4/one million characters. |
| WaveNet and Neutral 2 voices | $16/one million characters. |
2) Amazon Polly
Amazon Polly is another popular text-to-speech generator among both people and organizations. They love the choices they get from this tool and the expressive voices it generates.
Some of its customers are Washington Post, USA Today Network, Trinity Audio, and many other organizations.

Vendor Details:
It is an Amazon product and falls under AWS.
Features:
The voices sound high-quality and real

It supports more than 15 languages.

You can save the TTS audio in MP3, OGG, and other formats.

You can also adjust speed, volume, pitch, and much more there.
Price:
| Plan | Price |
| --- | --- |
| Standard voices | $4/one million characters. |
| Neutral Voice | $16/one million characters. |
3) Nuance Vocalizer
Nuance Vocalizer is an enterprise-ready TTS generator that uses AI to produce expressive voices. It is often compared with Google Cloud and Amazon Polly because of its top-notch features and optimization options.
But it is much more difficult to use as you will have to keep contacting them to ask for things like prices, plans, etc.

Vendor Details:
It is Nuance's product- a company that is known to use Artificial intelligence to make this world a better place.
Features:
The voice generated by Nuance Vocalizer speaks fluently because of AI algorithms.

You can also create your Custom voice using this program.

It is super Fast, and you will get your audio within seconds.

The Vocalizer can read every complex sentence perfectly due to optimized text processing.

You can also scan the printed text, and Speechify will read it for you.

It supports 50+ languages with 119 voices.

You will also get Multi-lingual support.
Price:
You will have to contact Nuance, and then they will offer you the price according to your requirements/needs.
Part 2: Another Text-to-Speech Generator for Personal-VoxBox
iMyFone VoxBox is a highly-rated Text To Speech tool which is now being called one of the best by its users. Why? Because everything needed for generating a human-like voice is present in this TTS generator. You don't have to use any separate tool or download additional software to use it.
The reason it is better than many Text-To-Speech generators out there is because of its top-of-the-line features. Let's find out what they are.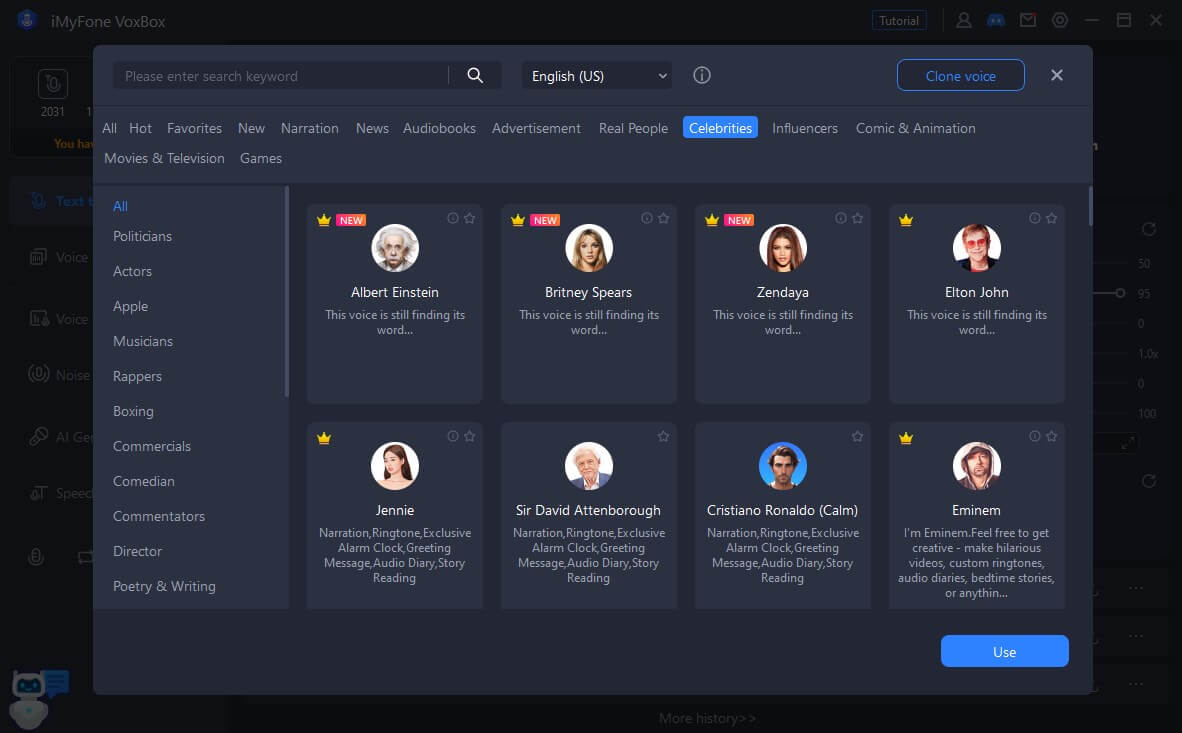 Features:
VoxBox has more than 3200 voices like Youtuber, Cartoon, Rapper,etc.

Supported 46+ languages in different accents and tones.

Supported 100+ accents like British & Hidin.

It also provides editing options so that you get the audio you want.

It supports different audio formats like MP3, AAC, WAV, etc.

You can also try it for free before you buy one of its plans.

It is perfect for audiobooks, lectures, instructional videos, podcasts, social media videos, pranks, and much more.
Price:
| Plan | Price |
| --- | --- |
| 1-month Plan | $14.95 |
| 1-year Plan | $39.95 |
| Lifetime Plan | $79.95 |
Review:
VoxBox is perhaps the easiest Text to Speech converter there is. Everything is so simple about it. You can either record your audio or type the text, choose a voice and click on convert. It's that easy.
Conclusion
Long story short, people often compare Nuance vs poly vs google TTS and want to know which one they should use.
Well, these three tools are good, but if you want to use such a voice generator that offers maximum features, then I suggest another tool you should go for. It's VoxBox.
Why? It is because there are more than 3000+ voices in different accents and intensities listed there. Plus, you can also edit the audio according to your choice. On top of this, VoxBox also supports 11 languages, different output formats, price flexibility, and much more. All of these things are not offered by any other TTS generator.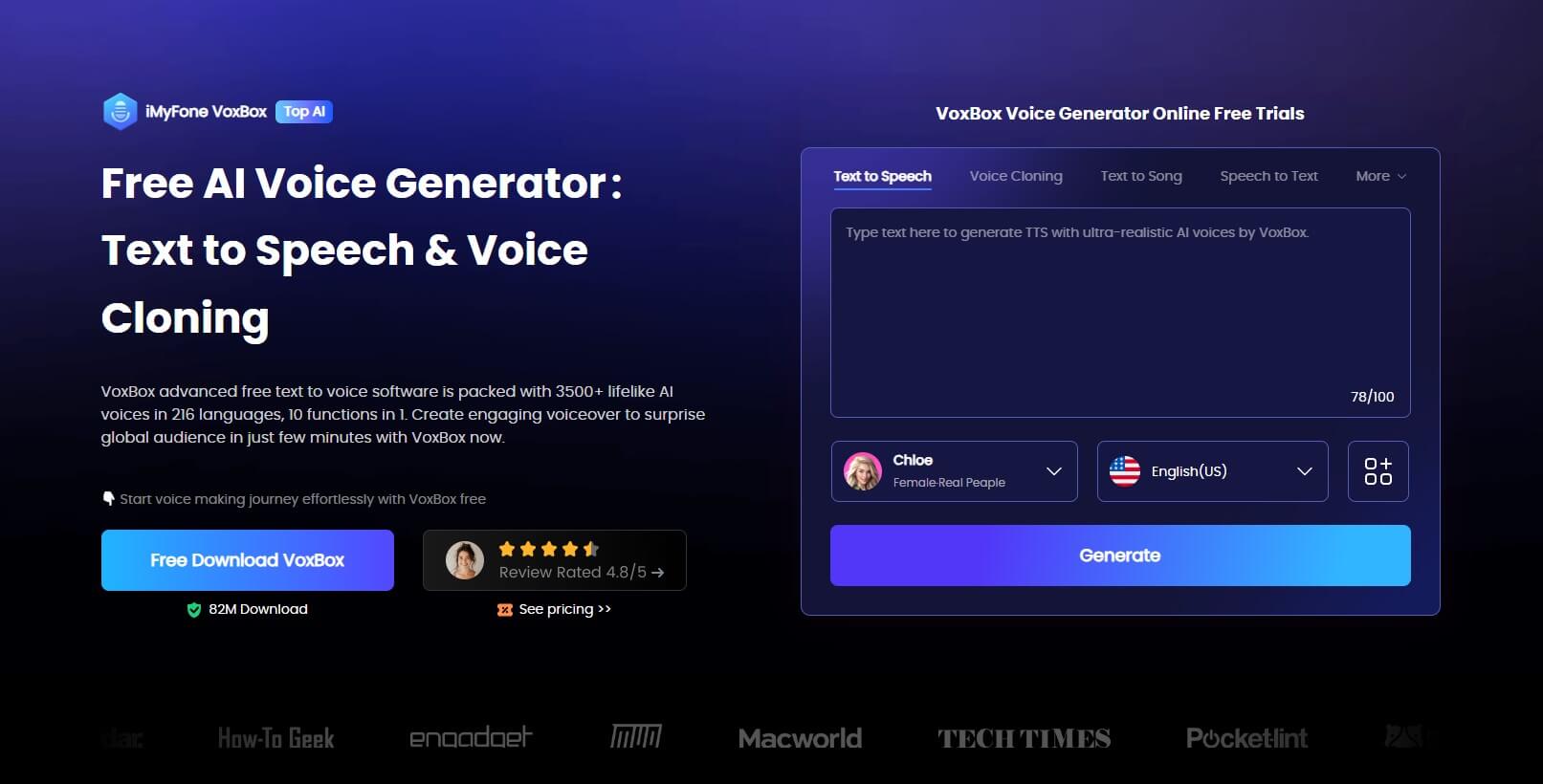 Tips
No voice artists are needed, and no recording equipment is needed. You can easily convert your text to speech and voice using
iMyFone VoxBox
! Download it and try it out for free now!
Watch this video to learn more about the Best TTS Tool iMyFone VoxBox: